A week-long look at SMQ's preseason ballot.
- - -
20. Illinois
The Illini are a mixed bag: on one hand, they lose two of the best players in the conference, Mendenhall and Lehman, and carry the stigma of a one-hit wonder. But the Zook recruiting boost has dramatically upgraded the overall talent and depth, and this was still a pretty young team last year -- Juice Williams, while clearly improved from his abysmal freshman effort, was still a work in progress as a passer, sophomore Vontae Davis was rounding into first round material at cornerback, and future pros Arrelious Benn (freshman), Jeff Cumberland (sophomore), Xavier Fulton (junior, at a new position) and Will Davis (junior) were all just finding their footing as first-year starters. Add to that shirtless recruits Martez Wilson, a sophomore moving to linebacker after making minor waves at end, and D'Angelo McCray, who'll start at defensive tackle after redshirting, [McCray has transferred; see comments -- ed.] and there's no doubt last year's surge was no fluke, physically.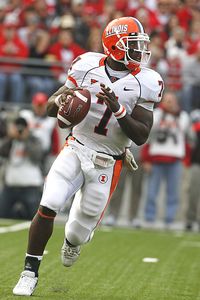 Juice: All of a sudden, the man of the house.
- - -
But doubt persists, largely because Mendenhall's early exit is a potential back-breaker for the entire offense. Daniel Dufrene made something of a name for himself by busting the controversial 80-yarder at Ohio State, but actually had very few opportunities (50 touches, almost half against Western Illinois, Syracuse, Indiana, Ball State and Northwestern), and is a less reliable runner at this point than Williams. But Juice remained slightly below average as a passer, and his grasp of the offense at this point isn't going to drastically improve, if it improves at all. Without at least a worthy complimentary threat in the backfield -- and Mendenhall, obviously, was much more than that -- it's likely we've seen Juice's ceiling, and the team's.
19. Tennessee
Here is a victim of the format: I like the Vols, and in a power poll, they might rank among the top ten or twelve teams in the country. New offensive coordinator Dave Clawson has promised balance, but with a big, 1,000-yard back -- and a couple capable young 'uns behind him -- and the most promising, experienced offensive line this side of Oklahoma (and maybe West Virginia), the personnel on offense bodes a welcome return to the straight-ahead, physical attack that defined the Vols in their late nineties hey day, as well as the last time they won a surprise division championship with a totally green quarterback, in 2004. The defense, as porous as it was for much of last year, would not seem to bear comparison to its usually fire-breathing predecessors, but the front seven remains as talented as ever (according to Phil Steele, probable starters on the line and at linebacker include PS#1, PS#6, PS#14, PS#5 and PS#8, for what it's worth) and the equally talented secondary seemed to progress from flailing noobs to entrenched stalwarts after being torched by Alabama in October. There's a dropoff to the new quarterback, maybe, but under normal circumstances the defending East champs should be right back in the thick of the race.
This particular edition of the SEC East, though, is not exactly normal. If Erik Ainge had another year (surely they would have redshirted the kid in 2005 if they had seen what was coming), UT would probably be considered a legitimate aspirant to the all-consuming Florida/Georgia debate. With Jonathan Crompton under center and Florida, Georgia and Auburn in the first three conference games -- to say nothing of the opening trip to UCLA and Alabama and South Carolina by the start of November -- the Vols are everywhere an afterthought, universally consigned to the usual New Year's date in the Outback or Bowl Formerly Known as the Citrus with a minimum of three losses. Not that there's anything wrong with that, but the conventional wisdom reigns here. As many potential contenders as there are in the SEC, even if Tennessee manages to upset UF or UGA early, the odds of surviving to even an at-large BCS bid are too long.
18. Virginia Tech
Here is a beneficiary of the format: I'm definitely down on the Hokies in general, and in a power poll, they probably wouldn't rank in the top 25 at all. The quarterback is either a decidedly average, within-the-offense manager prone to making his own fans wail or a very young, probably one-dimensional sophomore; the running backs left spring either booted from the team or injured; the receivers are brand spanking new, and the only potentially viable option will miss the season; and any deference to the attrition-racked defense is out of respect for coordinator Bud Foster's track record and its association with the dominant class of veterans that just graduated en masse. If the offensive line didn't return almost intact, there'd be no hope of coherence on offense.
But Tech has won at least eight games every year for the last decade, and at least tean games all four years since joining the ACC. With the schedule, it's hard to see short of an unprecedented collapse how it can possibly fall short of nine or ten wins again. Tech has survived for years without much explosiveness on offense, and most of the new starters on defense played a lot last year; the last three Hokie Ds have been so outrageously good, statistically, that the new edition can suffer some significant regression and still qualify as "good." Mainly, though, the unanimous opinion -- shared here -- is that whatever the Hokies lose, there's still no other outfit in the ACC worth taking a flier on. Most teams in this conference -- all but Clemson, in fact, which Tech doesn't play in the regular season -- still seem to be counting on winning games by dragging proceedings into the mud and grinding scoring to a halt, and none of them yet have matched Beamer Ball for that.
Johnson: Forgotten man, but not for long.
- - -
17. Oregon
It's encouraging that the Ducks pulled it together for a rousing bowl game, off the post-Dixon November that rivaled only the final months at Cal and Alabama for head-exploding frustration. Without that spark, I'm not sure I or anyone else could justify any faith in this team's resiliency -- remember, the same team lost its last four and five of its last seven in 2006, mostly by wide margins, and the '04 Ducks missed a bowl by losing their last three. Three November collapses in four years = extreme caution, before you even begin to account for the departure of Dixon and Jonathan Stewart.
Everywhere but quarterback, though, the Ducks look alright. Assuming Jeremiah Johnson returns to '06/early '07 form after missing the last six games (he's just shy of 1,000 yards on well over six per carry in essentially a year-and-a-half of splitting time with Stewart), or some combination of Johnson, Andre Crenshaw and incoming LaGarrette Blount adds up to Stewart's Herculean junior production, UO already has very good talent at receiver (Jaison Williams, USC transfer/ex-blue chip Jamere Holland, tight end Ed Dickson) and on the offensive line (center Max Unger and tackle Fenuki Tupou were all-Pac Ten by the coaches). Patrick Chung and league sack leader Nick Reed were also all-conference on a defense that returns seven of its top nine tacklers; corner Walter Thurmond was snubbed despite a terriffic stat line for a DB (8 tackles for loss, 18 passes broken up, 5 INT) -- maybe that production is an indication that he was frequently picked on (the best corners are often invisible in the box score), but at least he made some plays, too.
Anyway, the point is, Oregon shouldn't be significantly different -- except at quarterback. As the bowl game proved, the panicked decline that followed Dixon's injury was a consequence of the circumstances of the moment and shouldn't indicate the team will cease to function without a Heisman contender in the shotgun. That's good news, because it won't have anything close to that this time -- which, of course, is the bad news. The uncertainty of what to expect from Nate Costa or Justin Roper is probably the only thing keeping the Ducks from becoming a chic pick for the top ten and an at-large BCS spot behind USC. Despite my timid personal optimism for Costa's potential -- itself based on nothing but the fact that the team apparently was much more confident with him in the No. 2 role before his own ACL injury kept him from replacing Dixon -- I'm not about to pull the trigger on that kind of expectation for any non-Trojan team in a league with so much parity.
16. Arizona State
The same holds for the Devils, who rank ahead of Oregon only because the two play in Tempe this year. ASU remains capable on offense, led by a durable, experienced quarterback who might turn out to be the conference's offensive MVP, in spite of his line's fundamental inability to keep him upright; when he has time, Rudy Carpenter has as many proven options to distribute the ball to as any QB in the league. They remain capable defensively, with a solid pass rush (via end Dexter Davis), long-in-the-tooth linebackers and a couple second-year guys in the secondary (Omar Bolden and Troy Nolan) generally assumed to have bright futures. The kicker, Thomas Weber, hit all seven field goal attempts beyond 40 yards as a freshman and comes back as everybody's all-American (although -- and I have no empirical evidence whatsoever to back this up -- I'd be willing to bet that status is not the best indicator for previously on-target guys following the seasons that produced the accolades).
The real problem with Arizona State last year was its failure to stay within striking distance of the best teams it faced; taking it to Oregon State, Stanford and Washington is one thing, but Oregon, USC and Texas made quick work of the Devils in meaningful, hyped games that in reality were never in doubt. Again, that firing-on-all-cylinders version of Oregon doesn't translate to the '08 edition, but with the addition of Georgia (a big step up in degree of difficulty from last year's non-conference "heavy," Colorado) and a trip to Berkeley to play a non-foundering version of Cal, ASU will have to show some more big game fight to avoid another BCS snub.
Not that I actually expect them to be in the running -- the schedule is rather frontloaded, with Georgia, Cal, USC and Oregon coming back-to-back-to-back-to-back in one four-game, six-week stretch at midseason, so expect to lose track of the Devils before they hit a winning streak in the final month.
- - -
Nos. 21-25: The Wildcards