I wasn't alone when I picked Florida State to win the ACC last year, again, but I knew then it was wrong, like a sucker who keeps doubling down instead of cutting his losses, or maybe like the defeated voice at the beginning of Ryan Adams' Heartbreaker album, who realizes he's wrong about the original release of a particular Morrissey song, but still agrees, in the meekest, most hopeless possible way, "I'll take that bet."
Until now, everyone has taken that bet with Florida State -- Stassen's archive of preseason predictions goes back to 1993, FSU's first season in the ACC, and only once (in 2004, when they picked a a virtual tie with Miami) have the mainstream outlets bumped the Noles from the top of the conference or the Atlantic division before the season, usually unanimously and always by an exceedingly wide margin -- and honestly, there's never been a coherent reason not to project FSU as conference king, even after the disaster of 2006, if only because no rivals moved to fill the power vacuum. What, Wake Forest? At no point has Florida State ceded the bodily-kinesthetic crown, and when the athletic department moved over Papa Bowden's objections to bring in Jimbo Fisher in place of no-account son Jeff Bowden, and hard-driving, promisingly foul-mouthed Rick Trickett to whip the perpetually underachieving o-line into shape, and old assistant Chuck Amato to bring back that old nineties magic on defense, the Noles still looked for all the world like the only bet in the division, at least, worth taking. What, Clemson?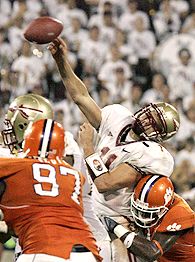 For a guy four years in the system, Weatherford's never had enough time.
- - -
But even those of us who found reasons to convince ourselves these Noles who finally deserved the brand (and, much as you might protest, that was almost all of us) somehow knew we were hitching our wagons to a gimpy, wheezing horse, and that another iffy third place season after the infusion of new blood meant the glue factory couldn't be very far away. After another season of injuries, rotating quarterbacks, a second straight loss to Wake Forest and fourth in five years to Clemson, complete failure to produce a consistent playmaker on offense and one of the most massive, embarrassing one-shot round of suspensions in the history of the sport, Phil Steele sums up the situation for professional assessors pretty well:
FSU disappointed me last year as I had them higher than most [True. PS bit on FSU in the top ten -- ed.] buying into their 3 new quality asst coaches giving the program a spark ... FSU hosts Clemson and could finish much higher but I am a little gun shy here.
- - -
We all are, Phil, by experience -- although, clearly, some of us more than others. The brand still carries some weight, for Steele in particular, who incredibly is the only member of the mainstream prognostoscenti so far willing to take Florida State over Wake Forest in the Atlantic, and one of few who still considers FSU worthy of a top 25 vote, albeit barely: the bit of doubt he expresses is part of a blurb accompanying FSU's position at No. 24 in his national magazine, in which he also says of last year's underachievers, "They could have won the ACC but suffered some big injuries and lost some close games." Ah, injuries, my old friend -- healthy again, who's going to stop them now?
At least there's Clemson this time to offer a better-than-plausible alternative; the Tigers are experienced, have largely closed the gap athletically and have dominated the recent head-to-head with their former overlords. It took long enough, but a decade into Tommy Bowden's tenure, consider the hype baton officially passed.
There's no clear reason, though, that Steele's more rational quasi-exuberance shouldn't carry the day going into the year. Offensively, Drew Weatherford, Antone Smith and Greg Carr had their best season as a group last year and deserve much higher expectations as seniors and multi-year starters in their second season under Fisher. Weatherford, especially, now that Xavier Lee has fully flaked and left the job to Drew alone, has no excuse not to deliver his best season -- he was hurt for a lot of last year and wasn't consistent or spectacular enough to hold off the promise of Lee's hyperbolic athleticism, but after throwing a barrage of interceptions his first two years (30 TDs to 29 INTs) Weatherford had a 9:3 TD:INT ratio last year and finished with the lowest interception percentage in the country. If he's not in line for the "Carson Palmer-like turnaround" Steele suggests might be looming -- Weatherford was still tenth in the offensively-challenged ACC in pass efficiency and has never been confused for a blue chip talent like Palmer -- he at least has the targets now in Carr and late season breakout Preston Parker and should have the confidence and solid footing to progress beyond "Do No Harm."
But (of course there's a "but") the offensive line remains mewling babes, and the defense was possibly Mickey Andrews' worst -- it played well in the win over Boston College, despite allowing 415 yards passing (that's what happens when a future No. 1 draft choice gets off 53 passes), but allowed 23 points per game, a new high under Andrews, and specifically gave up 24 to Wake, 37 to completely moribund Miami, 40 to lo-fi, freshman-led Virginia Tech and 45 in another rout to Florida. There are no stars, and outside of the potential of ex-all-universe recruit Myron Rolle and incoming JUCO sack monster Markus White, there's barely a twinkle: only one member of last year's D was first or second team all-ACC, and he left early for the NFL. They didn't finish higher than sixth in the conference in any of the four major defensive categories, and allowed more yards per game than any ACC defense except bottom-dwellers NC State and Duke. It's not really a bad defense -- it's just, you know, there, which is a horrible thing to say about an outfit that was so legitimately dominant for so long.
But that's Florida State in a hollow, slightly depressing nutshell destined to be filed away in the third place bowl for another year. Not bad, still there, in a competitive sense. But now that everyone's sobered up, just not very enticing.