Mid-major discussions these days seem to quickly devolve from the real, modest goals of obscurity -- a conference championship, a bowl game, a decent crowd at homecoming -- to the big picture analysis of "BCS Busting," as in "Fresno St. has BCS-game talent," or "High expectations for Boise State," or "The Cougars have their sights set on a BCS bowl invitation," or a season-long slogan like "Quest for Perfection." Perfection and big, big bucks. Don't forget the paycheck, Bronco.
But that's what the Series asked for when it expanded to five games, and what it's gotten the last two years (with very different results) in Boise State and Hawaii. Beginning with Utah in 2004, mid-major teams have crashed the BCS three times now in four years, which makes the question less "Can anyone do it?" than "Who will it be?" Since roughly 2002, there's been at least one annual challenge to the system from below, from a team (or teams) that otherwise wound up ranked among the top dozen in the country:
• TCU (2003): Defending C-USA champs opened 10-0 and climbed into the top ten before dropping the de facto league title game at streaky Southern Miss; finished regular season 11-1.
• Miami, Ohio (2003): Lost early at Iowa but rode Ben Roethlisberger to twelves straight wins, the Mid-American title, an easy GMAC win over Bobby Petrino's first Louisville outfit and the tenth spot in the final AP poll. By far the best MAC team of the decade.
• Utah (2004): Blew out the entire schedule and made Alex Smith an improbable Heisman finalist/top draft pick. First peripheral team to successfully crash the BCS (unfortunately, it had to play another, sorry Big East co-champ Pittsburgh).
• Louisville (2004): Despite Utah's scorched earth trail through the Mountain West, this was probably the best of the mid-major insurgency in `04, the year before UL jumped C-USA for the Big East. The only loss was a Thursday night heartbreaker at Miami, after the Cardinals dropped the clinching interception with a couple minutes to go. Nobody else came close, until...
• Boise State (2004): Undefeated in the regular season, but scorned for the BCS by Utah and one-loss Texas. Had a New Year's Day-worthy Liberty Bowl with Louisville instead. Even if the Series took ten teams that year, BSU would have probably ceded the extra spots to the Cardinals and jilted California.
• TCU (2005): Took down Adrian Peterson-led Oklahoma, lost inexplicably to SMU, and won its last ten en route to the Mountain West title in its first year in the conference. Eleventh in the final AP poll.
• Boise State (2006): Obviously. Undefeated again, got into the party this time with the addition of the fifth game and did more to advance the status of mid-major insurgents than any team since BYU's mythical championship in 1984.
• Hawaii (2007): The beneficiary of possibly the softest schedule in D-I history, the Warriors did more in the Sugar Bowl to set back the status of mid-major insurgents since the combined NFL careers of Andre Ware, David Klingler and Ty Detmer.
Using those teams as a composite model, we get five solid trends all -- or almost all -- of these would-be party crashers have in common:
Trend: The Set Up Year
 • Past Trendsetters: TCU (2003), Utah (2004), Boise State (2004), Louisville (2004), Boise State (2006), Hawaii (2007)
 • Exceptions: Miami, Ohio (2003), TCU (2005)
- - -
Teams that struck the memorable season did so as the culmination of a strong, multi-year push, best demonstrated in the quick, dramatic turnarounds orchestrated by Meyer at Utah and Petrino at Louisville in 2004: both coaches won nine games their first year and blew the doors off everyone in their second. Gary Patterson accomplished more or less the same at TCU, where the Frogs won the C-USA championship in 2002, shut down Colorado State in the Liberty Bowl and finished No. 23 on the year-end AP ballot in Patterson's second year, prefiguring their run through the first two-and-a-half months of '03. Hawaii had a banner, 11-win season in 2006 and opened 2007 already in most preseason polls. Boise State had three straight one-loss seasons under Dan Hawkins before it went undefeated in the 2004 regular season, and was still on the same track when the Broncos broke through in '06.
The peak rarely lasts more than a season, though -- even Boise State and TCU, the programs that have continued to win double digit games through coach and personnel turnover, have suffered through relative down years (the Frogs were 5-6 in 2004; BSU was 9-4 in 2005). Beginning in 2003, no mid-major team has put together three straight seasons of ten wins or more.
2008 Candidates (Nine wins or more in 2007): Air Force, Boise State, BYU, Central Florida, Fresno State, Hawaii, New Mexico, Tulsa, Utah.
Air Force and Tulsa made intriguing pushes under first-year coaches (see below), but with Hawaii's inevitable fall from grace, Boise and BYU were the teams that had the kind of big season that suggests a bigger run to follow -- although both teams made big, surprising runs in 2006, as well, and may have played out that momentum last year (see the "Two Year Rule" above). Both would be bucking the trend to challenge again.
Another team that could fit into this category despite falling short of nine wins last year is East Carolina, a moribund club that's found its footing with consecutive bowl games and a potentially program-making upset of Boise State -- which does not lose under those circumstances, like, ever -- in the Hawaii Bowl.
Trend: Young/Upwardly Mobile Coach
 • Past Trendsetters: All eight
 • Exceptions: None
- - -
This is the reason I don't particularly care if Larry Fedora plans to spend more than a few years at Southern Miss: as deeply as my heart yearns for the halcyon comforts of the alma mater, as bewildered as I am that anyone might be lured from its understated treasures, coaches who hit the mother lode at this level tend overwhelmingly to do it early, and to have the sense to take the money and get while the gettin's good. Entrenched career types like Pat Hill still make the occasional ruckus, but the really big, storybook seasons lately have been orchestrated by eager young minds en route to bigger jobs -- Urban Meyer, Dan Hawkins, Bobby Petrino, Chris Peterson. The core of TCU's program was built by unknown Dennis Franchione, who took a winless team in 1998 to 10-2 in 2000 before moving on to consecutive bouts of infamy and 'Bama and A&M, and has been sustained by Gary Patterson, who remains for now a perpetual hot commodity when big jobs open up every winter. Prior to Hawaii last year, all of the teams that challenged for the BCS since 2003 have done so with a coach less than five years removed from his arrival at the school, most of them -- Utah, Louisville, TCU in `03 and Boise State in 2006 -- within the coach's first or second season; back in 1998, Tommy Bowden took Tulane to 12-0 in his second year there and landed his current gig.
Brandstater: Kid may work out, after all.
- - -
If they're not young, they're still mobile. The late Terry Hoeppner was not exactly a spring chicken in 2003, but he was in only his fifth season as boss at Miami, and rode that success to the Indiana job. June Jones was also relatively long in the tooth at Hawaii, which made it all the more surprising when he bolted paradise for the post-death penalty hell of SMU in January -- although the Mustangs don't necessarily qualify as an "upward" move, unless you're comparing facilities and returning experience rather than conference affiliation or actual on-field success in the last two decades.
2008 Candidates: Air Force, Boise State, BYU, East Carolina, Tulsa.
Bronco Mendenhall, Chris Peterson and (to a lesser extent) Gary Patterson still fall into this category, although maybe not for much longer if they don't strike while their respective irons are hot. At their age and tenure, Pat Hill at Fresno and George O'Leary at UCF definitely do not fit, though O'Leary is only in his fifth year in Orlando and has the program on a definite upswing, considering the Knights were 0-12 his first season and have since won the East division twice in three years since hopping to C-USA. The best fits here, again, are Skip Holtz at ECU, Troy Calhoun at Air Force and Todd Graham/Gus Malzahn at Tulsa: even by mid-major standards, none has much talent to work with, but all three have wildly exceeded initial expectations, and Calhoun and Graham/Malzahn installed prolific offensive systems that seem capable of withstanding some personnel losses. Then again...
Trend: Upper-Class Quarterback In Second or Third Year in the System
 • Past Trendsetters: Miami, Ohio (2003), Louisville (2004), Utah (2004), TCU (2005), Boise State (2006), Hawaii (2007)
 • Exceptions: TCU (2003), Boise State (2004)
- - -
Not only have BCS party crashers been led by veteran quarterbacks, but half of them --Miami, Louisville, Utah and Hawaii -- made their names behind once-in-a-generation types who served as the Face of the Program and put up obscene numbers. Louisville's had a lot of great quarterbacks in the last decade, but none had a single season on par with Stefan LeFors' shred job in 2004; Alex Smith, Ben Roethlisberger and Colt Brennan will be synonymous with the Utes, Red Hawks and Warriors for the rest of their lives, as will Jared Zabransky with Boise State, albeit for Fiesta Bowl drama and subsequent NCAA Football covers rather than astounding production. Add TCU's workmanlike Jeff Ballard, and those six quarterbacks were combined 133-20 as starters during their junior and senior years.
2008 Candidates: BYU, East Carolina, Fresno State, Utah.
The obvious candidate here is Max Hall at BYU, who will not be breaking records but was the Mountain West's offensive player of the year as a sophomore, and who bears a huge share of the burden of the preseason hype surrounding the Cougars (see below re: the BYU defense). Tom Brandstater at Fresno State struggled early on but can be forgiven the Bulldogs' 2006 disaster if he improves as much from junior to senior as he did from sophomore to junior last year, when he improved his completion percentage by eight points, his efficiency rating by 34 points and his interceptions by about a third (five INTs in '07, from 14 in '06). The most intriguing possibility for a breakout here is Brian Johnson at Utah, who had a brilliant sophomore season but has been bounced around by injuries the last two years; he remains the most talented and experienced passer in the MWC, and seems to hold the Utes' fortunes in his fragile hands. Air Force, Boise State, Central Florida, Hawaii (obviously) and Tulsa are all replacing senior starters with extremely green newbies.
Stop the Run
 • Past Trendsetters: TCU (2003), Miami, Ohio (2003), Boise State (2004), Louisville (2004), Boise State (2006), Hawaii (2007)
 • Exceptions: Utah (2004)
- - -
Most of the examples from the past were led by a great quarterback, but whether they ran or passed or did everything well offensvely, what almost every upstart has in common on the field is a completely suffocating run defense: seven of the eight model teams held opponents under 3.5 per carry for the season (Utah in '04 allowed 3.8). Even Hawaii, vangaurd of high-flying offensive theatrics and forgiving defense, only gave up 3.48 per carry last year -- not great, but best in the WAC, and given the offense and the opposition, more than adequate.
2008 Candidates: Air Force, Boise State, BYU, East Carolina, TCU.
The Cougars, Falcons and Frogs are the only defenses that hit the 3.5 number last year, or even came close -- Utah, Boise State, East Carolina and UCF were okay (each allowed just under four per carry), but Fresno State and Tulsa were not in the vicinity, and only Boise (which has a strong history against the run) and ECU have the returning talent in the front seven to expect to improve very much. BYU's overall defense was decimated by graduation -- eight new starters, including seven of the back eight -- but have been solid against the run the last couple years and have two of their best back in Ian Jorgensen and David Nixon. This is still TCU's party: the Frogs haven't allowed more than 3.2 per carry in any season under Patterson (2.9 last year) and return five of seven starters in the front seven.
Trend: Beat a Decent/Mediocre (Not Good) BCS Team
 • Past Trendsetters: All Eight
 • Exceptions: None
- - -
Every Cinderella needs a bitchy, arrogant ugly stepsister to vanquish, a role played with aplomb through the years by Texas A&M, Arizona, Northwestern and, on multiple occasions, Oregon State and North Carolina. Preferably this goes down at home; Utah in '04 and Boise State last year built their seasons by wiping out Texas A&M and Oregon State, respectively, in Thursday night games that counted as their early home showcase for the rest of the country before the conference kittens rolled in for ritual slaughter. Hawaii took a different route last year, using Washington in the season finale as validation after three months of consuming delicious, empty calories from the rest of the WAC (and worse). I hasten to note that none of those teams finished in the polls in their respective victim seasons except Oregon State in 2006, which rebounded from its blue-turfed humiliation to upset USC and finish 10-4, and even the Beavers had to squeak out three last-second wins in their last three games to close at No. 21 in the final AP poll.
There's another part of this, though, which is probably more important:
Trend: Avoid High Profile/Ranked Opponents
 • Past Trendsetters: TCU (2003), Miami, Ohio (2003), Boise State (2004), Utah (2004), Boise State (2006), Hawaii (2007)
 • Exceptions: Louisville (2004), TCU (2005)
- - -
Technically, Miami beat two ranked teams in `03, but both were similarly-positioned MAC opponents late in the season. Louisville built an impressive three-score lead at Miami in 2004 before watching it go up in smoke in the final minutes, its only loss of the season. That leaves TCU, which opened 2005 by shocking Oklahoma on the road, as the only example of a would-be upstart that took on a true heavy and survived -- and it immediately lost its next game to SMU.
2008 Candidates: BYU, Air Force, Tulsa
This caveat eliminates just about everybody: Utah visits Michigan and hosts Oregon State; TCU visits a much more ornery edition of the Sooners at midseason; East Carolina opens with Virginia Tech and West Virginia; Central Florida has South Florida, Boston College and Miami in a four-week span; Boise State plays at Oregon; if Fresno State survives Rutgers and/or UCLA, there's still Wisconsin.
The Cougars have back-to-back games with Pac Ten teams, a bad omen, but those teams are Washington and UCLA, far from automatic (the Cougars lost to L.A. last September, and were very fortunate to survive the Vegas Bowl rematch by a point via blocked field goal) but much closer to the "Decent/Mediocre" category than the "High Profile/Ranked" designation. Tulsa only has one date with a BCS team, at Arkansas in November, an interesting showdown for Malzahn in his old stomping grounds and a chance for the Hurricane to show up a rebuilding SEC team for its resumé. The nicest schedule of all is Air Force's, which has zero BCS opponents; outside of BYU, Utah and TCU in-conference, the Falcons' toughest date is at Houston. But then, should AFA defy the odds, will the rest of the MWC pull its weight as "Decent/Mediocre" enough?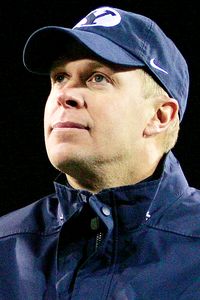 Things are looking good for Bronco. He's a little verklempt.
- - -
The only team with the ingredients and the schedule to make a BCS run, based on what's come before, is BYU, despite the mass turnover on the Cougar defense. This seems to be the consensus: every poll released so far includes BYU in the top 25, including the one issued by Phil Steele, the only member of the prognostoscenti who dares to pick Utah to win the conference. USA Today specifically projects the Cougars to the Fiesta Bowl. Utah has its virtues, but has to overcome Michigan and Oregon State outside the conference, and then, of course, BYU within the conference, where the Cougars have won 16 in a row. East Carolina looks good on paper, but it would take a near-miracle to open even 1-1 against the Hokies and Mountaineers; 2-0 is completely out of the question, and any loss, even an early, possibly competitive loss to a very serious team, is the mark of death for the BCS aspirations of any mid-major. Even those who consider the Pirates a favorite in the wide-open C-USA race don't deign to think they'll challenge for anything better than the Liberty Bowl. Outside of Steele's lonely vote for Utah and Mark Schlabach's nod to Fresno State at No. 23, no other outlet has cast a top 25 vote for a single mid-major team -- except BYU. That's a lot of water for one team to carry for an entire class.