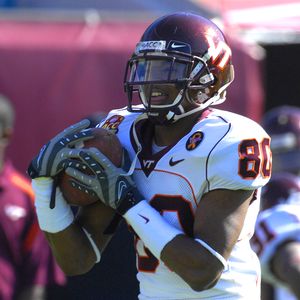 It's a cold, cruel world Brandon.
- - -
In last week's epic look at Virginia Tech, I told you about Brandon Dillard, breakout spring star, fastest man in America and savior of the impossibly green Hokie receiving corps. Based on his assertiveness in the spring, it looked like the walk-on would assume the leadership role among the receivers, help establish balance in the run-oriented offense and earn that elusive scholarship.
A week later, we find out, not so much:
BLACKSBURG, Va. (AP) -Brandon Dillard, a redshirt junior wide receiver expected to contend for significant playing time for Virginia Tech this season, will instead miss the season after rupturing his right Achilles' tendon in player-organized offseason workouts.
- - -
No word on whether the injury involved the "squats, leg presses, curls, extensions with legs" or other aspects of the "great speed plan" Dillard extolled to the Roanoke Times. But that does leave Tech really grasping at straws: Zach Luckett and former quarterback Ike Whitaker have five career catches between them, and they're the veterans of the group.
Remember, too, that Tech lost its top two running backs to serious injuries a few days after booting two-year starter Branden Ore. Sean Glennon and Tyrod Taylor are welcoming the increased responsibility, no doubt.