A too-soon look at next fall, sans the inevitable injuries, suspensions and other pratfalls of the long offseason. By popular demand.
- - -
What's Changed. Mike Pollack was all-conference and the only center picked on the first day of the draft, and tackles Brandon Rodd, Julius Orieukwu and Mike Gustavis were fifth-year seniors with a couple dozen career starts between them, but it's hard to say the Devils will miss three-fifths of last year's starting offensive line -- whatever he says publicly, Rudy Carpenter certainly won't, for reasons best expressed by USC on Thanksgiving night:
The Trojans had six sacks, four by Lawrence Jackson alone, and that was hardly out of the blue: prior to that debacle, the Devil line had allowed three sacks to Colorado, four to Oregon State, six to Stanford (!), five to Washington State, eight to Oregon and six to UCLA, then finished the year by giving up four sacks to Texas in the Holiday Bowl. Carpenter was sacked more times per game than any quarterback in school history, more than any Pac Ten quarterback since the NCAA began keeping the stat in 2004, and more than any quarterback in the country last year except beleaguered Andrew Robinson at Syracuse. Anyone who watched ASU's marquee, nationally-televised games against top ten-ish opponents -- Oregon, USC and Texas -- knows the high sack totals were only one symptom of the line's inability to keep rushers off Carpenter, who was constantly hounded, hit and forced to throw the ball away in those games (all lopsided ASU losses) even when not actually sacked. How they managed to win ten while often allowing similar pressure in the late night FSN ghetto is a mystery, and a testament to just what a gamer Carpenter is.
This year's group is not as experienced or talented on paper -- massive right guard Paul Fanaika is a two-year starter who's been honorable mention all-Pac Ten both years, but the newbies are unheralded third and fourth-year players who couldn't supplant the turnstile guys on the front line last year, and one of them, projected right tackle Jon Hargis, spent all of '07 on the defensive line -- but the law of averages says there's nowhere to go but up. If they're as easily overcome as that group, the problems here go much deeper than talent.
What's the Same. If they get any blocking at all, the Devils' returning skill talent is the most productive of any set of backs and receivers in the Pac Ten, including the thousand-starred menagerie at USC. This is to be expected from such a young group here: the Devils have had three different head coaches this decade, but have almost always managed to produce a good degree of balance by spreading the ball around among a lot of solid non-stars:
Outside of the quarterbacks, the only names from any of those seasons that really transcended regional notice and forced their way into the national consciousness were receivers Shaun McDonald and Derek Hagan (well, and Loren Wade, but for different reasons); otherwise, the Devils have just plugged in the best they can find and achieved pretty consistent results, which should be the case again this year. Carpenter will get (and should get) most of the attention, but ASU returns two of the three running backs who went over 500 yards rushing last year (Keegan Herring and Dmitri Nance) and both of the receivers who went over 40 catches/700 yards (Chris McGaha and Michael Jones, who averaged 16.7 yards and had ten touchdowns on 46 grabs). To that, you can also add Kyle Williams (6 TDs on just 29 catches) and incoming Ryan Bass, a must-have prospect rated as Rivals' No. 2 "all-purpose" running back despite his iffy size (5'10", 186), who might be the best bet on the offense -- including Carpenter -- to break out of the confines of 'role player.'
The Great Divide. The defense might have been somewhat overlooked in last year's success, since the overall numbers obscure how well it played in the majority ASU's wins. It was really a tale of two seasons, and the Devil D was borderline dominant in one of them: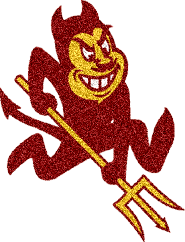 The least you should know about Arizona State...
2007 Record • Past Five Years
2007: 10-3 (7-2 Pac Ten; T-1st)
2003-07: 38-24 (22-20 Pac Ten)
Five-Year Recruiting Rankings*
2004-08: 31 • 32 • 28 • 45 • 21
Returning Starters, Roughly
14 (7 Offense, 7 Defense)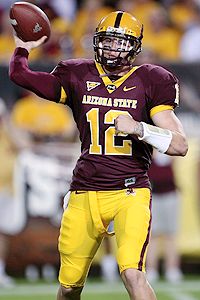 Best Player
Given how often he was hit last year, there's a good case to be made for Rudy Carpenter as the most underrated player in the country, or at least the toughest. He easily led the nation in pass efficiency as a freshman, and returned from the broken throwing hand that slowed him in 2006 to post a very good 145.1 rating (147.2 in Pac Ten games) in '07 behind the most porous line in the conference. Since taking over for Sam Keller midway through 2005, Carpenter's 21-10 as a starter and somehow hasn't missed a significant snap.
Completely Unsubstantiated Rumor
Before he put his head on ice, Walt Disney reportedly took time out to design the new logo for Arizona State College, which was scrapping the generic moniker "Bulldogs" for the more demonic and geographically appropriate "Sun Devils" in the early fifties. At least, Disney had the commission -- but the actual drawing may have been done by an underling who, in true disgruntled underling fashion, designed Sparky after Walt himself. Hey, if they can hide a boner in the Little Mermaid, subliminal messages in the Lion King and pedophilial suggestion in Aladdin, surely spinning the boss as a grinning devil is, uh, child's play.
- - -
* According to Rivals.
Those are outstanding, top ten-type numbers in the former category, but the fact that the dropoff was so steep, and especially because it occurred against the three toughest teams on the schedule, is not very encouraging for this unit's ceiling when teams like Georgia, USC and Oregon come around again. In fact, among those ten victims, none finished in the top 50 nationally in scoring offense, and only Washington State was in the top 50 in total offense (Cal was No. 50 in both categories, but mostly because of its outstanding production prior to the injury to Nate Longshore; the Devils caught the Bears in the middle of their second half tailspin). Overall, there's little doubt it was the best ASU defense of the decade, but when actually challenged by competent offenses, it was still very average, at best.
It doesn't help that the two best players, linebacker Robert James (fifth round pick) and cornerback Justin Tryon (fourth round), were seniors, as was the best athlete on the defense, safety Josh Barrett, who disappointed on the field after leading the team in tackles in 2006 but still went in the seventh round and would certainly be welcomed back in the secondary if he could regain his junior form. This is an experienced group, and pretty talented in spots -- end Luis Vasquez, linebacker Travis Goethel and corner Omar Bolden were all four-star recruits who have played a lot, and less heralded prospects Dexter Davis and Troy Nolan might be better pro prospects; they've been more productive so far (Davis, in particular, was a terror with four multi-sack games as a sophomore, albeit against Stanford, Washington, UCLA and Arizona, some of the worst offenses on the schedule, which tracks with the defense as a whole). Given that potential, though, and a good track record under normal conditions, there's no slack for being so overwhelmed again by any similarly talented attack with a pulse.
Overly Optimistic Post-Spring Chatter. For a guy three years into the system, Carpenter was undergoing a lot of work in April, voluntary and involuntary: he spent much of the spring session reworking his throwing motion ("trying to hold it a little higher and get it out of my hands a little bit faster"), with limited success ("sometimes in the heat of things I revert to my old throwing style"), and undergoing more surgery to remove scar tissue from his throwing hand after practices had ended. But the bigger change was a greater emphasis on more four and five-receiver sets to take advantage of the depth at receiver and more screens to get the ball out of Carpenter's hands before he can be pummelled as mercilessly as he's been the last two years. ASU was without Mike Jones, who was playing baseball, and ended up missing McGaha by the end of practice, no doubt to the lament of observers anxious to see the bubble screen that has big play written all over it. I.e., more thrilla, less vanilla: the four quarterbacks threw 80 passes in the spring game.
But the quote of the spring came from Dennis Erickson after a scuffle between linemen Jonathan English and Shaun Lauvao on a day when Miami's coaching staff was visiting ASU practice, which left the old coach unimpressed:
"They couldn't hurt each other," Erickson joked. "I wish it would have been a little more vicious if you're going to do it. I was thinking about making them run afterwards. Give me a fight before I do that. That one was like it was almost planned. We've got to do something (for the visiting coaches). Let's show we're tough. That's about how exciting it was to me. I almost fell asleep."
- - -
Considering Erickson struggled to keep his eyes open when Russell Maryland and Cortez Kennedy executed a tag-team powerbomb on Carlos Huerta in 1989, I wouldn't take it personally, guys. After six years of earnest chest-thumping and semi-regular brawling in Miami, it takes a lot to move the old man.
Arizona State on You Tube. ASU's done a very charming, well-edited little video series the last couple years called "Sun Devil Stories," the best of which, from just before the 2005 season, might be in need of a post-Katrina sequel -- some guys just can't catch a break:
The rest of the clips follow Herb Sendek into the student section, unfairly cute kids, Devils fans on daytime game shows and maybe the only more or less hot teacher willing to teach third graders the shocker.
See Also: A recap of the dramatic 1996/7 Rose Bowl and the ghost of nine-year-old quarterback Joe Germaine, one of only two ASU trips to Pasadena since it started going to bowl games in 1939. ... UCLA fans converted to Sun Devils outside the Rose Bowl. ... And an impromptu rap battle between a bunch of lame white kids walking down the street on campus.
Best-Case: I'm not sure whether Georgia is really vulnerable or not -- ASU has faced three top 20 non-conference teams in Tempe in the last eleven years, destroying Nebraska in 1996 and Iowa in 2004 and taking LSU past the wire in the narrowest possible loss in 2005, but given last year's flops against good teams, UGA at home and USC on the road look like extremely probable losses. They're the only two in that category, though, and if the Devils can take five of six again against Cal, Oregon, Oregon State, Washington, UCLA and Arizona -- they enter the season a tentative favorite in all of those games, and as the presumed runner-up to the Trojans -- another 9-3, Holiday/Sun Bowl kind of season is in order. A lateral step in this case is progress: ASU hasn't finished two years in a row in the final polls since 1996-97, or for many years before that, and with a rising talent level, another second place or co-championship season would go a long way to establishing the program's staying power.
Just one year to go, Rudy. One year to go.
- - -
Worst-Case: The schedule is very unkind in one respect: ASU gets Georgia, a highly probable loss, and then the toughest road tests of the season, at Cal and at USC, in consecutive games in late September/early October. A three-game slide over that span could lead to big problems with Oregon, Oregon State and Washington on tap; a loss during that stretch, and possibly another against UCLA or Arizona to close the season, could leave the Devils staring at the Emerald or Las Vegas Bowl, and without much momentum going forward.
Non-Binding Forecast: The New Status Quo or Bust. There's not much wiggle room in those scenarios: 7-5 on the low end to 9-3 on the high end. ASU is virtually assured two non-conference wins and realistically should not regress beyond 5-4 in league games; at the same time, they're almost assured to lose to USC and Georgia, but no one else. The difference will be whether the team can maintain the same consistency it showed last year against its peers in the conference -- again, 5-1 against teams as closely matched as Cal, Oregon, Oregon State, UCLA, Arizona and even Washington, which gets ASU in Seattle this year, is a tremendous effort, and will be difficult to repeat. For now, progress is best measured by holding the line in those games and closing the gap against the elite portion of the slate, because neither the record nor postseason prospects are likely to improve. No matter what Phil Steele thinks of Cal, I'll still take this bunch over the relatively depleted Bears, as well as UCLA and Oregon State; along with Oregon, this does look like a good bet for second place in the conference. Again.
- - -
Previous Absurd Assessments -- Premature, Anticipatory, Obligatory and otherwise...
March 17:  Ball State • March 20:  Auburn • March 21:  Kansas State • March 25:  Washington State • April 3:  Duke • April 7:  Kentucky • April 9: Southern Cal • April 16:  Virginia • April 21:  Miami • April 23:  Iowa State • May 24:  Oregon State • May 27:  Maryland • May 29:  Colorado • May 30:  Tennessee • June 2:  San Diego State • June 3:  Vanderbilt • June 10:  Central Florida • June 11:  Oklahoma State • June 14:  Wisconsin • June 18:  Florida Atlantic • June 20:  South Florida • June 23:  Army • June 25:  Texas Tech • June 25:  Virginia Tech • June 27:  Arizona • July 1:  Utah • July 2:  Iowa • July 8: California • July 10: Penn State • July 11: LSU