The Catalyst: Imagine being a Georgia Tech fan is like being on amusement park ride. From the time Bobby Ross was hired to take over for Bill Curry in 1987, this is your track:
After alternating stretches of exhilirating highs and terror-stricken troughs, you might think a bit of, shall we say, regularity would be exactly what a jittery Wreck wanted. Maybe it was, when Gailey was hired. Turns out no one has much fun on the flat stretch as the car slows to a stop, especially when it keeps losing to Georgia.
You have to say this for Gailey: he held the line. George O'Leary –– who debuted with the 1-10 plunge in 1994, by the way –– averaged about 8.5 wins over his last five years, higher than any other five-year stretch here since the mid-fifties; at the end of Gailey's six-year run, he'd averaged about 7.5 wins, which was the highest number (other than O'Leary's) since another run of seven-win seasons in the early sixties.
It's not that good, either. Not only did Gailey Equilibrium instictively seek seven wins at all costs, like turtles returning to the beaches of their birth to lay eggs; the Jackets finished right at 4-4 in ACC games four years out of six, going as far as losing to Duke by four touchdowns (2003) to get there. Gailey's recruiting classes were consistently among the worst in the ACC, surpassed in unremarkability only by Duke and Wake Forest. He landed Calvin Johnson but couldn't get him anyone who could supplant Reggie Ball. It didn't help that Jim Grobe's broken through with his collection of mediocre talent two years in a row.
The question –– and this is a very valid question, given the school's historical norm over the past half-century, which is very Chan-esque –– is whether any other available coaches could have done appreciably better. The only guy with a better record over a comparable period of time is O'Leary. If the ongoing Gailey regime didn't bode well for the future, precedent doesn't, either.
The New Guy: Technically, Paul Johnson is a mystery because of the skepticism following his flexbone system, although it's clear from Tech's position breakdowns in the spring –– complete with slotbacks and "B-Backs" (fullbacks, with an emphasis on running rather than blocking) –– that the Jackets will be committed to running the triple option from the start.
This is completely out of step with anything anyone outside of the physically overmatched service academies are doing, but Johnson's track record speaks for itself: he won the Southern Conference championship every year at Georgia Southern, coached in three straight I-AA champonship games and won the last two, then took bottomed-out Navy to five straight bowl games. In eleven years, he only has one losing record (Navy was 2-10 in 2002, his first year); even at the academy, after the rocky start, he won at least eight games every season.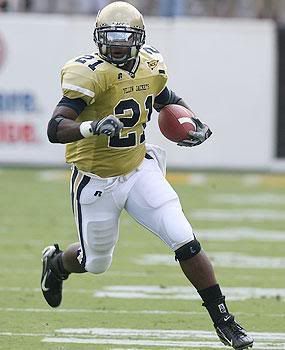 Dywer: won't be getting outside much.
- - -
There's nothing wrong with skepticism about the offense's efficacy against better defenses, though, since Johnson's Navy teams rarely had much success against teams on a higher level than, say, the Mountain West Conference. Number of Midshipmen victories since 2002 over teams that finished with a winning record: five, against Air Force (2003, 2007), New Mexico (2004), East Carolina (2006) and Colorado State (2005), if you're willing count the 6-6 Rams. In six years under Johnson, the Middies' best performance was probably against Boston College in the '06 Car Care Bowl, which they lost only because a late pitch in the rain squirted free and set up the winning field goal for BC. None of Navy's actual BCS conference victims came anywhere near a winning record.
Immediate Impact or Slow Burn?: The preseason consensus has not been kind to the Jackets, which probably has at least as much to do with the reticence of the prognostoscenti to buy into Johnson's funky scheme as it does the very green set of players preparing to run it –– on both sides, the Jackets lose almost twice as many starters (14) as they return (8), and about 75 percent of last year's meager total offense.
In terms of the type of player he inherits, there are none of the square pegs Rich Rodriguez has to endure at Michigan: cement-shoed Taylor Bennett transferred after a dreadfully disappointing season as the top quarterback, leaving much more option-friendly Josh Nesbitt as the point man (he, Auburn transfer Calvin Booker or one of a couple of true freshmen expected to be in the mix in the fall are likely to handle most of the carries, if the distribution at Navy is any indication) and Jonathan Dwyer as the between-the-tackles pacemaker at fullback –– he didn't start a game last year, but nobody who watched Dwyer back up Tashard Choice as a true freshman has any question about his full-time bona fides. Given that Nesbitt and Booker are actual quarterbacks, Johnson may let them throw more often than he did the rag-armed vagabonds who required extreme surprise and wide open targets to complete passes at Navy. Tech has the athletes to run the option and expand the playbook right now.
But Navy's example is not a good one: it took the Midshipmen a year in the desert to pick up the intricacies that carried them along the next five years. It still seems unlikely that an athletic, disciplined defense like Virginia Tech's will have much greater trouble with the flexbone than it will with any other –– the Jackets still have to block and tackle, after all, and that kind of leap is only going to come with improved recruiting. After the last six years, this may not be what Wreck partisans want to hear, but Gailey's Johnson's first priority has to be just holding the line.