A too-soon look at next fall, sans the inevitable injuries, suspensions and other pratfalls of the long offseason.
- - -
What's Changed. The big, flashing, burning question is this: to what extent, exactly, is kicking ass a birthright for a Frank Beamer/Bud Foster defense? The track record is pretty good: Foster's last four defenses, beginning with the Hokies' first year in the ACC in 2004, all finished in the top five nationally in both scoring and total defense, an absurd run of anti-productivity; Tech led the nation in total defense in '05 and '06 and might have led last year if not for the 598-yard, 48-point evisceration at LSU in September, which has no comparison (even the blinged-out, championship-bound USC offense in 2004 only scored 24 on 373 yards in that season's opener). By every measure, VT is the dominant defensive program in the country over the last four years.
The rub: four-year starter Vince Hall is gone. Three-year starter Chris Ellis is gone. Three-year starter Xavier Adibi is gone. Three-year starter Carlton Powell is gone. Two-year starter Brandon Flowers is gone, a year early. Two-year starter Barry Booker is gone. Two-year starter D.J. Parker is gone. That's six of the starting front seven, seven of the top ten tacklers the last two years, almost 200 career starts, a dozen all-conference selections and a couple all-Americans leaving en masse. Four of those guys (Flowers, Adibi, Ellis and Powell) were drafted in the first five rounds in April; two of those who weren't (Booker and Hall) were all-ACC, anyway. The core of the units that have been so strong is thoroughly depleted, and Foster's touch was not exclusively golden before they arrived: in 2002 and 2003, the last years in the Big East, Tech was middle of the pack defensively, and really suffered in '03, when it allowed 30 points in four of the last five games (all losses).
The least you should know about Virginia Tech...
2007 Record • Past Five Years
2007: 11-3 (8-1 ACC; 1st/Coastal)
2003-07: 50-16 (32-9 ACC/Big East)
Five-Year Recruiting Rankings*

-
2004-08: 41 • 14 • 32 • 29 • 18
Returning Starters, Roughly
10 (6 Offense, 4 Defense)
Best Player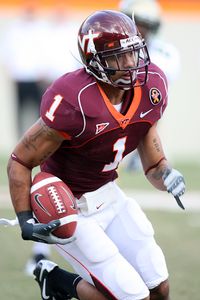 Macho Harris was a top-rated gem out of high school and has lived up to every star: he's consistently rated among the top cover guys in the country and has nine interceptions over the last two years, two of them returned for critical touchdowns in scares against Cincinnati and East Carolina. With Brandon Flowers bailing for the pros a year early with the rest of the defensive stars, Harris carries the "everybody's All-American" torch by himself.
Plausibly-Rendered Origins
You might think maroon and orange is a terrible color combination, if you're like my mom, but it's certainly an improvement on their 19th Century predecessors: black and gray (at least there's no need to colorize old team photos). They chose "burnt orange and Chicago maroon" to go with a completely nonsensical nickname, born of a bizarre student cheer in 1896:
Hoki, Hoki, Hoki, Hy.
Techs, Techs, V.P.I.
Sola-Rex, Sola-Rah.
Polytechs - Vir-gin-ia.
Rae, Ri, V.P.I.
- - -
Give them this: anyone who'd propose a cheer without a word of actual english must be one creative, open-minded individual.
- - -
* According to Rivals.
Still, with the Lunchpail pedigree and Foster's guidance, this is probably the best bet to emerge again as the stiffest defense in the conference. Run-oriented safety Kam Chancellor started every game, and Cam Martin played when Hall missed four games at midseason; Macho Harris has the reputation as the best returning corner anywhere, with the nickname, accolades and high draft projections to back it up. The youth on the line means the top five streak should definitely end, but they shouldn't fall out of the top 20 overall, either.
What's the Same. I dunno, maybe the best thing that ever happened to Sean Glennon was getting benched after starting 2 of 10 under insane pressure at LSU –– when he got back in the saddle a month later, he delivered a 10:1 TD:INT ratio over the last seven games of the regular season, six of them in-conference wins (the loss being the last-minute collapse against Boston College), and had probably the best two games of his career against Virginia and a week later in the ACC Championship, where he threw three touchdowns. Sean had apparently turned a corner, one that led him right into a vicious night in the Orange Bowl, where he completed less than half of his passes, was picked off twice and finished with an efficiency rating under 100 for the first time since LSU.
It's Tyrod's world, sooner or later.
- - -
Actually, Glennon did this in 2006, too, with a pair of fine games in late wins over Wake Forest and Virginia before laying a three-interception egg against Georgia in the Bowl Formerly Known as Peach. So it's understandable that nobody's getting too carried away about Glennon's "ceiling," or counting on him to beat out Tyrod Taylor, a five-star OMG! recruit who kept drawing aesthetic comparisons to Marcus Vick (for, uh, good reasons, mostly) and might have never given Glennon another opening if he hadn't gone down against Duke.
Coaches are not looking to cast Glennon aside, given his experience and winning record, and both shared reps with the first team in the spring. Fine. They can say what they want: everyone will be surprised if the rotation that evolved over the last month of the season doesn't yield at some point before midseason to the full-on Tyrod Taylor Show. Neither guy is a proven passer over more than a couple games at a time, but Taylor hardly had a chance to throw as a freshman and would be a real disappointment if he didn't achieve Glennon's not-very-high level as a passer in Year Two. His future and athleticism add a different dimension to the offense and give him a chance to run away with this derby.
The Cheeseman Stands Alone, Breaks a Bone. The Hokies' running back situation looks so bad coming out of the spring, it's destined to be one of those elements that sneaks its way to respectability and then some kind of late breakout despite the odds. That's how they do –– especially with four starting linemen back, one of them (Sergio Render) with as bright a future as any player on the team.
To be clear, there is no evidence for that prediction whatsoever. The running game generally was well below the Tech standard with Branden Ore carrying the load the last two years without the usual complement; there were a couple intriguing options after Ore was kicked off the team in the spring, until both of them –– Kenny Lewis and the deliciously-named Jahre Cheeseman –– were knocked out of practice with bad injuries (shoulder surgery for Lewis, a broken fibula for Cheeseman) that could linger well into the fall. That left Dustin Pickle, a melanin-challenged former walk-on and career special teamer, as the top tailback by the end of the spring. Incoming Ryan Williams was the No. 3 running back in the '08 class by Rivals, as well as the "best in space," and if he can't beat out a couple gimpy career backups and a fifth-year senior just now earning a scholarship, "reversion to the mean" will not save them from a new low on the ground.
Overly Optimistic Post-Spring Chatter. Yet another completely depleted area that has to be filled immediately: wide receiver. Now sans longtime corps leaders Eddie Royal, Justin Harper, Josh "Hur Hur" Hyman and Josh Morgan, the returning receivers have three career receptions, all by ex-quarterback Ike Whitaker in garbage time last September. Like the running backs, they are chlorophyll green, so much so that Macho Harris spent the first six practices at flanker, just to see what might happen. Unlike the running backs, though, the receivers at least had a young 'un emerge as a potential answer in April –– and not the guy anyone expected:
Give this guy a pen and tell him where to sign. Hand him a scholarship. Make it fast, too. Because Brandon Dillard is hard to catch.
Providing more evidence in his case of earning a scholarship for his final two college seasons, Dillard set up a touchdown with a 49-yard run on a reverse and caught a 25-yard TD pass to spark the White team to a 24-3 victory in Virginia Tech's Maroon-White spring football game at Lane Stadium.
If Dillard doesn't get his "free ride" soon, Macho Harris, the Hokies' star cornerback and unofficial team spokesman inferred he may be forced to intervene.
"I don't know," Harris said. "I believe after this, they're going to have to negotiate or something. They're going to have to work on something because Dillard is one of the impact players now."
- - -
Dillard allegedly ran a 4.28 in the forty this winter, whatever that's worth (non-verifiable sub-4.4 times should always be met with suspicion, as if 40-times meant anything, anyway), and Harris not only admitted Dillard was the fastest player on the team, but guessed he was "hands down...the fastest guy in college football right now." That is hyperbole. But if Dillard starts the first game, as expected, yeah, he should probably get that money.
Viriginia Tech on You Tube. Michael Vick put Virginia Tech on the map, but the Hokies made national noise for the first time a few years earlier, specifically in the fourth quarter of the 1995 Sugar Bowl against Texas:
Click on for the first, second and third quarters.
See Also: You are there for the complete Sean Glennon Experience. ... Whoever thought of Enter Sandman entrance is a kind of motivational genius, though you can always count on Chris Fowler to geek it up for the viewers at home. ... How do you get good at something? Practice practice practice. ... And maybe Brenden Hill is just, you know, a really big Neil Diamond fan.
You don't get to say this much about the amateurs, but with Brandon Dillard, it's time to get paid, son.
- - -
Best-Case: It helps dramatically that –– like some of the old Big East slates VT ran away from –– the schedule has only one team that finished anywhere near last year's final polls, Boston College, and the Eagles will be without the league's player of the year. The toughest dates will be against former powers fallen on hard times: Nebraska, Florida State, Miami, all on the road. Actually, up-and-coming East Carolina and North Carolina, based on strong efforts against the Hokies last year, might be about as dangerous. Tech may be a favorite in all of those games, but with no reliable skill players and a rebuilding front seven, there's a loss in there somewhere. At best, this could be the most underwhelming 11-1 team you've ever seen; even optimistically, whatever the record is, whatever happens in the ACC Championship, the relatively cushy route should preclude any notions of a mythical championship run. Really: look hard at the schedule and remember I said that when you start to think, "Well, maybe..." in November.
Worst-Case: Expecting any team with as many holes as Tech brings into the season to go 5-1 against the toughest part of the schedule is over the top, even if it doesn't look like a very daunting stretch on paper. East Carolina or North Carolina is an upset waiting to happen; Nebraska, Florida State and Miami can match up with the Hokies athletically and Boston College must be a toss-up after last year's nip-and-tuck split. It's not too hard to pick four losses out of that group, and maybe another one from the hard-to-peg trio of Georgia Tech (the Hokies will have little time to scout the Jackets' slippery new offense before the third game), Maryland and/or Virginia. A 7-5 finish would be Tech's worst in a decade, but looking at the gaping question marks, that's not too far out of line.
Non-Binding Forecast: Poorly Attended, Pirate-Themed Weekend in Tampa or Bust. Almost unbelievably, as harshly as I want to react to the major personnel losses, the layout lends itself to success. For all the attrition, Tech is still the preseason favorite in the Atlantic and a strong contender to repeat as conference champion, if only by default. The new look ACC was designed to feature the high-flying Florida schools, Miami and Florida State, hook the Sunshine rivals up in Jacksonville every year for a blockbuster championship and throw itself in with the other elite football conferences. Turns out it was really built for Beamer Ball. The Canes and Noles have foundered, the league champion is 0-4 in BCS games and the rest have followed Virginia Tech's stodgy lead: the ACC passed less, gained less and scored less, by wide margins, than any other major conference in 2007. That profile couldn't fit a team more snugly than it does the Hokies, and as long as they can drag games into the mud, the consistent inability (or unwillingness) to fly high offensively is a manageable burden, and the conference championship is a very attainable goal. I can't credibly predict more than two losses from a slate of games that, aside from maybe resurgent Nebraska in Lincoln, Tech should definitely be favored to win. Don't get carried away, but the Hokies should be right there in the BCS mix in early December, as usual.