A too-soon look at next fall, sans the inevitable injuries, suspensions and other pratfalls of the long offseason.
- - -
What's Changed. Mike Jenkins and Trae Williams gained the reputation as the best set of corners in the country last year, and there's plenty on paper to back that up: USF led the Big East and was eighth nationally in pass efficiency defense, and the pair were credited with 22 pass breakups (a sketchy statistic, I think, but a very high number, for what it's worth) and nine interceptions between them, three of those taken back for touchdowns by Williams. Jenkins went in the first round in April, Williams in the fifth. The defense also lost first-team all-Big East linebacker/derelict husband, father and student Ben Moffitt, but there's likely to be a much bigger gap in athleticism from Jenkins and Williams than a "big heart" guy like Moffitt.
The least you should know about South Florida...
2007 Record • Past Five Years
2007: 9-4 (4-3 Big East/)
2003-07: 35-25 (20-17 C-USA/Big East)
Five-Year Recruiting Rankings*
2004-08: 43 • 50 • 59 • 58 • 54
Returning Starters, Roughly
16 (10 Offense, 6 Defense)
Best Player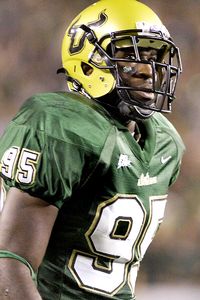 George Selvie was not completely obscure before last year – he'd racked up 15 TFLs as a redshirt freshman, six of them sacks – but 13.5 sacks before Halloween does wonders for a reputation. He was double-teamed relentlessly after that (only one sack in the final month) but still finished the year second in NCAA in sacks and first in tackles for loss. He's been Pat White's contain-minded nemesis in both of the Bulls' back-to-back upsets (16 tackles vs. WVU in two years, 6 for loss, none of it cheap for a defensive end). For an undersized guy –– he's 6'4" but listed at a relatively slim 242 –– Selvie is the closest thing to 'unblockable' in the Big East since Dwight Freeney.
Not to Rub It In or Anything
There's not much to like about Raymond James Stadium as a college venue: it's well off-campus, part of Tampa's famed "Stripper Row," built for the pros, looks like it's built for the pros, luxury-boxed to the max, painted with an NFL team's colors and logos and sponsored not by a moldering athletic director, but rather by a diversified financial services firm headquartered in St. Petersburg. It is redeemed, however, by the presence of a completely absurd, full-sized pirate ship, made of 5.5 tons of concrete, 14 tons of steel, a mile of rigging and 64,000 linear feet of wood trim. If Mike Leach ever coached here, it would be a perfect venue, actually.
- - -
* According to Rivals.
Not that the new guys haven't played: Jerome Murphy and Tyller Roberts both have three years in the program and played in every game last year, with Murphy making about as many tackles as the starters from the nickel role. But with Jenkins and Williams as starters, USF finished in the top 20 in pass efficiency D three years running; prior to that, in 2004, it finished 105th in that categeory. To expect gold again from another set of middling prospects seems farfetched.
What's the Same. The offense improved dramatically, averaging 34 points last year against 23 in 2006, which had tied for its lowest scoring average since the program moved up to I-A. That's a huge jump, even if you account for eight non-offensive touchdowns, and most of the residual enthusiasm over the Bulls this summer stems from the return of that unit en masse, intact save for a rather generic right tackle.
Bascially, though, the offense boils down to Matt Grothe. This was the case in 2006, when he was the leading rusher and accounted either running or passing for 68 percent of the team's total yards as a redshirt freshman, and was again to about the same extent last year, when Grothe repeated as the leading rusher and was responsible for at least part of two-thirds of the total yards; his per-game average, 273 yards, was more than five times the average of the next most productive player, Mike Ford. Seven different receivers had more than 20 catches, but none had forty. So went Grothe, so went the Bulls, for better or worse:
Overall, this parallels the fate of the running game, which was also way, way down when the Bulls lost, generally, but the correlation was hardly one-to-one –– USF ran up 250 on the ground in the loss to UConn, one of its best running games of the season, on the same day Grothe delivered his least efficient passing effort of the season (two interceptions, no touchdowns), and one of the worst of his career. Auburn, on the other hand, held the Bulls to a meager 2.6 per carry, and Grothe pulled out one of his best passing games of the season in the upset. In all cases, most of those rushing yards are via the quarterback himself; while his passing was off, Grothe accounted for more than half of the big rushing total in the UConn loss, to little effect on the scoreboard.
Grothe: One valuable redneck.
- - -
As you can tell from its meh recruiting, this is not a particularly explosive offense without its ringleader, even after the addition of Ford, a highly-rated ex-Alabama recruit who tends at 225 pounds to be more of a grinder. Grothe has kept himself healthy so far, which might not last given his size and the frequent pounding he takes; if it does, USF could be the most productive offense in the conference. But a better contribution by Ford and Benjamin Williams would help, and the interceptions have to come down.
Home Sweet Home. Tyrone McKenzie is actually back for his second year here, news to anyone who followed the Florida native to Michigan State as a true freshman, then to Iowa State, where he finished second in the Big 12 in tackles in 2006 after sitting out a redshirt year, then back to the FLA, where he skirted the mandatory season on the bench for transfers and led USF in tackles en route to a second team all-Big East nod last year. He's never actually been on the field at the same place two years in a row, but T-Mac did move from the outside to Moffitt's spot in the middle in the spring, enough to sate his wanderlust, apparently.
Overly Optimistic Spring Chatter. Murphy and Roberts locked down the corner spots, as expected, but after new OLB Kion Wilson went down with an injury, the other new starters on defense came from the ever-churning mire of sweet, sweet opportunism:
SPRING MOVERS:
NT Sampson Genus — He started spring drills on the offensive line, but the sophomore moved over to the defensive line. By the time spring drills had ended, the 6-foot-1, 308-pounder had emerged as the starter at nose tackle. Genus' development was easily USF's biggest story of the spring.
LB Chris Robinson — Once a promising defensive end, Robinson saw minimal playing time last season because of an ankle injury. In the spring, though, Robinson took advantage of an injury to LB Kion Wilson and enters fall drills as the starter at strongside linebacker.
- - -
I don't know if Genus' development was the story: Big 'n Rich were in town to pretend to honky tonk up the USF campus for next year's embarrassing Gameday theme. The Leader encouraged the general public to show up, get rowdy, and, uh, try not to support the team:
"If I have 100 people wearing USF shirts, it's not good," said Rick Paiva, vice president of creative services at ESPN. "We'll have the [Rocky the] Bulls head out there, but this has to work for all games and all locations around the country."
- - -
Dude didn't even know the name of the Bull. They'd never get away with that shit if they'd chosen Austin, much less the faux "country" schtick.
Also: new uniforms, pretty much the same as the old uniforms.
South Florida on You Tube. Departed nose tackle Richard Clebert, handling 225 pounds like it's a broomstick:
That was 41 reps, if you were counting, and yes, you're allowed to bounce it. Clebert's official bio says he's gotten up to 43, which puts him in Larry Allen territory, but he did "only" 38 reps at the combine and wasn't drafted. Of course, Larry Allen doesn't bounce.
See Also: A star is born at Rutgers. ... Matt Grothe on getting poked by UCF fans on Facebook before gaining 312 total yards and scoring four touchdowns in a 52-point win. ... And pretty much the only way to stop George Selvie.
Leavitt: Good coach, little teapot.
- - -
Best-Case: Grothe is a serious athlete and competitor, good enough with Selvie and McKenzie pacing the defense to keep USF in any game on this schedule. The game that stands out is the finale: at West Virginia, in December. USF wants to get there with the Big East title up for grabs, meaning it will have to finish 4-1 against the non-Syracuse portion of the slate –– Pittsburgh, at Louisville, at Cincinnati, Rutgers, UConn –– against which it was a disappointing 2-3 last year. I'm willing to concede the possibility of another perfect run through the non-conference, which is no short order with Kansas and a trip to NC State, but not through the Big East minefield. When it comes to West Virginia, though, where my instincts say no way USF takes three in a row over the conference belwether, my brain knows at the same time I said no way USF takes two in a row over the Mountaineers last year. This program has been one steady, virtually uninterrupted ascent for the last decade, and the Big East championship and accompanying BCS bid is the next logical step.
Worst-Case: The complete defensive collapse in the bowl game, to a Dixon-less Oregon team that had lost its last three in the regular season, was really troubling. The three-game losing streak in November could be written off as one bad stretch in an otherwise outstanding season, and every game was a to-the-wire finish. But the Ducks exposed USF completely, like just another team that had a few breaks go its way against Auburn and held on while West Virginia moved the ball between the 20s minus its best player. The overall talent level is still only about average by Big East standards, maybe a little below, according to the past few years' recruiting rankings, and few middle class teams ever have to replace two all-conference, draft-worthy players at the same position at the same time. Kansas and NC State have both handled the Bulls in the last two years, in 2005 and 2006, respectively, and have a reasonable expectation of delivering two losses before the start of the conference schedule, where the 2-3 record against relative equals could be easily repeated. Two-year winning streak and coaching change notwithstanding, WVU is still a substantial favorite at home in the finale. A few bad bounces or an ill-timed injury, and USF could be back to basics at 6-6, re-embracing those magical Tampa Christmases of its youth.
Non-Binding Forecast: Above the Fray or Bust. The general consensus holds the Bulls as the second-best team in the Big East, and I very reluctantly agree, but I still believe there's very, very little difference between USF and Pittsburgh, Cincinnati and Rutgers –– and that difference is no greater than the relative advantages of Matt Grothe and George Selvie. This is a parity-driven league, and the losses come with it: in four toss-up games in-conference, the best bet is on the Bulls limping out with two losses, then picking up a third in Morgantown. Add to that a likely split with Kansas and N.C. State, and 8-4 seems right. I don't know how that sounds to South Florida partisans, but if 8-4 and a trip to the Texas or Car Care Bowl actually sounds disappointing, just think how far you've come, baby.