I did a few schedule breakdowns this spring for a series of magazines on shelves this summer, a couple of which focused on teams with Minnesota on the docket. About the Gophers, I suggested in the first line, without hesitation,
There is no possible pretense, no rosy rhetoric in the language capable of spinning Tim Brewster's debut in a positive light.
- - -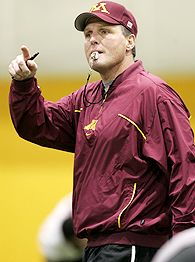 Negative thought? That's a lap.
- - -
By any objective standard, off the school's best five-year stretch since World War II under Glen Mason, this is a true statement. Alas, I underestimate the reach of boundless optimism. If you want it to be true, you must first believe that it is true, and only then will it achieve truth:
...the guy remains as buoyant and invigorated as the day he got the job. You listen to Brewster for an hour in his office and you leave wanting to go into a three-point stance and tackle someone.
Still, the fact remains that his Gophers were 1-11 last season.
"That one-win season very easily could have been a six-, seven-win season, easily," Brewster is quick to say. "We lost six games by a total of 23 points. We were in three overtime games. But to me, in the building of the program and understanding this process, it was what it was.
"Obviously, the 1-11 record last year was the toughest thing we had to handle; it was extremely tough on all Gopher fans, particularly me. But I really believe this with all my heart: the two steps we took back last year in wins and losses, we're going to make up for and step forward in the very near future.
"That's because our brand, our style of play has allowed us to recruit at a level that maybe hasn't been done here."
- - -
O Rly? Minnesota was indeed in three overtime games – it lost two of them, to Bowling Green and Northwestern, and won the other, against the Ohio-based Miami. The Gophers had two other close losses, by three points at Florida Atlantic and by six against North Dakota State, which ran for 400 yards in the Metrodome. So, technically, Brewster is right: keeping the Miami, Ohio overtime in the win column, Minnesota was a few plays away from winning four more games against an also-ran from the MAC, the tenth-place team in the Big Ten, a team from the Sun Belt and a team that was ineligible for the I-AA playoffs because it was in a "reclassifying" year from Division II. So close.
Meanwhile...
The Gophers were outscored in their other seven Big Ten games by 17 points per game. They were, infamously, last in the conference in almost every possible way, particularly on defense – last in rush defense, last in pass defense, last in pass efficiency defense, last in third down defense, last in fourth down defense, last in yards allowed, last in points allowed, last in sacks, last in tackles for loss, last in turnovers forced, last in time of possession. At least, by holding Wisconsin to just 453 yards total offense in the finale, Minny avoided the title of "Worst Defense of the Decade," moving one yard per game behind the 2002 Eastern Michigan Eagles for the gold standard in contemporary generosity.
(Gopher partisans might try to claim that game, a seven-point loss, and the preceding five-point loss to Iowa – the only big Ten offense that failed to score four touchdowns vs. Minnesota – were close games, as well, but both included late Gopher touchdowns that made the score closer than necessary and subsequent failed onside kicks. And we know the rule, per MGoBlog: anytime you're only an onside kick away, you're not really that close).
Brewster also does not understand why bringing a patch of Rose Bowl turf from Pasadena to spring practice – to a team that went to seven bowl games in eight years under his predecessor but hasn't been to the Granddaddy since the early sixties – is being held against him as, like, a prediction:
"Now, never one time did I ever say last season we're going to the Rose Bowl, this season we're going to the Rose Bowl. This is what we want to do, this is the expectation level of our team, and I want it to be the expectation level of our fans."
Nothing wrong with that. But then 1-11 happens, and some people begin to realize that talk is cheap.
"But how can talk be cheap when you didn't say that's what you were going to do?" Brewster said.
- - -
Well, as long as he didn't say it, that puts the season in an entirely different light. I can't be certain – I was not at any alumni events, recruiting trips, media days or pep rallies – but I can say that whatever talk Brewster did engage in did not include the phrases "1-11," "loss to North Dakota State" or "worst Big Ten defense of the decade." I dunno, though. Maybe he did say that's what they were going to do. Which would, as Brewster says, make that talk not cheap, but right on the money, if he said the team was going to achieve those results. If he said, "we're going to be the worst team in school history," that talk would not be cheap. It would, indeed, have extremely high predictive value in a way that enthusiastically unfurling a piece of pristine St. Augustine from the Rose Bowl was never intended to.
But re: recruiting, the one aspect of the game where talk can make you a king: Ya Rly. In this regard, to everyone's surprise, Brewster is right to be enthusiastic and quietly optimistic. Despite the record, he landed two transfers from Notre Dame, then brought in a near-consensus top 25 class with four-star players from California, Texas, New York and Indiana and two guys in Rivals' top 250, including MarQueis Gray, the site's number three "dual-threat" QB and maybe a borderline top ten guy among all incoming quarterbacks, depending on who you ask. Those are all good signs of incremental progress, and clearly Brewster has learned his lesson about raising people's expecta–
"We changed our style of play, which allowed us to recruit what I feel is the No. 1 quarterback in America. You think the No. 1 quarterback in America (MarQueis Gray of Ben Davis High in Indianapolis) would have been here in a different style? No, he wouldn't have. That's what people right now have got to be really excited about."
- - -
All this excitement is going to kill the people. Or, you know, somebody.