No one can accuse SMQ of piling on the underdog: I'm an avowed mid-major fan who last year devoted 1,500 words and a running weekly item to Florida International, which stands at 1-3 as a favorite in six years of I-A play, straight up. We are all for the little guy.
Being bad on the field is one thing, and even among the tiniest dwarves of the Sun Belt, FIU has been horrifically bad. The Panthers finished 0-12 in in 2006, went a full calendar month without reaching the end zone in any fashion and ultimately averaged  less than a touchdown per game on offense. Under a new coach, they started 0-11 last year, losing their first eight by 33 points a pop en route to running up a 23-game losing streak that only ended with a new quarterback in the lineup and an equally impotent team, North Texas, wobbling into FIU Stadium in the finale (permanent seating is only 7,000 for now, but highlights include superb drainage and restrooms).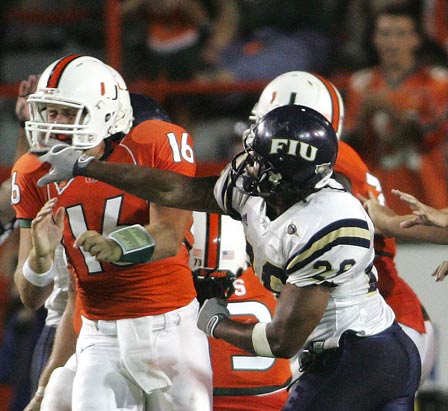 In retrospect, this may be a high point.
- - -
But being that bad off the field is something else entirely, and FIU, if possible, has been even worse in the non-bodily-kinesthetic realm of its transition to the quasi-big time. Florida International is already an obscure, sketchy-sounding college (the
spring roster
lists a dozen players from hometowns outside the state of Florida, none remotely approaching "international" status) in what
appears to be
one of the sketchier areas of the sketchiest big city in America, and thus far it appears dedicated to the shiftless, swampy,
laissez faire
cliché. The football team is noted mainly for
throwing down with Miami
in the OB two years ago, thereby giving the world
immortal soldier
A'mod Ned, then losing a staggering nine scholarships in football alone in the first round of the NCAA's
APR crackdown
last summer, twice as many as any other program except San Jose State, which lost seven. Now this year's round of APR scores is
out
, and...
MIAMI -- Florida International was placed on four years' probation by the NCAA on Wednesday and will lose scholarships for a variety of infractions.
More than 40 athletes who competed for the school from the 2002-03 through the 2006-07 academic years violated rules, said Josephine Potuto, chairwoman of the NCAA committee on infractions.
The school, which jumped from NCAA Division I-AA to Division I-A, misapplied enrollment and financial aid rules, transfer requirements and eligibility rules, the NCAA found.
"The institution acknowledges that it was not ready for the move, at least from a compliance standpoint," Potuto said.
The men's basketball program lost one scholarship and its baseball program lost 1.5. The football program was stripped of three scholarships. In all, 11 sports lost scholarships.
- - -
It seems FIU was "not ready for the move" in a lot of ways: failing on the field, failing in the classroom (in the bureaucratic aspect, at the very least), failing in the stands (attendance last year for five home games averaged 8,120, announced, barely half of what the NCAA
requires
of I-A schools over a rolling two-year period). All of which would be fine if the Panthers were sticking to the Sun Belt, where all the teams are just up from the minors and in that murky in-between stage that's really just I-A in name only.
Over the last two years, though, in which time the program is 1-23 and not even keeping its head above water, Florida International's non-conference schedule has included South Florida, Alabama, Penn State, Kansas, Miami (twice) and Maryland (twice). In 2006, `Bama and Miami both made bowl games with bare minimum, 6-6 records that included wins over FIU, clearly a glorified I-AA team, even though Miami already counted a win against an official I-AA team (Florida A&M) that year. Maryland finished last year at 6-6 with wins over I-AA Villanova and over FIU, both of which counted to get the Terps into the Emerald Bowl, even though only one I-AA opponent is allowed to count toward bowl eligibility and FIU has not met a single standard - not on the field, not off - for I-A eligibility. It doesn't really even qualify for "in-name-only" status. The sum impact of its football existence is to get a paycheck from marginal teams with some status in return for padding said teams' stats and records - Kansas, for example, which also beat the tar out of helpless I-AA Southeast Louisiana last year, built its awesome statsheet in part with a 55-point, 615-yard beatdown against the Panthers. Arkansas, which also had its way with I-AA Chattanooga, got a lesiurely blowout with its backups taking a hefty load of the snaps with FIU in for homecoming. This fall's schedule for FIU includes Kansas, Iowa and South Florida, all three of which have actual I-AA teams (Sam Houston State, Tennessee-Martin and Maine, respectively) elsewhere on their schedules.
FIU is not the only bad team, nor the only team that falls short of its various extracurricular benchmarks; most of the SBC and a dozen or so other perennialy feeble programs probably aren't worth the ink that sets them apart from the lower divisions. It is, for now, the worst on both fronts, and easily taken advantage of, like a sick, feeble herd that keeps on giving to the bigger, quicker predators in the bush. Is there any reason at all Florida International's continued existence in I-A does not constitute a dilluting of the sport's gene pool and a waste of its time?