Teams on the rise sooner, not later.
- - -
Where They've Been. John Bunting was probably doomed in 2003, off back-to-back 3-9 and 2-10 years, and who knows how far his tortured stay through 2006 set the program back. If only UNC hadn't stunned Miami in 2004, it would have missed another bowl game and probably gotten on with the rebuilding job in 2005. Who could the Heels have landed in `05 - probably not Les Miles, given his destination, or Steve Spurrier, given his alma mater, but Ty Willingham, maybe? Greg Robinson? Dave Wannstedt? Walt Harris? Ron Zook? Er.
Actually, maybe it's better in the long run that the bowl bid bought Bunting another year, and that going 5-6 in '05 bought him another year, somehow, and that the team's horriffic start in 2006 bought him a ticket on the next train at midseason. The head start in the hiring process led Carolina to the best available change agent...
Catalysts. All optimism re: UNC is tied at its core to Butch Davis, and specifically an encore of the resuscitation he engineered at probation-racked Miami in the late nineties. The steady decline and eventual collapse of the Coker era at the U was further proof that the 2001 mythical championship team was really Davis' baby, and the `02 team that came within a pass interference penalty of repeating, too (totally legit call, `Canes fans. Sorry). Carolina's kitchen was a whole different kind of mess, off four losing seasons in five years, three of them with three wins or less, and a cupboard practically bare of competitive talent. It's a full-scale remodeling job.
Davis' first team was only 4-8, 3-5 in the ACC, a very Bunting-like result. So if you think the Heels are going anywhere, the foundation of that premise has to be Butch's history of success in Miami.
Youth Movement. You can make a very, very long list chronicling the contributions made by freshmen - mostly true freshmen - and sophomores to last year's effort. Or you can condense it:
Underclassman Contributions, 2007
Offense
Starters
% of Rush Yds.
% of Rec. Yds.
% of Scoring
Freshmen
3
87
20
31
Sophomores
4
3
46
17
Returning in '08
10
101
99
68
Defense
Starters
% of Tackles
% of Sacks/TFL
% of Miscellaneous
Freshmen
5
37
27
38
Sophomores
2
16
21
18
Returning in '08
9
68
57
73
All of the departing points were via the leg of Connor Barth. The losses on offense amount to the center and Nebraska refugee Joe Dailey, an occasional contributor at receiver after a predictably dismal junior year in and out of the quarterback spot in 2006. These are also the two who combined for -7 yards on two carries last year, the totality of the -1 percent of the rushing offense attributed to departing seniors. The stars of the offense were receivers Hakeem Nicks, an all-ACC pick as a sophomore, and junior Brandon Tate, who contributed as much as a kick returner as he did as a receiver en route to leading the conference in all-purpose yards. That may change as hyped `07 recruits Greg Little and Zack Pianalto command more attention, as they did over the last month of their freshman campaign: Pianalto grabbed 15 of his 24 receptions in the last five games, and Little, listed as a receiver, popped off for 89 yards as a full-time running back against Georgia Tech and 154 against Duke in the last two games. That was UNC's only individual 100-yard rushing game of the season, but two other freshmen (Johnny White and Anthony Elzy) had 90-yard games earlier in the year. It's a good bet with Little's addition that contingent won't finish 107th in rushing again.
That's not to mention another top 25 running back recruit, Ryan Houston, who was a major part of the rotation in the toughest stretch of the season (42 of Houston's 44 carries were against South Florida, Virginia Tech, Miami, South Carolina and Wake Forest), or Mike Paulus, a top ten quarterback prospect who redshirted and might push last year's surprisingly efficient freshman starter, T.J. Yates, or Jamal Womble, a four-star kid out of Arizona Rivals rated as the 14th-best running back in this year's incoming class. The skill positions for at least the next three years will be two and three-deep with VHTs, and that doesn't include the known quantities, Nicks and Tate, who were much less heralded.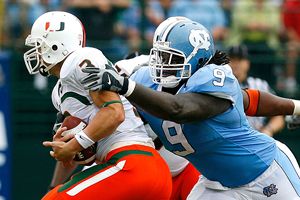 That's Mister Marvin Austin, to quarterbacks.
- - -
But even those numbers don't match the efforts of underclassmen on the defense, where half of the team's top dozen tacklers were freshmen, four of them true freshmen. The secondary was three-fourths freshman in November, four-fifths went it went nickel. The focus this offseason will be largely on the loss of Kentwan Balmer, Hilee Taylor and Durell Mapp, three seniors who were unquestionably the team's best players in the front seven (all three were second team all-ACC; Balmer might be a first round pick in April). But their replacements were already in the lineup at the end of the year: true freshmen Bruce Carter and Quan Sturdivant closed as the starting outside linebackers, and all-world recruit Marvin Austin, technically a backup on a deep defensive line, was frequently a terror (six tackles for loss, including four sacks) at end and tackle. If hyped redshirt Tydreke Powell can work his way into the lineup alongside Austin, E.J. Wilson, Cam Thomas and Aleric Mullins - all sophomores and juniors this year, all well-regarded prospects with significant playing time - "talent" will not begin to apply as an excuse for ongoing mediocrity.
Surprising Wins, Close Losses, and Other Circumstantial Momentum. As far as wins go, Carolina last year managed only one agaist an eventual bowl team, a three-point win over Maryland. Its only really impressive performance was in the first half against Davis' old team, when the Heels had Miami down 27-0 at the break. They proceeded to be outscored 27-6 in the second half, but a win is a win. There is something to be said for the effort in very close, very winnable games that got away against Virginia (22-20), South Carolina (21-16) and Georgia Tech (28-25), even to East Carolina (34-31 on a last second field goal), but UNC is still very much in the "turn close losses into close wins" phase.
Where They're Going. In 2008, probably no further than .500-ish record and a middling bowl game; any suggestion of a sudden, Illinois-like jump in the short term would be fairly ridiculous. In the long term, though, there's no definite ceiling. Mack Brown made Carolina an ACC power in the mid-nineties second only to the unstoppable Florida State behemoth in that decade, and no such hegemon exists in the current ACC. Davis has a great track record in college, has landed a couple big names and has already begun branching out for better talent. His window isn't very wide if the Heels are going to be better than mediocre, with Clemson back on the upswing, Al Groh hunkering down at Virginia, FSU and Miami perpetually locking down the most talent-rich state in the conference and Virginia Tech just being stodgy, consistent, badass Virginia Tech. Davis has to be able to sell the "upward mobility" angle as long as possible, and a failure to demonstrate that on the field - I think bowl-eligibility is a must to sustain a tangible sense of momentum - will turn future Greg Littles and Marvin Austins away. I'd bet on competitive mediocrity and an upset or two. Or bust.