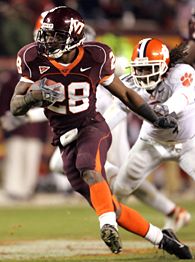 No more Ore.
- - -
Coaches rarely cut senior starters, particularly senior starters who have led the team in rushing two years in a row and are within striking distance of school records. Then, most seniors at Branden Ore's stage of their career, with his potential future, have successfully distanced themselves from showing up to camp out of shape after
a semester at 7-Eleven
and being
caught shotgun
in a ride with 23 grams of cocaine. Frank Beamer is a hardass like that, even if the state of Virginia, for whatever reason, is not.
So Ore is out the door at Virginia Tech, for good this time, though Beamer was mum Wednesday on the specifics that broke the camel's back. Ore's role in the huddle and locker room is for internal debate. But statistically, the loss is likely to mean nothing to the Hokie offense - Ore was the best of a four-man rotation in 2005, cracked 1,100 yards and won all-ACC in 2006 and was responsible for about half of Tech's yards and carries last year, but his latest effort amid injuries and a spotty passing game was far from the usual Tech standard, especially on a per-carry basis:
Virginia Tech Leading Rushers By Year
Player
Att.
Yards
Yds./Att.
No. 2 RB
Team Rank (Rush Yds./Game)
1999
Shyrone Stith
226
1,119
5.0
645 yds.
8 (253.9)
2000
Lee Suggs
222
1,207
5.4
617 yds.
5 (270.5)
2001
Kevin Jones
175
997
5.5
728 yds.
26 (194.7)
2002
Lee Suggs
257
1,325
5.2
902 yds.
19 (212.4)
2003
Kevin Jones
281
1,712
6.1
512 yds.
17 (209.3)
2004
Mike Imoh
158
780
4.6
605 yds.
32 (178.2)
2005
Cedric Humes
162
752
4.6
647 yds.
29 (190.7)
2006
Branden Ore
241
1,137
4.7
215 yds.
90 (113.4)
2007
Branden Ore
267
992
3.7
205 yds.
82 (133.6)
The biggest difference between Ore and his predecessors is that those before him almost always had a complement - Stith/Kendrick, Suggs/Jones and Imoh/Humes were equal tandems, aided by very good running quarterbacks in the Vick Brothers and Bryan Randall. Ore carried an unusually large share of the load for a single back at Tech and was saddled with Sean Glennon under center most of the time, but there's no reason to think someone among the group of Kenny Lewis, wonderfully-named Jahre Cheeseman, incoming Ryan Williams or any number of redshirt freshmen won't surpass Ore's individual contribution this fall. The difference will be how much Tyrod Taylor will be used as a runner in Glennon's place and whether the second back will emerge to make the whole formidable again. Lord knows they need it - the passing game was already hampered by Glennon's limitations and Taylor's inexperiece, and Eddie Royal, Josh Morgan, Josh Hyman and Justin Harper, leaders of the receiving corps since 2004, are finally out of eligibility.
As for Ore, he will presumably be leaving school for the second time, probably to take a shot at free agency in the NFL. He passed on the draft after submitting paperwork in January, which probably seemed smart then (mediocre junior year=stock at low ebb) but now leaves him in a bit of lurch. 7-Eleven is always waiting, I guess.