Or: Who Now Shall Catch Our Passes?
- - -
Hawaii isn't having the best week – what with the teary aftermath of their Sugar Bowl destruction and June Jones' stunning decision to chase dollar signs from his paradisio alma mater to a possibly hopeless mid-major rebuilding job in Dallas, despite Hawaii's best efforts to, ahem, pony up for its guru – and amongst the sobering news for the program at-large, the early draft-related departure of a single player, undersized receiver Davone Bess, isn't likely to make such ripples, especially when the brains of the Warriors' record-setting run-n-shoot (Jones, and his on-field surrogate, Colt Brennan) won't be around to figure out how to get the ball into his dreadlock'd hands. But look at Bess' production over the last three seasons –
Davone Bess, This is Your College Career
Rec.
Yards
Yds./Rec.
TD
2005
89
1,124
12.6
14
2006
96
1,220
12.7
15
2007
108
1,266
11.7
12
Career
293
3,610
12.3
41
– and know that on a per game basis it not only topped that of his prolific teammates, Ryan Grice-Mullen and Jason Rivers, but also that of any other active receiver in the nation. Bess had eleven games in three years with double-digit catches and with another year anywhere near even his least prolific season, as a freshman, he would have certainly shattered the Division I-A record for career receptions.
I believe the WAC is suitably impressed.
- - -
For all his production, Bess is considered a
likely third round pick
because of his far less-than adequate size (Wes Welker, anyone?), a problem definitely not shared by any of the other three junior pass-catchers who declared since Friday, monsters-in-waiting James Hardy from Indiana (6-6, 220), Devin Thomas of Michigan State (6-2, 215) and tight end Martellus Bennett of Texas A&M (6-7, 248), all projected as first or second round locks.
Maybe because he was a basketball player and regarded as such a project when he came to Indiana, Hardy has been the best-kept offensive weapon in the country for the better part of the last two years, even as the Hoosiers improved to bowl contention and snuck onto national television a couple times. I don't know about Hardy's "character" – he was accused in May 2006 of attacking his girlfriend and their infant son, though she later called the incident a "misunderstanding" and charges were dropped through a pretrial diversion program – but there is no question about his overwhelming stature or, essentially operating with a wide receiver at quarterback, his production:
James Hardy, This is Your College Career
Rec.
Yards
Yds./Rec.
TD
2005
61
893
14.6
10
2006
51
722
14.2
10
2007
79
1,125
14.2
16
Career
191
2,740
14.3
36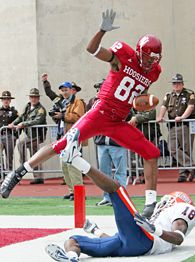 Easy to look down on the Big Ten at six-foot-six.
- - -
Hardy is huge, consistent, had more catches and touchdowns in three years than Calvin Johnson and, like his more acrobatic predecessor, will be the first receiver off the board in April, though apparently Hardy's somewhat suspect speed (barely below 4.6 in the 40) will keep him from the top ten unless a particularly bereft offense is desperate to throw jump balls in the end zone.
Bennett will be a first or second round pick on similar merits (probably the second tight end to fall, after USC's Fred Davis), as a towering box-out type who didn't always necessarily live up to his massive recruiting hype but did lead Texas A&M's low-octane passing game in catches and yards the last two years (38 for 497 in 2006, 46 for 538 last fall, including 25 catches over the last five games after missing the win over Nebraska). His size alone makes him a match-up problem against linebackers and safeties, especially in the red zone, and he can move for a guy who is, technically, a souped-up long-armed brown-throated three-toed sloth. Thomas, another likely second round pick, is the man rocketing up the board after a big, out-of-nowhere year for the Spartans: after catching six passes in all of 2006 (four against Indiana), he led MSU with 79 this year, for 1,260 yards and eight touchdowns even as the rest of the passing game badly regressed in the transition from Drew Stanton to Brian Hoyer. He closed the year with three touchdowns in the comeback win over Penn State and added 1,100-plus on kick returns. When the faucet runs as hot and cold as that – and we know from experience that it usually does in East Lansing – best get while the gettin's good.
Fare thee well, sirs.