Saturday: When Ohio State Has the Ball vs. LSU Defense
Sunday: Special Teams, Intangibles and Eccentri
Monday: Pickin' Time
- - -
Today: When LSU Has the Ball vs. Ohio State Defense
First of all, re: the schedule thing, LSU played a clearly tougher schedule for four reasons:
a) Ohio State opened the season against a I-AA team, Youngstown State, and LSU – unlike most of the rest of its conference – did not play a I-AA team.
b) Both teams played a series of mid-major creampuffs (Middle Tennessee State, Tulane and Louisiana Tech for LSU vs. Youngstown, Akron, Kent State for OSU) but LSU's major out-of-conference game was against Virginia Tech, a team that lost one other game the rest of the regular season and made the BCS as a major conference champion, and Ohio State's major out-of-conference test was at Washington, a team that finished last in the Pac Ten.
c) Ohio State played six winning/bowl teams in its last seven games, but LSU played eight winning teams over the season and a ninth bowl-eligible team (South Carolina) that did not make the postseason despite being ranked in the top ten in October.
d) LSU played in an extra conference championship game, the emphasis added to distinguish it from the de facto regular season "championship game" Ohio State won at Michigan.
Those are the reasons I
ranked LSU number one
over the Buckeyes in my final BlogPoll ballot, but I don't think any of that is particularly relevant to the outcome Monday.
Watching LSU extensively throughout the season – I saw the Tigers blow out Mississippi State, Virginia Tech and South Carolina in September, on their epic four-game run of thrillers against Florida, Kentucky, Auburn and Alabama, and in the finale over Tennessee; I listened to the end of the loss to Arkansas on the radio but did not watch any of it – I never lost the sense that Gary Crowton's offense was occasionally too fancy for its own good, given the team's ability to pound the ball in a variety of ways with its absurdity of wealth in the backfield. Clearly, Jacob Hester scares no one the way Keiland Williams or especially little Trindon Holliday does, but as emphatically, literally pounded home against Florida, the Tigers were at root a power running offense and regularly established that philosophy even without a marquee back:
LSU Rush Offense vs. Opponents' Average Rush Defense
Avg./Game
vs. LSU
+/-
Avg./Carry
vs. LSU
+/-
Miss. State
156.9
198
+ 41.1
4.3
3.96
- .07
VA Tech
86.0
297
+ 211.0
2.8
7.24
+ 4.4
Mid. TN St.
199.8
198
-1.8
4.9
4.95
+ .05
S. Carolina
209.3
290
+ 80.7
4.9
5.8
+ .90
Tulane
132.6
134
+ 1.4
3.9
3.5
- .37
Florida
99.3
247
+ 147.7
3.0
4.8
+ 1.7
Kentucky
190.0
261
+ 71.0
4.5
5.2
+ .72
Auburn
119.3
169
+ 49.7
3.5
5.1
+ 1.6
Alabama
128.3
87
- 41.3
3.5
2.6
- .94
La. Tech
137.1
321
+ 184.9
3.9
8.0
+ 4.1
Ole Miss
199.1
228
+ 28.9
4.7
5.7
+ 1.0
Arkansas
146.7
204
+ 57.3
3.9
4.3
+ .35
Tennessee
162.5
212
+ 59.5
4.2
4.5
+ .31
OSU Rush Defense vs. Opponents' Average Rush Offense
Avg./Game
vs. OSU
+/-
Avg./Carry
vs. OSU
+/-
Akron
127.8
3
- 124.8
3.5
0.2
- 3.3
Washington
203.1
142
- 61.1
4.9
4.2
- .70
N'western
119.8
0
- 119.8
3.6
0.0
- 3.6
Minnesota
161.8
45
- 116.8
4.5
1.6
- 2.9
Purdue
128.8
4
- 124.8
4.2
0.3
- 4.0
Kent State
200.3
161
- 39.3
4.4
3.4
- 1.1
Mich. State
198.2
59
- 139.2
4.4
2.1
- 2.3
Penn State
193.8
139
- 54.8
4.6
6.0
+ 1.4
Wisconsin
201.5
12
- 189.5
4.4
0.3
- 4.1
Illinois
266.2
260
- 6.2
5.7
5.1
- .61
Michigan
166.1
15
- 151.1
4.04
0.6
- 3.4
Shaded games vs. teams ranked entering game; Youngstown State not included in OSU schedule because its averages were compiled vs. I-AA teams and are therefore N/A.
- - -
LSU ruthlessly manhandled Virginia Tech, which might have finished with the best statistical defense in the country if it hadn't been ripped for 598 yards in Baton Rouge; the Tigers also pounded pretty heavily on Florida, especially down the stretch, when it ran on 13 of 15 plays on the winning touchdown drive and converted two fourth-and-short spots and one third-and-short goalline situation by plowing Hester straight ahead.
That dominance against good teams waned, though, as the Tigers lost players to injury (notably all-everything guard Will Allen Arnold, out since the win over Va Tech) and seemed battle-weary. Kentucky infamously stuffed the Tigers on yet another do-or-die fourth down in overtime a week after the Florida game, and though LSU ran effectively on Auburn, it found itself in too large a hole after early turnovers to get back into the game on the ground; the same scenario played out in another near-miss at Alabama two weeks later, when the Tigers never established anything on the ground. Ryan Perrilloux's presence insured more mobility from the quarterback against Tennessee, but Hester was stopped again on a fourth-and-short that set up a Tennessee score in the first half and there was never enough consistency to build sustained drives – without Jonathan Zenon's interception return of Erik Ainge in the fourth quarter, with the Tigers trailing by one, it's arguable LSU did not have enough offense to win the game.
Vernon Gholston has 13 sacks. His arm veins have 4.5.
- - -
Ohio State, meanwhile, obliterated everybody for the third consecutive season, and beat into a bloody pulp foes overmatched (three rushing yards to Akron, zero to Northwestern) and formidable (four rushing yards to Purdue, twelve to Wisconsin, fifteen to Michigan) alike. Penn State wound up with a decent per carry average on the ground, but trailed all game and only ran 23 times, less than half the Lions' usual effort to run. This defense was
first nationally
in total, scoring, passing and pass efficiency defense, third against the run, tied for third in sacks and eighth in third down efficiency defense, which makes it in relative terms the most impressive unit of the decade through the regular season.
The only team with true success running against OSU was Illinois, as the Illini were the only team with the requisite talent (and, crucially, speed at quarterback) that spread the field and forced the Buckeyes to run and make tackles in space rather than try to match up between the tackles, which was doom over and over again. Even Illinois finished slightly below its season averages despite breaking an 80-yard touchdown run – Rashard Mendenhall's 25-yard gain in the same game was the second-longest OSU gave up all season, one of only about a half dozen runs it allowed at all over 20 yards – but it seems clear that despite LSU's size up front, it will have to do something other than attempt to bull its way to first downs. Michigan and Wisconsin came at OSU with similarly massive offensive lines that easily outweighed the Buckeyes' front and were just as easily overrun and thoroughly defeated. Vernon Gholston is possibly the most disruptive, underrated presence on any defensive line in the country (check out his performance against Michigan, often matched against likely top five draft pick Jake Long) and all three linebackers, not just headline-grabber James Laurinitis, are sure-tackling ballhawks. The OSU front seven can control almost any offensive front in the front without requiring much safety help, and if it can do that for two, two-and-a-half quarters, it doesn't have to worry about the run anymore. Then things get really ugly.
This is where Ryan Perrilloux and Trindon Holliday are crucial weapons in LSU's arsenal, as each has been at crucial times throughout the season. Perrilloux was not great in an every-down role against Tennessee, but he had success running from the shotgun read-option sets against Florida, especially, and can put the same kind of pressure on the perimeters of the Buckeyes' defense that Juice Williams did in Illinois' upset in Columbus – think back also to Vince Young and Michael Robinson, the only quarterbacks who got the better of A.J. Hawk and Co. in 2005, the first of a three-year, 40-game streak of nearly unbroken success by the Buckeye D otherwise. Real athletes at quarterback always pose problems, and this group is not immune.
Because of his speed, Holliday is an almost unrivaled x-factor, a screaming red siren to the defense anytime he's on the field, and besides his pure, angle-slaying speed, the attention he commands when he goes in motion or on a reverse action forces ends and outside linebackers out of their normal lane responsibilities, brings safeties into the mix against the run and keeps corners at home to contain on the outside. The games Holliday has touched the ball least on offense (once against Auburn, once against Alabama, didn't play against Arkansas) represented three of the Tigers' four worst rushing games against SEC defenses. How Crowton uses both of them (and how often) in his gameplan to disrupt Ohio State's responsbilities and try to catch defenders out of position or in mismatches for a big play – or just to move the chains, as Florida did when the Gators had the Buckeyes' heads spinning on its misdirection attack in last year's title game – might be the decisive strategic element.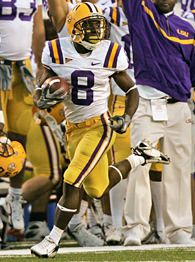 Holliday: Automatic mismatch.
- - -
On a more every-down level, because Ohio State has been so dominant between the tackles, I'd expect Crowton to use more spread sets than LSU typically employs to emphasize the closest thing the Tigers have to an advantage, personnel-wise: their big wide receivers against OSU's less-than-blue-chip secondary. The Buckeyes do have one allegedly can't-miss prospect at one corner, two-time all-Big Ten blanketeer Malcolm Jenkins, who will probably draw the assignment of handling similarly-touted Early Doucet on the other side.
Opposite him, though, two-year starter Donald Washington is suspended for the game
[Washington will play after all; see comments - ed.]
, putting tremendous pressure on the rest of the DBs to cover Demetrius Byrd and Brandon LaFell, two lanky speedsters who can get down the field and have been contained more by their hands' incompatibility with the ball than by any coverage. Their ability to stretch the field also opens up big swatches of space underneath for steady tight end Richard Dickson, who I would have guessed had caught almost twice as many passes this season as he actually did (28); maybe because his role grew as the season went on and he was more productive in the big, televised games, or just because – full disclosure: he's from my hometown – I paid more attention to his catches and Gary Danielson's sudden fawning over his reliability. At any rate, Dickson is a big part of the offense to keep the chains moving when defenses respect the deep threats around him. This is one case where LSU's willingness to throw on early downs will pay off, if Matt Flynn can consistently complete passes to set up more manageable second and third-down situations that give the Tigers a chance to run the ball, and that keep Gholston and the very sack-happy OSU front from teeing off – opposing offenses this year have completed a measly 41 percent of passes on all third down attempts, slightly less with seven or more yards to go, and their conversion rate with seven or more yards to go is a ridiculously low 14.4 percent. Yet impenetrable as the Buckeye secondary has been, in large part of of the overwhelming success of the front seven, it hasn't been challenged by an overall passing game this dangerous. Penn State and Michigan might come close with their quality receivers alone, but a healthy Matt Flynn brings more to the table from his end than a one-armed Chad Henne or Anthony Morelli under any circumstances.
Summary and Predicition: LSU is used to trying to maul defenses with its big offensive line and power-based running game while taking frequent shots downfield to its touted receivers, but Ohio State has thoroughly dominated the line of scrimmage in virtually every game it's played for the last three years, and to a near-historic extent this season. When the Buckeyes have struggled, it's typically been when faced with athletic quarterbacks allowed to create out of the shotgun (Vince Young, Michael Robinson, Juice Williams) and been forced to chase and make tackles in space. LSU has the personnel to occasionally exploit this in Ryan Perrilloux and readymade mismatch Trindon Holliday, though its most reliable bet will be to work the cornerback spot vacated by suspended Donald Washington opposite Jenkins, whoever it is. Matt Flynn will have to be sharp in his reads and accurate to keep the chains moving with the passing game, because any sustained success with LSU's standby, conventional running game will be a major upset and failure to make yards on first and second down will lead to significant pain inflicted on Flynn on third downs, mostly via Vernon Gholston. I don't see the Tigers putting together than more than two-three significant drives and think they will struggle to score more than 17-20 points without significant aid from field-changing turnovers or big plays on special teams. Overall Advantage: Ohio State.
- - -
Prognosticative hat tip to Pelican Sports: you know SMQ too well, sir.