It's back! The Hub will work to re-establish itself as a news/analysis aggregator on a daily basis. As always, if you have a tip for the Hub, don't be shy: e-mail at sundaymorningqb-at-yah00, etc.
- - -
• We Hardly Knew Ye: Steve Slaton. Assuming anonymous, rah rah caretaker Bill Stewart was hired amid a wave of emotion to replace Rich Rodriguez with the express purpose of maintaining maximum continuity for West Virginia's last, best, spread option-fuelled hope at a mythical championship run next year, that end took a major hit Sunday when Steve Slaton bid Morgantown sayonarra to enter the draft.
Steve Slaton, This Is Your College Career
Att.
Yards
Yds./Att.
TD
Rec.
Yds./Rec.
Rec. TD
2005
205
1,128
5.5
17
12
7.9
2
2006
248
1,744
7
16
27
13.3
2
2007
211
1,051
5
17
26
13.5
1
Career
664
3,923
5.9
50
65
12.4
5
Slaton leads active players in career touchdowns, on far fewer carries than any of the closest contenders, and is second in career yards per carry among runners with at least 500 attempts, behind fellow early jumper Jamaal Charles (6.3). Beyond that, though, and where championships enter the picture, is the obvious jolt he and Pat White gave to the program when they entered the starting lineup as freshmen midway through the 2005 season - West Virginia had previously been a solid team living at the fringes of the polls, but hadn't won the Big East since 1993; in three years, the Mountaineers have two conference titles, lost only one game (to South Florida in 2006) when White and Slaton were both healthy at once and finished in the top ten all three years (WVU had never had back-to-back poll finishes at any rank prior to 2005-06, much less in the top ten). West Virginia seems to pop up every few years or so - out-of-nowhere undefeated regular seasons in 1988 and 1993, for instance, before losses in the bowl games - but has never had the level of sustained success largely fostered the last few seasons by Slaton's talents. If it ever has a reasonable expectation of breaking into the mythical championship game, the time must be now. But it's running out after the year-end derailment against Pitt and the defection of Rodriguez to Michigan, and now Slaton's foregoing the Final Quest next fall for the lure of second round dough.
He was partially phased out of the offense over the second half of the season, anyway, barely touching the ball even after White left the crucial game with Pitt, and the offense didn't miss a beat when he hobbled off in the first quarter against an outstanding Oklahoma defense in the bowl game. White appeared to be by far the more indispensable player as this season wore on, and with tiny burner Noel Devine storming the starting position, Slaton decided his immediate future was elsewhere, some place they write bigger checks. Or write checks, period. West Virginia can still make its title run, but the already lengthening odds grow that much longer.
Also taking his bodily-kinesthetic wares pro will be  Penn State cornerback Justin King, the first to go of the heralded 2005 speed class (King, Derrick Williams, Deon Butler, Jordan Norwood) that led PSU to the Big Ten championship and within one second of an undefeated season as freshmen. Compared their debut, the results the last two years have been significant disappointments - for King's part, following a great sophomore year, his stock dropped after he was pwned much of the afternoon by big, NFL-esque James Hardy in the Lions' win over Indiana and despite his top-end speed is currently slated for the fourth round.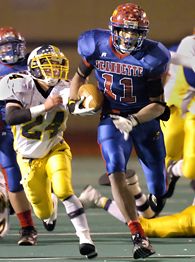 Pryor: Will probably face better linebackers in college.
- - -
•
Terrelle Pryor Watch.
Yea, the recruiting gods giveth as they taketh away: breathless panting will follow the all-everything quarterback on a
visit to Happy Valley
this Saturday, "family friend" Charlie Batch in tow. Penn State is the local favorite, though Michigan is still thought to top Pryor's list since it lured Rich Rodriguez and his Pryor-friendly scheme north - the "next Vince Young" was allegedly
the first person Rod called
after accepting the job - and bid
adieu
to last year's shirtless quarterback recruit, marble statue Ryan Mallett, who suddenly found himself a square peg in a round hole. Pryor will be in Ann Arbor at the start of February, days before Signing Day; Florida, another spread option school, will probably get a visit as well, with cursory looks at Oregon for its offense and at Pittsburgh and Duke (!) mentioned for basketball purposes.
• Bring on the Rulebook. Expect some kind of reform in the wake of an NCAA survey of 21,000 athletes that found football players spend more than 44 hours per week in sport-related activity, more than a full-time job and more than twice the NCAA-mandated limit of 20 hours of practice and playing time. That is a lot of film, travel and training room time.
This is not way ahead of the curve for football: men's basketball players spend almost 37 hours per week on hoops, women's basketball players only a few minutes less. Oddly, football players also reported spending more time on academics (39.5 hours per week, combining with football for an average 12-hour day) than any other male athletes, too, which begs the question: what are basketball players doing with the extra two-three hours? Worthwhile charity and other humanitarian organization, no doubt.
• Grudge Match! First candidate for Storyline Nonconference Game of 2008: Tulsa will play Arkansas in Fayetteville on Nov. 1, according to anonymous sources in the Tulsa World, which first reported Saturday that Tulsa planned to buy out of an Aug. 30 game with Texas Tech to reunite notorious Hurricane offensive coordinator Guz Malzahn with the school and state that spurned him last winter and turned into a lurching basketcase in the succeeding months as a result.
The world was hit with no comment from Tulsa's end and Arkansas', but Texas Tech A.D. Gerald Myers gave the paper a stiff NSFMF!, first in a statement issued Friday - "We are still under contract to play the game in Lubbock on Aug. 30. For Tulsa to cancel this game with only eight months notice would be an act of bad faith on their part and Tulsa University, being an institute of higher education, we fully expect them to honor the contract. A cancellation at this late date would make it almost impossible to schedule a quality opponent at this time." - and then again at halftime of the Tulsa-Oklahoma State basketball game Saturday: "We expect to play the game." Tulsa has already pissed off division rival Rice by hiring away Todd "Douchebag" Graham the day after he signed a contract extension in Houston and has Malzahn to satisfy the high entertainment value of an off-field sideshow with Arkansas partisans; adding Tech to the list of rage-filled opponents can only mean the smallest school in the Bowl Subdivision is movin' on up.
• Quickly: LSU is in search of a defensive coordinator with Bo Pellini's departure to Nebraska, though it may not look very far: Pellini reportedly supports Tigers' secondary coach Doug Mallory, and Miles said last week he'll interview internal candidates. . . . Pellini introduced his staff at a Nebraska basketball game Saturday. . . . One-time Ohio State quarterback-in-waiting Rob Schoenhoft wasn't heartened by Todd Boeckman's mythical championship flop against said Tiger D: Schoenhoft plans to transfer to Delaware, where he'll even move into outgoing Blue Hens quarterback/scout darling Joe Flacco's old house. Good luck, young ma....hey, what does that mean for OSU's chances of landing Terrelle Pryor?
UCLA? Excellent...excellent.
Bust, officially: A few days after being approached about moving to tight end, once-heralded quarterback Xavier Lee is not enrolled in classes and
will not return to Florida State
. . . . Alabama
interviewed ex-Michigan State coach Bobby Williams
for a vacant spot on the Crimson Tide staff, but hiring Williams - a former Nick Saban assistant who has never coached tight ends, the position-specific opening - might lead to a shuffle of the rest of the staff. . . . Florida
earned a commitment
from fulback T.J. Pridemore, son of ex-Atlanta Falcon Tom Pridemore (spurned Georgia Tech reax: "
Pridemore is a knuckle drager
[sic]
"), but
lost receiver Philip Pierre-Louis to Auburn
, where he won't be in the shadow of his brother Wondy, a Gator cornerback. . . . Steve Spurrier is
opening up the Cock `N Fire
to more quarterback running, which may give prolifically michievous, mullett-sporting redshirt freshman Stephen Garcia an edge in the competition with Chris Smelley and Tommy Beecher. . . . First adjustment to the new regime at Michigan:
the pace is much faster
. . . . Six Texas players have
undergone surgery since the Holiday Bowl
and could miss the Spring. . . . High school teammates Vincent Joseph, a cornerback, and Alfred Rowe, a fullback, were
declared academically ineligible
at USC. . . . And follow
Rick Neuheisel's comeback trail
from volunteer high school assistant to UCLA head coach. Something about this story reminds me of that
Simpsons
episode when Montgomery Burns lost his fortune, only to earn it back with an environmentally wretched "slurry" factory. But maybe that's just me.