A weekly primer.
- - -
I've never tracked my picks here at Friday Morning Quarterback, much as I've almost never actually gotten this out-of-control post up in the morning, and maybe that's to my benefit. Now comes some diligent soul(s) to take the initiative for me: the kids at Campus Pigskin are keeping a running tally of certain forecasters' picks against the spread, and though I don't pick with the spread or even consider it, I'm informed my Week One effort stood at 8-2 – I missed on Kansas-Central Michigan (oh man, did I miss) and Colorado State-Colorado. Granted, Colin Cowherd was 3-0. But we're off to a good start here.
As always, I could be completely wrong about all of this:
Finally, We'll Learn About
- - -
Virginia Tech is a championship contender? This is the prove-it game against LSU. The Hokies' goals are immediately restricted to the ACC with a loss at LSU, and unless it's a nailbiter – which no one seems to expect, really – it will take weeks for Tech to climb back into the top ten.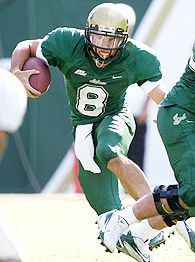 It's Mr. Grothe's big day.
- - -
Most to Gain
- - -
South Florida would like to add another road upset to justify some of its preseason hype, and the Bulls immediately vault into the top 25 and Big East title picture with a win at Auburn. The difference between USF's continuing to progress on an upward swing and its falling into a pattern of stagnation could be decided in this game.
Most to Lose
- - -
It feels like Michigan's season is on the line against Oregon, and maybe the short-term direction of the program beyond this season. Michigan is one of the few schools that cannot conceive of being 0-2, and Lloyd Carr is one of the few top-end coaches without the fan support to survive such a debacle.
...AND ALL THE CHILDREN LEARNED TO MULTIPLY BY SEVEN...
In the miserable realm of blowouts and other morbid curiosities.
- - -
Inevitable Massacre of the Week
This is the line for Hawaii's offense last year against Louisiana Tech:
Passing: 30-44, 506 yds., 5 TD; Rushing: 12 carries, 112 yds., 3 TD; 0 sacks allowed
Hawaii won 61-17. Usually, the Rainbows or Warriors or whatever they are save their best work for Aloha Stadium, where they put the flambee to the
NCAA's worst defense
last year, but essentially the same players return for another beatin' this year in Ruston. This certain massacre also doubles as the longest possible distance for a conference game: Honolulu to Ruston is a trip of a little over 4,000 miles, so far that Hawaii's
not even going back
to the Island between Saturday and next week's game at UNLV.
Walk of Shame
Do you think Appalachian State justifies your slumming? Fie, fie on the behemoths shilling for easy victory and wealth against the proud but relatively hapless tackling dummies of the Championship Subvdivision. If they receive the benefit of an extra payday, a manufactured excuse to sell tens of thousands of extra tickets and take an automatic step up the ladder to bowl eligibility, these capable teams must also be singled out, brought before the people and humbled for their acquiescense to the crudest bullying this week:
| | | | | | |
| --- | --- | --- | --- | --- | --- |
| | Pittsburgh vs. Grambling State | | | Purdue vs. Eastern Illinois | |
| | Illinois vs. Western Illinois | | | Georgia Tech vs. Samford | |
| | Idaho vs. Cal Poly | | | Connecticut vs. Maine | |
| | Iowa State vs. Northern Iowa | | | Kansas vs. SE Louisiana | |
| | Northern Illinois vs. Southern Illinois | | | Arizona vs. Northern Arizona | |
There are no creampuffs in football!
- - -
Feel our icy gaze. Remember it. Learn to fear it until you change your patsy-devouring ways.
Buffalo Line Watch
Since it joined Division I-A in 1999, Buffalo has been favored to win just once. This week, the Bulls are three-point underdogs to new conference rival Temple, the first time Temple has been favored over anyone since 2003. The only time Buffalo was favored was, in fact, against the same Owls to open last season, a game it won in overtime.
Lame Game of the Week
I included Idaho in the Walk of Shame for scheduling I-AA Cal Poly, but there's no question the Vandals are the most vulnerable team on that list. Maybe they deserve a break for opening up at USC, but, eh, rules is rules. Poly should feel at least somewhat at home in the cozy Kibbie Dome, capacity 16,000. Runner-up: Rhode Island at Army.
WE CAN REBUILD. WE HAVE THE TECHNOLOGY.
Bouncing back.
- - -
Michigan: Tentative and ill-founded. See below.
Minnesota: Gets a second shot at beating the MAC in Miami, Ohio.
Virginia: The Cavs were a disgrace last week in Wyoming, but Duke has been a much worse disgrace for much longer. Al Groh may not survive the weekend with another loss.
Florida State: Nothing is automatic for FSU anymore, but UAB – rebuilding UAB – has to be as close it gets.
Utah: New-look Air Force salve for whipping at Oregon State last Thursday.
Washington State: Wazzou is in for a very long year if it can't get by San Diego State.
Kansas State: Ditto the Wildcats with San Jose State coming to town.
Onwards...
GAME OF THE CENTURY OF THE WEEK!
Virginia Tech at LSU
- - -
What's at Stake: The winner remains in the all-defining mythical championship race (conference championships? Ha! The mass market mocks your quaint regionalism. Mocks!). This is the marquee non-conference game for both and will define both teams' status in public perception as either a real contender or an also-ran. LSU's stock is high enough now and its schedule tough enough later that it might have an opportunity with the right breaks to survive a loss and stil work its way back into the national picture by November, but voters are skeptical about Virginia Tech, which is about three years removed from its last really big win and has not won a road game with national implications in...has Virginia Tech ever won a road game with national implications? My quick check says no – Orange Bowl wins have all coincided with down years for Miami. This is the Hokies' only shot at the elite.
Constants: Both teams will be frustrated in their attempts to move the ball, especially by running. These are fast, aggressive and disciplined defenses, both ranked in the top five in the country in total and scoring defense last year and both returning the vast bulk of starters. LSU is more aggressive with the blitz, but Tech relies just as heavily on the man-to-man capabilities of its corners, which, with its recent assembly line of first round picks there, has rarely hurt them.

Glennon goes for broke.
- - -
Just as certain as competence on the other side, though, is Glennon's pedestrian, risk-averse mandate, which executes safe screens and bootlegs off an effective running game at its best, tosses up fat picks under pressure from un-deceived rushers at worst and completes a third down pass two yards short of the sticks at various intervals in between. His role Saturday will be first to protect against turnovers, then to protect against turnovers, then to make the easy throws and take advantage of field position and other breaks. But he won't be leading epic marches down the field, unless Branden Ore is in top gear, which really falls under the heading of...
Uncontrolled Variables:
LSU's offense against Mississippi State was a mismash of vague philosophies in coordinator Gary Crowton's first game, and weirdly seemed to revolve around very average runner Matt Flynn operating on the ubiquitous read draw action from the shotgun. As Flynn is so valuable in other areas, and not so much of a runner, I would bet we're not likely to see much of that Saturday. Not with potential spies Xavier Adibi and Vince Hall out for blood. But what will we see? And will Jacob Hester remain the "feature back," to the extent that there is one at all in Crowton's system, whatever that is, exactly? The ability to open things up for Flynn with the running game – after ECU had some surprising success on the ground last week – is crucial, because we still know very little about Flynn's psyche or consistency on this kind of stage.
For Virginia Tech, the spectre of a blocked punt of other special teams heroics always looms, oppressing the kicking team every time it lines up. We also have no idea if the Hokies are saving, grooming or otherwise preparing to unleash super-frosh Tyrod Taylor, an allegedly Vick-like athlete who was summoned by fans but did not appear against East Carolina. The anti-Glennon, his presence could be spectacular or an unmitigated disaster in the most hostile possible environment, one way or the other.
Hypothesis: Not much to take from last week for either team, but we know the defenses are approximately equal in their pain-bringing tendencies, possibly the two toughest in the country by the time we're finished. Virginia Tech doesn't have a dominant, Glenn Dorsey-type disruptor on the line, but its back seven is every bit as fast and slightly more experienced than LSU's. Both teams win games with defense and would prefer to move offensively by establishing the run and mixing in timely, mostly safe passes that keep the D's back as far away from the wall as possible.
As neither team is lkely to have anything going in the running game, though, LSU's advantage stands out in the passing game, in its ability to protect Matt Flynn and in Flynn himself. Where it's easily conceivable – bordering on "very likely" after last week's sack-heavy struggles with East Carolina, in which the offense accounted for ten points – that Virginia Tech won't score a touchdown against LSU with Sean Glennon under center, it's more difficult to imagine Flynn being shut out with a less porous line and real, enviable weapons to the outside. LSU is the more talented team offensively and will find ways to make enough plays against the Hokie D as Tech's offense stagnates and stumbles further into the teeth of predictable one-dimensionality.
| | | | |
| --- | --- | --- | --- |
| | LSU 20 | • | Virginia Tech 9 |
Miami at Oklahoma - - -
When I first looked at this game over the summer, my instinct was to focus on Oklahoma's first-time starter staring down the barrell of the nation's fourth-ranked run defense, one that allowed an absurdly low 2.3 per carry last year and returned as dangerous a pass rusher as there is on the college level, Calais Campbell. The 'Canes were bringing back a more veteran passer (presumptively Kyle Wright; now Kirby Freeman, who also fits after starting the last four games) less likely to crack against OU's similarly steady D, and once the ongoing maturation of Javarris James and the stable of underachieving receivers and the new blood on the offensive coaching staff was accounted for, it was a short walk to arguing for a siren-blasting 'Cane upset on the path of destruction back to the top.
I doubt I would have gone that far even if Sam Bradford hadn't looked so much more like the steady veteran hand in his warm-up game than Freeman did in his, but if Miami can only to equal OU's quarterback play at best – which is the reasonable standard of expectation, all things considered; Freeman was just okay last year and well below average against Marshall, where Bradford's lone start was dominant start to finish – it has no other advantages on the road. James is not even the best secnd-year, breakout-ready back in this game: Oklahoma's DeMarco Murray has the early afternoon spotlight to justify his hype.
| | | | |
| --- | --- | --- | --- |
| | Oklahoma 23 | • | Miami 10 |
Oregon at Michigan - - -
There are many tangible reasons to take Oregon on the road, primarily its offense, the perfect blend of spread set to stretch the defense and quarterback running in space against a defense that has chronically fallen on its face against such elements. Oregon is a complete package offensively, from deep threat (Jaison Williams and Brian Paysinger) to between-the-tackles bruiser (Jonathan Stewart) and it's inevitable the Ducks will score points here and at every other stop on their schedule.
Portrait of a senior quarterback with his back against the wall.
- - -
And if Michigan had only
struggled
with Appalachian State, instead of going so far as actually losing, I think I would pick the Ducks to get away from this with a win. I do not have confidence in Michigan's defense, and I can picture vividly the reality of the season-long downward spiral sinking in as Dixon traipses to his fourth touchdown in an Oregon blowout. But here I'm going to do something I normally wouldn't, and which may be kind of stupid, because Bo Schembechler nor Charles Woodson will crawl out of the ground or climb out of the stands or appear as an
Angels in the Outfield
-style apparition to will the glorious old Blue to victory. But I do have respect for the Michigan "brand," and for the talent assembled there, and its ability to right itself at home against a team with a recent history of total unpredictability. I don't think Oregon will come close to stopping Mike Hart – the Ducks were obliterated for 300 yards on the ground alone by Houston last week – and the Wolverines will do what they have to do to salvage a chance at a meaningful season.
But it will be very, very ugly if they don't. This is a season-defining game, and for Lloyd Carr, perhaps era-defining, because the boulder the ASU game sent rolling downhill will be too fast to stop at 0-2. He has to win it.
| | | | |
| --- | --- | --- | --- |
| | Michigan 31 | • | Oregon 27 |
South Carolina at Georgia - - -
It's hard to imagine so much distance created between two teams that looked so evenly-matched in the preseason after one week, especially a week in which they both won, but South Carolina was universally "lackluster" against UL-Lafayette, mainly by displaying no resistance in allowing 253 yards on the ground – again, to UL-Lafayette – at the same time Georgia was unleashing a strong, balanced attack in its three-touchdown dismantling of Oklahoma State. Carolina ought to get a significant boost with Blake Mitchell back from suspension, but the major problem I targeted before the season remains: USC can't stop the run. Not on a level that has coincided with that of any of the past 15 SEC East champions, at least, none of which has been South Carolina. This is not a coincidence. I have a tremendous amount of trust in the egalitarian talents of Steve Spurrier, whose playcalling against more talented teams was a master stroke in Carolina's near-misses against Auburn, Florida and Tennessee last year. But his offense was shut out in this game, and his defense gashed and beaten by a true freshman in his first extended action. At home this time, Georgia pushes the 'Cocks around – again – and joins Florida as the early division favorite.
| | | | |
| --- | --- | --- | --- |
| | Georgia 21 | • | South Carolina 13 |
Notre Dame at Penn State
- - -
Nothing good happened for Notre Dame against Georgia Tech, and other than some kind of undefined faith-in-the-brand intangibles a la Michigan above, there are no signs anything good will happen in Happy Valley. I will never consider Anthony Morelli a world-beater, but all he has to do in this case is not self-destruct, because the Irish offense is trotting out young Jimmy Clausen for trial by fire, and every expectation is he will be burnt crispy by the PSU defense, which is no more likely to be blocked than the Georgia Tech onslaught that poured through the ND line at will last week. Charlie Weis is not a bum, and thus I expect some fight from his team. His hopelessly young, outgunned team and its first-time, true freshman quarterback.
| | | | |
| --- | --- | --- | --- |
| | Penn State 24 | • | Notre Dame 6 |
TCU at Texas
- - -
Oh, folks, is Texas petrified over this game, one week after it was outgained by Arkansas State and needed a a flimsy call on an onside kick to avoid Michigan-like drama. Whereas TCU needed no such help dismantling Baylor as expected, 27-0, without its best player. Tommy Blake will be back for this one, which could stand as the jewel in a breakthrough season for the Frogs if they can keep UT from running and put McCoy in obvious passing situations that allow Blake to tee off.
The question is, how will TCU score? Andy Dalton is a redshirt freshman who played well at home, against a very young, outmatched Baylor defense that yielded plenty on the ground, but Texas is something else entirely – the Longhorns were third in the country in run defense last year, one of the very few teams that compared well in that category with TCU. Gary Patterson's pedestrian quarterbacks have always been preternaturally in-control and blessed with an eerily consistent running game in almost every circumstance, but taking a redshirt freshman in Austin is not one I'm willing to bite on. It's not one I'm willing to dismiss, either, given last week's initial stumbling, but when in doubt, take the athletes.
| | | | |
| --- | --- | --- | --- |
| | Texas 26 | • | TCU 17 |
Olson vows to stomp his old mates in his new stomping grounds.
- - -
BYU at UCLA
- - -
One of the most interesting games of the week, for many more reasons than Ben Olson lining up against his old team. BYU is good: the Cougars whipped Arizona last week – dating back to last year, its second straight walk-over against the Pac Ten – and got a sound game from Arizona State transfer Max Hall, who appears to be the instantly competent starter at quarterback he was projected to be. But my memory is long: I picked a similarly-positioned Utah team to win in Pasadena to open last season, very, very erroneously, and I've learned my lesson: UCLA is still faster than the Mountain West, and in this case, far more experienced, too. Let the record show this is the first time
Friday Morning Quarterback
has picked the Bruins to win in a little over two years. Do not let me down.
| | | | |
| --- | --- | --- | --- |
| | UCLA 29 | • | BYU 20 |
South Florida at Auburn
- - -
As skeptical as I am of Brandon Cox, and his receivers, and his offensive line, and pretty much everything relating to the Auburn offense, the Tiger D is an overwhelming unit again. Matt Grothe's laurels center on his all-purpose versatility, but Auburn is too fast on defense to let him escape for much damage as a scrambler. Make him throw, especially with Quentin groves screaming around the end, and it could get ugly. This looks like a carbon copy of the KSU game last week: close, but Auburn pulls away late.
| | | | |
| --- | --- | --- | --- |
| | Auburn 20 | • | South Florida 13 |
Colorado at Arizona State
- - -
I liked what I saw last week from Cody Hawkins' debut, but Colorado still struggled enough running and on defense that it took a second half comeback and overtime to beat a team that went 4-8 last year in the Mountain West. CU is definitely improved, but Arizona State smoked a comparable opponent to CSU (San Jose State) 45-3 in its opener. The Devils are dangerous offensively and still a couple weeks from entering their annual collapse zone.
| | | | |
| --- | --- | --- | --- |
| | Arizona State 35 | • | Colorado 20 |
Navy at Rutgers
- - -
Friday night game. The Knights hit another gear by hammering Navy 34-0 in Annapolis last year and bring that fast, slicing, chaotic defense that's so well-suited for disrupting the option. And just about everything else, really. If the Middies do manage to run, it won't be on the level Ray Rice does against their defense.
| | | | |
| --- | --- | --- | --- |
| | Rutgers 31 | • | Navy 14 |
Nebraska at Wake Forest
- - -
The line on this game is only plus-seven? If Boston College didn't knock the faux championship glow off Wake last week, Nebraska will finish the job against first-time starter Brett Hodges. The Huskers are going to be rolling for USC's visit next week.
| | | | |
| --- | --- | --- | --- |
| | Nebraska 42 | • | Wake Forest 17 |
Boise State at Washington
- - -
The upset rumblings are loud here after Washington's "impressive" opening rout at Syracuse, and everybody's joining the Husky faithful's ongoing fawning over UW quarterback Jake Locker. Boise State is also not quite the same dominant team off the blue turf. But the Broncos still win, and still bring one of the half dozen most dangerous players in the country in Ian Johnson. With Ohio State, UCLA and USC on deck, Washington has to have something positive happen here or risk its promise being totally buried under the schedule. Close will have to do.
| | | | |
| --- | --- | --- | --- |
| | Boise State 33 | • | Washington 27 |
Missouri at Ole Miss
- - -
Ole Miss was outgained last week by 200 yards against Memphis. Good luck containing Chase Daniel. The Tigers outgained Ole Miss 471-162 last year in a 34-7 pounding.
| | | | |
| --- | --- | --- | --- |
| | Missouri 38 | • | Ole Miss 13 |
SMQ HOMERISM
Rampant bias.
- - -
Southern Miss at Tennessee
Damion: Deliver us from passing...
- - -
Tennessee being Tennessee – and I mean that in the positive sense – I've learned not to be too optimistic about this kind of game. Alabama beat a certain defeatism into me, quite literally, in these frustrating games every year that
seemed
close on the scoreboard, that were technically only one play from turning around in USM's favor. But they weren't close, and the longer the game went on, ostensibly in reach the whole time, you knew it wasn't really close. This kind of game usually doesn't get out of hand until very late, if it ever does, but I know how it goes against bigger, stronger SEC foes. Southern puts up a fight, and sooner or later, it gets squashed.
Now, it doesn't have to be this way, and I am heartened somewhat by Cal's success running on the Vols. USM is not Cal, but Damion Fletcher is a deceptively tough, consistent runner, the kind of kid who always finds a way to get his yards, and if he does that for long periods of time and Jeremy Young subsequently responds in the play-action game, I'm certainly not alone among Southern Miss partisans who consider this "winnable."
I am among the much smaller subset of that group that considers that outcome very unlikely, though, primarily because of Erik Ainge. Even if they were to somehow neutralize the significant size disadvantages along both lines, I still fear Ainge will have his pick of the Eagles' young and shuffled secondary, which features one brand new, redshirt freshman corner and an accomplished senior who's spent his career at safety moving for depth purposes to hold down the other corner. Tennessee's secondary is in a similar position, but Southern Miss is in no position with its lo-fi passing game to exploit it. The best defense, then, will be a good, ground-based offense, one designed to keep the chains moving with Fletcher – Young will only make sporadic plays, and only if he has time and down-distance situations that allow for some element of surprise – and keep the ball out of Ainge's hands. This is what I want to happen, and barring a crucial turnover or series of turnovers, it's the only way Southern has a chance to win. What actually will happen is a shaky start, some stabilization as the game descends into a taut defensive bog, and a late run by the Vols facilitated at least in part by a USM turnover as it shifts into must-pass comeback mode. I've seen this before.
| | | | |
| --- | --- | --- | --- |
| | Tennessee 27 | • | Southern Miss 13 |