• The Worst, Jerry. The Worst: Lloyd Carr and Charlie Weis could be saying the same thing, but they don't quite have the tenure of an all-time wins leader, so leave it to Bobby Bowden for the most pessimistic self-assessment of the first week:
Florida State's Bobby Bowden has been coaching since Dwight Eisenhower was president. In all that time, he can't remember his team playing any worse than it did in the first half of its 24-18 loss to Clemson in Monday's season opener.
"I've never seen us so inept on offense ... but then you go look at the film and see why," said Bowden,, Tuesday. Bowden is now 5-4 against son Tommy Bowden after losing four of the last five games to his son's team.
"It seemed like everything (we) did was wrong," Bobby Bowden said. "We missed assignments. We lined up incorrectly. The play was supposed to go right, the backs went left."
I dont think Monday night was comparable with last year's home o-fer to Wake Forest, but that's besides the point, which is this: the coaching staff didn't change anything. This is no time yet for judgment, especially since the offense got appreciably better and made a game of it in the end, but his debut was a definite strike against Jimbo Fisher and Rick Trickett, or at least against the idea (unabashedly endorsed in this space) that all FSU's ripped mustangs needed was to be broken a little by the right hands. Fisher continues to defend Drew Weatherford, and it's still tough to call him on the quarterback decision because, as Fisher says clearly, the entire offense is a failure, beginning with an astonishing barrage of missed assignments on the offensive line. FSU has clearly not recruited well up front, and suffered the bad fortune of injury and bust in most of the cases it has, and it's folly to go on pretending it can turn around its offensive malaise until it gets the beef. Until then, it's a lot more of this.
Okay, look confused, run the wrong route, and take a terrible angle to block when I'm scrambling from your first mistake. Ready....
- - -
Oh, and Mickey Andrews is pissed, too, but that's always been the case. His perpetual scowl is like crying wolf.
• Justice at the Polls: Not surprisingly, Michigan is a goner in AP and Coaches' polls alike, a right and inevitable result for the integrity of the system, sez Drew Sharp, whatever it had to begin with:
Had Michigan remained in the Associated Press media or USA Today coaches' polls after its humiliating loss to I-AA Appalachian State, those top 25 rankings would have lost all semblance of credibility.
That U-M received any top 25 votes in the polls suggests the necessity for random drug testing for the voters. Michigan's fall from No. 5 to oblivion represents the biggest one-week fall in the AP poll since it expanded to 25 teams in 1989. The Wolverines received 132 points in the coaches' poll. One coach -- we don't know who -- voted the Wolverines 10th overall in the country."
What coach or more SportsCenter-saavy representative thereof might have kept the Wolverines in his ballot? A couple quick guesses:

Charlie Weis: Thirty-two points? That's some impressive offense.

Bobby Bowden: That was probably only about the seventeenth-worst performance I can remember.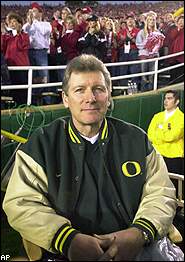 Mike Bellotti: Michigan is a fantastic, talented team to whom there is no shame in losing and unlimited satisfation in defeating. When those kids get their heads on straight, they can run right through neon-clad defenses - that is, er, any prepared, competent defense – like a hot knife through melted butter. Remember that. Please.
Coming and Going...
• Les Miles: brain surgery survivor, nostalgic Stones fan.
• Randy Shannon, as you prepare for Oklahoma, your quarterback missed more passes than he hit and failed to crack 100 yards against Marshall. Maybe, but at least he wasn't Kyle Wright.
• Arkansas' Marcus Harrison is back at practice after his arrest for ecstasy possession last month. The Razorbacks are off this week, but the DT is "probably available" for the SEC opener at Alabama in two weeks, per Houston Nutt.
In the meantime, how much does Arkansas miss Marcus Monk? Against Troy, maybe not much, but at some point, Casey dick has to hit a wide receiver.
• Sean Glennon may be making friends in high places, but that's not helping the ballooning line on Virginia Tech's visit to LSU.
• Steve Spurrier is a deeply loathed man, and he couldn't be happier about it.
• Ron Zook is already running out of patience with his upperclassmen. And it only took him a little over two years!
• It was just 79-10 in Mark Todd Dodge's first game. What does North Texas have to change?
• Utah and Air Force have  played every year for a quarter century, and they still have no idea what to expect.
• Tennessee demotes two senior starters for Saturday's game with Southern Miss: defensive tackle J.T. Mapu is giving way to sophomore Dan Williams and super frosh Eric Berry is moving into Jarod Parish's safety spot.
• Michael Henig is still the man at quarterback for Mississippi State, until things start to get out of hand at Tulane.
• Backup quarterback Steven Ensminger, son of Auburn's tight ends coach, is transferring from the Plains to enroll at Louisiana Tech.
The Ward
Injuries and such, et cetera...
- - -
• Georgia's Kregg Lumpkin ceded the starting job to Knowshon Moreno, and now will be out up to a month with a broken finger. Delicious quote from Lump: "When I looked at it, it was leaning out of my glove."

Lemme go! I'm ready to play!
- - -
•
Ole Miss loses one of its few weapons: receiver Dexter McCluster will
miss up to six weeks
for...well, it's best we not know, according to The Orgeron. You wanna try to ask him again?
• North Carolina linebacker Chase Rice will undergo season-ending ankle surgery after his first career start in UNC's win over James Madison.
Rise and Walk - Thou Art Healed!
- - -
• Xavier Mitchell may not be exactly healed from the awful-looking concussion that knocked him out of Tennessee's game at Cal, but he feels like he is. Doctors will make the call whether Mitchell can play against USM.
• Florida gets starting corner Markihe Anderson back from an ankle injury in time for Tennessee prep against Troy.