A weekly primer.
- - -
Sometimes, you're completely wrong, and that feels bad. Such is the case with my ill-fated prediction Thursday that Texas A&M would swarm Miami's moribund offense en route to a key road win. Not so much.
Rarely, though, does one get the opportunity to be so right and so wrong simultaneously. If my most recent opinion of the 'Canes –
...even if the 'Canes manage to handle the Aggies' running game, at least there's a question about it. There is no question on the other side: Miami will struggle to move the ball, and probably will have to have help from the defense and special teams to score more than 10-14 points against a serious defense right now.
- - -
At least I wasn't the only one who underestimated Miami....
- - -
...was so laughably wrong, it's only because my
preseason opinion on the 'Canes
was so self-assuredly right:
If Wright beats out Freeman for the starting job, his convenient precedent is Brock Berlin, another slightly confused, iffy-armed blue chip who disappointed as a junior (Berlin threw 17 picks to 12 touchdowns in 2003) but dramatically rebounded as a senior (22 TD:6 INT; the team's turnover margin leapt from minus-three to plus-fourteen). Wright has every tool at his disposal to do the same: a truly grizzled offensive line, an identifiable workhorse, receivers that athletically rival anybody's, if years-old recruiting rankings are to be believed, and a new playcaller whose offense last fall scored more points in Blacksburg (Georgia Tech put up 38 under Patrick Nix) than Virginia Tech has allowed to any offense, anywhere, in the last three years.
[...]
If the defense holds court (there's no indication it won't) and the offense reverts to anywhere near the mean, even just back to the mid-twenties per game in scoring, UM will be much more competitive overall. The gap has closed in a hurry, but given the competition in the division, I still think Miami has the best players.
- - -
At least for now. See, if you contradict yourself often enough, you'll always come out looking smart...
Onwards... Finally, We'll Learn About:
Penn State and Michigan might as well both be blank slates: with Notre Dame's collapse, the Nittany Lions' non-conference schedule (ND, Florida International and Buffalo) is a borderline national embarrassment, where Michigan comes in an entirely new, reinvigorated team, its early implosion corrected and behind it...unless, that is, last week's rebound was merely a mirage facilitated by the overwhelming incompetence of Notre Dame's offense. What happens if Penn State lines up Derrick Williams for a few snaps at quarterback? Very probably, all hell breaks loose, and then what do we really know about Michigan's supposed comeback? Or Penn State's alleged "quality opponents"? There are really only two elements of this game I'll buy as ongoing trends: Anthony Morelli dragging PSU's offense into a hole, and Mike Hart visibly swearing on the bench as one of his backups fumbles away a scoring drive. Either way, the winner remains/rejoins the short list of Big Ten frontrunners.
Most to Gain
South Carolina doesn't have to beat LSU on the road to stay in the SEC championship race – Florida and Georgia both have the Tigers down the line – but if it wants to be taken seriously about it, and start to garner some national buzz for something other than coming close, an upset in Baton Rouge is as perfect an opportunity as Spurrier will have. The Gamecocks seem completely overmatched, but then, that's exactly the perception they can put to bed.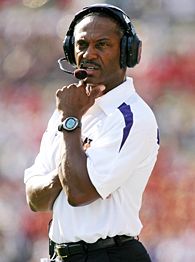 It's like a chicken fight to the death, only for mediocre coaches.
- - -
Most to Lose
Michigan's season has a chance to really spiral out of control again if its confidence is shaken badly enough by Penn State, especially in case of another (very unlikely) Oregon-esque rout. Washington and UCLA, as described below, are in a similar position when they meet in L.A.: each has a perfect opportuniy coming off a sobering loss to send its season on an irretrievable death spiral. Ty Willingham, Karl Dorrell – I think we'll be watching the beginning of a very long, unpleasant end for the loser of Saturday's game.
...AND ALL THE CHILDREN LEARNED TO MULTIPLY BY SEVEN...
In the miserable realm of blowouts and other morbid curiosities.
- - -
Inevitable Massacre of the Week
Other than Notre Dame, if Louisville could pick any team to heal its sinking defense, it couldn't do much better than Syracuse. The Orange limp feebly into Papa John's Stadium – You'll never need to go on the defensive with our great deals! Papa John's! – lucky to only be the Bowl Subdivision's fourth-worst offense in terms of yards and scoring. The 'Cuse is also 101st in total defense, for good measure, having been ruthlessly shredded the last two weeks by powerhouse attacks from, uh, Iowa and Illinois; it made no effort whatsoever to tackle the latter. The line here is 36 points, but the rage-filled Cardinals will top 50, no sweat, and how, exactly, is Syracuse supposed to score three touchdowns? I'm not sure conference games come any more grusome than this, until West Virginia comes into the Carrier Dome next month, anyway.
Walk of Shame
Join in humbling the behemoths shilling for easy victory against the proud but relatively hapless tackling dummies of the Championship Subvdivision. If they receive the benefit of an extra payday, a manufactured excuse to sell tens of thousands of extra tickets and take an automatic step up the ladder to bowl eligibility, these capable teams must also be singled out, brought before the people and humbled for their acquiescense to the crudest bullying this week:
| | | | | | |
| --- | --- | --- | --- | --- | --- |
| | Virginia Tech vs. William & Mary | | | San Diego State vs. Portland State | |
| | Miss. State vs. Gardner-Webb | | | Western Michigan vs. Central Connecticut State | |
| | New Mexico vs. Sacramento State | | | Tulane vs. SE Louisiana | |
| | UTEP vs. Texas Southern | | | Hawaii vs. Missouri Southern | |
| | Central Michigan vs. North Dakota State | | | Missouri vs. Illinois State | |
Feel our icy gaze. Remember it. Learn to fear it until you change your patsy-devouring ways.
Buffalo Line Watch
Since it joined Division I-A in 1999, Buffalo has been favored to win just once, against Temple to open the 2006 season. This week, after covering the 34-point spread in a 45-24 loss at Penn State, the Bulls are mere three-point underdogs against visiting Baylor.
Lame Game of the Week
Last week, San Jose State was the subject of the "Lame Game of the Week," against 0-2 Stanford. The Spartans lost, 38-0. SJSU comes back this week against WAC rival Utah State, which is only a few snaps (and more than a little sympathy from Wyoming and Oklahoma) from being doubled up in total offense – the Aggies are putting up about 222 yards per game, and allowing 433. At least they've scored; this time last year, USU's only touchdown after three games was by its defense. Hey, kind of like, well, never mind...
WE CAN REBUILD. WE HAVE THE TECHNOLOGY.
Bouncing back.
- - -
• TCU: Air Force popped the Frogs' bubble of Mountain West dominance a week after Texas' popped their bubble as a BCS gate-crasher. SMU is just about staving off panic.
• Tennessee: No matter how bad things look, there's always an Arkansas State on the horizon to make you feel better about yourself. Well, kind of – remember the other UT's encounter with the Indians.
• Auburn: Might give up some yards to Mumme-powered New Mexico State passing game, but the Tigers will be able to run it down the Aggies' throats with or without assistance from the Keystone Kwarterbacks.
• Central Florida: The Knights host dangerous Memphis for key early positioning in C-USA East race. Tigers won't stop Kevin Smith.
• Louisville: See above.
• Navy: Midshipmen get Duke, fat and happy after ending its terrible losing streak at Northwestern. A litte TOO fat and happy...
• Nebraska: I haven't seen the Cardinals in person, so maybe I'm underestimating them, but Ball State will represet quite a different atmosphere than USC, I would imagine.
• Colorado: Another MAC vs. Big 12 North showdown, this one with Miami, Ohio. The Buffs are not much better, but via talent alone should equal last year's win total against the RedHawks.
Upwards...
GAME OF THE CENTURY OF THE WEEK!
South Carolina at LSU
- - -
What's at Stake: Just another chance to perpetuate mythcial championship-level dominance from LSU's end, but for the Gamecocks, a bad loss could amount to a sort of existential crisis: does Carolina really belong in the SEC title discussion or not? Beating Georgia suggests that yes, it does, but a competitive showing in the toughest possible circumstances any team could draw right now (well, the game could be at night, I guess) would justify the Cocks' poll existence. South Carolina Wants: The instinct after watching LSU hand Virginia Tech its head in every phase two weeks ago is to suggest "South Carolina just wants to get out alive," or something, but Carolina has been better than merely "competitive" against ranked teams under Spurrier:
South Carolins vs. Ranked, 2005-07
Date
Opponent
Rank (AP)
Result
9/10/05
at Georgia
9
L, 15-17
10/29/05
at Tennessee
23
W, 16-15
11/12/05
Florida
12
W, 30-22
9/9/06
Georgia
12
L, 0-18
9/28/06
Auburn
2
L, 17-24
10/28/06
Tennessee
8
L, 24-31
11/4/06
Arkansas
12
L, 20-26
11/11/06
at Florida
6
L, 16-17
11/25/06
Clemson
24
W, 31-28
9/8/07
at Georgia
11
W, 16-12
Record:
4-6
Avg. Score:
18.5 - 21
With the exception of last year's Georgia game, every game win or lose has come down to a touchdown or less – Spurrier is 0-4 against the top ten so far, but only by a little more than four points per game (and Jarvis Moss' fingertips).
As important as the yardage and points against more athletic teams is the old "shorten the game" tack, designed to keep the game within reach by mounting time-consuming drives and limiting scoring opportunities, and Spurrier has proven to be a master at this. Few coaches are as adept as the OBC at keeping fast defenses honest with draws, screens, misdirection and the safe passing game, exemplified in the play-calling, clock-grinding clinics Carolina put on against Auburn and Florida last year without the means to mount any kind of consistent power running game. The average USC drive in those two games ate eleven plays and nearly five minutes of game clock, and even though it bent, the defense forced the Tigers and Gators on similarly long scoring drives by preventing big plays. That strategy was aided in part by the game-shortening clock rules, now revoked, but Carolina looks better defensively this time around and has to hope with Matt Flynn gimpy and Early Doucet likely out altogther that if it can't stop LSU, at least it take away big plays and make the Tigers take as much time as possible to get on the board. The slower the pace, the better for the Gamecocks.
LSU Wants: The opposite: LSU has looked like one overwhelming juggernaut of a team – werewolf with a chainsaw for a dick, etc. – and thus can intimidate and demoralize a relatively heavy underdog in a hostile environment with some quick success. On paper, Carolina's offensive line has no hope of stopping the waves of purple and gold storm troopers Bo Pellini will not hesitate to send in virtually illegal numbers after Blake Mitchell, a conceivably Glennon-esque target for panic and fatal error under pressure if he can't get rid of the ball with confidence on the third or fifth step. If all else fails, Knowshon Moreno demonstrated two weeks ago that the 'Cocks are still vulnerable to an old-fashioned pounding as the game wears on, and no offensive line in the SEC is better suited to wearing down a defense up front that LSU's: with DT Nathan Pepper out, the Tigers' O-line outweighs Carolina's rotating front four on average by more than 30 pounds (316-273, give or take a few ounces).
Constants: For South Carolina, none – every aspect of USC's game are on the brink here, and it will have to execute perfectly to avoid a complete, all-systems shutdown. For LSU, again, both lines are in a position to throughly dominate: the Tigers should be thinking run and stop the run, and wondering how Carolina plans to handle their upfield push on anything longer than 3rd-and-6.
Uncontrolled Variables: Spurrier as genius ... Miles as choke artist ... Flynn's ankle ... LSU receivers minus Doucet.
Werewolves with chainsaw dicks, eh? Better run the middle screen.
- - -
The Pick:
Carolina might be able to hang in for a half or so, but LSU's size, speed and pressure will eventually create a crack that opens the floodgates for an ugly finish. The Tigers will be able to establish the run and pound away on a couple will-killing drives. If USC is down by more than a touchdown in the fourth quarter, it could be the start of feeding frenzy.
| | | | |
| --- | --- | --- | --- |
| | LSU 34 | • | South Carolina 16 |
5-3 ATS, 4-2 AS A DD HOME DOG, IT'S SMQ'S DOUBLE BARRELL GOLDEN ROCK SOLID BARKING DOG OF THE WEEK!!
If it were logical, it wouldn't be an upset.
- - -
The Game: Oregon State at Arizona State
The Line: Arizona State by 12.0
Conventional Wisdom: Public perception turned on the Beavers and their two-quarterback hijinks when they turned the ball over seven times and had a punt blocked in a fairly ridiculous 34-3 loss at Cincinnati two weeks ago. Fewer people might have noticed had it not been a national game on a Thursday night, and OSU hadn't done everything it could to give the game away. For similar reasons, no one has noticed Arizona State, which has benefited from playing San Jose State (see above), Colorado and San Diego State en route to general stat sheet gaudiness.
The Pick: The Beavers came away from that game with Cincinnati with a terrible reputation for mistakes, turnovers, and all-around badness, deservedly so, and maybe trashing Idaho State last week is not a signifier that the leaks are plugged. But transitive property, do your stuff: the same Beavers waxed Utah in the opener, the same Utah that just beat the tolerance out of UCLA. Plus, when Sammie Stroughter's smiling, the whole world smiles with him. (And with the nation's second-ranked run defense, from whence OSU quietly shut down its opportunistic conqueror in Cincinnati and can put the game on Rudy Carpenter's very unpredictable shoulders.)

| | | | |
| --- | --- | --- | --- |
| | Oregon State 31 | • | Arizona State 29 |
Georgia at Alabama
- - -
The coaches couldn't have more different personas, but on the field, these teams are startlingly identical: borderline national aspirations, returning starters stepping onto a star track at quarterback, young running backs emerging from a pack, deep receiving corps with sketchy hands, the league's youngest defenses outside of Florida. The only differences right now are in Alabama's offensive line, a veteran group that has not necessarily been better than Georgia's massive young 'uns up front, and the Tide's more successful start in the conference. Which probably means nothing.
One way or another, 'Bama's gettin' into that damn end zone.
- - -
The Pick:
Alabama didn't mount much pressure on Casey Dick last week, a byproduct of focusing on the Razorbacks' other backfield weapons, but it won't have the luxury of letting Stafford sit in the pocket here. Georgia also will not be hanging a true freshman out to dry against an offense that has demonstrated a much more accomodating attitude re: the forward pass under Major Applewhite. At the same time, though, South Carolina made some headway against Georgia on the ground, and Alabama is positioned to do the same with Terry Grant and a much more talented, experienced line that Carolina took into Athens. Assuming Parker Wilson is not some kind of one-week wonder as a passer, Applewhite has opened up 'Bama's offense for the better. Lacking a Darren McFadden of its own, or a Felix Jones for that matter, Georgia will struggle to establish the run and find itself guessing one time too many against the sudden balance in the Tide offense.
| | | | |
| --- | --- | --- | --- |
| | Alabama 23 | • | Georgia 18 |
Penn State at Michigan
- - -
Penn State is on an eight-game losing streak to the Wolverines since 1996, which you will hear often Saturday, and I'd put some stock into a Michigan resurgence if Chad Henne was returning to the lineup. With a true freshman under center, though one who was merely adequate in a cakewalk of a first start, Penn State's formidable defense should be able to key on Mike Hart enough to keep him from barrelling through for 165 and three touchdowns, the kind of game he's been on pace to have in all three Wolverines games so far, if the M defense and his own ankles gave him a chance to keep carrying the ball for four quarters. Short of that, as much as I distrust Anthony Morelli on the road, he is a fifth-year senior against a true freshman who I trust even less until further notice. We may not know much about Penn State after games with Florida International, Notre Dame and Buffalo, but the Wolverines, we're certain, can be had, even if the damage has been done by very kinds of offenses and quarterbacks that they'll see Saturday from the Lions. Go with what you know, I always say.
| | | | |
| --- | --- | --- | --- |
| | Penn State 25 | • | Michigan 17 |
Kentucky at Arkansas
- - -
I have no confidence whatsoever in the Wildcats' defense to stop McFadden and Jones in whatever fashion Arkansas chooses to deploy them – with Kentucky, I still see the team that finished next-to-last nationally in total defense last year and gave up well over 400 yards to Kent State two weeks ago before slowing down Louisville just enough to let the Cardinal defense blow the game on its own. Andre Woodson has been flawless – his TD:INT ratio over UK's last 16 games is a ridiculous 40:7 – and gets a secondary here that John Parker Wilson, D.J. Hall and Matt Caddell cut up into one of those little things where you fold the paper and cut out the man and string it out into a whole regiment of little paper men. Whatever that's called. So we are still very much in the magical land of shootouts, and Woodson will have to guid Kentucky through those woods once more before I'm on the growing Wildcat bandwagon.
| | | | |
| --- | --- | --- | --- |
| | Arkansas 36 | • | Kentucky 28 |
McFadden spares no man.
- - -
Iowa at Wisconsin
- - -
I'm not certain exactly what happened to the Hawkeyes last week at Iowa State, but I do know only gaining 233 yards total offense against an ISU team lingering around rock bottom, just waiting for the decisive blow to end the emotional pain of a doomed season before it became unbearable, is completely anathema to beating a top ten team on the road the following week. This is a big, nationally-televised game, and Kirk Ferentz is one of our nation's most generously compensated motivators, and Wisconsin has not shown much of a killer instinct itself the last two weeks against vastly inferior competition from UNLV and The Citadel. I haven't seen anything from the Hawkeyes in well over a year, though, that leads me to believe this can still be a top tier team in the Big Ten. The ISU loss only confirmed the ongoing slide to mediocrity. Tyler Donovan threw two touchdowns against Iowa in his first career start last year and has yet to throw an interception in three games this year.
| | | | |
| --- | --- | --- | --- |
| | Wisconsin 27 | • | Iowa 14 |
Washington at UCLA
- - -
You get the sinking feeling one of these teams' seasons is about to hit a very depressing skid: both followed 4-1 starts last year with extended losing streaks, four games for the Bruins and six games for Washington. Both of those dips also followed injuries to the starting quarterback, and – just in time! – UCLA will be playing without starter Ben Olson. Ohio State exposed Jake Locker's limitations as a passer, but Locker's star is definitely still on the rise, and he will not be the stationary, pocket-bound target the Bruin pass rush has preyed on in its best games under Dewayne Walker. Locker runs, Huskies win.
| | | | |
| --- | --- | --- | --- |
| | Washington 26 | • | UCLA 21 |
Maryland at Wake Forest
- - -
Wake Forest doesn't resemble West Virginia athletically, but the Deacons do employ a running game based on overpursuit and misdirection and have a blazing option in Kenneth Moore, who only touches the ball a few times a game but is averaging in the neighborhood of ten yards per carry and also leads the team in receiving yards. Wake's offense inexcusably sputtered last week against Army, but in Moore alone it has one more offensive threat than the Terrapins.
| | | | |
| --- | --- | --- | --- |
| | Wake Forest 29 | • | Maryland 17 |
Michigan State at Notre Dame
- - -
I'm going to go out on a limb here: Notre Dame scores an offensive touchdown. It has to happen eventually, by accident. Somebody in the secondary slips, there's some confusion – this is Michigan State, after all. Just one, though. And the Spartans score at least three. The Irish will not come close to blocking the exotically/pornographically-named Jonal Saint-Dic. It's not that close.
| | | | |
| --- | --- | --- | --- |
| | Michigan State 31 | • | Notre Dame 7 |
Texas Tech at Oklahoma State
- - -
Speaking of touchdowns, scoring of: pile 'em on for Cap'n Leach against a defense that's allowed five per game to the Red Raiders over the last five years and was most recently carved into intricate little wood blocks for the flea market in Troy, Alabama. I'm not sure why Zac Robinson is suddenly considered the answer at quarterback over ex-blue chip Bobby Reid, an athletic sort who played well last year and should be challenging for all-conference honors right about now, but there are no such questions about Graham Harrell. Somehow, the Raiders are only a seven-point favorite; take those points, unrepentant wagering addicts, and be glad preseason perceptions die so hard. Via Phil Steele's Experience Ratings: Texas Tech is the 11th-youngest team in the Big 12 with 13 new starters, but Leach just keeps rolling out the exact same team every single year.
| | | | |
| --- | --- | --- | --- |
| | Texas Tech 44 | • | Oklahoma State 30 |
'Youth' is just another word for 'complete lack of experience.' Let's do it.
- - -
Air Force at BYU
- - -
The Falcons are off to fast, surprising start under Troy Calhoun, fast enough that this is suddenly the early push game for the lead in the Mountain West after AFA's back-to-back wins over the Cougars' closest competition, Utah and TCU. BYU, on the other hand, is coming off back-to-back losses out of conference, to UCLA and Tulsa, but has been prolific in both of them, doomed primarily by turnovers. Air Force hasn't come close to beating the Cougars the last three years and the
numbers
suggest it might be in a little over its head to beat the preseason's unanimous conference frontrunners in a single three-week run. I could live to eat those words (as that's, like, two days, I should hope so).
| | | | |
| --- | --- | --- | --- |
| | BYU 36 | • | Air Force 24 |
Oklahoma at Tulsa
- - -
The hype over Gus Malzahn's arrival, frustrating stay and departure from Arkansas has me fascinated to get a look at his crazy, up-tempo offense against a defense with some teeth, which may or may not be fair to BYU's D after the Hurricane scored 55 in the wildest shootout of the season's first three weeks. Four different Tulsa receivers with three or more grabs averaged at least 17 yards per catch. Oklahoma is quite a bit better, obviously, but I expect to see the Hurricane pull out every stop to make this one interesting.
| | | | |
| --- | --- | --- | --- |
| | Oklahoma 51 | • | Tulsa 31 |
Clemson at N.C. State
- - -
Tom O'Brien took two stright from Clemson (both in overtime at his last job), but his new team doesn't have quite the same punch against the run: the Wolfpack have yielded 216 per game through the first three, including 231 to Boston College and 211 to Wofford, good for 101st in the nation. Good luck with James Davis and C.J. Spiller. Cullen Harper has missed nine passes in two weeks and has not been intercepted.
| | | | |
| --- | --- | --- | --- |
| | Clemson 27 | • | N.C. State 16 |
SMQ HOMERISM
Rampant bias.
- - -
The Eagles are off this week, basking in a late, great win to open the C-USA last week at East Carolina, early leader as USM's top competition in the East division. Back next Thursday at Boise State, one of four nationally-televised games in the next five weeks, but the only one anyone might actually watch.