Like one of those things that measures temperature...what are they called? Like that, but for football.
- - -
This week's combustion ratings, in descending order of heat generated at 11:44 a.m...
HOT! HOT! HOT!: 2003
This week in HOT! history...
Charles V of Germany & Francis I of France sign Peace of Crépy (1544)
- - -
If inveterate enemies of the Holy Roman Empire and France can come together to relinquish claims to the Duchy of Burgundy and the Kingdom of Naples as well as claims to Flanders and Artois, respectively, while omitting any specific promises to assist the Empire in its attempts to re-establish the authority of the Catholic church in Calvinist Geneva, then maybe there's hope yet for USC and LSU.
Four years ago, the three-headed beast of USC, Oklahoma and LSU cast a spectre over the BCS that computer polls, a self-appointed championship game and nearly a half-decade of
sublimely ridiculous animosity
have thankfully failed to resolve. All three now are off to such blazing starts, even Dennis Dodd is anxious to
ignore the next two and a half months
and jump directly into the nostalgic logjam destined to tear the nation apart by December.
There is also Nick Saban apparently guiding an SEC West darkhorse into long-lamented prosperity, and the luster of early success fading into a season of eternal woe for Notre Dame's touted coaching messiah. "Hey Ya" remains catchy as hell.
Pleasantly Warm: The Spread Option
This week in Pleasantly Warm history...
Baseball rules first baseman can tag base for out instead of runner (1846)
- - -
If you enjoy spectacular, record-breaking home runs, Andro and tragically premature death (and who doesn't?), credit the origins of the stationary, muscle-bound boppers of the modern era to the elimination of the need to chase after baserunners 15 years before the first shots of the Civil War.
After a couple seasons of on-again, off-again, alternating fireworks, Rich Rodriguez and Urban Meyer have their space age Wing T games rolling at the same time, at last, as missionaries Chase Daniel and Jake Locker spread the doctrine to far flung and far less talented lands. Considerably sullied by Charlie Weis' half-hearted,
time-wasting
, quarterback-screwing daliance with the hot young thing in the first half of the Irish's debacle aginst Georgia Tech, or its reputation would be pristine now.
Cozy Enough (If you go for that sort of thing): "National" High School Games
This week in Cozy Enough history...
New York Times begins publishing (1851)
- - -
If newspapers in those communities adhered to the high muckraking standards of the Old Gray Lady, accused statutory rapists would be suspended well before they could rush for 157 yards in the state championship game. Well, maybe – the paper may have ossified into a mainstream institution championing the status quo since its heyday in the early seventies (and, you know, helped sell an illegal war to an overly credulous public, etc.), but the Times has proven that if there's one thing it is not going to tolerate, it's athletes accused of sexually abusing young women.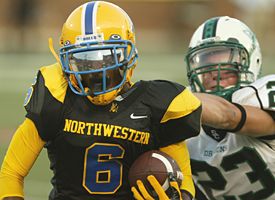 A certain segment of population - Tom Lemming, the creepy ephebophile Herbert from
Family Guy
- might have loved
Miami Northwestern's cross-country win
 over Dallas powerhouse Southlake Carroll Saturday night on ESPNU (whatever that is), but Northwestern fan Robert Andrew Powell is mortified in
Slate
over the increased "nationalization" and corporatization of an already wildly unregulated and corrupt enterprise. The game was open to sports books, Carroll was "exclusively sponsored" by national jewelery chain Bailey Banks & Biddle, and Powell says he witnesses Northwestern players accepting cash "all the time" from boosters and happy gamblers. One of its players, Antoine Easterling - currently toiling on the bench at my proud alma mater - was allowed to play in last year's state championship game even after administrators knew of repeated acts of statutory rape allegedly committed by Easterling in a school bathroom. The  televised game with Carroll was booked immediately afterward, shortly before Northwestern's principal was arrested and 20 other adults were fired for their inaction. Evangel Christian in Shreveport has been fined for engaging in illegal recruiting; Hoover High in Alabama has been accused of changing players' grades. Show Powell a high school football dynasty, and he'll show you something very crooked going on, and ESPN can only make it worse.
The Lukewarm Shall Be Spit Out: East Coast Referees
This week in Lukewarm history...
USSR orders 58.5 million barrels of cereal from Australia (1963)
- - -
In September 1963, the Soviets made a curious purchase from down under: tens of millions of barrells of cereal for its underfed proletariat. Two months later, President Kennedy was dead. Coincidence?

Having failed in their attempt to
rob Virginia of a crucial field goal
at North Carolina, officials up I-95 succeeded in getting the better of Temple by
calling an obvious touchdown out-of-bounds
on fourth down with less than a minute to play, then upheld the call on replay, thus robbing the Owls of a rare victory in a 22-17 defeat against UConn. A stunned nation expresses its outrage in meticulously orchestrated protests that strangely resemble indifference.
Impatiently Awaiting Global Warming: That One Punt Formation
This week in Impatiently Awaiting Global Warming history...
Hurricane Fifi strikes Honduras with 110 mph winds; 5,000 die (1974)
- - -
The onslaught of oncoming rushers might initially seem to the punter like a killer storm churning in his direction for inevitable disaster, but even when the worst does happen, he usually recovers to deliver 45-yarders in the dry season, at least when not disrupted by peaceful political demonstrations blocking traffic.
Dozens of teams have trotted out a "spread the coverage" theory of punting, leaving absurdly huge splits between blockers and sometimes failing to line anyone at all up on one side of the center or the other, splitting the cover team out to the sideline as gunners and leaving rushers free to attack a contingent of personal protector-style blockers who look prone to have ball booted up the wrong end of the gastrointestinal tract. Any trend along these lines - much like all change in general - is so not hot.