Conquered favorites and other notables picking up the pieces of shattered ambition this week:
• If anything goes really good, then the players did it. If anything goes semi-good, then we did it. If anything goes really bad, then the refs did it: Is Houston Nutt's sleep-deprived gut filling with the acid of regret after his decision to run Michael Smith on the Razorbacks' potentially game-icing drive against Alabama instead of Darren McFadden or Felix Jones, or calling an incomplete pass on 3rd-and-11 with 2:31 to play and Alabama out of timeouts, or staying in a tight man-to-man on the winning/losing drive even after John Parker Wilson had efficiently passed the Tide into a zone-friendly situation inside the ten? He is not.
Nutt is, however, not feeling so well re: some specific officiating on that drive:
Officiating questioned after loss Arkansas Coach Houston Nutt still looked and sounded ill Sunday regarding some of the officiating decisions in the waning seconds of the 16 thranked Razorbacks' 41-38 loss at Alabama on Saturday.
Of particular interest to Nutt: a pass interference call on Kevin Woods on a thirdand-9 snap from the Arkansas 28 with 33 seconds remaining; and a stoppage of play with 21 seconds left to measure a 9-yard gain to the Razorbacks' 4-yard line on the next snap.
Alabama had no timeouts remaining on the second of those plays and would have been in scramble mode trying to get lined up to spike the ball or attempt a second-and-1 had the officiating crew, headed by Penn Wagers, not stopped the clock.
After the delay for the measurement, which was a full yard short, Alabama was lined up and ready to snap with 21 seconds left.
Nutt winced when asked about the late-game calls at his Sunday press conference.
"Wow, you really are trying to entice me right there," Nutt said. "That was bad. You don't make that [pass interference ] call." Nutt said he would bring those two plays up with the SEC office today, adding the stoppage of play was particularly peculiar.
"I've never witnessed that before," he said. "I've never seen that before."
- - -
Nutt has been a head coach for 15 seasons and spent most of his life around football, so to suggest he's never seen the clock stopped to measure for a first down is, ah, hyperbole, at best. And though I sympathize with his frustration, watching the game from a neutral disposition Saturday, I agreed with both calls in question, to the extent it would occur to me to "agree" with measuring on a play close to the sticks to begin with. If anything, Arkansas got away with at least one more egregious pass interference call on a short toss over the middle earlier in the drive.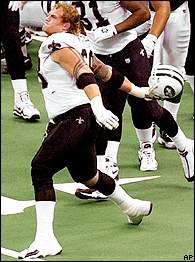 Kyle Turley sees no reason Ernest Mitchell should be suspended for a little helmet swining. The freakin' Man, man. Let us play the game!
- - -
In the air: the status of Ernest Mitchell for Saturday against Kentucky. A very frustrated, pancaked Mitchell was flagged and ejected for ripping off Justin Britt's helmet in the fourth quarter and hitting Britt in the face with it, right under an official's nose. Nutt is discussing a suspension with his staff, since there is no automatic justice from the SEC, but Mike Slive might exercise some form of executive privilege, anyway.
• And I Thought They Just Sorta Showed Up at the Stadium: UCLA had a terrible week of practice, which may or may not mean anything at all - any honest coach will admit that the ups-and-downs of practice (as opposed to just being terrible all the time) and pretty much any other fluctuating intangible are poor predictors of future performance, and occasionally, briefly, they all sometimes must question whether practice is really even all that worth it. Saturday's humiliating 44-6 loss at Utah was such a moment for Karl Dorrell:
During practice leading up to the game, UCLA receivers were dropping footballs as if they'd been dipped in butter, Ben Olson looked like the star of a Quarterbacks Throwing Wild tape, and special-teams workouts brought drill-sergeant-like barking from assistant coaches.
[...]
Nothing made the Bruins' poor week of practice clearer than the Utes' gadget play in the second quarter. Facing a fourth and three at the Bruins' 34-yard line, Utah lined up for a field-goal attempt, but holder Bradon Godfrey ran up the middle for a five-yard gain.
The Utes then went in for a touchdown that gave them a 14-6 lead at halftime.
The punch line? The Bruins worked all week in practice on stopping that very same fake field-goal play.
- - -
The score can be bad enough to completely derail a promising season, the foreshadowing from the practice field can help explain it, but good lord, the anecdotes are just a sucker punch:
What if the final score were 44-6, Utah, and after the game, on the field, Utes running back Darrell Mack said of the Bruins:
"That last touchdown drive they came out on the field and they were whining and crying. And we just kept driving the ball down the field. They lost their composure. They had to be thinking they were going to win the game going in. That's the wrong thing to think about us. . . . That's an overrated team."
- - -
You'll get 'em next time, big guy.
- - -
Maybe, maybe
if Marcus Everett hadn't lunged for the goalline
in the third quarter, Bruce Davis wouldn't have "the most sickening feeling" of his young life. But he did, and Utah turned the resulting momentum into 27 unanswered points, and now a historically fragile Bruin team has to rebound to earn its stripes all over again.
(Under a new coach, naturally, if Bruins Nation has any say. Of course, if BN did have any say, Dorrell's head would be a relic on Nestor's mantel, so take the heated launch of "Dump Dorrell 3.0" for what it's worth.)
• Mind the Gap: There are pages' worth of fallout from Tennessee's unmitigated (and cheesecake-facilitating) shellacking at Florida, the worst loss of Phil Fulmer's tenure, but only one delivers the wide-eyed, fundamental, is-this-who-we-are-now? despair we're looking for:
Florida's rout wasn't all about how fast you play. It's also about how fast you get ready to play.
The recruiting services might tell you Florida coach Urban Meyer has out-recruited every school in the country outside of Southern Cal the last two years. Based on the apparent talent in Florida's freshman and sophomore classes, I wouldn't argue.
But is it 39 points better than Tennessee?
Meyer and his staff don't just recruit at a fast-break pace. They develop players at the same speed.
It's as though Meyer assumes his recruits will play as true freshmen. They don't have to prove they can play. They have to prove they can't play.
The proving begins in January for a number of those freshmen, because the Gators encourage early enrollees. That enables them to put recruits through a demanding off-season conditioning program.
[...]
...Meyer and his staff are developing more young players faster. And coach Nick Saban will do the same thing at Alabama. You can count on it.
Since UT coach Phillip Fulmer routinely recruits top-10 classes, player-development often has been cited as a shortcoming when UT falters. The shortcoming is magnified when contrasted to Meyer's success at Florida.
This much was obvious going into the 2007 season: UT needed more playmakers. And it needed them fast, because the Vols would play two nationally ranked teams in the first three games.
So the Vols went out and supposedly signed one of the top groups of receivers in the country. One of those highly touted wide receivers, Brent Vinson, had a chance to demonstrate his talent on a reverse against the Gators. He lost 9 yards.
Minus-9 yards: That's how much UT's freshman wide receivers contributed against Florida.
[...]
Fulmer has had a good run at UT. But what was good in the 1990s isn't good enough for the new millennium if you want to win a conference championship.
The competition has picked up the tempo. It's up to Fulmer to do the same.
Fast.
- - -
The comments section that story is 62 strong with message board-worthy invective - "EVERYONE SHOULD START BOYCOTTING HOME GAMES AND SHOW THE UNIVERSITY THAT THIS IS SERIOUS!!!! YOU HAVE TO HIT THEM IN THE POCKETS TO GET THEIR ATTENTION!!!! HOW DO U THINK THEY WILL REACT WHEN THEIR IS ONLY 10,000 OR SO FANS????" - not a single one of them attempting to defend Phil Fulmer. He has games with Georgia, Alabama, South Carolina and Arkansas left to seal his fate.
• Give Us the Freshman!: The Alabama papers tend to have the same ideas about Auburn on a regular basis - not that hitting on a firm storyline is much of a challenge with this team after two straight home upsets:
Hey, this kid's a step up!
- - -
If the last story doesn't necessarily seem to focus on the quarterbacks from the headline, it goes more in-depth as the others:
A morose Brandon Cox finally cracked a smile when told about Auburn head coach Tommy Tuberville's theory that perhaps the fans were booing the coaching staff, not the quarterback, on Saturday.
"They weren't booing the coaches. They were booing me," Cox said matter-of-factly.
Looking tired and downcast, the sixth-year senior faced questions on Sunday that he never expected to be answering in Week 4 of his final college season. But after three weeks of dreadful offensive performances, Auburn is 1-2, Cox is fighting a true freshman for his job and the Tigers' season could be on the brink.
[...]
oaches were tight-lipped about the quarterback situation Sunday, although it seems likely that both Cox and Kodi Burns will play this weekend against New Mexico State (2-1).
Cox threw two interceptions in his first two passing plays Saturday. He returned in the fourth quarter to lead the Tigers on a potential game-winning drive that stalled on the 9-yard line.
In between, Burns offered a new wrinkle to Auburn's offense, running draws and options and moving around the pocket with more speed than Cox. He also threw an interception and lost a fumble.
Fans clearly expressed their preference, chanting Burns' name and cheering his every move, while roundly booing Cox.
"I was bothered (by the booing)," Tuberville said. "I was hoping they were booing me. I don't think they'd be booing Brandon. That's the way we took it and that's the way it should be. If you're going to boo, boo the coaches because we get paid to do this. The players don't. They work awfully hard to do what they do."
- - -
The upshot: both Burns and Cox will probably play. The downshot: both Burns and Cox will probably play. Auburn still has five very losable games - at Florida, at Arkansas, at LSU, at Georgia and Alabama - of which it will have to win at least one to make a bowl game, assuming (dangerously) the Tigers take care of New Mexico State, Vanderbilt, Ole Miss and Tennessee Tech. Tuberville was 5-6 his first season, 1999, and hasn't won fewer than seven games since. Right now, this looks like his worst team.
• And of course... I think I'm going to be done with Notre Dame soon enough, because the Irish are playing like Temple and there's only so many ways to say "they suck," but Jeff Carroll seriously takes it to Herr Weis in the South Bend Tribune:
After the latest debacle, Saturday's 38-0 loss against a previously dead-in-the-water Michigan team, Weis announced that his team would be re-starting training camp, effective immediately.
"We will not be watching tapes," Weis said. "We will not be having meetings tomorrow. We will be practicing."
About time.
After showing so much promise as a head coach in his first two seasons in South Bend, Weis bungled this campaign from the outset, something he seemed to be tacitly admitting on Saturday afternoon. It doesn't mean he can't be a good coach. It means he pathologically won't let himself be.
[...]
A week ago, Michigan running back Mike Hart, he of the 187 yards against the Irish, stepped to the postgame podium and guaranteed victory. His leadership paid off on Saturday. A team that had no objective grounds to believe in itself clearly did. You don't scheme those kind of intangibles.
Notre Dame, on the other hand, suffers from a leadership void. Not because there aren't capable leaders on the roster. But because Weis won't let them fill the role. He's the leader.
Weis sabotaged this season when he installed that gimmick offense for the opener. What that did, beyond chasing unloved Demetrius Jones to DeKalb, Ill., was rob valuable learning time from new starters who should have been absorbing the fundamentals of running Notre Dame's real offense.
He essentially flushed preseason practices down the drain, never to be recovered. Since then, the inexperienced offense has been scrambling to get up to speed, and it may never, at least not this season. But, again, that's a symptom, not the underlying problem. The main malady is that Weis thinks that because he can process complex schemes, his players can do the same in 20 hours a week.
- - -
Carroll thinks any "fire Weis" chatter is premature, but he's very specific in his criticism of Weis' stubborn hubris (Hansen's word): receiving the kickoff with the worst offense in America, destined to blow early momentum (which it did, by losing 13 yards, actually the best of its first five possessions); sticking with oft-abused senior corner Ambrose Wooden ahead of sophomore Raeshon McNeil; holding out the only possible hope of the offensive line, Sam Young, at right tackle instead of left until Saturday; continuing to rotate Travis Thomas among the running backs, etc. The changes appear to be coming, but it's two months, three embarrassing blowout losses and two lost quarterbacks too late to save 2007.

Stafon Johnson has heard rumors of the existence of Nebraska's defense, but he'd like some evidence first.
- - -
Elsewhere in despair...
• Minnesota is 1-2 because its secondary has been mercilessly torched by two MAC teams and another from the Sun Belt. Now the Gophers' season really begins against Purdue, which averages 50 points per game and had 300 yards in the first quarter Saturday against Central Michigan.
• Louisville is "genuinely mad" its mythical championship ambitions were dashed against Kentucky, but champions typically, you know, cover people running wide open down the sideline for the winning touchdown.
• I don't know if Nebraska needed more tenacity on defense or just a storm shelter to crawl into and hide against USC, but either way, Saturday's demolition looks even worse on tape.
• Ah...the blazing offense, the ACC title, the darkhorse candidate for the Trophy Which Must Not Be Named, all ridiculous pipe dreams for Georgia Tech in light of the Jackets' manhandling by Boston College. Tashard Choice finished with 31 yards and a strained hamstring for his trouble.
• Every year it's the same way with Iowa State: Iowa's the favorite, but "they come out better against us than what they look like on film," says the Hawkeyes' imperially-named Mike Klinkenborg. Kirk Ferentz makes millions but falls to 3-6 in the Cy-Hawk series.