A weekly primer.
- - -
O.J. Simpson, you are a fortunate man. A famed winner of the Trophy That Shall Not Be Named. A 2,000-yard rusher. In the NFL, son. Twice. A cheesy pitch man above reproach. You're the shit, O.J., and you had to push it. Push it all the way to the limit. And you did it. You pressed your luck, and when the entire world saw the Whammy coming like a freight train, you dodged it. You're a scot-free, lucky son of a bitch.
So you go on thanking your stars, dressing nice and keeping your mouth shut, right? Maybe looking for the killer? Or perhaps write a thinly veiled confession to an egregious crime that, according to the State of California, you did not commit. Either way. Again, O.J., you push your luck, and you walk. Strike two, but you are far from out, man. Just stop swinging.

Memorabilia? Dude – let it go.
- - -
Because once you are
under investigation in an alleged armed robbery at a casino hotel room involving sports memorabilia
, man, that is strike three. Whatever really happened, however you are involved, through whatever ancillary channels, O.J., you are so far out. It's not even funny.
Onwards...
Finally, We'll Learn About
After a few preliminaries, the moment of truth arrives in Tuscaloosa for the two most visible, fan-obsessed coaches of the past eight months. Nick Saban's glow, in my mind, only lasts until his first defeat, and doesn't come back until he wins a championship. On a more direct level, he personally has had a lot to do with the expectations surrounding his relatively young team, which hasn't done much of anything on the field to earn them. With Houston Nutt...well, we don't really know what to expect with Houston Nutt, whose teams have tended to fluctuate, and who in all likelihood would be desperately clinging to his job now if it didn't include the sentence, "Let's hand it to McFadden." A little Much like South Carolina and Georgia last week, only on crack: this game sets the tone for these restless, bloodthirsty fan bases for the rest of the season.

If they could score a point for every story writeen about them since January, this would be a hell of a fun game.
Remaining in the SEC, we also get our first good look at Tim Tebow, full-time starter under the bright lights. I don't know why anyone would be all that worried about this, given the kid's obvious physical talents, good head on his shoulders and clutch experience on big stages already. But at last, we actually get to see the transcendence that is Tebow unfold, unfettered.
Most to Gain
Washington has a good early buzz and surprised a lot of people – SMQ included – by beating a ranked team last week. The athletic quarterback seems undoubtedly for real. The Huskies have opened with confidence, executed and put themsevles in a position to make a lot of noise in the Pac Ten...er, again. All of the above could have been written about last year's Washington team after a 4-1 start that included an upset of UCLA and a star turn by QB Isaiah Stanback, too, so forgive me if I'm slow with my praise after just two rungs up this bitch of a schedule. If Jake Locker and Co. can upend one of the most impressive defenses in the country against Ohio State, though, count me in. The more points scored in that game, the better for Washington.
Most to Lose
The Notre Dame-Michigan loser faces not only the unthinkable spectre of starting 0-3, but – with Penn State on deck for the Wolverines and Michigan State, Purdue, Boston College, UCLA and Southern Cal coming up for ND – the incredible possibility of losing into October or beyond. At least Michigan has Northwestern in two weeks, followed by Eastern Michigan; Notre Dame's cupcakes (if the term still applies) are all stuck together in November. The winner in Ann Arbor might be able to salvage something, especially if it's Michigan with the entire Big Ten slate to navigate, but for the loser, there is no solace. It's a dark, dark world when you're 0-3.
...AND ALL THE CHILDREN LEARNED TO MULTIPLY BY SEVEN...
In the miserable realm of blowouts and other morbid curiosities.
- - -
Inevitable Massacre of the Week
Oklahoma and LSU opened eyes wide with blowouts of supposedly high quality ACC opponents last week, showing no chinks and morphing into the early superhero programs before our very eyes. Now: enter Utah State and Middle Tennessee. If the Aggies and Blue Raiders, respectively, are able to somehow equal the performances of the Hurricanes and Hokies, respectively, OU and LSU will still be the owners of two of the most lopsided scores of the week. And that's a tall if.
Walk of Shame
Do you think Appalachian State justifies your slumming? Fie, fie on the behemoths shilling for easy victory and wealth against the proud but relatively hapless tackling dummies of the Championship Subvdivision. If they receive the benefit of an extra payday, a manufactured excuse to sell tens of thousands of extra tickets and take an automatic step up the ladder to bowl eligibility, these capable teams must also be singled out, brought before the people and humbled for their acquiescense to the crudest bullying this week:
| | | | | | |
| --- | --- | --- | --- | --- | --- |
| | Wisconsin vs. The Citadel | | | Clemson vs. Furman | |
| | Georgia vs. Western Carolina | | | Rutgers vs. Norfolk State | |
| | N.C. State vs. Wofford | | | Oregon State vs. Idaho State | |
| | South Carolina vs. So. Carolina State | | | Kansas State vs. Missouri State | |
| | Memphis vs. Jacksonville State | | | Nevada vs. Nicholls State | |
There are no easy buttons in football!
- - -
Feel our icy gaze. Remember it. Learn to fear it until you change your patsy-devouring ways.
Buffalo Line Watch
Since it joined Division I-A in 1999, Buffalo has been favored to win just once, against Temple to open the 2006 season. This week, after walloping those same Owls 42-7 as an underdog in one of the most lopsided wins in program history, the Bulls are mere 34-point underdogs at Penn State.
Lame Game of the Week
San Jose State has opened with a pair of predictable beatdowns at Arizona State and Kansas State, which together have the left the Spartans ranked 100 or worse nationally in rushing offense, passing offense, total offense, scoring offense, pass efficiency defense, total defense, scoring defense and sacks. They're better when it comes to rushing defense, where SJSU only comes in 96th. This would all be very funny to Stanford if the Cardinal weren't reminded of their own statistical prowess, or hadn't been run over at home by San Jose last year, 35-34, in a game the Spartans ran for 342 yards.
WE CAN REBUILD. WE HAVE THE TECHNOLOGY.
Bouncing back.
- - -
• Auburn: When you're feelin' blue, Mississippi State'll cure what ails ya. Unless it's a headache, what with the cowbells and all, but in football terms...
• Virginia Tech: The Hokies badly need to look good, and Ohio U. is the ugliest girl at the prom. Stand next to her in the picture and you're popular again, for a while.
• Wake Forest: The Deacs may be the best 0-2 team in the country, for whatever that's worth. Army gets them on the board.
• Miami: Rematch with Florida International, of the infamous Orange Bowl brawl. Again, the Canes may be down, but FIU can't come into the OB and expect anything but a beating of one variety or another.
• Vanderbilt: I don't remember any team that's found so many different ways to lose to another team for so long as Vanderbilt has in its ill-fated series with Ole Miss. Last year, the Commodores outgained the Rebels 400-179, yet still fell 17-10 in Oxford, which is not all that untypical of this quasi-rivalry. Given Ole Miss' pathetic attempts to stop the spread last week, Chris Nicks should find a way to pull one out for a change.
Upwards...
GAME OF THE CENTURY OF THE WEEK!
Southern Cal at Nebraska
- - -
What's at Stake: For USC, every game is about maintaining its stranglehold on the voting public's imagination as a mercenary fleet of size and speed that rivals an NFL scout team, and with the top poll position under assault from LSU and Oklahoma, just winning, baby, is not a luxury it can afford. Style points of the variety the Tigers and Sooners racked up in record levels last week are very much in play.
Nebraska wants to use the game same way it hoped to last year, as its highly publicized springboard back into the dominant echelon it ceded to USC, among others, back around the end of 2001. The Huskers haven't been ranked in the top ten in almost exactly five years, since they were blown out at Penn State in the Big Red's Year of Brutal Truth, 2002, and beating the current Death Star would end that streak. Another ultra-conservative, merely quasi-competitve effort like last year's will be a sign to voters that says, "Come Back Next Year."
USC Wants: Nebraska's defense struggled last week with Wake Forest's misdirection as well as the Deacons' speed, oddly enough, and the Trojans have plenty of options to get the ball to the corner, where they have a distinct advantage over the Huskers' more physical, run-oriented (read: big and white) linebackers. Nebraska has been great against the pass its first two games, but both times against first-time starters it didn't pressure all that much rather than a leading popular contender for the Trophy that Must Not Be Named. John David Booty was one of about a half dozen quarterbacks who really put the carving knife to the Nebraska secondary last year, and if he and his new, glue-fingered receivers are really all that, the Huskers by all rights should quickly find themselves in a damned-if-you-do, damned-if-you-don't kind of scenario.

Another national primetime spotlight? Oh, yawn!
- - -
Nebraska's running game would strike more fear had it not been bottled up for the most part last week by Wake after tearing through Nevada in the opener. As it stands, Bill Callahan has built a better running game than his first two dismal seasons by virtue of installing better parts in the machine, but it hasn't done anything yet to suggest its
ongoing problems against decent run defenses
have been relieved at all. In that case, if Sam Keller finds himself consistently in passing situations, the Trojans have a decision to make: there is evidence Keller can burn a blitz crispy, but also that he can be flustered into a big, game-changing mistake, as he was last week before the defense bailed him out, and as he did by tossing up five picks with a big lead over SC at home back in 2005 with Arizona State.
Nebraska Wants:
The much-lamented conservatism in L.A. last year – 36 carries for slightly less than two yards per to just 17 passes, only ten first downs, one on the game's lone inspiration: a fake punt that led a field goal – had to be part of an effort to control the clock and keep a more talented offense off the field. It didn't work for Nebraska last year, but it did for UCLA later on, and Callahan's coaches bring the same NFL-influenced, risk-averse perspective as the Bruins' staff. This is based on a deck-of-cards approach that includes keeping the quarterback out of trouble, controlling the clock with the run and, above all, playing defense. Nebraska couldn't do any of those things against the Trojans last year – as mentioned, it had by far its worst offensive day of the season, generated no space for running backs and allowed SC to score 28 on 399 yards and 26 first downs – and can't succeed this time around unless it's able to mimic UCLA: stop the run first, limit big plays/keep everything in front of the secondary in the passing game to force longer drives, and for god's sake, get your hands up.
Constants:
Nebraska will try like hell to establish a running game, in all likelihood with very limited success, if that. Booty should have an efficient night, at worst.
Uncontrolled Variables:
Will Booty's efficiency lead to points or a lot of stalled drives, a la UCLA? That will depend largely on the chain-moving merits of the running game, about which – absurd talent aside – we know very little in terms of actual production. At some point, Keller has to take a few shots downfield in non-obvious situations. Besides the fake punt here last year, Callahan showed a willingness to try tricks against Texas (halfback pass for touchdown) and against Auburn in the bowl game (another fake punt, this one unsuccessful) and will have something up his sleeve to break the monotony – if it works.
The Pick:
SC may not come out gunning it on all cylinders after a single, scrimmage-worthy game in eight and a half months, but to whatever extent the Trojans are besieged by rust, it won't be enough to negate their advantages in speed and experience. Nebraska has yet to show itself worthy of this level upset under Callahan unless it executes everything with perfection. the cracks that showed at Wake Forest will quickly turn into leaks and full-blown failures under the increased pressure.
| | | | |
| --- | --- | --- | --- |
| | Southern Cal 26 | • | Nebraska 13 |
5-3 ATS, 4-2 AS A DD HOME DOG, IT'S SMQ'S DOUBLE BARRELL GOLDEN ROCK SOLID BARKING DOG OF THE WEEK!!
If it were logical, it wouldn't be an upset.
- - -
The Game: New Mexico at Arizona
The Line: Arizona by 10.0
Conventional Wisdom: Arizona is a more talented, BCS conference team that got its new-look passing game on track last week. New Mexico scored six points in an opening loss at UTEP.
The Pick: The Wildcats' long-dormant offense was DOA as ever against BYU in the opener, and moving at will on Northern Arizona doesn't alleviate its ongoing struggles. New Mexico essentially doubled up UTEP in total yards and first downs and had six drives die in Miner territory in that loss, then outgunned an even more enthusiastic passing game in New Mexico State last week. UNM's Rodney Ferguson has been a workhorse and is on pace to run for 1,500 yards, which doesn't exactly count as exploiting a weakness, since UA's held up okay against lesser backs early on, but it should be effective in keeping the ball out of the hands of Willie Tuitama, if he's going to do much with it when gets it, anyway. Competent Mountain West teams – which should include the Lobos – have matched up well with the Pac Ten the last couple years; Mike Stoops, specifically, is 1-3 against the MWC in his tenure, the struggles stemming in every case from the Wildcats' ongoing inability to score on anyone a notch above, well, Northern Arizona. Sonny Dykes doesn't appear to have changed that yet.

| | | | |
| --- | --- | --- | --- |
| | New Mexico 23 | • | Arizona 18 |
Tennessee at Florida
- - -
It's interesting, in this the most defensive of conferences the past five years, that both of these teams are and very well should be pertrified re: their defenses. I learned much of what I need to know for now about Tennessee's secondary last week, when it allowed 264 yards passing to my beloved but very low-flying Golden Eagles, and not many of them garbage time yards – USM uncharacteristically hit passes of 69, 30 and 22 yards in the first quarter alone, and likely only failed to match that later on because the turnover-prone Eagles found themselves behind and in very predictable passing situations. Watching the Cal game two weeks ago, the only reason Nate Longshore and the Bear receivers didn't hang 400 on UT's secondary is that they were too busy running all over the front seven with a comfortable lead in the second half.
Florida seems less likely to gash the Vols on the ground the same way, though we don't know much about the Gator running game and its ultimate degree of Tebow-centricity at this point, and anytime Percy Harvin is involved, tendonitis or no, it can go to the house. But what of the 31 points to Troy? The only solace is a mentally and schematically soft effort in the second half with a 49-7 lead – the Trojans' gains, unlike the Eagles', were in garbage time – but no matter what happened against Western Kentucky and Troy, Erik Ainge will still be looking across at six guys starting their first Armageddon game in UF's back seven at all times.
The Pick: If the defenses are a wash – Florida's athletic as it can be but hopelessly green, and the all around malaise the Vols showed most of last year on that side shows no signs of stopping – the Gators come out ahead offensively by virtue of Tebow's versatility and the sheer number of dangerous weapons at his disposal, even in the absence of Andre Caldwell. I still like Erik Ainge more than most, but even as a usually cool, precise senior leader, he has neither the line nor the fearsome running ability of Tebow; Ainge is also not a budding force of nature, and is on the road, where Florida has been unbeatable under Meyer (15-0), just as it was under Spurrier. That will make a difference if the still-overwhelming Gator pass rush ramps up with a lead later on.
One thing I'll be keeping an eye on: the creativity of Florida's offense. For all of his first season and most of last year, I considered Meyer's hyped scheme an innovative-looking but ultimately conventional, conservative, move-the-sticks operation from space age sets. That perception completely changed when Harvin entered the picture late last year as a perpetual home run threat and especially in the championship against Ohio State, when receivers were zig-zagging everywhere, always wide open. The mythical title game was what Meyer's offense was supposed to look like from the beginning. We'll see how much of that abandon carries over into SEC play, where attacks tend to stay closer to the vest.
| | | | |
| --- | --- | --- | --- |
| | Florida 30 | • | Tennessee 21 |
Arkansas at Alabama - - -
I can't overstate how much I think the absence of Marcus Monk will affect Arkansas' offense, because of the tightening effect it will have on Alabama's defense. Monk was the one element that made safeties respect the Razorbacks' downfield passing game, such as it was, and keep extra guys back to avoid one-on-one coverage; when they didn't, and left Monk alone to help with the dominant running game, bad things happened. As it is, if you respect Nick Saban's defensive mind, respect Alabama's athletes and do not respect Casey Dick's abilities to function over any extended period of time in a relatively normal, non-lob-based passing game – all of which apply to me – it's very difficult to see McFadden and Jones overcoming the amount of bodies they'll have to face for Arkansas to win here. It's also helpful to remember that 'Bama really took it to Arkansas last year in Fayatteville, in the first start of Mitch Mustain's era: the defense relatively contained the running game (172 yards on 5.5 per carry) and allowed just 97 passing; John Parker Wilson threw for 243 under all kinds of pressure, and had the Tide in position to win multiple times despite two crushing turnovers – one returned for a touchdown – if not for the unbearable string of missed kicks by Leigh Tiffin, who has a girl's name. Mike Shula visibly pulled back on the lever in overtime, and paid for his lack of aggression with a loss 'Bama probably didn't deserve. Saban seems the complete opposite of that.
| | | | |
| --- | --- | --- | --- |
| | Alabama 23 | • | Arkansas 19 |
What can I say? Kid's a winner.
- - -
Boston College at Georgia Tech
- - -
We're conditioned to pay attention in the ACC to Florida State, Miami, Virginia Tech and to a certain extent Clemson, I guess, so there is very little advance notice now for what might turn out to be the ACC's regular season game of the year. Georgia Tech probably brings the best offensive weapon on the field here in Tashard Choice, but the Jackets are far more likely to fall into a one-dimensional rut than B.C., which has showed some balance against presumably better defenses to date than Tech has faced, and the Eagles have also used 700 pounds in the middle of the defensive line to completely stuff almost all attempts to run by Wake Forest and N.C. State – Wake had two total yards on the ground and was badgered into throwing 60 times; N.C. State eked out 54 yards without giving up any sack yardage. The fruit of those labors up front: B.C. has already picked off nine passes. I trust Matt Ryan to avoid those kinds of mistakes far more right now than I do Taylor Bennett, who has not faced much adversity.
| | | | |
| --- | --- | --- | --- |
| | Boston College 24 | • | Georgia Tech 20 |
Ohio State at Washington
- - -
The line on this game is all the way down to +3.5, which in some respects acknowledges Ohio State's reluctance to run away with games it has in hand, but still initially seems a little rash in its dash to the Husky bandwagon. The Buckeyes are young and sketchy on offense and do seem ripe to be taken down a notch on the road; Jake Locker will represent by a mile the greatest challenge OSU's defense has faced, seeing as it's faced Youngstown State and Akron, but 122 yards and four points allowed per game is 122 yards and four points allowed per game. Locker was still able to run all over Boise State last week, but at the very least, I expect the Buckeyes to make the redshirt freshman one-dimensional and zero in on his heretofore uncontested jaunts off the zone read. The corresponding issue, even the defense holds, is whether Ohio State's offense will be able to get anything done, because it's as potentially stagnant and one-dimensional at the moment as the Huskies' – Todd Boeckman has yet to do anything that strikes the least bit of fear into anyone, except possibly his own fans. As long as he doesn't repeat the three-interception fiasco that doomed fellow noob Taylor Tharpe and Boise in Seattle last week, though, I'm taking the Wells-powered grind in a classic Tressel Ball mudder (well, to the extent that you can have a mudder on FieldTurf, anyway).
| | | | |
| --- | --- | --- | --- |
| | Ohio State 19 | • | Washington 14 |
Notre Dame at Michigan
- - -
It's always inside you, Mario. Try to remember...try, dammit!
- - -
Normally I keep a safer distance from psychologically doomed teams that I do from run-of-the-mill youthful indiscretion, but Michigan at least has
something
to hang its hat on coming into this humiliating affair of woe: Mike Hart and Mike Hart alone has played like a possessed man, and may be such, and as long as Mario Manningham looms outside as a reminder of
what once was
a short 12 months ago and Ryan Mallett's long-winding Howitzer can send it to him, Hart should find room against ND's mediocre and beleaguered defense. He should only have to score once or twice, and extend his uncanny fumble-free streak, as long as Mallett keeps his head and doesn't let one get away the way Anthony Morelli (and Chad Henne, for that matter) did last week. Even if Demetrius Jones is on hand to try the zone read Michigan hasn't thought about stopping since Northwestern made the look
en vouge
, Notre Dame just can't block.
| | | | |
| --- | --- | --- | --- |
| | Michigan 20 | • | Notre Dame 9 |
Louisville at Kentucky
- - -
I'm not panicking about Louisville's defense, because the Cards should still be able to score as many as they want on the Wildcats if Brian Brohm remains upright – Kentucky only gave up 20 last week to Kent State, but KSU racked up over 450 yards and turned the ball over four times. Louisville's D had a terrible week, but Kentucky's has had a terrible decade. Andre Woodson will have his moments, but it's Brohm's world until further notice.
| | | | |
| --- | --- | --- | --- |
| | Louisville 45 | • | Kentucky 29 |
Pittsburgh at Michigan State
- - -
The line here started the week at -7.5 and has moved all the way to -11.5. Gamblers have this much confidence in Michigan State all of a sudden? As long as it's Pitt on the other end, I guess, that makes sense; MSU rocked the Panthers last year, and he who takes a redshirt freshman making his first I-A start (Kevan Smith) in a Big Ten stadium that isn't Northwestern's is not a wise man. This proves nothing about the long-term stabilization of MSU's fragile psyche, which has plenty of chances to shatter as usual over the coming weeks.
| | | | |
| --- | --- | --- | --- |
| | Michigan State 34 | • | Pittsburgh 16 |
Florida State at Colorado
- - -
Unless you're willing to really go out on a limb for the virtue of Colorado State and Arizona State, it's a sound conclusion now that Colorado is just a bad, slow team again, and will be for the forseeable future. This could be true of Florida State, too, except for the 'slow' part, but by showing some resiliance after drop dead awful first halves in each of the first two games, it's not a foregone conclusion. After a promising start, it seems that Cody Hawkins (a terrible 16-43 last week against the Sun Devils) is still striving to be about where Drew Weatherford is right now, with less surrounding talent and a far more forgiving defense. The only equalizer here is the oxygen, or lack thereof, but if that didn't stop Baylor from winning at Folsom Field last year, I don't see it being too much of a burden on the 'Noles.
| | | | |
| --- | --- | --- | --- |
| | Florida State 28 | • | Colorado 13 |
Fresno State at Oregon
- - -
Bulldogs played pretty well at Texas A&M last week, and this is just the sort of baffling game it would be just like Oregon to lose. Remember, too, that Michigan moved the ball on the Ducks most of the first half, as did Houston in the opener, despite trouble punching it in. Take the talent and momentum straight up, but the post-blowout letdown with the 17-point spread.
| | | | |
| --- | --- | --- | --- |
| | Oregon 33 | • | Fresno State 24 |
UCLA at Utah
- - -
Utes at home would be an intriguing pick given UCLA's inconsistent past and troubles stopping BYU last week, but they've looked bad without QB Brian Johnson in losses to Oregon State and Air Force. Another non-competitive loss a la OSU officially knocks Utah from the national map, if you had them there to begin with.
| | | | |
| --- | --- | --- | --- |
| | UCLA 31 | • | Utah 13 |
BYU at Tulsa
- - -
The first non-Sun Belt test for Gus Malzahn's bizarro fast break offense, which hung 523 and 35 points on UL-Monroe two weeks ago but faces a much tougher Cougar defense in this case. The offenses here might be roughly equal if Malzahn's scheme is a hit, but Bronco Mendenhall has obviously made strides with BYU's D – UCLA only totaled 236 yards last week in the Rose Bowl, which, if you weren't sure, is a very different environment for the visitor than 35,000-seat Skelly Stadium.
| | | | |
| --- | --- | --- | --- |
| | BYU 32 | • | Tulsa 17 |
Wyoming at Boise State
- - -
Wyoming seems to have a very tiny cult after its defensive-driven wins over Virginia and, less impressively, Utah State. I'll consider joining it the Cowboys end BSU's six-and-a-half-year home winning streak. Taylor Tharpe must cut down on the turnovers, which is what Ian Johnson is there for, really.
| | | | |
| --- | --- | --- | --- |
| | Boise State 27 | • | Wyoming 14 |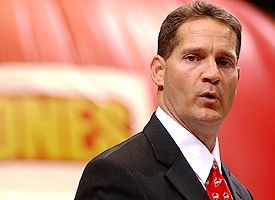 Yeah, wow, hey, I know what I said, but, uh, you think I could get my old job back?
- - -
Iowa at Iowa State
- - -
Nod to the rivalry here, but ISU is on the verge of taking the "Worst Team in a BCS Conference" mantel from Stanford. Iowa hasn't been overwhelming by any measure against Northern Illinois and Syracuse, but the Hawkeyes certainly haven't done anything to deserve being tagged as an upset victim here. I was an optimist about Gene Chizik, but less than a month into his tenure, the Cyclones have lost by double digits in non-flukey fashion to teams from the MAC and I-AA, and thus are already a visibly sinking ship.
| | | | |
| --- | --- | --- | --- |
| | Iowa 31 | • | Iowa State 10 |
SMQ HOMERISM
Rampant bias.
- - -
Southern Miss at East Carolina The Pirates unquestionably found their new quarterback last week, from the same blood line as their old one, and this Pinkney (Patrick) seems all the more dangerous than the last one (James) from the start after a decent debut in a rotation at Virginia Tech and big game in fullt-ime duty against North Carolina. Hopefully, USM's defense will prove tougher than the Tar Heels', which honestly was lucky to hold ECU under 40, but ECU appears improved offensively and can be counted on to match and probably top last year's 17 points in regulation, which was the most it had scored on Southern since David Garrard was slinging it way back at the start of the decade. It was enough to win in overtime in Hattiesburg last year in a game that, in retrospect, the Pirates should have won in regulation because of their defense, which incredibly, against everything we had come to know and love about hapless East Carolina, was the toughest Southern faced all season in terms of production. Including Florida, including Virginia Tech.
So I was comforted somewhat by North Carolina's 31-point game in Greenville, starting a quarterback named T.J. Yates, even moreso than I was by Virginia Tech's implosion in Baton Rouge, suggesting that ECU's tremendous defensive game in Blacksburg was more the result of offensive ineptitude. I felt the same way about USM's struggles against the Pirates last year, when the loss seemed that much more inexcusable, and so I'm counting this week on a commitment to getting offensive engine Damion Fletcher more involved than he was last season (or last week – just 11 carries at Tennessee, which cannot work) and do the usual, which is trade off his success for a few play-action shots downfield. ECU has not run well, which bodes well for Southern to keep the pressure on Pinkney in third-and-long situations.
This is the key early game for the C-USA East lead and has a certain winner-take-all feel, though there's still the whole conference schedule to go. In reality, I think I'm more concerned with the idea of being owned – two years in a row? – by East freakin' Carolina. This cannot happen. It must not.
| | | | |
| --- | --- | --- | --- |
| | Southern Miss 26 | • | East Carolina 20 |