Two teams in the Big Ten interest me because of my general uncertainty about them: Penn State and Iowa. Both have to endure potentially crippling losses of face-of-the-team stars that would seem to preclude a serious championship run - and maybe even to facilitate a freefall to the fringes of mere bowl eligibility, where Iowa toiled last year - but both are also relatively recent champions and return enough to fall into the optimistic "darkhorse" category.
What I want to figure, loosely, is whether either team is in position to outpace magazine projections and contend for the conference title, or if its expectations are capped at a New Year's Day game (aside from the Rose, I mean). I don't want to throw a bunch of stats up in this case, so I'll compare them instead sort of "holistically," if you will, step by step.
First, it might seem odd to group Iowa and Penn State together here, as the Lions have been well in front of Iowa over the last two years and are treated as a front runner by the preseason outlets, where the Hawkeyes are relegated to the middle of the pack. Until now, though, that hasn't been the case for years - Iowa was at least three games better in-conference than Penn State three years running from 2002-04, and matched or bested PSU's most recent record (9-4 overall and 5-3 in the Big Ten) four straight years before last year's slide. So these two teams enter the season in very much the same general class; a merely static Penn State is not remotely out of the grasp of  reasonably improved bunch of Hawkeyes.
Neither team expects to be static, obviously, but if it's tangible progress we're shooting for (that is: wins), I think we can start with the notion of stasis, two teams identical in overall performance to last year's editions, and what carries over from those teams into this season. With the very loud WARNING: The addition and subtraction of wins and losses that follows is an arbitrary and nonspecific but hopefully practical shorthand to assess expected improvement or regression, here are a couple ways to look at that:
Are There `Extra' Wins in the Schedule?
Out-of-conference schedules are identical, either in fact or in function - Iowa's opener gets tougher with Northern Illinois replacing Montana, but still falls well wthin the comfort zone of certain victory (or else this discussion is over, if not) - with the major exception of Notre Dame's visiting/rebuilding status, which in the most extreme case could combine to allow a swift reciprocal strike of the tactical nuke the Irish dropped on Penn State last September. Within the conference, though, musical chairs rotates potential kittens Northwestern and Minnesota off PSU's schedule for Indiana and (wouldn't you know it) Iowa. The Hawkeyes have a better trade-off, losing Michigan and Ohio State for Michigan State and, obviously, Penn State.
For the Lions, this seems like a push: whatever the increased likelihood of beating Notre Dame, it's offset by the loss of one of the bottom-tier opponents for the Hawkeyes. Iowa, on the other hand, while not getting a break with Penn State rotating back on, is better off facing the Spartans than facing OSU or Michigan, unforeseen Dantonio Magic notwithstanding. On the schedule alone, we can reasonably guess, +1 Win for Iowa.
Are There 'Extra' Wins in '06 Anomalies?
Did either team "leave wins on the field," as they say (or as I say, in so many words)? Karma, working on Terry Hoeppner's behalf through the timely emergence of Kellen Lewis and James Hardy, dealt Iowa a cruel defeat at Indiana in which the Hawkeyes outgained IU by more than 50 yards and five first downs, and Iowa proceded to spit it three weeks later in a more straightforward butt-kicking at the hands of Northwestern and again in another game it controlled statistically, at Minnesota, where the Hawkeyes lost in no small part by finishing minus-four in turnovers. In this purely speculative case, Indiana, Northwestern and Minnesota happen to be the least regarded teams in the conference entering the season, against whom Iowa had been 10-1 since Kirk Ferentz's first winning season in 2001. Giving any one of that rather sorry trio the extreme benefit of the doubt - and dangerously scoffing at the odds Syracuse might finish the upset this time by virtue of another four-interception meltdown by a backup quarterback in Iowa City -  I'll stop at +2 Wins for Iowa.
The second half of 2006 was like one long, incessant screech in Kirk Ferentz's headset.
- - -
Penn State, though was straight as a board - 8-0 as a favorite, 0-4 as an underdog - until the bowl game, and was far more than an ill-timed fumble or missed field goal from staking a claim on any of the games it lost. On the other side, though, the Lions did come away with a couple suspicious wins: against Illinois and fast but rather Jell-o-brained freshman Juice Williams, PSU got a short fumble return and later a short kickoff return following a safety in the second half to beat the Illini going away (26-12) despite being outgained more than 2-to-1 in a mostly atrocious effort by the offense; and two weeks earlier the Lions won at Minnesota after the Gophers missed an extra point in overtime and then had to be ushered off the field for
prematurely celebrating
what, according to
the AP description
,  "appeared to be a clean breakup of Anthony Morelli's throw to Deon Butler" on a decisive fourth down, thus setting up the winning TD-PAT.
But Penn State in each of those either/or situations against presumably lesser fare did what Iowa did not - win - and has no more reason to expect suspect the same kind of challenges from the bottom of the league again. We'll call it even.
So, assuming no change in the strength of either team from last season, it's reasonable to think the gap between Penn State and Iowa might (heed the qualifier) effectively vanish against this season's schedules (the schedule, in-conference and out, being something of a boon for Iowa by this measure). Recent history - the teams' Big Ten records are identical oer the last three years (14-10 apiece) - would back up that assumption.
If we think of that as their respective "baselines" coming into the year, we can work in this fall's various expectations of progress and regression on top of it for a better guess at the whole.
Personnel: Why Are They Better?
Penn State's defense will rock, but it rocked already; it's always rocked, but this year's version - sans Paul Posluszny, sans all four defensive line starters - doesn't figure to rock any harder than last year's, and further rocking at the same, uh, decibel level only gets the Lions back to the status quo. Rather, PSU's fortunes obviously ride on the eternal barometer of upward mobility: a returning, senior starter at quarterback. A returning, senior starter as highly anticipated entering the lineup as Anthony Morelli was before last season is all the better, even if things didn't turn out so hot for him in his first full season in charge (in Morelli's case, his TD:INT ratio against winning teams was 2:5, and he obviously struggled to put pressure on decent defenses downfield). At least he made it through the year intact, as the unquestioned starter, didn't betray the gains of the defense/running game in games PSU was supposed to (and subsequently did) win and ended the season on a mistake-free high note against an undeniably athletic defense in the bowl. For all that - momentum and so forth, as the faces of realistic PSU partisans would not yet have left their hands if the Lions had finished 0-5 against ranked teams, as they nearly did - there's every reason to expect Morelli and his very capable collection of wideouts to be more dangerous than they were their first go-round together. That threat alone, because it's been so lacking here for so long (think Mike Mills Mike McQueary to Chafie Fields), might be worth a solid +1 for Penn State against the annual triumvirate (Michigan, Ohio State and, for now, Wisconsin). The Buckeyes, especially, are passing through a small window of vulnerability.
In Iowa's case, there were the turnovers, most prominently - 111th in turnover margin, next to last in the Big Ten - but also rather obviously:
Iowa Run Defense Since 2001
Yds/Game (Rank)
Yds/Carry
200-yd. Gms.
Record
2001
120.5 (27)
3.2
3
7-5
2002
81.9 (5)
2.6
1
11-2
2003
92.7 (8)
2.5
2
10-3
2004
92.5 (5)
2.8
2
10-2
2005
126.0 (29)
3.2
1
7-5
2006
133.6 (57)
3.6
4
6-7
The rank is probably more important in the per game column than the net yards because of last year's defense-friendly clock rules, but the pattern is the same: Iowa's fate under Kirk Ferentz has directly correlated with Iowa's ability to stop the run. This shows to some extent how much Abdul Hodge and Chad Greenway meant to the team, even in `05, when they held together an otherwise very young front seven, and how much the Hawkeyes missed them last year.
But six of seven starters from that injury-plagued front are back, even if none of them are on the hungry-Tyrannosaur level of predation Greenway/Hodge operated on, they're going to move back toward the mean. That should be good enough to recover not only the games against Minnesota, Indiana and/or Northwestern already mentioned, but with a normal turnover rate, perhaps also to pull one out at Wisconsin or Penn State.  +1 Win for Iowa.
Personnel: Why Might They Be Worse?
About the turnovers: there is no reason to expect Iowa quarterbacks to throw 19 interceptions again, as they inexcusably did a year ago, often at the worst moments (Syracuse, Ohio State, Indiana and Minnesota, in particular). But it's also not very likely Jake Christensen will come near Drew Tate's 2,600 yards and 18 touchdowns, disappointing numbers for a ballyhooed senior but a tantilizing goal for a sophomore with two career passes in Big Ten play, one of them an interception that preceded a Minnesota touchdown in last year's loss. Inexperienced quarterbacks, as Penn State well knows, are typically bad news against a defense with teeth; Christensen might actually make fewer mistakes than Tate, who made a lot of them, but the offense will miss his predecessor's chops under pressure and big play knack, too. -1 Win for Iowa, conservatively.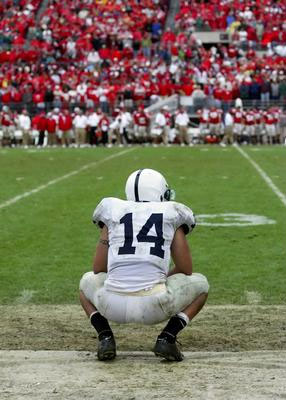 On one hand, Anthony Morelli is a mature, senior leader with four years behind him in the system. On the other hand, he's Anthony Morelli.
- - -
And, capping the "mirror image" thing we've got going here, Penn State has to deal with the departure of its entire defensive line. The de facto assumption, as stated above, is that PSU's defense will rock, and certainly the linebackers are still worthy of Nugent-level wailing. In Jay Alford, Ed Thompson and the -im Shaws, Jim and Tim, though, the Lions had a productive veteran front that knew its role in keeping blockers away from the moneymakers behind them. Now it has youth, and one projected starter, Chris Baker, is still
facing felony charges
in the infamous apartment fight, if the legal shoe should drop during the season. Iowa's great linebackers suffered the same problem when faced with an entirely new D-line: the production was still good, but not what it was. Penn State has finished seventh in rushing defense two straight years, and in the top ten in scoring defense the last three years. It will miss Posluszny to an extent, and the four in front of him even more, and neither streak will continue.
-1 Win for Penn State
, possibly against an Illinois or rejuvenated Michigan State [
er, at season's end? - ed.
Rejuvenated, I say!] in position to take advantage of the extra foot or two of space it should be able to generate in the running game.
Is either Penn State or Iowa a major conference contender? Without bringing in the rest of the league, I'd say no in both cases. Penn State's primary raison d'etre for improvement is another year with Anthony Morelli; Iowa's is its Michigan/OSU-free schedule, a blatant red light per my longstanding Purdue Rule ("When an optimistic team's best asset is who it doesn't play, treat this team with maximum cynicism").
If one does a have a shot, though, it's more likely to be Iowa, not because the Hawkeyes look like a better team or are more likely to beat Penn State - it looks like a push head-to-head, and the game is in Happy Valley - but because their only seriously serious game otherwise is at Wisconsin; Iowa has a great shot with a minor upset in either of those games if it takes care of its business re: the three-game improvement against the league's peloton suggested above. PSU, on the other hand, might improve by roughly the same degree on the field, but there's an awful lot of business to take care of in its schedule for it to show up on the record.