And other scarlet-framed compliments, optimism and suggested marketing spin re: college football's worst conference besides the Sun Belt most misunderstood conference:
• OMG Shirtless Quarterbacks Give Me LeFevour: Shirtlessness, like all things, is relative, but the MAC's best-known export for years has been big, hyped and later underachieving quarterbacks blessed with prototype NFL immobility. Rising sophomore Dan LeFevour may be the first in that tradition who can really run, having added 700-plus non-sack yards to his MVP role in Central Michigan's from-nowhere championship run, but the reigning offensive player of the year may have already hit his ceiling next to Ball State's Nate Davis and Bowling Green's more athletic Anthony Turner, ringers by MAC standards (Davis was PS#35 among incoming quarterbacks last year, Turner PS#36 in 2005) with the size and potential in less than a full season's work to overtake young, Brian Kelly-less LeFevour as the league's premier passer.
All may pale in the looming, crutch-tossing shadow of another ex-top 100 passer, Tim Hiller (PS#89), who was completely brilliant for Western Michigan as a freshman in 2005 – 20 TD to just 3 INT, 1,300-plus yards and 4-1 as a starter, his only loss a 60-57 heartbreaker in quintuple overtime vs. Ball State; WMU averaged 44 points with Hiller in the lineup – but only comes back in the lineup amid clarion calls now because of injury and last year's redshirt. Hiller is 6-5, put up legitimately Brohm-esque numbers back in the day (No. 1 in the NCAA in efficiency before he was hurt) and has three years left in the offense.
• Ball State: Heh. Ball. The old junior high standby never fails.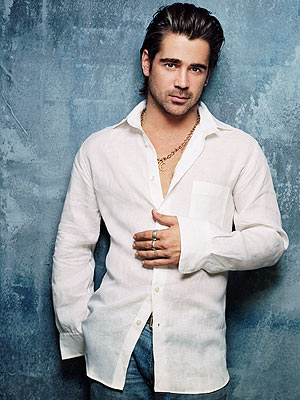 I know! We were shocked the NCAA granted him another year of eligibility, too. Why don't you guys come do a story...?
- - -
•
OMG Colin Farrell!
That would be Kent State defensive tackle Colin F
e
rrell (6-0, 283), actually, but
InStyle
doesn't have to know that.
• The Enron of Lake Erie: Not content to play in the opulence of the nation's only Glass Bowl, Toledo was suddenly marred by a tidal wave of financial scandal and fun malfeasance that made it sound like the second rate football version of Studio 54, beginning with the knee-knocking tale of Scooter McDougle shaving points from the bench (with teammates possibly playing a more active role) and culminating in an athletic department overhaul for "numerous examples of questionable spending," specifically bringing wives and girlfriends on flights on the university dime and charging various trips – at least one to Germany, according to the Toledo Blade – to expense accounts. Another running back, Richard Davis, broke into a sheriff's deputy's house with a gun on a wayward hunt for an unidentified teammate, for good measure. Not good times for the Rockets, not least of all because, as The Sporting News makes clear, their time as the West's class program is at an end.
The only casualty of the resulting flurry of investigations to date is team doctor Roger Kruse, accused of playing fast and lose with medications, unless you count the tender student-athletes' innocence: not only is McDougle accused of violating the integrity of the game (though charges are momentarily dropped, with a chance of being re-upped), but all players also have to be thoroughly vetted in conversations with lawyers as a matter of course. Must everyone suffer for the sins of the few?
• If You Want a Real Winner, On the Other Hand...: Look, you don't know anything about Justin Anderson or his more interestingly-named teammates Montell Clanton and Cas Prime, and you don't need to know anything about them except that they play running back for Northern Illinois, and one of them is going over 1,000 yards, as Huskie backs have since time immemorial. Or since Joe Novak's been in charge, at least.
Tom Amstutz's offseason would have been much easier if only someone had spiked his drink with GHB.
- - -
•
It's Now Home to Both Temple and Buffalo:
And really, major college football
needs
its Buffalos and Temples in a very real, fundamental way, for their many years of unselfish sacrifice. Or else it could be your snobby school on the other end of consecutive 62-0 beatings, as Temple was last year in early games against Louisville and Minnesota. And how would you like that? So stick that air of superiority up your ass, or rather, up Temple's ass, and be grateful it's there at all.
• 'MAC Football: A Conference On the Rise' Commemorative Posters Still Available! So many things went right for the MAC in 2003, the year it permanently shed the geographically anomalous yoke of Marshall from the championship game and somehow had three different eventual ten-game winners in the top 25 in November. One of those teams (Northern Illinois) beat ranked teams from Alabama and Maryland in September and produced the nation's second-leading rusher; a second (Miami, Ohio) led the nation in scoring offense, finished 12-1, crushed Bobby Petrino's first Louisville team in the bowl game and produced a soon-to-be Super Bowl-winning rookie of the year; and yet another (Bowling Green) finished third nationally in total offense and propelled a young coach on a superstar track to the SEC. At Toledo, Bruce Gradkowski set a conference record by completing 71.2 percent of his passes, and the Rockets upset No. 9 Pittsburgh the same day Marshall shocked No. 6 Kansas State, eventual Big 12 champion.
It's all downhill from there:
The, uh, Decline of the MAC
2003
2004
2005
2006
Non-MAC Win %
.428
.238
.361
.292
vs. BCS Conferences
.267
.036
.050
.133
Avg. Margin
– 15.2
– 24.9
– 27.5
– 17.0
Weeks in AP Top 25
19
0
0
0
Champ vs. Non-MAC
4-1
1-3
1-3
2-3
The MAC went from putting out two or three respectable teams every year to putting out basically none; the case for Central Michigan last year is bolstered mainly by its playing Boston College within a touchdown in the opening loss. Marshall's departure and inopportune slumps/straight decline under relatively new coaches at Miami (Ohio), Toledo and Bowling Green has left Northern Illinois to carry the banner of "most consistent program," and it's failed to top seven wins either of the last two years and hasn't won any game of note in much longer, since it beat Alabama almost four years ago. So the league winds up with miserable championship participants like Akron and Ohio U. of Ohio in the most anticlimactic setting possible, and enough wild turnover year-to-year for the most respected forecaster in the business to pick perennial loser Kent State (on the strength of both of its winning seasons since 1977, one assumes) to win the East Division...two years in a row.
The only hope for minor salvation – that is, somebody noticing the league exists again in any sense other than automatic fodder to fill seats and pad stats in September – might come in the form of the young quarterbacks, who collectively have a chance to beat West Virginia, Illinois, Indiana (twice), Iowa (twice), Minnesota (twice), Kansas, Purdue, Clemson, Nebraska, Michigan State and Boston College. But they don't credit for scheduling guts, or for just coming close. Not that they usually do.