Everything I've written about the season now in bloom is on the record, hedges, contradictions and blatant nonsense on ignominois display. Most of it is obvious, conventional wisdom: USC number one, Kentucky will be bad, etc. Much of the rest is steeped in uncertain vaguery.
On the eve of the first full weekend of the fall, though, I remain convinced of my position on a few very disputable narratives, staunch opinions I'm destined to rue in a matter of weeks. Yer among these items of controversy, I will not be swayed:
Wake Forest is not a good team. In fact, it wasn't a good team when it won the ACC last year. It was an exceedingly mediocre team with an outstanding kicker and an unsustainable barrage of fortune at its back. On an every-down basis, Wake was what it's always been - slightly below average - evidenced in it being outgained overall in league games despite a 7-2 record. The conference should be tougher this year, but even if it's the same parity-driven parade of underthrown curl routes, the Deacons are a middling bowl team at best and a lamentable bottom-dweller at worst. They'll be doing just fine to finish 7-5.

Never again.
- - -
Rutgers is a good team.
For the record,
this was my opinion
well before the Knights opened the season by reaming Buffalo last night in the instant, overwhelming fashion of a focused team. I ranked Rutgers twelfth in
my preseason Blog Poll ballot
because it can consistently run the ball, can consistently stop the run and rush the passer and features an experienced, upperclass quarterback who
dramatically improved
at the end of his first season with the addition of an all-conference caliber receiving threat. West Virginia and Louisville are still out in front, but the Knights do not strike me as fast-rising, fast-falling bust some people believe them to be; they're a virtual lock for nine wins, probably ten, and are in a position to be one of the
real darkhorse teams
nationally. Again.
Auburn, Georgia and Tennessee will struggle. "Struggle" being a relative term in this case for teams used to winning nine or ten. I mean that they'll finish outside or at the bottom of the polls and run dangerously close to .500 or worse in-conference. All three teams are extraordinarily young in blocks - receiver and defensive back for Tennessee, offensive and defensive line for Georgia, offensive line and receiver for Auburn -  all three (especially Auburn) teetered on the brink of disaster at various times last season, and, unlike Florida's ability to negate its young defense with a potentially explosive offense, the only obvious strength for any of this three is its good reputation. Because the rest of its division has equal or greater concerns, Georgia will hang in the East title race till the end, but none of this trio will seriously challenge for a trip to Atlanta.
Arkansas at LSU will decide the SEC West title. Everybody already considers LSU the frontrunner, which it did nothing to disprove with the expected rout of Mississippi State last night (on which more later), but there is no unanimity re: the All My Children-ready Razorbacks. To the doubters, I say only: Darren McFadden. And Felix Jones. And Marcus Monk, whose downfield role (and health, obviously) is so critical to creating space in the running game. Arkansas doesn't have a quarterback, and possibly will struggle on defense, too, but soap opera or not, neither LSU nor any other team in the West has such a lethal collection of playmakers at its disposal. I expect the Hogs to enter the finale ranked in the top ten, and maybe to still be there when they leave.
Miami and Florida State will reassert themselves as national players. It's hard to believe the talent level at either of these once-proud bastions of bigger stronger faster NFL factories has dwindled to the point that fresh, competent blood on the coaching staff can't revive a whiff of the old dominance. Most promising: both the 'Canes and 'Noles last year were still tremendously tough to move the ball against, especially on the ground (FSU allowed 2.9 per carry; Miami allowed a staggeringly low 2.3). The quickest route to recovery is through a defense that can keep the team in every game, which was already the case for both - combined, both teams lost ten games decided by a touchdown or less last year. New offensive staffs, revamped running games and more mature quarterbacking is reasonably expected, and more than enough to tip that balance back in favor of the old order.
West Virginia and/or Louisville is a serious mythical championship contender. Both are hitting peak, now-or-never seasons with absurdly prolific, top-end offensive talent, and neither should lose outside of their game on Nov. 8, the Thursday date I've already pegged for game of the year in terms of its effects on the national pecking order. The Mountaineers, at home, at night, are the tentative favorite as this early date, but either way, if the Big Five conferences can't produce two undefeated champions among them to send to New Orleans, all the howling they can muster about schedule strength will be dust in the wind. The Big East is not the WAC, and if the dominoes fall in its favor, an undefeated champion will get its due.
Speaking of which,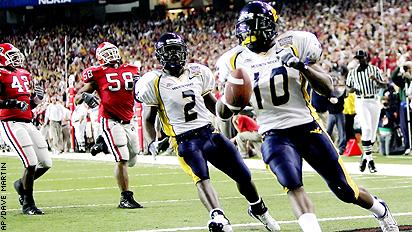 Go ahead, underestimate the Big East. It wants you to, really.
- - -
Hawaii will not deserve to be ranked in the top 20.
Neither will Boise State, in all likelihood, although if the Broncos are impressive enough in their toughest pre-island game against Southern Miss I might consider them as high as fifteen. In any case, neither of these teams will be considered for my ballot until Thanksgiving at the earliest, after their winner-take-all showdown on Nov. 23, and they won't go in very high at that point. Hawaii will be lucky to have three teams on its resume with winning records, and those three teams will be Boise State, San Jose State and either Fresno State or Nevada. No thanks.
Notre Dame will endure two full months of pain. It will be better by November, when the many youngsters have developed some chops and the schedule reads Navy-Air Force-Duke-Stanford. The first two months, though, are destined to be a painful, angst-ridden coming of age. It's not only the new quarterback, which is a common enough affliction, but the most experienced positions on the team are linebacker and defensive back, the same collection of guys who have been flatly terrible against decent competition the last two years. Nowhere is any element that looks remotely like a strength. There are no guaranteed wins in the first eight, maybe only two (Michigan State and Purdue) that seem "probable," and as much faith as the partisans are willing to grant Herr Weis, his performance this fall might be his best yet if the Irish are still looking at a bowl game by that closing stretch.