• Florida State Tragedy: Mickey Andrews' 41-year-old son, father of three, was found dead Sunday afternoon outside the coach's house, according to the Tallahassee Democrat. The Democrat is the only paper carrying the story this morning and does not report cause of death, but foul play is not suspected.
We love and joke about Andrews' borderline violent intensity, but now is the time for sincere condolences to his family.
• Steve Logan, Renaissance Man: The New York Times sniffs around the Northeast and comes up with a look at Boston College's plans to air it out with Matt Ryan, and has the wool pulled over its old grey eyes by buying Ryan as a "second tier Heisman candidate." Pete Thamel did uncover a couple interesting notes about the offense, though: first, Jeff Jagodzinski, far from the ball-control, just-move-the-chains approach that seemed to epitomize Tom O'Brien and Dana Bible's offensive approach, wants to emphasize big plays, specifically 12-yard runs and 16-yard passes, a theme the Boston Herald also picks up on today, with a focus on receiver Brandon Robinson. Then, Thamel gets into the head of former East Carolina boss Steve Logan, charged with creating those "explosive plays" as offensive coordinator after years in NFL Europe:
Logan describes himself as an "ex-garage band hero" who owns four guitars; a lover of red zinfandel wines ("that's when it gets good for me"); an avid tennis player; and a fan of blues music. (He has 4,932 songs on his iPod, and the ring tone on his cellphone is a vintage Elmore James blues lick from the song, "Dust My Broom.")
But Logan is best known for the wide-open passing schemes and trick plays that defined his time as East Carolina's coach from 1992 to 2002. Logan's teams upset Miami twice during that time, and he is the university's career leader in victories. He designed his gravestone for a reporter in a recent interview. It included a picture of a tennis racket, a bottle of wine and a guitar. He then wrote the words, "He scored 61 and lost."
Ryan: Okay player, looks like Ben Folds, but not any distinguishable tier of Heisman candidates.
- - -
East Carolina realized sometime during its 3-20 run under John Thompson what a mistake it made it jettisoning Logan, who built a consistent winner with a string of solid-to-great quarterbacks (Jeff Blake, Marcus Crandall, David Gerrard, Pete Gonzalez) that was regularly in the postseason before its ESPN2-fuelled mid-major explosion and was expected to instantly rule Conference USA, and it's only beginning to recover under Skip Holtz. I don't know if Boston College has such big play personnel, but it should be at least as well off - and more interesting, if nothing else - under Logan.
• I Dunno, After Two Weeks of Two-a-Days, the Sweatervest Just Sort Of...Grows on a Guy...: Ohio State players make Jim Tressel their life - they give up their homes, their spare time, in some cases their health, and this is how he repays them?:
How serious does Ohio State coach Jim Tressel want his players to be about training camp? This year - no girlfriends.
Buckeye players revealed Saturday a new rule this season for their three weeks of preseason practice, when they live as a team at the University Plaza Hotel down the road from campus. Though female guests have never been permitted in their rooms, in past years players could entertain their girlfriends in the hotel lobby. No more.
- - -
This is dangerous territory, even for the no doubt upstanding and chaste citizens that make up the Ohio State roster. A man can be pushed only so far, can only be asked to sacrifice so much, and desperate men commit desperate acts. Take tight end Rory Nicol:
Nicol joked players' girlfriends were circulating a petition that would land on Tressel's desk today. And he believes the rule is different for any players who happen to be married.
As he headed off for dinner with his girlfriend - with all players given a 24-hour window to see family and friends before the next practice Monday - Nicol had an epiphany.
"I might," he said, "get married [today]."
- - -
Sometimes we learn the hard way: never get too comfortable with a reporter in the room.
- - -
Rory: no. This is not a matter for the joking.
Everything is on the record, Rory
. When the future Mrs. Nicol picked up the Sunday
Dispatch
and read that line, and the word "married" seared itself into her eyeballs, his future took a decided and unexpected turn. Whether or not it's a
desired
turn is irrelevant, once the marriage cat's out of the bag. He's calling horse and carriage services as we speak, stressed about geting the ballroom overlooking the garden, interviewing DJs (maybe an orchestra?), asking himself, "Baby's Breath or Hyacinth?," shellshocked. His teammates wonder how often they can call him anymore. Football? He can't get on the field fast enough. Give Tressel this: however diabolical, the guy knows how to motivate.
Quickly...
• ACC
A bum knee is holding back Kirby Wright in Miami's QB derby with Kirby Freeman ... NC State tight end Anthony Hill, the Pack's leading receiver, will take a medical redshirt and return in 2008 at best after knee surgery last month ... And Virginia's Clinton Sintim is just glad to playing with both arms for a change.
• Big East
Twenty-seven-year-old Alaska native and ex-Marine Zak Penwell takes on defensive tackle at UConn ... Matt Simms is redshirting at Louisville. Father and son - and probably brother Chris, too - agree that's for the best ... Pitt's LeSean McCoy makes a move at the starting tailback spot ... Ex-Florida State offensive lineman Matt Hardrick is transfering to South Florida ... Syracuse freshman Jermain Pierce is done with football due to a blood clotting issue ... And Owen Schmitt is seeing as much time at tight end as at fullback in West Virginia practices.
It's hard to explain, but when it's your son being pummelled out there, you just notice the losing a little less.
- - -
•
Big 12
Unlikely Tyler Beatty
solidifies his favored status
in Baylor's QB race ... Coach's son Cody Hawkins, as expected, will be
Colorado's starting quarterback
, but he'll go
without the best receiver in camp
, freshman Josh Smith ... Kansas State's
Ben Liu is crazy
, man. How so? Just...I dunno, he's a wild man and the
Kansas City Star
has a deadline ... Big news for Nebraska: hyped/walking wounded cornerback Zack Bowman
practiced in full pads
Saturday and may be in the lineup by October ... Sam Bradford likely
locked up Oklahoma's quarterback job
Saturday, but OU might want to hold off on redshirting Keith Nichol ... And Texas receiver Billy Pittman is
out indefinitely
with a recurring shoulder injury.
• Big Ten
Michigan's Carlos Brown could be back sooner than expected from wrist surgery ... Minnesota is still waiting for the quarterbacks to click in scrimmages ... And depth and competition are luxuries in the Penn State secondary.
• Pac Ten
Kyle Reed thought he was the cream of the crop when he came to Cal. Now he's fighting for his career ... Sammie Stroughter Watch: the star receiver appeared briefly at Saturday's scrimmage, but looked "nothing like the old Sammie," didn't speak to media and left quickly with Mike Riley insisting the team was still "going to leave him alone" ... Oft-injured receiver Jamere Holland is expected to transfer after being dismissed by USC over the weekend, and hyped freshman quarterback Aaron Corp will redshirt barring major injury to John Booty or Mark Sanchez ... UCLA's 1,000-yard man Chris Markey might miss a month or more with a cast on his left thumb ... And it took a while, but Jake Locker put on a show at Washington's Saturday scrimmage.
• SEC
Wallace Gilberry thoroughly dominated Alabama's Saturday scrimmage ... Marcus Monk is like, uh, Diana Ross? Update your mp3 collection, Rob Keys ... Auburn may be looking at nine freshmen playing key roles ... Tim Tebow saves his shoulder by sacrificing his throwing motion ... Tennessee freshman Ben Martin might miss the season with a knee injury ... Kentucky's Micah Johnson reveals the secret to improving as a sophomore: "I know what I'm doing" ... And Steve Spurrier assesses his O-line, again: "Overwhelmed."
• Mid-majors, Etc.
Redshirt freshman Andy Dalton has beaten out returning favorite Marcus Jackson as TCU's starting quarterback, and wayward star Tommy Blake will be back today ... Wyoming is the latest beneficiary of fun and bonding, water park style, in place of practice ... From nowhere, Case Keenum makes his, uh, case as Houston's top quarterback ... And though BYU is still practicing the Maori version as long as Bryce Mahuika is around, Hawaii is developing its own unique Warrior dance to replace the New Zealand Haka it began performing last year. Presumably, it will not tolerate smiling:
The Rap Sheet
Crimes, misdemeanors and eligibility-crippling issues legal, academic, institutional and otherwise.
- - -
Charged, with disorderly conduct, all-SEC cornerback Simeon Castille, who was arrested early Sunday after "Dance Night" on the ever-popular Tuscaloosa "strip" for...what, exactly?
"There was no alcohol. There was not a fight of any kind," said Capt. Greg Kosloff of the TPD. "He met the elements of disorderly conduct and that's why he was arrested."
Don't drink much, he don't fight. He just be hangin' in the bars at night. Did Castille exhibit the behavior of certain nonlinear dynamical systems that under specific conditions exhibit dynamics that are sensitive to initial conditions, popularly referred to as the butterfly effect, or what? From whence springs the offending disorder? Tips, theories and rumors of all levels of veracity are welcome.
Cited, for "misdemeanor transportation of alcohol by a minor," 19-year-old Jimmy Clausen, who has entered a pretrial diversion program after being busted at a South Bend gas station in June for being the dangerous, alcohol-powered hormonal rage machine he is:
Indiana State Excise Police cited Clausen and a 23-year-old on June 23 outside a liquor store near the University of Notre Dame campus, police said Friday.
Excise police were in an unmarked car outside the store to catch minors attempting to get alcohol, Lt. Tim Cleveland, a police spokesman, told the South Bend Tribune.
Clausen was cited for a misdemeanor citation, while the 23-year-old, a recent Notre Dame graduate, was cited for inducing a minor to possess alcohol, an infraction.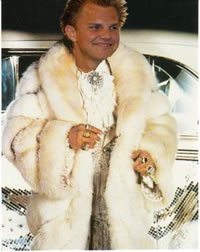 Jimmy's out of control! His ass oughta be in Iraq! That'd learn 'im to sit in a car next to liquor bottles he didn't buy!
- - -
Shocking -
shocking!
- behavior from young Jimmy. Will the Golden Dome ever shine again beneath the tarnish of its would-be star waiting in the car while an of-age friend makes a legal purchase? </sarcasm>
Oh, it's such fun to laugh at the mild misfortune of others, but - rites of passage and excessive coddling of voting/military-age adults aside - "crimes" don't come much more insignificant or infuriatingly petty/arbitrary than this. What are the cops doing waiting around to trap kids at a gas station, and on top of that, how can it be against the law to bring alcohol back to a car where a precious, unspoiled minor is waiting? Are Indiana parents barred from grabbing a six-pack while perfect little Sally Sue Hoosier is riding in the back seat, just waiting to alleviate the disillusion and pain born of accompanying the demon drink in a small space by slowly descending over the next decade into a spiral of black clothing, unkempt-looking hair, and occasional association with her no doubt similarly debauched peer group? Association which might include vodka shots?! It only takes one time to create a sociopath, I guess, and then there's the whole 14th Amendment. So down you go, Clausen.