• Too Rich for My Blood: Joe McKnight is in town, Herschel Dennis is back in the mix, Allen Bradford is coming on strong, Chauncey Washington is default Option A and Emmanuel Moody can read the writing on the wall. Moody was USC's second-leading rusher as a true freshman last year, and the most promising in some minds, but he'll be the first of several inevitable transfers out of the Trojans' ten-deep Backfield of Death.
Daily News blogger Scott Wolfe has twice noted he thinks Moody is en route to Oklahoma State, reiterating this morning that "several sources" said OSU was the destination. If so, it's another crowded backfield: three different running backs had more than 500 yards for the Cowboys last year, and though Dantrell Savage will be gone in 2008, Keith Totson and Mike Hamilton (1,100-plus yards, 10 touchdowns combined) won't be yielding their spots so easily.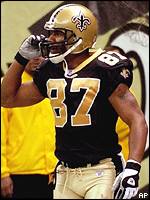 Broderick Green, huh? Yeah, I heard that man can truck.
- - -
On another running back note, SC really
loves Broderick Green
, a thumping true freshman from Arkansas:
USC coach Pete Carroll saw Broderick Green talking to his mom on his cell phone after the scrimmage and ripped the phone from Green to give his own assessment of Green's performance.
"We got a great look at Broderick," Carroll said. "That was a real plus. I was really pumped up about the big fella."
Plus one to Carroll for trademark enthusiasm, but somewhere, the odds are that's an NCAA violation of some sort. I mean, "Big fella"="keys to Escalade in the mail"? I'm not saying, I'm just saying - you have to keep in front of these things.
• First Sammie Stroughter... A weird turn for TCU: All-American Tommy Blake is out of practice for "personal reasons," officially, and old-fashioned "pressure" if you get down to it:
"Is he still on the team?"" Patterson asked Thursday, repeating the rumor of the day. "Yes, he is."
Instead of being on the practice field, however, as the Frogs prepare for their Sept. 1 season opener against Baylor, Blake was back in his hometown of Aransas Pass, reportedly trying to sort things out.
"Up to practice No. 11, he was perfect," Patterson said. "Unbelievable."
And the next day, it seems, an NFL scout from the Jets showed up to watch Blake practice. And a scout from the Titans. And from the Saints, the Broncos, the Giants and the Bills.
The attention, witnesses say, appeared to bother Tommy.
It certainly couldn't have surprised him. Almost since the end of last season, when Blake was named the Defensive MVP of the Poinsettia Bowl, he has been named on one preseason All-America list after another. His name has been prominently mentioned in every early NFL mock draft.
Blake's cellphone, according to teammates and Patterson, had been humming with calls and text messages from friends, quasi-friends and would-be agents.
"He doesn't have a cellphone anymore," a friend said. "He got rid of it because it was being inundated."
Blake isn't choking from the high expectations. He's recoiling from them.
Blake apparently accompanies his sister home to visit his grandmother, who wanted him to return to school to finish his degree. Nothing to add except, "bizarre," and TCU needs him.
Quickly...
• ACC
Steve Spurrier accepts the realities of the athletic-academic divide. Why can't Tommy Bowden? ... Leading tackler and vowel afficianado Michael Tauiliili was reinstated at Duke Thursday, but will still miss the opener with UConn ... A day after alluding to some separation in Florida State's quarterback derby, Bobby Bowden said Drew Weatherford's "execution was a little bit sharper" Thursday than Xavier Lee's. But no starting nods in sight ... Would be Maryland starter Alex Wujciak is out for the sesason after contracting the torn ACL bug ... A decision on Miami's future in the Orange Bowl could come as earlier as Tuesday. But word on the starting quarerback? Forget about that ... Butch Davis ends the QB secrecy: it's redshirt freshman T.J. Yates, North Carolina's fourth different starter in four years ... And two Virginia Tech graduates have developed a documentary entitled (seriously) "Hokie Nation: A Team, A Town and the Best Darned Fans in College Football." They prove this objectively, I think. Find out more at hokiemovie.com.
Weatherford: beginning to separate. In a good way this time.
- - -
• Big East
UConn has suspended two players for "an internal team matter" that's not "an on-field incident, alcohol, arrests or academics" (violation of exclusive Adidas™ apparel deal?) ... Bill Stull: tough son of a bitch, as far as quarterbacks go, but can he read a defense? ... And West Virginia's pass defense "got worse and worse" by the week. About that 109th ranking...
• Big 12
Everybody already knew Baylor's quarterback spot was down to a two-man race. Now it's just two different men than it was last month ... Career reserve Jason Scales, not newcomer J.J. Bass, has the inside track on the starting tailback job at Iowa State ... Arkansas transfer Andrew Norman won't be enrolling at Kansas, after all ... In a stunning development, Oklahoma's three-man quarterback derby is still up in the air ... Texas, like West Virginia, reviews its pass defense with chagrin. At least Limas Sweed is okay ... And if the NFL asks, Texas A&M's Mark Dodge isn't interested. Now, if you've got a government job...
• Big Ten
Iowa's Mediacom is proposing a spot  on its digital tier for the Big Ten Network, specifically for the Syracuse-Iowa game and eleven Hawkeye basketball games ... Mario Manningham, ham. Relatively speaking ... It's subtle, but Ohio State really considers itself 0-1 going into the season ... Translating Paternoese is an acquired skill ... And guess what? It's a photo finish between Tyler Donovan and Allan Evridge to be Wisconsin's quarterback.
• Pac Ten
Arkansans are dominating practice at USC. Too bad none of them are exactly eligible ... Oregon's offensive goes a-shufflin' ... Sammie Stroughter Watch, Day Nine: the MIA Oregon State receiver is "going through some personal issues that are hurting him right now," according to his high school coach.
• SEC
Chris Capps, still trying to live down last year's Iron Bowl. And the one before that, too, I might add ... Houston Nutt runs the sluggishness out of Arkansas after a couple light days ... Tiny but impressive Florida walk-on Chris Jones' career is over due to a pre-existing neck injury ... Georgia raves over safety Reshad Jones ... LSU gets the competitive juices flowing for, uh, rock-paper-scissors? ... Blue chip safety Chad Jones failed to sign a baseball contract and will join LSU's football team, no strings attached ... Mississippi State wants to stretch the field more often. With...? ... And Jerrell Powe's legal brigade has done all it can do to make him eligible at Ole Miss. Now it's up to the NCAA.
Happy Birthday, Colt, you barechested hunk you. Hey, I know what the people want.
- - -
•
Mid-Majors, Etc.
The Big Ten Network wants is on satellite but wants in with Comcast.
The Mtn. will trade them
... Colt Brennan,
shirtless as usual
for his 24th birthday bash ... And what's up with all the
rare foot injuries
smiting players at BYU?
The Rap Sheet
Crimes, misdemeanors and eligibility-crippling issues legal, academic, institutional and otherwise.
- - -
Claimed, by the never-ending vigilance of busybody campus cops, South Florida's Woody George, who was charged and jailed Wednesday for removing a parking boot from his car and driving away with it, then informing the "police" he had "thrown the boot away," i.e. made it a sort of trophy in his apartment. It's a worthwhile memento: since the boot is valued at $450, George was hit with felony grand theft and was still sitting in Hillsborough County hail Thursday night on $2,000 bond.
How does one manage to remove a boot? There's only one way, really:
George's escape was identical, we're sure.
(Aside: Much as I resented the gnat-like presence of ticket-happy, boot-wielding rent-a-cops on campus, they were invaluable for resolving such crises as locking keys in one's car. Repeatedly. So I have to give them that).
Granted, a continuance in his trial for driving under the influence, Louisville receiver JaJuan Spillman, who received a first offense aggravator tag - meaning he caused an accident resulting in serious injury or refused to take a blood test - after a wreck in January. Spillman admitted then to having toked earlier and police found more than nine grams of weed in the car he was driving, which can cost him $500, probationary type wrist-slapping and up to a month in jail. The latter is a big deal where the Cardinal are concerned: Spillman's trial was reset for Sept. 21, one day before UL hosts Syracuse.
Charged, formally, Colorado linebacker Michael Sipili, who was arrested at the start of the month "on suspicion of tackling and punching a 22-year-old CU student several times" in mid-June. Sipili has a court date Sept. 6 but remains suspended indefinitely along with fellow brawlers Chris Perri, who'll miss three games for fighting with teammate Taj Kaynor, who's only scheduled to sit out the opener.
Charges dropped, huh? We're excited for Quintin. Now watch this putt.
- - -
Re-charged
, for an assault case that had been dropped last month, Michigan fullback Quintin Patilla, after "
additional details emerged
" in the course of a more serious case against walkon teammate Robert Thornbladh. Brian Cook
intimates
a videotape as new evidence against Patilla, who only faces a misdemeanor for a March 9 "incident" at Ann Arbor's Touchdown Cafe that required a man to undergo surgery for his face (presumably not for a pre-existing deformity). But Thornbladh just finished a pretrial hearing for three charges, including assault with intent to do bodily harm, a ten-year-sentence sort of felony. Lloyd Carr: predictably mum, but the players' immediate future is pessimistic.
Ordered, to attend anger management class in exchange for a guilty plea, Arizona defensive end Louis Holmes, who was accused of punching a patron at Tucson's Pussycat Lounge in July. It's the second stint in anger management for Holmes, who was charged in 2005 with domestic violence stemming from criminal damage, in addition to a shocking and dangerous charge of "excessive vehicle music," to which he pled guilty last summer.
Dropped, a drug charge against incoming South Carolina lineman Quintin Richardson, who got off with a lecture and a promise to be good for the next six months. Richardson was arrested for simple pot possession in July, three weeks after he was stabbed seven times at an apartment party.