Whatever its running backs did to defenses last year, Arkansas always had a trump card for defenses too eager to creep up into a Maginot Line against Darren McFadden and Felix Jones and the Wildcat and whatnot:
Marcus Monk had eleven touchdowns last year, of 13, 56, 50, 12, 12, 50, 10, 12, 35, 21 and 48 yards, which does not include another 40-yard haul against Alabama, and without which Arkansas struggles significantly more to win close games against Vanderbilt, `Bama and South Carolina. He burned Auburn, Tennessee, LSU and Florida for long scores, and by midseason his mere presence was incalculable to the concessions defenses had to make in playing McFadden and Jones.
So, yeah, initial optimism aside, this is a pretty big deal for Arkansas:
FAYETTEVILLE -- The original optimism over Marcus Monk's recovery from a knee injury was tempered substantially Monday as Arkansas' star receiver underwent arthroscopic surgery that will sideline him
at least a month.
Monk had a small tear in the meniscus repaired and had pieces of articular cartilage removed in his right knee, Razorbacks trainer Dean Weber said. Also, his femur's lateral condyle, which is the rounded end of the bone, was scraped to enhance faster healing, according to Weber. The recovery time is expected to be four to six weeks. (emphasis added)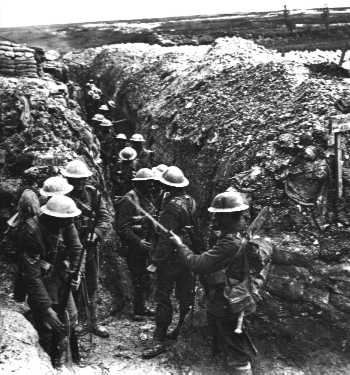 Troy and Alabama defenders prepare lines for Arkansas' ground assault.
- - -
The most optimistic possible scenario could have him limping around for the Razorbacks' second game at Alabama, probably with no practice time. In the worst case, he could also miss a dangerous game against Kentucky and/or still be fighting the effects as late as Auburn. I'm a little iffy on the shelf life of a scraped femur (especially when the scraping's intentional).
But unless Houston Nutt is pulling a bizarrely-timed Hayden Fox, and whether or not Nick Saban has time to prepare for this sort of shit, Monk is out against Alabama. Sophomores London Crawford and Reggie Fish, who were running with the first team Monday, combined last year for five catches. None of them by Fish. The absolutely uncontroversial quarterback is Casey Dick.
And still Arkansas is likely to go into `Bama and beyond a favorite on the prospect of Darren McFadden dragging around five tacklers on every play, something we all secretly think he's capable of doing, like a superhero, and would love to watch, though he and Jones both will be lucky if it's only five. They'll be staring into fronts so stacked they'll swear they're multiplying.
Other injuries of note and various debilitation: Auburn is banged up at defensive tackle, where nicely-named senior Tez Doolittle is undergoing career-ending surgery today, and mythical title contenders USC and Texas are in anguish over redshirt/not to redshirt quandaries as backup quarterbacks Matt Mark Sanchez and John Chiles Sherrod Harris suffer from a broken thumb and sprained knee, respectively. (Thank you, commenting defenders of accuracy in backup quarterbacks) Both could be back by the start of the season. And 330 pound Houston lineman Jerrod Butler is alert with good vitals after collapsing during a morning practice Monday.