By popular demand...
- - -
The least you should know about South Carolina...
2006 Record
8-5 (3-5 SEC / 5th, East)
Past Five Years
31-29 (17-17 SEC)
Returning Starters, Roughly
14 (6 Offense, 8 Defense)
Best Player
Jasper Brinkley had all the numbers – 96 tackles, 14 for loss, five sacks – in his first season out of junior college, and came out of a packed crowd at his position to be the only Carolina player on last year's all-SEC team. Though you have to question any panel of voters that doesn't cast a single ballot for Sidney Rice, don't you? Among others. Anyway, a 262-pound middle linebacker who covers the ground Brinkley does needs no validation from the press.
Bizarre Tradition
It's the biggest, stupidest, most artificial and obliviously pompous routine in college sports, which is only one of the reasons the Gamecocks' entrance to Williams-Brice is such great fun:

The other reasons: the big cooshy mascot cock going nuts after his "Magic Box" is unsheathed (like a real rooster at the light of dawn, see?), and the fitting antithesis of Bear Bryant's grovelly, posthumous monologue before games in Tuscaloosa, Steve Spurrier's totally flip "It's tahm fer Carolina footbaw!"
Bizarre Item of Dubious Interest
To my disappointment, there's no mythic story worthy of the great, unique name "Gamecocks," like an impromptu halftime throwdown between local strays taken as a good luck charm or anything – South Carolinians just love loved 'em some good cock fightin' so much circa 1903 that they wanted to impart the spirit and courage of the event to their beloved gridironers. As far as quirky regional mascots go, only "Razorbacks" and "Longhorns" are in the same class. One day, the NCAA or whatever totalitarian regime succeeds it will legislate "Gamecocks" out of existence under political pressure, to the chagrin of juvenile double entendrists everywhere and the benefit or no creature that flies, swims or crawls upon the earth, and the day USC has to take the field as the South Carolina Palmetto Kats will be a dark one.
What's Changed: The only chunk of new personnel is on the interior of the offensive line, where both guards and the center are new - and in "dire straits" coming out of the spring - but what's different about South Carolina is that "certain hum" Street and Smith's describes around the program this offseason, the "this could be the year" buzz. Phil Steele, switching the `Cocks out with his successful gamble on Arkansas last year, is the only member of the major prognostocenti with the guts/adrenaline addiction to crack the SEC's East big three for Carolina, or even the top 25 - he has them all the way up 13, the same position he had Arkansas last year, and second in the division to Georgia -  but The Sporting News warns "blue-chip opponents now have to worry about losing to South Carolina," Street and Smith's goes with the "crashing the party" line. Rivals are going overboard to denote respect. This might be the first season in more than a decade one of the division's usual heavy hitters doesn't come in with the air of a strong mythical championship contender, which combined with the high number of returning starters and a subsequent "uh oh, Year Three" vibe around Steve Spurrier has USC generally in the discussion for the SEC championship game. Even in the proverbial darkhorse role, this many people outside of South Carolina have never thought about that at the same time before.
South Carolina, Holtz vs. Spurrier
2000-04
2005-06
vs. SEC
19-21 (.475)
8-8 (.500)
Avg. Margin
-0.7
-1.1
vs. Ranked
6-16 (.273)
3-6 (.333)
Avg. Margin
-7.1
-3.3
Total Off.
353.6
357.0
Total Def.
334.8
348.3
In games of substance, the only thing to recommend the performance of Spurrier's teams over their immediate predecessors is their closeness in defeat against that "blue chip competition." It's hard to demonstrate in any objective way, too, that the OBC's second team even improved much from his first - would you trade a seven-win regular season, a tie for second in the division at 5-3, close wins over Tennessee and Florida and a two-point loss at Georgia for a seven-win regular season, a fifth-place finish at 3-5, close losses to Tennessee and Florida and a shutout defeat to Georgia at home? Viva la upward mobility, huh?
The concept of a steady track towards breakthrough level improvement from Carolina hinges on the idea that it was the rest of the division that was much better last year - Tennessee and Florida, in particular - rather than the Gamecocks who regressed, and that the `Cocks actually got much better as the season progressed. Specifically, from the point that Blake Mitchell re-entered the lineup as starting quarterback after the six-point loss at Arkansas in the ninth game:
USC Offense, 2006
1st 9 Gms.
Last 4 Gms.
Pass Yds.
220.7
318.3
Pass TDs
15
9
Total Off.
352.9
489.8
Yds./Carry
4.2
5.2
Scoring
22.6
35.8
Creampuff alerts: the left column includes games against Wofford and Florida Atlantic, the right with a big numbers show against Middle Tennessee. Every other game on both sides, though, is against either the SEC or Clemson or is a bowl game. It was my opinion at midseason that Syvelle Newton's creative scrambling was the best option at quarterback despite his liabilities as a passer, but Mitchell was in complete command of the Cock `n Fire from the point he entered the Arkansas game (USC was down 26-6 there until Mitchell made it a game with two late touchdowns, a week before leading the should-have-been shocker at Florida) and backs Cory Boyd and Mike Davis suddenly found the room to graduate from "viable" to "dangerous," matching their supposed platonic talent level. All projections of grandeur are based on the highs of that last month becoming the new normal.
Well, then, which is it? Are you the good Blake or are you the bad Blake?

- - -

What's the Same: The good tidings on defense are the result of ten returning starters (eleven, actually, if you count corner Stoney Woodson, who started nine games at free safety), the reward for head-coach-in-waiting Tyrone Nix after guiding a unit that began last year with one starter back from 2005 yet managed to allow fewer yards and fewer points on average. As the offense was coming together in the last five games, though, seams started showing in the defense: the Cocks allowed 495 yards to Arkansas, 401 to Florida, 372 to Clemson and a whopping - whopping, I say! - 527 to Houston to cap its four most generous efforts of the season. All of those teams, along with Georgia earlier in the year, ran balanced offenses that started with their ability to consistently pound out yards between the tackles. This might be able to go unnoticed based on the offense's contributions to favorable final scores and the ink devoted to the talents of the Brinkley Brothers, but USC hasn't made much progress to stopping the run in years - opponents have averaged a little more than four yards per carry every season since 2002, which never happens at Florida, Georgia, LSU, Auburn or Alabama (or Tennessee, for that matter, which gave up 4.1 last year after a long run of dominance in run defense) - and that's still the biggest gap between the Cocks and the league's elite.

Oh My God, They Overthrew Kenny! You Bastards!: Among my favorite players of 2006 was Kenny McKinley, one of the rare guys I notice every year who never seems to be regarded as anything more than an interchangable role player but is making plays every time you turn around. As it happens, I saw an unusual number of South Carolina games last year (all of Mississippi State, Auburn and Florida and chunks of Georgia, Kentucky, Arkansas, Clemson and Houston), but there was McKinley, every time; he made a spectacular catch against Mississippi State that set up the first score of the I-A season, was the only bright spot of a dismal performance against Georgia, noticeably replaced Sidney Rice (if only briefly) as the go-to receiver in the incredible keep-away game against Auburn, threw a key touchdown pass at Kentucky (see below), had 70 yards against Tennessee, had seven catches and a touchdown against Arkansas, 71 yards at Florida and 112 and two touchdowns in the bowl game. He wound up with 51 for 880 on the season (big-time 17.5 per catch), which made him the best number two receiver in the conference.
Kenny McKinley moves into the foreground.

- - -

But, yes, Number Two - for all that anecdotal praise, McKinley was fundamentally a complementary guy who benefitted from the attention on Rice, to whom he gives up almost half a foot and cannot replace as a go-up-and-get-it safety valve in traffic. But so many of Spurrier's best receivers at Florida were small, quick guys like Reidel Anthony, Jaquez Green and Jabar Gaffney, and McKinley can be that good - so long as he's not trying to do it by himself. The only other guy back with double digit catches is Freddie Brown (14, zero touchdowns).

Overly Optimistic Cautious/Desperate Post-Spring Chatter: If the big move ultimately rests with improved physicality on the defense, Nix is confident we'll see that happening soon, though not necessarily as soon as this fall:

"There is no doubt that we have better personnel right now than we've had the past couple springs, overall as a defense," defensive coordinator Tyrone Nix said. "We've got a ways to go. We're not there yet. We haven't beaten anybody. But we're heading in the right direction. ... We are closer. We're closer from the standpoint of the schemes, the knowledge and the kids playing with good fundamentals."

If only Spurrier could say the same thing:

Even if the Gamecocks give themselves a chance with defense and special teams improvements, they'll still need more than they got from the offensive line in the spring. Spurrier wasn't pleased with his team's pass protection and admitted most of the Gamecocks' success in the running game had more to do with draw plays in which the linemen didn't actually have to control the line of scrimmage.

"We're in dire straits (on) the offensive line right now," Spurrier said. "We're not very good. It's as simple as that."
[...]
Mitchell struggled in spring practice in 2006 and then continued down that path early in the season, losing his starting job and his confidence until he finally regained both late in the season. South Carolina can only hope his performance in this past spring game won't be indicative of his play early in the 2007 season.

Mitchell completed only 13 of 39 passes for 150 yards and was intercepted twice.

"He played about like this last year in the spring game, so I don't know the answer," coach Steve Spurrier said. "And I hate going into the offseason with your quarterback hitting 13 out of 39 when the other team only played two coverages."

That is bad, no doubt about it, so much so that epic freshman Stephen Garcia's name has come up at least as often in debates over the depth chart as in arrest reports, which is a lot. But in Blake's defense, he's been somewhat distracted these days, mostly from practicing his dancin' all night in private, Napoleon Dynamite style. Moves like that don't just happen, you know. And you know what else? It was totally worth it.

South Carolina on YouTube: If not the OBC specifically, YT innovators certainly had people like Spurrier in mind from the beginning, espcially where it concerns clips like this one, appropriately titled, "Steve Spurrier's Superior Snot Rocket":

"Superior" to the untrained eye, perhaps, but Spurrier quickly benched the remainder of that gob of mucus for an inexperienced yet promising young gland.

See Also: As if you needed visual evidence, never, ever hire Andre Ware to coach your defense ... The beginning of the end for Jackie Sherrill at Mississippi State, courtesy of walk-on Erik Kimrey (more here) ... And someone explain, please, how Troy Williamson is a top ten pick and this guy is still left in the second round?

Conventional Wisdom: As noted above, none of the magazines save Steele have the cajones to jump the `Cocks over Georgia, Tennessee and Florida, limiting expectations to the Music City Bowl and the like. Even the Great Phil stops short of wild BCS conjecture, slotting USC in the Outback Bowl, where it played twice in the not-so-halcyon days of Lou Holtzh. For its on-notice sabre rattling elsewhere, The Sporting News gets kinda harsh: "Will this be the breakout year? Don't count on it...Yeah, South Carolina should be happy with another middling bowl trip."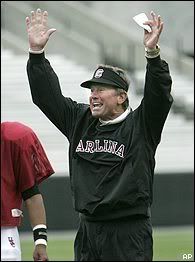 Spurrier: Unwittingly taught Jarvis Moss everything he knows.
Best-Case: By beating Tennessee and Florida in `05 and having great chances to win save a dropped touchdown and a couple timely blocked kicks, respectively, against Auburn and Florida last year, Carolina has flown enough in the SEC's upper thermosphere to be adjusting to the altitude. It won't have a chance to compete for the East title if it doesn't finally beat Georgia (0-5 since 2002), or else face a must-win at LSU two weeks later; it's one or the other, more likely UGA, but not both. The last three conference games are at Tennessee, at Arkansas and at home against Florida, a stretch USC needs to enter at 4-1 and win two of three to punch its ticket to the championship game, and even then it will probably depend on which two for tiebreaker purposes. It comes down to this, before Clemson even comes into the picture: the `Cocks have to win three of five - the right three - against Georgia, LSU, Tennessee, Arkansas and Florida, the first four of those on the road. That would  be one borderline-miraculous 10-2.

Worst-Case: In its last five games against each, Carolina is collectively 4-20-1 against Georgia, LSU, Tennessee, Florida and Clemson, none of whom have designs on suddenly becoming its stepping stone to greatness. Right there, USC is fighting to stay on the cusp of bowl eligibility, a precarious position with Mississippi State, Kentucky, North Carolina, Vanderbilt and Arkansas representing the baseline must-wins. A bad or injury-plagued team could lose two of those and find itself wallowing in the Thanksgiving grime of 4-8.

Non-Binding Forecast: With Florida, Georgia and Tennessee, I said the winner of this division won't have fewer than two losses, and that's especially going to be true if it's South Carolina. But I'm not going to endorse USC for that level, mainly for its serious questions on both lines, an untenable position for any would-be contender, and especially one that's looking at the deep, strong running attacks of Georgia, LSU, Arkansas, Tennessee and Clemson. I do think the Cocks can move the ball with Spurrier's uncanny playcalling and beat one of the Big Three of the division, and possibly wind up in of one of them - again, they finished with the second-place tiebreaker over Florida and ahead of Tennessee just two years ago, so that's not a wild stretch by any means - but all those killer road games leave me thinking 8-4, probably no better than 4-4 in the conference, and nowhere near the division crown. Baby steps, maybe, but another December game in one of the Tennessee bowls (the Music City or Liberty) might not feel that way.

- - -
Previous assessments, absurd, reasonable and otherwise: