• Ticket to Override: The days of text messaging recruits unfettered, willy nilly, without discretion of design are of course long gone now, finished, evaporated into the halcyon ether encapsulating our innocen - not so fast my friend! Text messaging may have life yet:
Nearly three dozen schools are throwing a roadblock at the NCAA's efforts to ban text messaging in college recruiting.
Thirty-four schools have asked for an override of a decision by the rules-making Board of Directors to prohibit the practice, limiting electronically transmitted correspondence to recruits to e-mail and faxes. The measure, approved in April and effective Aug. 1, is designed to end a text-messaging proliferation that a number of athletes complain costs them time and -- because of cellphone charges -- money.
Coaches have acknowledged the need for regulation, but many argue against an outright ban on a high-tech means of communication that's convenient and, they say, is now a part of high school- and college-age culture.
Both the NCAA's Division I Management Council and Board of Directors opted for the ban over another proposal merely to limit text and instant messaging.
Thirty requests were needed to throw the rules change back to the board, which meets Aug. 9. If it doesn't rescind or amend its decision, all 326 Division I schools will vote on the issue during the NCAA's annual convention in January. A five-eighths majority is needed to override.
The ban still will take effect Aug. 1, lasting at least until the board alters its position a week later or the all-schools vote in January. Override requests from 100 schools would have suspended the measure until a final resolution.
Five-eighths of 326 is 203.75 schools, meaning the big schools that might be behind this are going to need a little help from their Big South and Gateway friends (the Colonial Athletic Association views the whole matter as rather vulgar, if you ask it). Otherwise, precious hardbodied sophomores will be forced to decipher smoke signals, carrier pigeons, landlines and other primitive methods of communication.
• Quickly: One foot out the door, the Orange Bowl's bid to retain Miami home games suddenly looks attainable ... Notre Dame's Corwin Brown, buzz of the recruiting world ... ESPN's high school all-star game is picking up commitments ... Good PR for Georgia, for a change ... Tiny Trindon Holliday picks football over a shot at a track championship ... Nothing happens without a reaction ... Trojans line up as Mr. Manning comes to campusSome Ole Miss games may return to Jackson in the future ... South Carolina's Quintin Richardson released from the hospital ... Can Lincoln Kennedy fit on an Arena League field? ... Colorado will already face West Virginia, and a CU-Air Force series could be on the horizon ... Unless it's not ... Indiana gets his second and third commitments since Terry Hoeppner's death ... 35-year-old ex-UConn assistant J.D. Hall died of a heart attack Saturday ... Drew Weatherford, intern ... Hey, what about Michigan State? ... And "Braylon Edwards Brings South Beach and Hollywood to the 'D'" to bring South Beach and Hollywood to the 'D'.
The Rap Sheet
Crimes, misdemeanors and eligibility-crippling issues legal, academic, institutional and otherwise.
- - -
Probed, by the NCAA, the point-shaving allegations that broke in March against Toledo's Scooter McDougle, who was ruled ineligible Tuesday despite "the pleas of his family members" -  Grandma McDougle has written Toledo's president twice to get her baby reinstated - and possible exoneration by federal prosecutors, who have yet to bring back the charges they dropped "as a matter of procedure" a couple months ago. UT spokesmen can deny to classify the NCAA's work as an actual "investigation" if they like, and apparently they do, but the Association told USA Today it has had "repeated contact" with Toledo and been to campus to "interview an individual about a potential sports wagering issue," which sounds very much like the work of an investigation. A kind of lazy investigation, if one interview is all they've done since April, but nevertheless, an investigation.
As for McDougle's playing status - is this an arbitrary suspension, or is McDougle actually ineligible? You say "potato," Harvey McDougle Sr. says "potahto," but either way, the whole thing's off:
Even if Dr. Jacobs were to lift the suspension, it doesn't appear that McDougle will be in uniform for the Rockets because of his academic status.
McDougle's father, Harvey McDougle Sr., who last week told The Blade his son would not be indicted on point-shaving charges or forced to testify against his teammates, said UT was wrong about his son's eligibility.
"He's not academically ineligible, and that's all I can say," McDougle Sr. said. "I'm so sick of that university, I don't even know what to do with all of this."
When pressed about McDougle's academic status by The Blade, Helgren said: "We are getting this from our compliance director [Brian Lutz]. He is ineligible. It's unequivocal."
McDougle Sr. said his son is currently working in an internship program for UT credit and didn't know why he was considered academically ineligible for football.
McDougle Sr. criticized UT coach Tom Amstutz for not calling him since his son was arrested, and accused the university of not supporting McDougle since the federal point-shaving investigation became public.
"If it were up to me, he'd be gone from there," McDougle Sr. said. "But he's loyal and he loves the game, and he wants to stick it out in Toledo."
The academic part of this may be true, as Scooter sat out 2003 for some classroom failing - a "trick," according to his grandmother - but the whole "admitted to taking cash and gifts" thing is probably playing a role. McDougle denied charges he placed bets with Detroit bookie Gary Muni, altered his play in any way (kind of hard when you're on the bench with injuries for the vast majority of two straight seasons) or recruited teammates to the scheme, but he admitted months ago to accepting money and a car from Muni.
Oh man, you know what this sordid business needs? Lawyers. Naturally:
In addition to the usual classwork, weightlifting, and wind sprints most college football players will undertake this summer, the University of Toledo has added a wrinkle to its preseason training regimen.
A meeting with a lawyer.
Ohio Attorney General Marc Dann has appointed Michael Glazier, an attorney with Bond, Schoeneck, and King of Overland Park, Kan., as special counsel for UT.
Mr. Glazier will interview every UT football and men's basketball player, except for incoming freshmen, to determine their eligibility for the upcoming season.
Mr. Glazier will be joined in the interviews by Alice Skeens, a UT psychology professor and newly appointed faculty athletics representative.
¡Viva la proactividad!
At the low, low price of $285 an hour!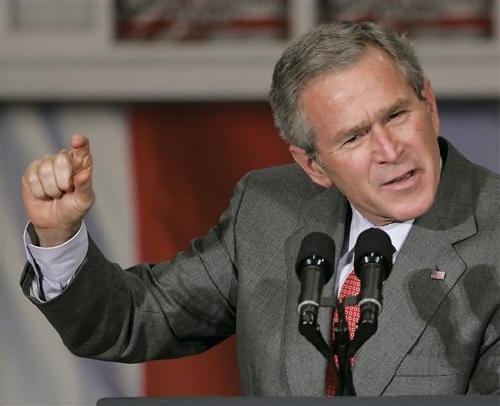 Lloyd Jacobs: a little preemption can go a long way.
- - -
Glazier - who got this crap assignment because he just didn't kiss enough ass, we're sure - actually will not make more than $45,000 no matter how many hours it takes him to probe the bureaucratic afterbirth that accompanies the otherwise happy birth of a new season. His presence is "a big, shocking thing" to Tom Amstutz
(most people say that about Tom Amstutz. Zing! - ed.)
but BS&K worked with Ohio State in 2005 and Michigan in 1997 after those behemoth schools' basketball teams ran into equally massive trouble. Toledo, though, is the first to assign a suit to
preempt
a violation from occurring to begin with. Such is life in the age of the Bush Doctrine.
And like many of those of our 43rd president, UT prez Lloyd Jacobs' decisions here seem motivated largely by distrust of his people, especially Amstutz, whose alleged excess on the department dime has already initiated an audit and stricter spending guidelines by the university in its drive to create a "culture of compliance...a culture where people understand that we follow the rules." Ergo: lawyers. The chill, I can feel it from my laptop. Do you really need that many packs of sugar in your coffee?
Arrested, in the home of Bozeman's mayor, two incoming Montana State freshmen attempting to elude police.
Clay Bignell and Daniel Ogden - actual Montanans, for a change, no doubt just trying to fit in with the precedent established by their staggeringly felonious new teammates from the coasts - apparently ran from police responding to a routine noise call around 3:30 a.m. Monday and entered Mayor Jeff Krauss' basement, where they were tracked down and arrested ("There were only two coherent things I heard: 'Stay down,' and 'Running north," Krauss said. "It was pretty startling.").
Being freshmen, though, and new at the game, Bignell was charged with mere misdemeanors for trespassing and obstruction, and Ogden and fellow sprinters Robert Schmechel and Tyler Haven only with obstruction of a police officer. Miles Wahrer, who did not run, still was hit with possession of alcohol by a minor and "unlawful transaction with children," which as a midemeanor cannot be nearly as creepy as it sounds. All are Montana natives and incoming Grizzlies, and they'll learn in time - for his part, Bignell is already spending (or has spent) 18 hours in jail as a result of his initial court appearance. That kid shows promise.
Paraphrased quote of the day, via Mayor Krauss:
The mayor applauded officers' response and said he hoped the arrests sent a message to would-be criminals that if you run through a person's house, you'll be prosecuted.
Like always, a few bad apples ruin the fun for everyone.
Jailed, on federal charges of bank robbery, another aspiring I-AA felon, Michael Sherrod Hall of Samford (that is Samford, in Alabama, Baptist-based alma mater of Bobby Bowden, not the similarly-named and better-known school in northern California). Police arrested Hall last Friday in Douglas County, Ga., two hours after a man with a gun robbed an AmSouth bank in Hoover, Ala., and allegedly found $18,200 on him during a search. Did he think he was going to escape by crossing the ol' state line?
Hall, who played in every game as a freshman defensive end last year, was suspended by "shocked" Samford coach Pat Sullivan, late of Heisman fame at Auburn, which is probably the least of the kid's concerns now.