A random look at next fall, sans the inevitable injuries, suspensions and other pratfalls of the too-long interim.
- - -
The least you should know about Nebraska...
2006 Record
9-5 (6-3 Big 12/ 1st, North)
Past Five Years
39-25 (21-20 Big 12)
Returning Starters, Roughly
13 (7 Offense, 6 Defense)
Best Player
Aside from the hard-to-quantify "big, fast, tough" stuff, Bo Ruud wasn't quite as productive as tackle machine teammate Corey McKeon in the middle by the numbers alone, but he is the only returning Nebraska defender from the first string of last year's all-Big 12 team, and he has the Ruud name first brought to prominence by his similarly ballhawking brother Barrett. Bo should be around more plays on the strong side (that would be over the tight end, the direction most teams prefer to run), where he replaces Stewart Bradley after playing the weak side the last two years.
Bizarre Tradition
Depth charts can be pretty fluid out of necessity, but there's no room for indecision with the Nebraska defense, whose first eleven is presented with the famed black practice jerseys that tag its members forever as "Blackshirts." This began organically in the sixties, to help Bob Devaney tell one wave of defenders from the next, and has of course grown into the ceremonial piece of kitsch – the jerseys are literally awarded now in a preseason ceremony the week before the first game – we know and love. This year, fingers are crossed for the Blackshirt status of cornerback Zackary Bowman, an NFL prospect out of junior college who started the last five games of 2005 but missed all of last season with a torn ACL and is sketchy for this fall with another knee injury. Until then, the honor is all Andre Jones'. Also: another piledriving J. Makovicka is on hand at fullback – redshirt freshman Justin follows option-bred brothers Jeff and Joel.
Bizarre Item of Dubious Interest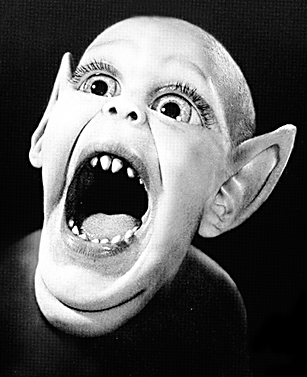 "Cornhuskers," it turns out is a nickname janked from Iowa's turn-of-the-century teams by a Lincoln sportswriter who was tired of calling Nebraska the "Bugeaters," a name taken from a Midwestern species of insect-devouring bat (mascot at right). Prior to that, Nebraska had played as the Old Gold Knights, the Rattlesnake Boys and, most anachronistically, the Antelopes (you know, for all the antelopes galloping around Lincoln in the 1890s). Now, Herbie Husker his own self only dates back to a cartoon that ran in 1974. So how attached can the university be to this thing? Really, excessively polite people of the Plains – it's undignified.
What's Changed: There's a lot of optimism about wonderfully-named tackle Ndamukong Suh and end Barry Turner moving up as starters on the defensive line, but something must be lost in the translation from Jay Moore, Barry Cryer, the also wonderfully-named Ola Dagunduro and Adam Carriker, a hellish rusher who went in the first dozen picks of the draft. That group was generally good - it shut down Oklahoma and Auburn completely in the postseason - but struggled with USC, Texas A&M and especially Oklahoma State, which blew up for 267 in Stillwater. Regression is the rule with four new starters, even those backed up by a fine set of senior linebackers who make most of the plays. Suh played far more in the first half of last season, but he and Turner both got a lot of snaps and might hold the drop off to a minimum. Good running teams - USC, A&M, OSU again, and probably Texas, all returning veteran backs behind big lines - should be able to pound out a living unless Kevin Cosgrove is willing to sell out his secondary in run support, in which case a whole new set of problems arises in the graduation of safety Andrew Shanle and the spring injury to top cover guy Zack Bowman.

What's the Same: On the surface, an offense finishing 23rd nationally in rushing and 23rd in passing is one that's achieved enviable balance on the legs of an influx of young, talented backs and a renewed approach to physicality. Handing off 45 times against Louisiana Tech, Nicholls State, Troy and Iowa State will do that for you:
Nebraska Rush Offense 2006
Rush Def. Rank
Yards
Per Carry
USC
9
68
1.9
Kansas
28
116
3.6
Texas
3
38
1.6
Oklahoma
16
84
4.0
Auburn
45
104
2.7
Average
20
82.0
2.7
Avg. vs. Other 9
74.6
219.7
4.9
I made a similar observation about the NU passing game in April, but I think the drop off here is more compelling, because Nebraska is obviously content to be a run-first team when it can, and sometimes when it can't - the Huskers ran more often than they passed in every game except the Big 12 championship, when they trailed immediately by two touchdowns.
Slauson: Nasty. But in a good way.

- - -


Admittedly, the numbers above arer far better than in Callahan's first two years, especially the miserable returns of 2005, when the offense couldn't run against the dogs and averaged less than a yard per carry in each loss of a three-game slide at midseason, just 2.2 against all Big 12 defenses. That number nearly doubled last year. But it was still worse than mediocre in the kinds of games that will make the difference between a sweet, sweet return to the BCS and another year hovering at the edges of the polls. Even if a very experienced line is closer to a vintage, nasty Husker front - and monster 330-pound guard Matt Slauson's certainly got the look going for him - hugely hyped Marlon Lucky and/or Cody Glenn will eventually have to provide the big play spark Brandon Jackson occasionally flashed in the process of beating them out. A healthy Lucky also had zero carries against Iowa State or Oklahoma and just three against Texas and then spent a few unexplained days in intensive care this spring (though not from the reported overdose, according to his family), so who knows how he'll hold up as a full-timer? Not me.

Meanwhile, Back In the Pocket: Callahan's long-mocked West Coast passing game really did emerge, at last, with senior Zac Taylor breaking through the motion-y smoke and mirrors to put up the school record for yards - which he also set as a junior, on more attempts - and touchdowns in a season and generally channeling the inner Rich Gannon that seems to best thrive in this system. Sam Keller is not that kind of quarterback; he's a big, NFL-looking Pac Ten slinger with meticulously gelled hair, an appendage inevitably described as "a rocket" and little patience for salt-of-the-Earth slant passes (and even less for waiting on parking spaces), more apt to go deep in high-risk, high-reward fashion. That worked out to be mostly reward for him at Arizona State, where he was throwing for upwards of 360 a game and three touchdowns in starts against LSU, Northwestern, Oregon State, USC and Oregon before getting hurt at Stanford and permanently ceding power to interim president for life Rudy Carpenter. Taylor wasn't given a chance to beat USC last September (he was 8 of 16 in a game Nebraska trailed for good in the first quarter), which shouldn't happen with Keller this time.

As well as he played most of that time, though - and he was a near-perfect killer in a game the Devils should have won going away against the heretofore ferocious LSU defense - Keller was also a victim of risk: his five interceptions against USC facilitated a Trojan comeback from three touchdowns behind in the second half, and he threw two more in the loss at Oregon the next week, his last complete game. If rust is no factor, the sketchy status of downfield, jump ball threat Maurice Purify definitely is. Purify was raw in his first year out of junior college, but he's a small forward-type body who can stretch defenses and create mismatches and double teams; the big play ability offered by the considerably slighter Terrence Nunn and Nate Swift is mostly in the subset of run-after-catch.

Brown yip zoom logmit yiposmoh, Sammy! Heghlu meh qaq jajvam!

- - -


Overly Optimistic Appropriately Wary Post-Spring Chatter: Zack Bowman was lost for the entire summer and maybe the first few games of the season. Lucky was seriously hospitalized for no reason. Fellow uber-recruit Kenny Wilson knocked himself out for the year by dropping a television on his leg.  Keller didn't completely put to rest the rumors that had career scrubs Joe Ganz and possibly Beau Davis unexpectedly pushing the issue on his uncontested appointment as starter, which were typically spun in favor of Ganz but are just as likely (if not more likely) a warning sign of Keller's still-progressing grasp of the offense - his teammates at points in the spring couldn't understand his hurried version of Callahan's epic Klingon terminology. The West Coast as practiced by Callahan is based on rhythm, timing, drop points, internal clocks and all that, and Ganz and Davis have been around long enough to have internalized the mechanics. Everyone still assumes Keller is the guy, but he was outplayed on occasion and wasn't the slam dunk stud he was billed to be.

Nebraska on YouTube: Hard to complain with getting one of the best, wildest upsets of the season instead, but while Kansas State was downing Texas, the rest of the country missed one of the best finishes of the season in College Station on a drive that should have ended twice in Husker doom:

In retrospect that might be the high point - literally and metaphorically - of Maurice Purify's career. And the offense might really miss Zac Taylor.

See Also: The unabashedly cheesiest, and therefore best, of last season's tunnel walk videos by "Huskers Nside" ("I grew up in a house in Texas...but I found a home in Nebraska...") ... One truly terrified guy in a suit ... And it's kind of a disgrace to the general awesomeness of YouTube, which is very high, that the only clip of probably one of the two most dramatic plays I've ever seen as it happened (this being the other), Matt Davison's diving catch off the foot of Shevin Wiggins to save the 1997 mythical championship at Missouri, is buried three minutes into one of many generic nostalgia trips.

Conventional Wisdom:The highly scientific prognosticators of the Gainesville Sun, at least, have NU pegged for a conference title and a mythical championship run, but everyone else limits their expectations to the same middle ground as last year: Athlon has the Huskers at 18, Phil Steele at 22, The Sporting News 23rd and Lindy's 25th. All but Steele, who favors Missouri, expect a repeat as North division champs, but none think the South's four-year hold on the championship game has much chance of ending in any case. A great step sideways.

Go deep. No, man, deeper. It's Sam Keller.

- - -


Best-Case: I may be overly generous, but as long as we're being optimistic, USC's visit to Lincoln can't be marked as an automatic loss; and if it is, Nebraska has to have a shot at beating Texas in Austin in November. Winning both is not a realistic expectation, but for a big year, one of those very lustrous pelts must belong to the Huskers. The losses to Oklahoma State and Kansas the last two years, the latter of which also took NU into a foreboding overtime last year, are a good indicator of an inevitable second loss somewhere, and there are too many opportunities on the schedule outside of Nevada and Ball State to waive that possibility. Nebraska can get to the Big 12 title game at 10-2, though, and any team good enough to get there is good enough to win.

Worst-Case: Forget USC and Texas, maybe the best two teams in the country, and worry about Wake Forest, Missouri, Oklahoma State, Texas A&M, Kansas, Kansas State and, in all likelihood, must-be-better Colorado. At worst - with a stagnant running game and/or slow transition at quarterback - the Huskers are probably still good to win four of those, maybe the three at home and one of the four on the road. The specifics of who might or might not have their best effort on a given Saturday are less important in this big picture than the fact that a 7-5/Insight Bowl sort of season would be a regression and catalyst for an uptick in despondent crystal meth abuse in cornfields statewide (stereotypes are just an easy route to the truth).

Non-Binding Forecast: Missouri is the only other program given any shot at taking the division, and Missouri hasn't won a conference championship since 1969. The Huskers are headed for three regular season losses - USC and Texas and one of the six other Big 12 games of reasonable stringency - but as long as the third loss isn't at Missouri (and maybe even if it is), NU is destined for a humbling defeat  to the South champ in the Alamodome. This is an exact repeat of last year, but that basically describes the team.

- - -
Previous Assessments, Reasonable and Absurd...

Absurdly Premature Assessments: