What everybody believes this summer, non-obvious division.
Florida State finished 3-5 in the ACC last year, its first losing season since it joined the conference and fifth place in the Atlantic division, three games back of unlikely champion Wake Forest. Just about everybody's early line has the Seminoles back in the conference championship this December.
The Chorus:
Phil Steele:
FSU has 14 returning starters, the most since their 1999 National Title season and despite having to face VT, BC and Clemson on the road, they are my pick to win the Atlantic and I rate them a National Title contender.
[...]
Despite their worst ever ACC record last year (3-5), they still otgained ACC foes by 42 ypg (3rd best!). Last year's team had just 9 scholarship seniors and this year's has 18. Seventeen true frosh played in `06 (most in NCAA!) Bowden has assembled a killer schedule but I rate the `Noles a National Title contender.
The Sporting News:
Meet Jimbo Fisher, the new offensive coordinator/life preserver for legendary coach Bobby Bowden's listless program. Anything less than a BCS bowl will be a disappointment.
Lindy's:
There's a whole new feeling in Tallahassee because of the five new assistants, as Bobby brought back Chuck Amato and stole offensive coordinator Jimbo Fisher from LSU.
[...]
... expect more toughness and intensity to go with that talent.
Athlon:
The steady decline of Florida State's football program over the past six seasons led Bowden to the most dramatic staff makeover in his 32 seasons.
[...]
A veteran defense and an improved running game should keep the Noles competitive against an ambitious schedule.
Jorge Milian (Palm Beach Post, ESPN):
Valid arguments could be made that nine of the conference's 12 members have a legitimate shot at playing for the league title in Jacksonville on Dec. 1. Only Duke, North Carolina and North Carolina State are out of that mix. With the conference so wide-open, it's anyone's guess who will win it. But we'll go with the Seminoles and their revamped coaching staff to bounce back from last season's 7-6 debacle.
The Dissent:
Dennis Dodd (CBS Sportsline)
"Quarterback problems at Florida State...I promised myself I wouldn't pick a favorite, but I will anyway: Virginia Tech and Boston College.
[...]
[Boston College] looks like the best team in the league right now."
Pity poor Wake Forest, which blasted FSU 30-0 in Tallahassee, won the conference championship, returns ten starters on offense and is relegated across the board to third or fourth place in the Coastal, despite the very accurate descriptions of wide openness by Milan and Dodd, a scenario that usually favors the most recent status quo in predictions. Such is the power of the brands at work here: seeing for a single season is not believing when it comes to the Deacons' fortuitous (5-0 in games decided by a touchdown or less, all ACC contests) run to the title, nor when it comes to Florida State's wilting demise, just a year removed from its own surprising championship with a pathwork offense and make-do redshirt freshman quarterback. FSU has won 12 of 14 ACC championships since it joined the league - it still is the status quo.
Seminole-favoring eyes initially go googly over the ubiquitous "talent" forever on hand, which by the looks of the players in the physical racehorse sense hasn't dropped off from the championship hellions of a decade ago and seemingly requires only two long-absent catalysts to fulfill its frontrunning destiny: a competent quarterback, and a competent playcaller. FSU always had both in Mark Richt and the succession from Casey Weldon to Chris Weinke - yes, even Thad Busby, who was 11-0 in the regular season in 1996 - and has had neither since both left after the offense was shut out in the mythical championship loss to Oklahoma in the `01 Orange Bowl. That offense averaged a ridiculous 550 yards and 42 points, nearly unattainable figures outside of the WAC, and Jeff Bowden's first three offenses all managed to keep things respectable (above 30 points and 400 yards, with a positive turnover margin) enough to deflect blame to a suddenly struggling defense. But the last two Bowden units betrayed his long-suspected incompetence opposite a couple of top 20 defenses: both failed to crack 30 points or 3.5 yards per carry despite the dramatic and generous aid of Duke, Rice and The Citadel on the schedule, among others. The `Noles lost a dozen games in the last five years to unranked teams, after barely losing a dozen games altogether in the nineties.
Drew Weatherford gets his footing now or never.
- - -
Yet they
still
won the ACC in 2005, just as they had in `02 and `03, even with Bowden and young, lackluster quarterbacking, even after a lame duck stretch of games to close the regular season, then nearly upset Penn State in the Orange Bowl, so talent certainly must not be the issue where continued conference dominance is concerned. In this team's case, that talent happens to enter with more collective experienced than any of its recent predecessors, and without the dual albatross of ham-fisted leadership (Bowden's
disinterested
, pass-first approach has been replaced by the balanced chi of mucho respected Jimbo Fisher,  the offensive line put under the charge of proven taskmaster Rick Trickett) and youth at the key position (Drew Weatherford at least has the game experience at this point that Weldon, Ward, Kanell, Busby and Weinke didn't when they took over as juniors). Chuck Amato returns from beating his old boss most of the time at NC State to take over whatever duties stand in the way of the elder Bowden and his nap, and to ensure the reinstallation of his old cruise missile linebackers. If Florida State dominance is still the status quo in a league with no identity outside of chaotic parity, this is an attractive formula for filling the power vaccuum. Preferably with "swagger," etc. and a lot of injured quarterbacks on the other team. This is what we know about the ACC. This is what is right.
This will happen if the high assessments of the Noles' talent are right. But, as the Orlando Sentinel's Emily Badger suggested last October, maybe the athleticism is not the overwhelming asset it's made out to be, and possibly for reasons of simple bad luck as much as unspectacular recruiting. The class of 2004, for example, is entering its senior season, a class that was ranked as one of the top five in the country coming in. Most of the teams around them back then - USC, LSU, Michigan, Oklahoma, Florida, Texas - are expected to fulfill those expectations, which none of FSU's recent hauls have managed. Below are Florida State signees rated four star and higher by Scout since 2002 (the particularly snake-bitten class of 2001, outside the scope of the site's archives, was culled from old magazines sans stars), with generously defined "hits" in bold and borderline guys or current starters with a likely chance of fulfillment in italics; all others are busts or tentative busts-in-waiting down the depth chart:
2001: RB Eric Shelton, QB Joe Mauer, DB Jerome Carter, QB Adrian McPherson, WR Craphonso Thorpe, DB Dominic Robinson, DB Gerard Ross, LB Chauncey Davis, LB Willie Jones, RB James Buchanon, OL Ron Lunford, QB Matt Henshaw, DL Donnie Carter, OL Milford Brown, TE Justin Tomerlin
2002: RB Lorenzo Booker, DB Pat Watkins, WR Dishon Platt, LB A.J. Nicholson, WR Chris Davis, TE Lonnie Davis, WR Chauncey Stovall, RB Leon Washington, DE Kamerion Wimbley, LB Sam McGrew, QB Wyatt Sexton, DL Chris Anderson, DL Chris Turner, LB Nate Hardage
2003: LB Ernie Sims, CB Antonio Cromartie, DE Chuncey Davis, K Chase Goggans, DE Chris Bradwell, WR De'Cody Fagg, OL John Frady
2004: QB Xavier Lee, RB Jamaal Edwards, DB Kenny Ingram, CB J.R. Bryant, DL Aaron Jones, WR Kenny O'Neal, QB Drew Weatherford, LB Lawrence Timmons, DB Jonathan Warren
2005: RB Antone Smith, WR Fred Rouse, DL Callahan Bright, LB Geno Hayes, DE Justin Mincey, LB Derek Nicholson, DB Clarence Ward, OL Matt Hardick, CB Michael Ray Garvin, CB Jamie Robinson, LB Matt Dunham, LB Everette Brown, LB Dan Foster, DL Kendrick Stewart, LB Neefy Moffett, LB Anthony Kelly
One trend you may have noticed: the only lineman on either side of the ball even in italics is Milford Brown. This is partially due to injuries and partially to do plain busting out, but where the speed positions this fall will be stocked with blue chips with plenty of promise still (ten projected starters at offensive skill positions and the defensive back seven, including Weatherford, were top 15 prospects at their position), none of the linemen were that highly regarded. Two straight finishes as the league's worst running team begins there.
Which is not to say that Alex Boston and Andre Fluellen aren't potentially old school, Wadsworth/Boulware-like beasts on the defensive front - Steele and Athlon both think it will be the best line in the conference - or that Trickett won't instantly have four slimmed-down senior starters on the same level on the other side.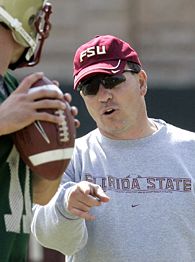 Jimbo Saves.
- - -
And, more importantly, where the competition is concerned - FSU does not have to go through USC's or Texas' VHTs for this division - there is still enough of an edge gauging the returning options elsewhere to narrow the Atlantic to an essentially two-horse race (sorry, Wake): resurgent FSU and transitioning Boston College, which has a better win percentage than Florida State over the last five years and returns more starters (16) from a ten-win team that won in Tallahassee and hosts FSU this year in likely frigid November, including all-conference quarterback Matt Ryan (grain of salt on that one, given the conference, but the operable comparison in this case is Drew Weatherford or Xavier Lee, so advantage, for now, Boston College). In fact, it seems to me it would go without saying that B.C. would be the unanimous or near-unanimous Atlantic favorite, rather than Florida State, if Tom O'Brien were still the head coach. So what we have is a question we can't answer yet: who does more for their new team - the much less celebrated Jeff Jagodzinski and offensive coordinator Steve Logan running the same nondescript pro stylings at B.C., or Fisher, Trickett and Amato unleashing the dobermans at FSU?
Steele's giant warning flare of a prediction, which very weirdly - or perhaps characteristically -  puts the veteran Eagles last in the division, is the only indication the answer shouldn't be close enough to ward off such a solid front in favor of the Noles. Again, as always, I think B.C. is being shortchanged.
Wait, does that mean I agree with Dennis Dodd over Phil Steele? [horrific self-realization emoticon] Well, not until August...