• Forde, With a Bullet: The Worldwide Leader's Pat Forde really knows how to stick it to a guy rub it in touch a nerve, as he did Monday by chronicling Louisville's rise from one-trick mid-major nobody to all-sports quasi-behemoth with teams in the BCS, Final Four and now the College World Series in the last three years. Florida's the only other school to do that. Good for Louisville. Also: damn them to hell.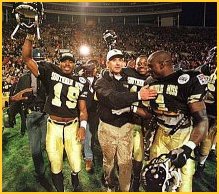 When Britney Spears was hot and all was right with the world.
- - -
That's Louisville's own campus, paradoxically, or at least it was when I was at Southern Miss and USM still played U of Hell as a grudging equal, and the rocketing success of the Cardinal in the last three years has only led to the festering of wounds to the south. Or maybe in just me, I don't know. The USM buzz is not rife with jealousy of Louisville as far as I can tell. Whatever rivalry existed certainly is finished, and I'm holding on irrationally to my personal collegiate anguish. But every top ten projection for UL and, to a lesser extent, TCU, is like having microscopic, barely perceptible bamboo shoots driven under my fingernails. This is not only because Louisville football as late as mid-2000 - and this is the kind of statement that can be made only in retrospect - was an overlookable bitch amidst the undistinguished masses teeming beneath Southern Miss' unquestioned Conference USA supremacy, but because it's directly responsible for the end of that reign, and then for reinforcing the Eagles' plebeian status in the league and in college football at large in maddening, unique fashion.
The littany of missed field goals and fumbled snaps immediately following crucial fourth down stops isn't necessary here, except as a backdrop to the question, "Why not us?" For the first five years of C-USA's existence, it was USM, not Louisville or anybody else, best positioned to take a stab at the upper class in football, and which was cruising at the edge of the top ten after almost two straight years in the top 25 when the Cardinals pulled the rug out for good on Homecoming in 2000 (it was still another four years before even cynical people like me accepted that this shift really was, in the short-term focus of the sport, for good. More optimistic partisans are still at that game). So fine. It's one thing to cede Conference USA to an ex-underling, those kinds of coups happen, teams don't dominate forever. But the BCS? That is an entirely different level. Why? An offsides/second chance field goal from the mythical championship game? Ten years removed from 1-10? How does this happen? And why is Southern Miss still in exactly the same place? Geography?
According to Forde, Tom Jurich made it happen:
Certainly nobody foresaw it in 1997, when the school hired Tom Jurich to fix an athletic program that had exactly one thing going for it -- men's basketball, and even that glory was fading -- and a whole lot of problems.
Back then, the Cardinals were little more than a high-maintenance mid-major school. They were members of Conference USA, and their arrogance in dealing with fellow league schools, after years of running roughshod over the old Metro Conference, nearly led to their expulsion. It took a mediation effort by then-commissioner Mike Slive to derail that movement, making Slive an often-overlooked contributor to this renaissance.
"I remember going to that first league meeting, and there weren't a lot of open arms for me," Jurich recalled. "I had a target on my forehead, and deservedly so..."
[...]
In real terms, very little was going Louisville's way. The football program was backsliding after patriarch Howard Schnellenberger left for Oklahoma, slipping to 1-10 in 1997. The basketball program was creaking toward irrelevance in the final years under Denny Crum, finding its way onto NCAA probation twice. Academics were shaky, and the non-revenue sports were largely a wreck -- out of Title IX compliance and out of step competitively.
Yes. Yes, this is what Louisville is was.
Today the Cardinals are the can-do model for the rest of the nation to envy and emulate. They have proven that with the right mix of administrative vision, brilliant coaching hires, aggressive talent procurement and really good timing, anything is possible. They have proven that a one-trick, urban public school can reinvent itself as a national all-sports heavyweight -- and do it in a decade or less.
In that time, the Cardinals upgraded their conference affiliation to the Big East, upgraded their caliber of coaches, upgraded the facilities for every sport and upgraded their competitiveness across the board as well.
Getting into the Big East was paramount, and that never would have happened without Jurich's football vision. The new AD got one stroke of luck when he walked in the door 10 years ago -- a new football stadium was on the way, set to open in 1998, freeing the Cardinals from a decaying Triple-A baseball park. Jurich took care of the rest, firing Ron Cooper and replacing him with little-known cowboy John L. Smith, who merely took the Cardinals to bowl games each of his five years on the job.
Petrino, Patino, adulation, et cetera. Bastards.
This is hardly the end of the growth curve, though. Plans have been drawn to expand Papa John's Cardinal Stadium from its current capacity of 42,500 to more than 60,000. Ground has been broken on a new, downtown basketball arena that will seat more than 22,000, with the Cardinals as its prime tenant. And with the namesake of the baseball stadium, fast-food restaurant magnate Jim Patterson, in attendance for the breakthrough game Sunday, you can expect expansion there as well.
"I asked him last night and he said, 'Let's go,'" Jurich said. "And he can make it go in a hurry."
Blood pressure, it rises. Do not get me started on South Florida.
• Darksiders Respect No Obstacles: Melodramatic Arkansas update requires "Houston's Theme"...
Undeterred by a judge's dismissal, John David Terry demonstrates exactly the kind of perseverence he wants to see from his university administration and football team by vowing to file an amended version of the suit accusing university officials of laxity in allowing an emotionally invested Houston Nutt to investigate the vicious Prewett to Mustain e-mail last December. Terry has 20 days to "file amended pleadings regarding two of the complaints," according to the AP, which does not speculate on the haste with which the amended complaint will also be tossed.
• Quickly: It's on-field hottness is debatable, but Nevada's Chris Ault has only reaped the benefits of the Pistol formation as a recruiting tool ... Greg Cote goes for broke in the Miami Herald to save the Orange Bowl in all its iconic regality ... Just a formality, no doubt, but, uh, Nick Saban's record contract remains unsigned at Alabama ... Suspeneded Texas safetycar-pounder Robert Joseph is transferring, and Joseph Duarte has a suggestion for Mack Brown's annual team slogan ... Xavier Lee, upbeat and staying in ... Arkansas lands a pair of commitments and a nice, objective endorsement for the NCAA's text message ban in recruiting ... The freshmen arrive at Georgia Tech ... Ron English focuses on patience and teaching ... And Illinois power forward C.J. Jackson is working out with the football team at tight end.
The Rap Sheet
Crimes, misdemeanors and eligibility-crippling issues legal, academic, institutional and otherwise.
- - -
Prepared, to testify against his former teammate, ex-Illinois receiver Jody Ellis, who is expected to plead guilty to burglarizing four apartments in March and give testimony against alleged accomplice Derrick MacPhearson - who has pled not guilty - in hopes of knocking a mandatory 4 to 15-year prison sentence down to "six months of boot camp." That is cold, bro, but a man's gotta do what he has to do to survive the game. Ellis' trial was set Monday for July 6, more than a month and half ahead of MacPhearson's, scheduled for Aug. 20.
Arrested, just like the good old days, ex-Florida cornerback Avery Atkins, who was dismissed from the Gators following two domestic assault cases last summer and brought in Friday for "narcotics and traffic violations" in Daytona Beach.
Atkins was "driving a gold car with excessive window tints" ['Excessive' according to who? - ed.] when he was stopped and, based on the smoke pouring out from behind those windows, apparently, found to have marijuana, a digital scale and a gun. All of those items are legal in certain circumstances, none of which happened to apply to Atkins in this situation. Oh, and also cocaine, which is quite illegal in all environs. He was hit with possession of a stolen firearm, possession of cannabis under 20 grams, possession of cocaine and possession of drug paraphernalia and released on $13,500 bail.
Aside from this latest obstacle, Atkins was charged with domestic battery a third time last October after leaving the Gators, but he is still enrolled at Florida with an eye towards returning to the team, rather than to prison. Neither effort appears to be going very well, but I wish him luck.