A random, too-soon look at next fall, sans the inevitable injuries, suspensions and other pratfalls of the too-long interim.
- - -
The least you should know about Southern Cal...
2006 Record
11-2 (7-2 Pac Ten, Champions)
Past Five Years
60-6 (37-4 Pac Ten)
Returning Starters, Roughly
16 (6 Offense, 10 Defense)
Best Player
If Phil Steele is to be believed (which he is, about everything) every starter on USC's front seven by the end of last year was ranked in the top ten in the nation at his position coming out of high school. Before safety Taylor Mays took over full-time, though, the only two on the defense actually carrying the coveted PS#1 were linebackers Keith Rivers and Rey Maualuga, who grew quickly into dangerous men and finished 1-2 in tackles on a deep, stacked defense. Add to this the Rose Bowl-dominating pass rush aptitude of Brian Cushing, and this is easily the country's most ferocious set of linebackers.

But don't take my word for it! Ask Patrick Cowan:

In fairness, good for Cowan for getting up from that and not crapping away the Bruin upset. But now that Oscar Lua's gone and the middle is all his, they're all Maualuga food.
Bizarre Tradition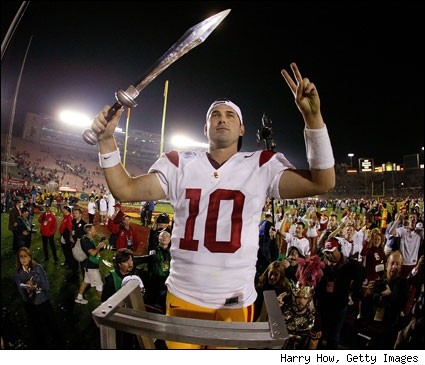 Most people excited stick up one finger to denote "We're number one!," but USC, which has had more opportunity over the last four years than any other school to actually perform the sign with accuracy, does this weird thing with two fingers. What?

For lack of any more official explanation I can find, there's this, which claims the 'V' is not only a sign for 'Victory,' and therefore in collaboration with the SC fight song, but also a symbol of gloating by ancient Trojans, who would cut off conquered soldiers' fingers to ward off the ability to handle weapons in a revolt but still allow activities essential to everyday existence. As the very existence of ancient Troy was thought to be a myth for centuries, I doubt our knowledge of the culture is actually that extensive beyond pure myth. But I'm only the messenger.
Be warned that your eyeballs will pop out of your head during the course of this absurd preview. There are some disturbing prospects therein for partisans of Pac Ten rivals and of certain bastions of Midwestern Catholicism. I'm going to make every effort at restraint, since this collection of Trojans did underachieve to an extent last year and has not yet earned the same respect due its 2003-05 predecessors. But its
potential
is completely off the charts, to the extent that being honest means veering very close to hyperbole, over and over.
What's Changed: Dwayne Jarrett and Steve Smith combined for 5,838 yards and 61 touchdowns the last three years, which regardless of the quarterback or high school hype of those in line is not so easily replaced. There are a couple good options in tight end Fred Davis, an ex-receiver who caught 38 passes of the safer variety (9.3 per catch), and Patrick Turner, who is almost as big as Davis and also averaged below ten yards on his 29 catches. Who's the deep threat? Jamere Holland was a high school track star, but Travon Patterson, Vidal Hazelton and David Ausberry have the usual outsized expectations. None of them has done much of anything yet on this level.
That's as close as you'll come to a legitimate question mark.
What's the Same: On paper, you won't find another defense more impressive man for man than this lineup, which returns ten starters from the best statistical unit in the Pac Ten. SC was first in the league in scoring, first in total, first in passing efficiency and second in in rushing defense. The line returns intact, if you consider end/linebacker hybrid Brian Cushing an end, including two-year starters Lawrence Jackson and Sedrick Ellis. They're backed up by leading tacklers Keith Rivers and Rey Maualuga at linebacker and Taylor Mays at safety, all shirtless as shirtless gets, and five other members of the secondary (safeties Josh Pinkard and Kevin Ellison and corners Cary Harris, Terrell Thomas and Kevin Thomas) who have shared time as starters. Any of those players could be considered a serious all-American candidate if depth and large margins of victory allow him to stay on the field long enough to generate some semblance of stat sheet production.
This crew last year came closer to measuring up to the sum of its parts than the 2005 defense, which had departed from previously inpenetrable run defenses by allowing just shy of four yards per carry. That average was back under three last year and by all logic will drop again, if the unprecedented wrangling of Mike Hart in the Rose Bowl is any indication, even if it doesn't reach the paltry 1.8 allowed by the 2003 front. The very young secondary was not a liability - again, best in the conference in pass efficiency D, and it didn't give up a pass longer than 42 yards - but it figures to be that much better with the depth, experience, etc., and from the residual benefits of having a veteran pass rush in the same position.
I Knew Reggie Bush. I Worked With Reggie Bush. I Respected Reggie Bush. You, Sirs, Are No Reggie Bush: Emmanuel Moody, C.J. Gable, Chauncey Washington and, less often, Desmond Reed were about as well-regarded entering the lineup as Reggie Bush and LenDale White were as newcomers three years earlier, but weren't near the ballpark of that kind of productivity. It was a consistent group  - through one combination or another, it typically worked out to 140 yards on a little more than four per carry - but didn't have a single breakout game and was conspicuously stuffed in the two losses. Washington played the most, but yielded a majority of carries early to Moody and down the stretch to Gable after Moody was injured. None was distinguished enough that incoming hero Joe McKnight isn't going to be an immediate option. Or incoming hero Marc Tyler. Or redshirted hero Stafon Johnson. Or...Herschel Dennis? He hasn't played since outrunning Bush and White in 2003, but did get a sixth year of eligibility and surprising bump from his effort in the Spring.
Herschel Dennis would graduate already, but where would he go?
- - -
Part of that could be due to three new offensive linemen in place of departed all-everything behemoths, but one of my favorite new sites, the thoroughly named and
seriously detailed
USC Trojan Football Analysis
, suggests another culprit:
the early string of fullback injuries
. The traditional, favored I-formation went out the window with the untimely loss of every available backfield blocker, and productivity dropped and flatlined along with it. Stanley Havili played briefly out of necessity as a true freshman before going down for the year and might be the key to better smashmouth productivity. Not on the 2005 level, but get real. Only West Virginia's touching 6.4 per carry.
A Star Is Born: Since he's at the top of a lot of pointless March and April Heisman lists, it might be fitting at some point to show some awareness of the existence John David Booty, who was not overwhelming in his first season as a starter, or underwhelming, but rather just adequately whelming. Until the second half of the Rose Bowl, anyway, from whence stems all the Heisman hype. To that point, he'd only topped 300 yards once, throwing for 406 in a desperate, unsuccessful attempt to catch up to Oregon State, and was mostly just efficient and/or a beneficiary of an especially open, acrobatic and stickyhanded pair of receivers. Then he rained down four touchdowns to three different players on five possessions against the top-ranked defense in the nation in the third highest profile game of the season*, and there you are.
Mays: Also levitates.
- - -
Overly Optimistic Spring Chatter:
Whether or not the the pair of critical batted passes at Oregon State and UCLA had anything to do with it, or just the expanded influence of new coordinator Steve Sarkisian,
the shotgun is in the building
after years of exclusive, unrelenting hand-to-ass action. Certainly this will be a very exciting addition to a blah blah looking for a blah blah to blah. The offense is going to move no matter Booty's pre-snap position.
Also: Taylor Mays? Fast. Remember as you read that Mays also weighs 225 pounds, then use this handy formula to calculate the velocity and set an over-under on concussions suffered by opposing receivers on crossing routes. I'm going with seven before the NCAA bans receivers entering the area between the hash marks while he's on the field.
Southern Cal on YouTube: You've enjoyed the Song Girls through memorable moments of class, confusion and delightful raunch, but former all-American center Ryan Kalil discovers such titular action doesn't occur in a vaccuum - it's forged through the unrelenting hell of Song Girl Boot Camp:
Not to be confused with the more anatomically specific Booty Boot Camp.
See also: Last week's charity Carroll-Ferrell swim in its entirety; an amazingly prescient Jimi Hendrix;and the dramatically-scored, epic No. 1 vs. No. 2 showdown with UCLA in 1967.
Best-Case: How much does the schedule matter? By no measure could the two teams that managed to fell the Trojan giant last year come close to SC's talent or year-end resume, and they go out and only beat teams like Washington, Arizona State and Washington State by a touchdown apiece. Not very impressive for a team thought to be waltzing into the mythical championship game as late as the final Saturday of the season. But what about the teams that arguably could hope to match up coming into the game?
Opponent
Record (Rank)
Score vs. SC
Yardage
Arkansas
10-4 (15)
USC, 50-14
USC, 472-287
Nebraska
9-4 (27)
USC, 28-10
USC, 399-211
California
10-3 (14)
USC, 23-9
USC, 358-275
Notre Dame
10-3 (17)
USC, 44-24
Push, 404-404
Michigan
11-2 (8)
USC, 32-18
USC, 439-321
Basically, that's domination of a tough top end of the schedule. Having watched the entire Notre Dame game, the equal yardage is stunning (and not the result of late Irish scurrying from way behind), because USC victory was never in serious doubt. Anyway, it seems we saw this bunch at what could be considered its platonic best almost a half dozen times, and that was good enough by far to beat top competition with regularity. Even if it has to win a couple close games in that vein, if SC plays consistently to that standard, it will be the favorite in every game and to win the mythical championship regardless of who's on the other side of the line.
Also, whatever enviable talent possessed by the opponent in a hypothetical championship setting, it won't be Vince Young.
Worst-Case: USC didn't always play to that standard. It uncharacteristically played down to mediocrity, and flaked badly enough on the road to lose to a good, opportunistic Oregon State team and, even less explicably, a really fired up, run-stuffing UCLA. There are four games on the upcoming schedule no one is good enough to take for granted: at Nebraska, at Notre Dame, at Oregon, at California. Depending on what happens with each of them, at Arizona State and the revenge games against last year's dual Davids can't be considered gimmes. I'm not sure the Trojans can lose two of those again, but it only takes one mistake to put the torch to best-laid championship plans.
It also seems, in retrospect, that USC didn't take on that really elite, championship-level power last year. Notre Dame obviously wasn't it, nor Cal, and even the value of tatooing Michigan seems suspect in the context of the Wolverines' defensive struggles against Ohio State and OSU's implosion in the championship a week later. There was no opponent and no performance on the scale of Oklahoma in the 2004/5 Orange Bowl, so we have to question whether there could be if it came to that situation against  anyone as good as that OU team.
Non-Binding Forecast: You already know all this, but the accumulation of talent here cannot be overstated. Well, it can, but only by the most deliberate, extreme exaggeration, and it wouldn't be much of a stretch even then. They couldn't beat the Raiders or anything. But when Mitch Mustain arrives in the fall - if Mitch Mustain arrives in the fall, since no one involved has yet confirmed his plans on the record - he'll only be the third guy on the roster rated as the best quarterback in the country out of high school. I am very certain with no research that such a streak is unprecedented. And two of those passers will be from Louisiana and Arkansas, respectively. The most coveted running back will also arrive from Louisiana, and one of the most wanted cornerbacks from Michigan. You've got Jeff Byers from Colorado, Brian Cushing from New Jersey, Fred Davis from Ohio, Taylor Mays from Washington, Keith Rivers from Florida, Emmanuel Moody from Texas, Patrick Turner from Tennessee, Vidal Hazelton from New York. In '08, Mustain's Arkansas teammate Damian Williams will join him in the mix. All guys among the top five or six nationally at their position coming in. The school's just-departed all-time receiving leader came from New Jersey. If SC merely dominated recruiting in California, it could be a consistent national force, and by far most of the roster is still filled out from the very rich Golden State. But the Trojans are getting the best players from all over the place, year after year now. They're doing whatever the hell they want. This is the current gold standard, and I don't think it's close in the big picture (unless Florida's about to make inroads in Cali).

Everyone's on the bandwagon.
- - -
I was one of the many, many people sick of the extreme fawning over the '05 Bush-Leinart Team of Destiny, which improbably managed to outrace ever-expanding limits of sanity even for an awesome collection of talent that legitimately earned a huge share of praise. Nobody deserves to be profiled for nearsightedness or to be lumped with the best teams of all time - a ridiculous notion to begin with, this year-to-year comparison of teams from different eras whose own performances often varied week to week, and whose inclusion in such a pantheon is only by the narrowest margins over dozens of forgotten teams who maybe had a bad day along the way - until it's actually the best of its own time, and the `05 Trojans failed to the delight of millions to bring that third title home. The media and sudden celebrity hangers-on and its own
Hollywood-friendly aura
has imbued SC with a decade's worth of readymade hubris the team will pay for as long as it keeps winning. This fall's edition will be number one start to finish, and it will face the same backlash. And it will be fun.
Be careful not to let that instinct blind you to the truth, though, while the Trojans are plowing their way to a Pete Carroll's second corporately-sponsored crystal ball. If they're not as good as advertised, they probably only have to get close, anyway.
- - -
* - I'm giving preference to the mythical championship and the Michigan-OSU game in November. Anyway, previous Absurdly Premature Assessments...