A too-soon look at next fall, sans the inevitable injuries, suspensions and other pratfalls of the interim.
The least you should know about UCLA...
2006 Record
7-6 (5-4 Pac Ten, Fourth)
Past Five Years
37-26 (23-18)
Returning Starters, Roughly
19 (10 Offense, 9 Defense)
Best Player
Justin Hickman was the more celebrated defensive end entering last season, but 230-pound Bruce Davis matched Hickman's 12.5 sacks, the best number in the Pac Ten, and will be high up the all-America lists in the summer. Not to be confused with Karl Dorrell, because they look a lot alike, or with the Charles Manson disciple convicted as an accomplice in the 1969 murders of musician Gary Hinman and stagehand Donald "Shorty" Shea .
Bizarre Tradition(s)
It has nothing to do with football, but do not even pretend your school did something as enviable to outsiders as UCLA's four-year-old Undie Run, the most hormonal of the nation's university-tolerated responses to the stress of finals. This sort of behavior on a campus-wide level was not so much discouraged at SMQ's alma mater in Mississippi as it was totally inconceivable, which is only the latest in a long line of questions under the heading "Why did I go to school in Mississippi again?" Check the L.A. Times' photo gallery from the December run, which presumably would not go over quite as well prior to Christmas break in the Big Ten.
"Moderation is the inseparable companion of wisdom, but with it genius has not even a nodding acquaintance." - Charles Caleb Colton.
Any organization over time has a natural tendency to take on the personality of its leader. Wal-Mart has remained unpretentious and endlessly shrewd. The Justice Department likes its men loyal above all. Nick Saban's hire ensures the entire state of Alabama soon will drop its accent for a collective mercenary glare. Florida State has developed folksy jowels. UCLA, for all its potential powder blue, Tinsel Town charisma, is a bore.
Many coaches, because their behavior is analyzed like a politician's so much of the time, suffer from interminable public blandness. None make it such a mantra as Karl Dorrell, whose head coaching record dovetails nicely with his tastefully milquetoast persona. The wholesome thrill of victory must be occasionally laced with the sobriety of defeat, lest heads become inflated. Dorrell's first two seasons at UCLA, the Bruins were 6-7, then 6-6, and came in 4-4 against the rest of the Pac Ten each season. The league's admirable move to a round robin format allowed him to pick up an extra game - let's just say for the sake of the point that game was Stanford, probably the worst team the conference has fielded this decade  - to go 5-4, and 7-6 overall. Bowl games have included the Silicon Valley, Las Vegas, Sun and Emerald. Even the Bruins' lone interesting season under Dorrell, 2005, was one that veered to the middle in the balance of its extremes: fantastic on offense, horrible on defense, a consistent winner but in close, skin-of-the-teeth fashion, mostly, a rare loser but in grisly blowouts each time, one to a team that finished 3-8.
What's Changed: Not the flavorless presence of Dorrell, to the eternal chagrin of Nestor and other high-minded citizens of the impatient "Bruin Nation," who think, per Edmund Burke, that moderation in a case like this is a form of treason. But new offensive coordinator Jay Norvell comes from Nebraska to inject a little spice via a dizzying array of presnap shifts inspired by mentor Bill Callahan, the result of which should be some minor humor in watching opposing defenses stand with their hands on their hips, waiting for the fullback to get into his position from the slot before motioning back out again. Or maybe that sort of thing is why Norvell left Nebraska to begin with?
What's the Same: The offense lost the center, Robert Chai, a first-year starter. The defense lost vets Justin Hickman and Eric McNeal from the front seven. The kicker graduated. That's all. The top two passers return. The leading rusher returns behind four linemen. Six of the top eight receivers return. Nine of the top ten tacklers. Not that this is necessarily the greatest possible news - they beat USC and Oregon State in one breath but also, after all, lost to Arizona, Washington and Florida State in the next - but even if you have no idea what it might do on any given Saturday, this team is for all intents and purposes identical to last year's. They hardly even recruited anybody.
Got to Admit It's Getting Better: Dorrell might owe his job to DeWayne Walker, who strode in from the NFL with a medical bag of suspicious "pro style" gadgetry that, after some skepticism, a little trepidation, reformed an atrocious 2005 defense over into the second-ranked unit in the Pac Ten. Check it out:
UCLA Defense
2005
2006
Points Per Game
34.2
19.9
Rush Yards
233
91.1
Yds. Per Carry
5.4
2.8
400-yard Games
9
4
500-yard Games
7
1
Rush Yards by USC
430
77
Points by USC
66
9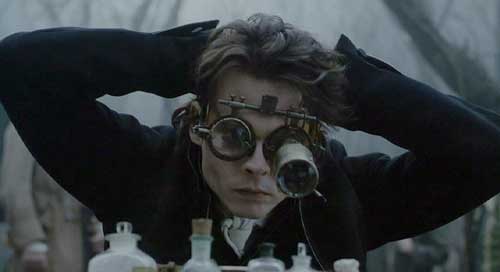 Don't ask questions. Just stand back and let DeWayne Walker go to work.
- - -
A lot of the problems against the run could have been attributed to a lack of size, a defensive line built to rush the passer and safety-sized linebackers in the 210-220-pound range, but that's the same core group of guys - seven starters last year also started in '05, a team that actually lost its top three tacklers. Last year's group was not run over and did not lose anything from the pass rush, which was stoked by the best quarterback-pounding combo in the country (Hickman and Bruce Davis, 12.5 sacks apiece). Again, same guys, so there is no guarantee they won't sink back into the abyss, especially when losing a guy like Hickman off the edge could force occasionally sacrificing an extra cover guy to generate the same pressure, but it's also worth noting that the overwhelmed sophomores of '05 will be the veteran seniors of 2007. Half the defense will be manned by third-year starters, and its big leap last year is evidence it should be pretty good.
Role Reversal: In last Spring's absurd LA preview, for obvious reasons, SMQ questioned both the scheme and the heart of the defense and asked, "If you can still win ten with all that dysfunction, what can you do by improving to just near-competence?"
We've seen the defense surpassed "near-competence" and showed substantially more grit later in the year, yet the losses tripled from its generous, "dysfunctional" predecessor. If Walker's arrival was the catalyst for the defense's improvement, it must also hold that one-and-done coordinator Jim Svoboda's influence largely accounts for the offensive dip, a loss of 100 yards and more than two touchdowns per game from '05 levels. Dorrell obviously thought so, and so Svoboda is dumped for Norvell and the dreaded West Coast menagerie of slant routes.
Blame must fall equally on the inconsistency of the quarterbacks, a mismatched combo that had the same set of receivers and more help from the running game (1,100-plus yards from Chris Markey) than prolific Drew Olson had as a senior from Maurice Drew, yet came nowhere near the production. Patrick Cowan lost his first four starts but cut his interceptions and clearly improved late in the "gutsy scrambler" role, eventually leading wins of the low octane, within-the-offense variety over bowl teams Oregon State and Arizona State before surviving the wrath of Rey Maualuga in the SC upset. Aside from the Homer Simpson-esque ability to withstand punishment, though, Cowan's just sort of competent at best, and there is way more upside in ex-uber-recruit Ben Olson, a classic pocket guy from BYU who started the season hot (five touchdowns in his first two starts, easy wins over eventual winners Utah and Rice), quickly cooled (four interceptions in his next two, one of them a loss to Washington) and was knocked out for the year against Arizona. There's not much exciting about either, or about any of the receivers, which used to be a revolving door of talent here. A lot will depend on Markey.
Overly Optimistic Offseason Chatter: Spring practice won't start for UCLA until April 5, but already Norvell is expected to free up Dorrell for the bureaucratic tasks he apparently relishes - writes Lonnie White of the L.A. Times: "Getting Norvell
to run the offense is a big step in the right direction because Dorrell wants to be more of a CEO type of head coach. Last season, he took on a lot of coaching responsibility when Svoboda faltered as O.C. " Norvell makes UCLA the first I-A program in the country with a black coach in each its top three positions, but certainly they're more concerned with having a pair of competent coordinators at the same time, for a change.
Nestor, of course, expects no excuses for the team failing to win the Pac Ten, but the immediate return to earth in the Emerald Bowl puts that forecast just slightly past "optimistic."
UCLA on YouTube: Appalachian ruralites take notice at this clip, wherein hip, young, cynical LA partisans demonstrate how metropolitan sophisticates celebrate winning a football game against a respected crosstown rival while wishing them a hearty "Good luck, SC!":
See also: Nice advertising for the UCLA band, for Blue and Gold Week and for those active, physical safeties the Bruins have: fine tackling by Dennis Keyes on Rhett Bomar in 2005 here and here and on Arizona backs here, an "absolutely vicious hit" by Trey Brown and a ball-jarring pop by Chris Horton at Notre Dame.
Best-Case: The non-conference schedule is tough - BYU, Utah and a likely rebuilding Notre Dame - but navigable, which describes the Pac Ten outside of USC every year. It's safe to assume at least two non-SC losses somewhere in the league (see the trend of .500 conference marks), say, Cal and Oregon, but if the quarterback limits his mistakes and LA avoids the annual upset - Dorrell's teams have lost to Stanford, Washington State, Arizona and Washington in consecutive years, all teams that finished at least two games below .500 in-conference - this could be a nine-game winner with Holiday Bowl-ish aspirations.
Worst-Case: The Pac Ten is balanced enough - mediocre enough, if you're from the SEC - that any team trying to go 6-3 can just as soon go 3-6, or worse. Grant that Stanford will be terrible, and Washington and Arizona remain behind UCLA overall, there is nothing precluding a very UCLA-like loss to either of the latter two, or to all of the non-conference foes. Questions at quarterback are always threatening to push a possible bowl team into a season of hopeless pain. Another potential trouble spot: the secondary remained suspect throughout last season, a relative down year for Pac Ten passing, but seven other teams are bringing back decent passers, a harbinger for a few very long afternoons. It's not out of line to conceive a 4-8 debacle.
Non-Binding Forecast: Well, gee, how about 7-6? Dorrell's teams have never missed a bowl game, but also have never gone anywhere better in December than El Paso, and never anywhere in January at all. The Holiday Bowl would be an improvement as far as postseason destinations go, and that's said about a team whose previous coach, a guy now toiling at Tulane, had the program on the cusp of the mythical championship game less than a decade a go. It would seem, if the Holiday Bowl represents the highest of realistic expectations these days, Dorrell had better at least take his 19 returning starters and meet that. Probably won't, though, and anybody's guess what could happen from there.