Spring begins by most measures on March 21, still a month away. But to every purpose, turn, turn, turn:
Without doubt, that exact footage is playing in locker rooms across America as the first helmets of Spring are donned and timid pops bloom into collisions echoing across practice fields all through America. Incredibly - and by any meteorological criteria, nonsensically - Spring practice commences. Rivals has schedules by team.
Tennessee kicks off its first day of drills this afternoon, with more than a month's worth of on-again, off-again practices to go until it stages the Fluorescent Orange and White Game on March 31. Mega schools in Baton Rouge and Austin open up Friday, each with just over a month remaining until its own intrasquad scrimmage. Mississippi State, Auburn, Georgia Tech, Ole Miss and Minnesota - won't it still be, like, really, really cold up there? - hold their first "Spring" practices next week. The latest start date nationally is Arizona, scheduled for April 14, when many teams will be finishing up. At least Comrade Stoops will have time for a quick vacation in the interim.
Fulmer's strategy in starting impossibly early seems to be in the service of getting it out of the way as quickly as possible:
Never has Phillip Fulmer started spring practice this early since taking over full time as Tennessee's coach in 1993. His reasoning is that it gives the players a bigger window to develop physically in the offseason strength and conditioning program, and it also gives injured players and those coming off surgery more time to recover in preparation for the start of preseason practice in August.
This is probably the wise approach. SMQ's only rule of Spring is: keep `em healthy (as well as - and, admittedly, this is trickier - out of jail). This time of year is essentially the equivalent of the NFL preseason, where newcomers, various other youngsters and borderline starters vie for positioning and some token award along the lines of "Most Improved Redshirt Sophomore on Kick Return Team," and action-starved fans read far too much into it. The empty push and pull of the intrasquad scrimmage, after all, where every note that is not simultaneously good and bad is completely boring, is like the adage of kissing your sister, too, or at least the last girl on the pom squad, whose skirt doesn't match the others' because the school didn't have any small enough for her: considered only in the driest of spells, and only in hesitant anticipation of the actual act itself, which in reality will be a catalyst for contemplative despair and alcohol-fueled taking of stock. Nobody comes out very far ahead in these affairs, including the young standout/fat girl, who despite momentary success is probably still bound mostly for long, action-less stints on the sidelines for the foreseeable future.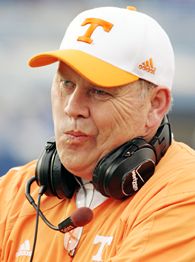 Coaches pucker up for Spring practice, but they'll always long for August.
- - -
Enjoy breathless reports of practice field feats while you can, however, because the summer, when it arrives, is a mother.