Fire up the grill, fire up the fax! It's recruit-signin' time!
Update [2007-2-1 16:56:1 by SMQ]: It is definitely not yet recruit-signin' time. Everything else below still applies - you do, indeed, have to bring it in the form of beagle-related enthusiasm if you want Joe McKnight - except Signing Day is Feb. 7. And SMQ is an idiot. Nobody left a correcting comment or e-mailed or anything...the horrible realization that egregious gun-jumping had occurred was his own frustrating discovery, about seven hours too late. Thanks a lot, guys.
Anyway, enjoy the update. The information is all good, just change every point it references "today" to "next Wednesday," by which time everything will have completely changed. See, this is what happens when you play the recruiting game. Dammit.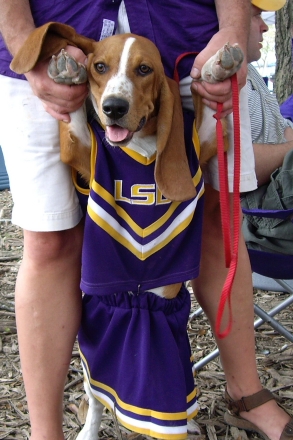 You want Joe McKnight, you better bring it, son.
- - -
If any are attending an electric Signing Day Party, where you cheer incoming faxes like touchdowns or something, SMQ implores readers to celebrate the procurement of eventual success responsibly. But most of the suspense at this point centers around the color ink solid verbal commits will use to make official their LOI (see, SMQ can drop the lingo), but the pulses are still pounding on a dozen of Scout.com's Top 100:
Admirably close to the vest has been Joe McKnight, the nation's top-ranked running back (and product of River Ridge, La., one of SMQ's old, though very brief, haunts). He said last week there is "no leader," but he's visited LSU, Ole Miss and Southern Cal. Scout also puts Alabama, Arkansas, Miami and Texas on McKnight's radar, despite also describing his interest in all but Alabama as "low" and noting Arkansas and Texas have not extended offers. LSU's backfield is young, crowded and ripe to be taken over by a more consistent every down back than Keiland Williams, Charles Scott or Trindon Holliday demonstrated they could be as freshmen, but Scout predicts he's en route to a similar situation at USC. Jamie Newberg remains nevertheless "here to tell you watch out for Ole Miss," so they have basically no idea whatsoever.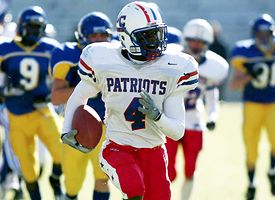 McKnight's calculated campaign of guru-frustration alone is worth two stars in SMQ's ratings.
- - -
Washington, D.C. defensive tackle Marvin Austin has reportedly narrowed his list to Florida State and North Carolina [North Carolina? Ole Miss? What is this, blue chip philanthropy? - ed.], but USC's omnipresent tentacles lurk here, too, War of the Worlds style. Newberg, who knows well how Bobby Bowden "closes" (ew), predicts Florida State.
Lanky, Roy Williams-eque Texas receiver Terrance Tolliver was "50-50" three weeks ago and reportedly remains torn between Florida and LSU. When in doubt, Scout says bet on the champs, but clearly has no idea which way Tolliver's leaning. And watch out for Ole Miss!

Just because. State-produced PSAs warn Mississippians constantly: never take your eyes off the Orgeron.
- - -
One-time Michigan lock Ronald Johnson has reportedly dropped the Wolverines under fishy circumstances and narrowed his choices to, surprise, Florida and USC. A "shocked" Newberg blurts UF as the new leader based on Johnson's visit last week. Johnson's "instincts" are a strength, but he apparently needs to improve his "jamming ability," which has led to a furious last-second bidding war between Urban Meyer and Pete Carroll over the services of Damian "Junior Gong" Marley as secondary coach. On that note, advantage: USC.
Tremendously fast (4.35) but small Florida running back Noel Devine is an eligibility risk (reported 13 on the ACT), but Florida State, Alabama and West Virginia do not care. Noel Devine can run! Scout describes him as a "mystery recruit" in terms that lead SMQ to believe Devine is as likely to take a year off to hike through the Andes, finding himself, as he is to make a decision today or anytime soon.
L.A. cornerback Donovan Warren is considered a forgone SC target, naturally, but Michigan is "making this one interesting." Cal and UCLA are also on his list.
Florida receiver Deonte Thompson looks like he's 35 years old, but reportedly ran a 4.28 40 three times in a row at an April combine (as Phil Steele would say, "!").  Has trouble with "hands and concentration." Prediction, again, is for Florida over Florida State, Miami, Ohio State and, again, USC.
Florida is also a favorite for the literary analogies inherent in the not-yet-a-moulderin' body of defensive tackle John Brown, devious-looking Louisiana receiver Ahmad Paige  and Jacksonville linebacker Brandon Hicks, who has been a Gator lock "for some time" and needs to stop his flirting with Clemson and Miami and just go ahead and commit already. Miami has a good shot at big (6'3", 260) Georgia-spurning linebacker Allen Bailey and quarterback Robert "Rhymes with Favre" Marve, an Alabama de-commit also looking at Hawaii. Take it from SMQ, who's seen it firsthand: the islands can be an enchanting place, Robert, but they can also be a cruel master. Be forewarned. Aside from Marvin Austin, North Carolina is a favorite for Tennessee receiver and one-time serious car accident victim Rashad Mason, another one of these looking seriously at Ole Miss, de-commit threat Dwight Jones and possibly dyslexic tight end Weslye Saunders.
Not signing today is another Louisiana guy, Katrina-displaced safety Chad Jones from Baton Rouge, attends Southern University's "Lab" high school but shuns the Jaguars in favor of most of the typical Southern options (LSU, Alabama, Florida, Florida State, Miami)...and USC. Frankly, this kid is "Create-a-Player" ridiculous: he's listed at 6'3", 232 pounds, and 4.5 in the 40, and he had 138 tackles and 12 interceptions last year, six returned for touchdowns. He's also a baseball player who made a 24 on the ACT under tough academic circumstances, the former of which will keep him in limbo until he assesses his future after the Major League Baseball Draft in June.