It's the most wonderful day of the year, if you can wake up early enough. The Outback Bowl will be kicking off at 11 a.m. local time in Tampa, the Cotton Bowl right behind it at a ridiculous 10:30 Central in Dallas, all in order to accomodate the Rose Bowl's traditional afternoon kickoff, which cannot be opposed at risk of reversing the spin of the Earth's axis and turning the waters of the mighty Mississippi to blood. Hangovers be damned, there really is nothing like the tradition of the Granddaddy.
GAME OF THE CENTURY OF THE DAY!

Sugar Bowl • Georgia vs. Hawaii
New Orleans - 8:30 p.m. ET
- - -
What's at Stake: Winning the Sugar Bowl, for one, an historic prize for Hawaii and probably a potential catapult to greater 2008 expectations for Georgia. The Bulldogs bring essentially their entire lineup back next fall, and whatever the folly of extrapolating championship level momentum over the summer, preseason standings hold disproportionate sway; for purely practical reasons, this isn't really the no-win scenario presented in this space and elsewhere for UGA (that is: no credit for winning, because Georgia is supposed to beat Hawaii, anyway, and serious demerits for being an upset victim), because a victory will ensure a top five finish, and after Boise State's desert dramatics last year – and West Virginia's breakout fisrt quarter en route to the upset in the Sugar Bowl two years ago – no one is as eager to dismiss an underdog with an offense.
Both teams have mythical championship concerns that are too remote to bother with. Hawaii will make some noise as the only undefeated team in the country and probably earn much righteous indignation from columnists on its behalf if UH can finish 13-0, but this chatter will not be of any consequence unless the Warriors blow UGA off the field – again, these odds are too distant to seriously consider. Georgia partisans who think their school was as deserving as LSU for a mythical championship berth might moan about the polls to some extent if UGA wins big, but it's doubtful anyone else will.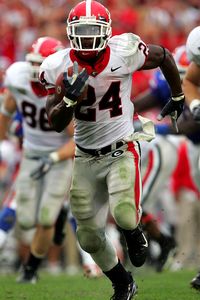 The game is the same, Hawaii, it's just up on another level.
- - -
This is the biggest game in Hawaii's history, in the same way the 2005 Fiesta Bowl was the high point of Utah's program under Urban Meyer and last year's Fiesta meant everything to Boise State, but a win will not signal the arrival of the Warriors as a national power or anything; at best, it will make June Jones a hot coaching commodity again to some school with better immediate prospects than
SMU
. The Warriors should appreciate this game as the culmination of Jones' tenure at his alma mater, at the moment the right player came along at quarterback and everything came together for the greatest run in school history. This is Hawaii's chance on the big stage, and when Colt Brennan is gone, it will probably be the only one of this magnitude for many years. Recognize the opportunity, relish it and count your
lanakila
now, while you still can.
Georgia Wants:
Pound, pound, pound. It's hard to take much from the success of Hawaii's passing game against the defenses the Warriors have faced, which are virtually all 'N/A' next to Georgia's. Outside of Boise State, none of the Warriors' other eleven opponents finished in the top half of the country in any of the four major defensive categories (rushing, passing efficiency, total and scoring), few of them even coming anywhere close. There's no way of knowing how the run-and-shoot might change against a much, much stiffer defense than it's faced all season, but going back to Brennan's games against respectable units in 2006, the Bulldogs have to assume he's going to inflict his share of damage:
Colt Brennan Passing vs. Top 60 Total Defenses
Att.
Comp. %
Yds./Att.
Yds./Comp.
TD:INT
Result
at Alabama (2006)
44
68.2
8.0
11.7
2:1
L, 17-25
at Boise St. (2006)
37
69.4
8.5
15.5
5:1
L, 34-41
Nevada (2006)
47
76.6
8.9
9.2
4:0
W, 41-34
Oregon St. (2006)
50
74.0
8.0
10.8
2:2
L, 32-35
Arizona St. (2006)
42
78.6
13.3
16.9
5:1
W, 41-24
Boise St. (2007)
53
75.5
9.3
12.4
5:2
W, 39-27
Brennan is going to make a mistake or two, but in general, he's obviously a threat both to control the tempo with a lot of safe, high-percentage passes that basically function as running plays for the Warriors, and a threat to hit a quick slant or seam for big run-after-catch yards. Georgia needs to do all it can to keep Brennan off the field by establishing Knowshon Moreno and Thomas Brown in the running game and not letting the game devolve into a tit-for-tat, all-touchdowns-all-the-time shootout. The Warriors' best opponents have had a lot of success pounding the ball as long as possible before succumbing to comeback mode – Louisiana Tech ran for 223, Fresno State for 182, Nevada for 216 and Washington for 261. Hawaii's only real success stopping a potent running game was against Boise State, and even amid overall frustration Ian Johnson was able to break a 50-yarder. UH is an attacking, penetrating defense that makes a lot of plays in the backfield but is also susceptible to giving up the big play, and the more Georgia can control the line of scrimmage and put together long, sustained drives like the ones it had in the physical wins over Florida and Auburn, the better chance the Bulldogs have of wearing the Warriors down and hitting a big play of their own by ground or air.
Georgia's defensive line was a terror over the second half of the season, hustling for 25 sacks over the last six games, and at least three in every game after the debacle at Tennessee. Brennan hasn't been hit much, relative to the number of time he drops back every game, but Boise State got to him twice and Washington four times in the last two games and emerging firebreathers Marcus Howard and Geno Atkins will be by far the best front four pass rushers Hawaii has faced. Without pressure, it's fish-in-a-barrell time downfield. Brennan either has to work hard for consistency on long drives against a sure-tackling zone, or find his receivers' timing disrupted by bump-and-run coverage and men in his face.
Hawaii Wants: To counter Georgia's pass rush, expect the Warriors to work a lot of quick-release, hot route and screen reads to get Brennan into a rhythm. If the horizontal game get rolling and UGA linebackers and safeties start flowing sideline-to-sideline, the Warrior receivers have the speed to get up the field on seams and slants for big yards. Protecting Brennan is key: if Georgia has to start bringing blitzers and leaving its secondary man-to-man, Hawaii has a lot of options in Davone Bess, Ryan Grice-Mullen, Jason Rivers and C.J. Hawthorne to exploit individual match-ups – all can run, all reliable, and all are big play threats if they get a hold of the ball in space.
Georgia has speed on the outside, too, and Mike Bobo's offense has home run threats of its own when it gets Moreno and/or Brown working on the ground. This is the game, and where most observers think Georgia will prove overpowering: the Warriors are massive on the interior defensive line (Michael Lafaele is 302, Saive Seti is 281, Keala Watson is 328) and will have to contain Moreno long enough to force Matt Stafford into a fast-paced passing match with Brennan, which will also allow the Warriors to tee off with their underrated speed. Even if it slows the Bulldogs out of the gate, though, ultimately Hawaii can't win if it doesn't score.
Key Variable: Can Georgia get pressure on Brennan and, related, can its secondary hang with Hawaii's receivers man-to-man? One of the ways Florida made Ohio State look foolish in last January's championship game was by clamping down on the Buckeyes' receivers and bringing enough heat to force Troy Smith into quick decisions. Georgia can overrun Brennan in the pocket if Asher Allen, Kelin Johnson, C.J. Byrd, Prince Miller and Bryan Evans hold up their end of the deal; it's a long night of Warrior first downs and/or touchdowns if not.
The Pick: Expect Hawaii to be fairly jacked and get off to a fast start, like Boise last year and West Virginia the year before, but also expect some of the Warriors' success to go for naught when it runs of space in the red zone. Brennan will get his big yards, but I'm more confident in the long run in Georgia's ability to line up and run straight at Hawaii's defense and to finish drives on the ground where UH has to settle for field goals. Not many teams are adept at the power running game anymore, but Moreno's emergence after the loss to Tennessee was clear – the Bulldogs ran for 167, 196, 240, 180, 184 and 218 in the last six games, three of them against top 25 rushing defenses. Hawaii's knowledge of a top 25 defense over the last two years is exclusively on film.
| | | | |
| --- | --- | --- | --- |
| | Georgia 38 | • | Hawaii 31 |
Rose Bowl • Southern Cal vs. Illinois
Pasadena - 4:30 p.m. ET
- - -
The first notion that should be dispelled is that poor upstart Illinois is going to be run out of the stadium by USC's neo-gladiator destroyers. The Illini torched Penn State for 216 on the ground, ripped off 289 against Wisconsin, controlled the tempo and stood toe to toe with Ohio State en route to piling up 260 on the top-ranked total defense in the country and over the rest of November hit up lesser defenses for 324, 448 and 321 in rushing alone. They have a future high draft pick at tailback and a physical weapon at wide receiver in Arrelious Benn over which SC and every other team drooled last fall and will continue to drool for the next two years. Illinois has athletes who should be expected to make plays against any defense.
The second notion to be dispelled is that USC is "playing as well as any team in the country" or is the "hottest team" and other superlatives along the lines of "they're the best team after all." This is only residual awe at the team's untapped talent prior to the season, which Mergz at Saurian Sagacity took on a month ago:
Rashard Mendenhall is no underdog.
- - -
To everyone's shock, the sports media love-fest was derailed by the Stanford Cardinals at USC in early October. But alas, the tracks have been fixed, and the Pete Carroll adoration is back in full flower, as evidenced by what currently might be the most common refrain in the sports media – that USC is "playing the best football in the country right now."
I don't know what these "experts" are watching, but the evidence to support this claim simply doesn't hold up.
Let's take a look at that evidence –
Presumably the "experts" hyping the Trojans are talking about USC's play since their loss at Oregon about 1 month ago. Since that time, USC has won the following three games –
Nov 3: Oregon State 24-3
Nov. 10: California 24-17
Nov. 22: Arizona State 44-24
In beating Oregon State, the Trojans gained only 287 yards at home (187 passing/100 rushing). There was no scoring by either team in the 2nd half.
In beating floundering Cal, USC was out gained by the Bears 399 yards to 368. A 4th quarter Trojan touchdown gave USC the win in a game Cal turned the ball over 3 times.
Yes, the win over Arizona State was pretty impressive. But does this single win over a relatively untested team (the Sun Devils have played the 50th ranked schedule in the nation – including USC) make USC "as hot as any team in the country"? (per Herbstreit)
Don't we need a little more evidence than one good win?
- - -
The Trojans' 24-7 win over UCLA a few days after Mergz's broadside didn't do much to augment the "hottest team" trend – Utah and Washington State had more lopsided wins against the Bruins, and Notre Dame was within a field goal of SC's 17-point margin in its win in L.A. in October – and no other team in the country with a home loss to the ninth-place team in its conference and a 2-1 record against winning teams would ever get the courtesy of consideration as "playing the best football in the country" at any point thereafter. What this means is, "We think USC is way more talented than anyone else, and we will take any excuse – four game winning streak! – to validate an existing opinion rather than let the evidence influence the formation of a new one."
Enough of that, which was only to say that Illinois deserves more than a passing chance at winning. USC is the biggest favorite of the bowl season for a reason, and it is not on reputation alone; the defense, at least, has been a nightmare all season and creates matchup problems at every position, especially if Juice Williams can't get Benn involved in the passing game and the Illini get caught in a one-dimensional trap – it will not exploit SC's deep and freqeuntly dominant front seven if the Trogans aren't on their heels and susceptible to misdirection and play-action. Williams made significant leaps as a passer over the course of his sophomore season, but he's not ready to outduel John David Booty on this stage yet. The Illini will make a strong game of it but eventually succumb to the Trojans' strong, now-healthy lines on both sides.
| | | | |
| --- | --- | --- | --- |
| | Southern Cal 32 | • | Illinois 23 |
Citrus Capital One Bowl • Florida vs. Michigan
Orlando - 1 p.m. ET
- - -
Michigan's mindset here is something of a mystery: coaching turnover, disillusion after a fourth straight loss to the Buckeyes, reports of players – Mike Hart included – packing on a few extra pounds since the end of the regular season. I wouldn't put a lot of stock in stories like this –
Between a few comments from Carr and talking to players Thursday at Best Buy, it's pretty clear Michigan's early bowl practices back in Ann Arbor weren't very good ones. Maybe it was the various distractions related to the coach's retirement, maybe just a layoff hangover, but in any even everyone is much more pleased with the first two Florida workouts. [...] Overall? It's clearly a different kind of bowl game with Carr retiring and Rich Rodriguez yet to arrive on campus, and the overall vibe reflects that. The team and coaches are loose, compared to past years when there's been an obvious edge surrounding bowl prep.
- - -
– if I could find a lot of reasons to go with the Wolverines to begin with. As I told a Florida fan over the weekend, though, I do not plan to pick against Florida again as long as Tim Tebow is healthy and in the lineup. That promise may not make it through the next season, or two seasons, but it certainly will for this game. The Gators run the kind of misdirection, option-heavy offense that's given Michigan fits for years, with the added threat of one of the best passers in the country able to throw to any of a blazing set of wideouts from anywhere on the field, and who also happens to be a devastatingly effective inside, short-yardage and red zone runner. As Brian Cook
notes
, Michigan's strength re: Florida's young defense is its receivers, and if Chad Henne is healthy Mario Manningham and Adrian Arrington can create easily exploitable mismatches in the Gator secondary. Michigan has rarely attacked in this way, though, and probably won't as long as Hart is an option, and the UF front seven is not nearly as forgiving as the back. Woe unto Henne (or Ryan Mallett) if Hart is stuffed and/or the Wolverines find themselves in frequent passing situations, as they did in the last two games against Wisconsin and Ohio State and in last year's Rose Bowl, because Florida's pass rush will rain fire upon him.
Whatever motivation Michigan has to win one for the program's grand old man in his last game, Florida (like Georgia) finished the season on a roll, is loaded with stars and budding stars who could easily find themselves the darlings of the polls next summer and only needs a good jumping-off point to raise the bar for 2008.
| | | | |
| --- | --- | --- | --- |
| | Florida 34 | • | Michigan 20 |
Outback Bowl • Wisconsin vs. Tennessee
Tampa - 11:00 a.m. ET
- - -
When last we saw Wisconsin against a serious opponent, the Badgers were steamrolling Michigan, hammering out 200-plus against the Wolverines on the ground without 1,000-yard thumper P.J. Hill and showing off a well-tuned passing game between Travis Beckum and Paul Hubbard, the latter of whom missed most of the season but hauled in seven for 134 yards in Ann Arbor. This was not the Badgers we had known earlier in the year, when they were being ripped on the ground by Michigan State and Illinois and blown out by Penn State, or running for 12 yards and falling apart defensively late in a loss to Ohio State. Tyler Donovan seemed sure and in command with Hubbard able to stretch the field and the big offensive line opening holes.
These are similar teams in all of those ways, with Arian Foster standing in for Hill and Erik Ainge for the solid but unspectacular senior quarterback who sometimes scares his fans to death. Tennessee, too, has been inconsistent, with improbably great games against Georgia and Arkansas amid shameful outings at Florida and Alabama and suspect, either-or wins over South Carolina, Vanderbilt and Kentucky. The ineligibility of leading receiver Lucas Taylor will be significant for Tennessee, because it could amplify Wisconsin's biggest advantage on defense, the one-on-one cover skills of Jack Ikegwuonu, who will likely line up most of the time over the Vols' only other possible downfield threat, Josh Briscoe, while his more suspect teammates in the secondary get the more manageable task of containing Austin Rogers. Neither is a great threat, and unless Tennessee can consistently control the trenches, Wisconsin will be the more balanced, assertive outfit.
| | | | |
| --- | --- | --- | --- |
| | Wisconsin 24 | • | Tennessee 22 |
Cotton Bowl • Missouri vs. Arkansas
Dallas - 11:30 a.m. ET
- - -
Darren McFadden is eligible, after all, but the best matchup in the Cotton Bowl will be Chase Daniel against Arkansas' secondary, which is under Reggie Herring has been an habitually in-your-face, bump-and-run bunch of badasses that finished fifth nationall in efficiency defense and held opposing passers to a national-low 45.6 percent completion rate (LSU was the only other defense that forced a majority incompletions), against Chase Daniel, who remains teh awesome spread quarterback machine, if slightly tarnished by his unfortunate run-in with Oklahoma, from which few models survive. Oklahoma was the first defense to even remotely contain the Tigers' funky, wide open attack – including Oklahoma, which allowed 418 yards and 31 points to Mizzou in October – and did it in three ways: a) pressure Daniel (OU sacked Daniel twice and spent all night in his face); b) stuff the Tigers' running game, i.e. Tony Temple (Temple has a meager 37 yards on 13 carries); and c) pressure the Tigers' receivers and get them on the ground on the first tackle in the horizontal passing game (Mizzou averaged less than 10 yards per completion and had no plays longer than 22 yards). Herring has relished an aggressive approach in the past and might succeed with it here, or might try it and be scorched to oblivion by Jeremy Maclin. But if the Razorbacks don't force the issue – as Kansas didn't, to the Jayhawks' doom – Daniel has a field full of options and is near-automatic out of the shotgun.
McFadden, one more time.
- - -
The other issue is the fitness of Missouri's defense to slow McFadden and Felix Jones, the Razorbacks' version of Maclin. It has been done, by Auburn and, in relative terms, by Ole Miss, Tennessee and Mississippi State., but it's truly the exceptional player who counts anything under 150 yards as "contained." Arkansas is at full strength with Marcus Monk at receiver, and I'm convinced this changes the dynamic of how defenses approach the Razorbacks – Monk only has a dozen catches, but Arkansas has won four of five since Monk's return, including the upset of LSU, and it's death to overplay the run at the expense of leaving the big guy on an island. Missouri has not faced a great running back, but Oklahoma wore down the Tiger defense late in the Big 12 Championship and in McFadden, Jones and Peyton Hillis, the Razorbacks bring quality and versatility from all angles. Missouri deserves to be the favorite, but if there is any player worth going against the grain for, McFadden is him – it should be his last game, and a fitting farewell stage for one of the true greats of the era.
| | | | |
| --- | --- | --- | --- |
| | Arkansas 35 | • | Missouri 31 |
Gator Bowl • Texas Tech vs. Virginia
Jacksonville - 1 p.m. ET
- - -
This is a bizarre matchup for several reasons – a Big 12 team instead of the Big East, Virginia being selected for a New Year's Day game over Boston College out of the ACC for no discernible reason, the complete opposite philosophies of outsider Mike Leach and the anything-goes Raiders and NFL-bred Al Groh's straight-laced, defense-oriented Cavaliers – but it's not a particularly interesting one, if Virginia's regular lapses against Virginia Tech's passing game in the biggest game of the Cavaliers' season were any indication. UVA was solid on defense against most other fellow ACC conservatives, but that conference is tailormade for the success of ball control teams like Virginia and Wake Forest that bite and hold to the death and win two-point games on fourth quarter comebacks, as Virginia did in six of its nine wins; the Cavs also did not play either of the league's more explosive attacks from the Atlantic Division, Clemson and Boston College. There is no offense remotely like Leach's in the ACC, and if Tech scores at anywhere near its usual clip, there's no indication UVA has the offense to answer or the physical, clock-grinding presence in the backfield (leading rusher Cedric Peerman had just 585 yards, and UVA was 92nd nationally in rushing) necessary to play keepaway.
| | | | |
| --- | --- | --- | --- |
| | Texas Tech 37 | • | Virginia 24 |
Tune in New Year's morning an hour or so prior to kick off for the New Year's open thread, which by all rights deserves to be the best of the season.