The least you should know about the Independence Bowl...
Sponsor
Petro Sun is a diversified energy company specializing in the discovery and development of both traditional fossil fuels and renewable energy resources (hence "Petro" and "Sun," see?) and with a Web site filled with pictures of mountains, trees and gentle grasslands, as opposed to spewing oil derricks – that's why it's a different kind of energy company, presumably. Read here for more on Petro Sun's alternative energy initiatives, MicroAlgae-based biodiesel and Waste Heat Generation.
Location Inquisitor
This is the one in:

a) Memphis
b) Shreveport
c) Charlotte
d) Nashville
e) New Orleans

If you said a) Memphis, it would seem you're a little confused by the extremely similar but also slightly deviating concepts of 'Liberty' and 'Independence,' the latter requiring as its antonym a state of dependence, as opposed to physical captivity. As in: "Holiday visitors to Shreveport tend to relinquish their independence from alcohol until they earn their merciful liberty from the city limits."

The answer, if you haven't guessed, is b) Shreveport.
The Venue
I've always assumed that Independence Stadium exists for the sole purpose of the production of the Independence Bowl (the most celebrated bowl game in Northern Louisiana!) to placate the gridiron longings of a lonely city with no football-producing campus of its own. And it seems, despite the City of Shreveport's considerable efforts – around $30 million on a massive replay scoreboard ("the magnificent marquis" you'll spot during your "leisurely drive" on adjacent I-20), a 10,000-seat renovation that closed the South end zone, new restrooms and additional concession stands flanked by televisions to ensure no fan might miss an "action-packed moment" on the field – that I'm mostly right. Other than the Independence Bowl, what action? Since the departure of the World Football League's Shreveport Steamer and the CFL's Shreveport Pirates after them, its purpose appears limited to occasional fair duty (including, I'm guessing, more than one rodeo) and the odd NFL exhibition every few years.
Formerly Known As...
The Independence Bowl is older than any other December game except the Liberty or Peach, 31 years, to the nation's bicentennial (hence the name) and an inaugural game hosted by the Southland Conference champion for $25,000 per school. It didn't take on the immortal "Poulan/Weed Eater" sponsorship until 1990, and since dropping it in 1998 has been put on by Sanford (like Poulan/Weed Eater, an AB Electrolux Home Product), MainStay Hotels and now PetroSun. But in college football's heart of hearts, the pioneering shamelessness of the "Poulan/Weed Eater Bowl" reigns eternal.
Past Winners Include...
The game was clearly created for Louisiana schools, bringing in either Nicholls State or then-Southland rival Louisiana Tech each of its first five years, but has been largely dominated by the state of Mississippi: Ole Miss and Mississippi State are 4-0 in Shreveport since 1998, after Ole Miss and Southern Miss combined to go 3-1 in the Independence in the eighties. The only other repeat winners over the decades are Air Force (1983-84) and DiNardo Era LSU (1995 and 1997). After the losing the first six since the current SEC-Big 12 tie-in was introduced in 1998, the Big 12 has won three straight here.
The fifteenth edition of an ongoing public service to enlighten readers of their bowl viewing options...
Details: Colorado (6-6) vs. Alabama (6-6) • 8 p.m. ET, ESPN. Be there or be enjoying the warmth and company of your precious loved ones at this special time of year, square.
Tune in for: This looked more like a Cotton Bowl matchup on Halloween - Alabama was sitting at 6-2, had won three straight and walloped Tennessee in the Tide's best offensive game, all things considered, since probably the Franchione era, if not longer; Colorado was only 5-4 but had upset Oklahoma in September and potentially turned its own corner by punishing Texas Tech in a game that wasn't nearly as close as the 31-26 final indicates. John Parker Wilson opened with a 12:5 TD:INT ratio and brought the perpetually choking `Bama offense back from fourth quarter deficits to beat Arkansas and Ole Miss and force overtime against Georgia; Cody Hawkins went over 200 yards passing seven times in CU's first eight games after the Buffs failed to exceed that mark at any point in 2006. Both teams were optimistic, improving under new coaches and very much alive for their respective division championships and will playing to regain that momentum entering the offseason.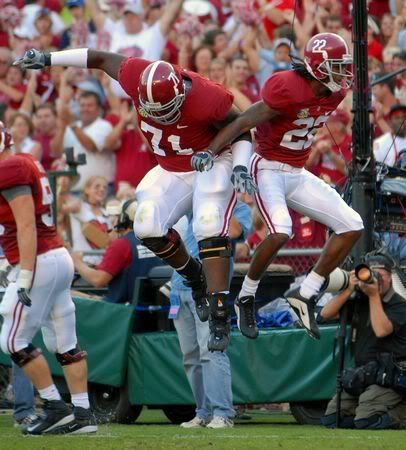 Only one of these men has scored in a bowl game.
- - -

Both also have departing senior stars only just getting appreciation nationally for solid careers: D.J. Hall caught 190 passes for Alabama and was the first receiver in school history (as a junior) to go over 1,000 yards in one season, while Jordon Dizon started all 48 games of his career at Colorado and easily led the nation in solo tackles en route to winning Big 12 Defensive Player of the Year according to conference coaches.
Turn away in disgust when: The Associated Press has this story out today informing readers that "Red-hot Colorado" will be facing "slumping Alabama," but make no mistake: these were two of the worst BCS conference teams in the country in November, Colorado every bit as much as its Southern counterpart. Alabama went flat after blowing a late lead against LSU, losing to Mississippi State and, inexcusably, UL-Monroe, and closing with an offensive disappearing act at Auburn as Wilson's TD:INT over the last three games dropped to 1:5; Colorado was outgained by more than 400 yards in a 55-10 loss to Missouri and blew a 21-0 halftime lead at last place Iowa State. If not for Nebraska's traveling sideshow of turnover and woe in the finale, both teams would entering the Independence on a combined seven-game losing streak. As it is, they've lost of eight of their last ten, three of them to losing teams.
What Else is On

You have no life. But that doesn't mean you can't enjoy these actual non-gridiron alternatives:
CMT • 8 p.m. ET • Trick My Truck
A police officer and part-time ice-cream peddler has his ice-cream truck renovated.
(30 mins.)
MTV • 8:30 p.m. ET • Real World
The roomies guide tourist groups through Sydeny, and one team is in jeopardy of losing the European vacation because of one member's temper and another's excessive drinking. (TV-14; 30 mins.)
BET • 9 p.m. ET • Top 25 Events That (Mis)Shaped Black America
Paul Mooney hosts this incisive but humorous reflection on the top events that impacted blacks in America, from the very serious (slavery, apartheid) to the silly (the Jheri curl). Cultural pundits, comics and celebrities lend insight. (TV-14; 60 mins.)
Finally, Dickens' true personal vision brought to the screen.
- - -
FOX • 9:30 p.m. ET • American Dad
The Best Christmas Story Never:
A disconsolate Stan, upset because of a legal injunction against lighting Langley Falls' Christmas tree, tried to discover the true meaning of Christmas. To do it, he'll have to change the outcome of the Vietnam War. Lisa Kudrow provides the voice of the Ghost of Christmas Past. Voices of Donald Sutherland and Robert DeNiro; Chris Diamantopoulos.
(TV-14; 30 mins.)
- - -
SMQ Watchability Rating: All bowl games are rated on a scale of one TV ("Christmas gifts already returned for refunds? Think of stealing more and returning those if necessary.") to five ("Block out a few hours - and possibly the sun, if there's a glare - for this can't-miss classic.") based on completely subjective factors, up to and including potential cheerleader hotness/fulfillment of requisite nubile teen lust fantasies, which are so sadly lacking anywhere else on contemporary television or the Internet.
Good matchups the last few days has eased the jonesing for two BCS teams on the field at the same time, so for being the only bowl pitting not one but two barely-elible 6-6 teams against each other - and for the second year in a row, no less - the Independence Bowl carries the shame of a mere two-boxer:
CAUTION: For obsessed, innoculated fans only.
- - -
The Pick: It was under different circumstances in the SEC rather than the relentlessly high-octane Big 12, but at least Alabama maintained some defensive integriy down the stretch, whereas Colorado gave up 50 points in two of its last three games and more than 400 passing in four of its last seven, and will not come anywhere near its production against Nebraska's lame duck, bottom barrell defense. The Tide has little offense its own self, but has the pieces in place with its receivers and a legitimate, consistent playmaker in Hall, and Colorado has been shredded already by less.
- - -
| | | | |
| --- | --- | --- | --- |
| | Alabama 36 | • | Colorado 24 |