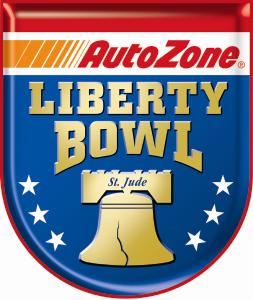 The least you should know about the Liberty Bowl...
Sponsor
AutoZone is a cold replacement for the warm glow put off for years by Memphis-based children's hospital St. Jude, which was never technically a financial sponsor but attached its name to the Liberty Bowl for decades and acted as a host in return for sponsor-ish benefits from the exposure of the game. St. Jude's role hasn't really changed, but it was bumped from the top position by Axa Insurance in 1997, and now sits below the fold in deference to an auto parts company (also based in Memphis). I dunno, maybe a few eagle eyes can still read "St. Jude" on the bell up there.
The Venue
The most distinguishing feature of Liberty Bowl Memorial Stadium has always been its odd shape, like the architect blew his bowl design in pottery class the night before and just turned in the warped results anyway. Skimpy in the end zone seats, ascending to a nice, full height at the 50, it makes sense, or sense enough, at least, for the four failed alterna-league teams that have set up here since the mid-seventies, all named after rejected X-Men characters: the Memphis Southmen (1974-75), the Memphis Showboats (1984-85), the Memphis Maniax (2001), and the CFL's Memphis Mad Dogs (1995), as well as a hypothetical NFL franchise (the Memphis Hound Dogs) and the World Soccer League's Memphis Rogues in the late seventies. The highest attendance for a Memphis Tiger game this season – a relatively good season – was almost 20,000 short of capacity, so I wouldn't have any guess as to when the above picture was taken.
Formerly Known As...
The Liberty Bowl has always been the Liberty Bowl, and in fact was such without a traditional title sponsor (not including St. Jude) for almost 40 years. The game began in Philadelphia in 1959 – a city with more connotations of "Liberty" and its famed, cracked national symbol than the current locale – and was even staged one year (1964) in Atlantic City before moving South.
Past Winners Include...
Seven of the ten traditional (pre-1992) SEC teams won the Liberty with the conference tie-in from 1965-92, most of them multiple times, and in addition to that, LSU, Arkansas and South Carolina have all played in multiple Liberty Bowls. Air Force played in four straight games during the bowl's brief deal with the winner of the Commander-in-Chief Trophy from 1989-92, but the Liberty has a nice fit now with the C-USA champion, which has gone to Memphis as a reward every year of the league's existence back to 1996. I don't like that the game lost its tie-in with the Mountain West champion, which played the C-USA winner from 1997-2004 (the Liberty winner in those years finished in the final top 25 every season), because any game that both teams count as a worthy destination, the fulfillment of a season-long goal, is better than a sixth-place team from the SEC sniffing, "well, I guess we'll go to the Liberty Bowl, if we have to." The game had a good thing with its brief clash of champions and should make some effort to renew it.
The thirteenth edition of an ongoing public service to enlighten readers of their bowl viewing options...
Details: Mississippi State (7-5) vs. Central Florida (10-3) • 4:30 p.m. ET, ESPN. Be there or be enjoying the warmth and company of your friends and family on this final weekend of the year, square.
Tune in for: Officially, Kevin Smith needs 180 yards to tie Barry Sanders' DI single-season rushing record, although this is misleading in that Smith is playing in his fourteenth game and the current record was set in eleven games - Smith can't touch Sanders' 239 yards per game and Sanders' mark doesn't include his Holiday Bowl shivving of Wyoming, which was then exempt from the books.
Still, Kevin Smith's season in brief, beginning with the first snap at N.C. State:
Kid's pretty good.
Turn away in disgust when: Sylvester Croom was the coach of the year in the SEC, according to most concerned outlets, but you still have a hard time convincing me Mississippi State is much better than it was his first three seasons (all 3-9 efforts), especially on offense - the Bulldogs were bad running (80th, 10th in SEC), passing (108th, 11th in SEC), gaining yards in general (112th, last in SEC) and scoring (92nd, 10th in SEC). The only teams less efficient in the passing games were Idaho and Florida International. MSU was not very good defensively in the one area it will have to be to stop Smith, either, allowing 198 on the ground to LSU, 216 to Auburn, 211 to Tennessee, 262 to West Virginia, 153 to Alabama, 206 to Arkansas and 204 to Ole Miss. That's a horrible record against the run. The coach of the year thing for Croom must be because the Bulldogs managed to win three of those games with no offense to speak of, despite being pushed around up front, because of timely turnovers or timely idiocy on the opposing sideline, but Smith's production tends to leave UCF with a wide margin of error.
What Else is On
You have no life. But that doesn't mean you can't enjoy these actual non-gridiron alternatives:
CBS • 5 p.m. ET • Skiing: King of the Mountain
The first Jeep King of the Mountain skiing event of the season, taped Dec. 14-15 in Tulluride, Colo. Entrants include Daron Rahlves, Tomas Kraus and Ophelie David.
(60 mins.)
Safe, out, etc. Nobody cares about baseball.
- - -
ESPN Classic • 5 p.m. ET • Top 5 Reasons You Can't Blame...: Umpire Don Denkinger for Cardinals Losing 1985 World Series
Umpire Don Denkinger's blown call in Game 6 of the 1985 World Series is reevaluated. Many believe the mistake cost the St. Louis Cardinals the series.
(30 mins.)
MSNBC • 5 p.m. ET • Born in the Wrong Body: On the Edge
The world of the Big Apple's festive ballroom scene is explored through the eyes of four transgender male-to-females. (60 mins.)
TBS • 5:30 p.m. ET • Sex and the City: Running with Scissors
Carrie's guilt begins to get the best of her; Charlotte's dream engagement shows signs of unraveling; Miranda falls for a new man; Samantha's latest fling raises an issue that hits close to home. Aidan: John Corbett. Trey: Kyle MacLachlan. Charlotte: Kristin Davis. (TV-14; 30 mins.)
- - -
SMQ Watchability Rating: All bowl games are rated on a scale of one TV ("Christmas gifts already returned for refunds? Think of stealing more and returning those if necessary.") to five ("Block out a few hours - and possibly the sun, if there's a glare - for this can't-miss classic.") based on completely subjective factors, up to and including potential cheerleader hotness/fulfillment of requisite nubile teen lust fantasies, which are so sadly lacking anywhere else on contemporary television or the Internet.
Mississippi State's goal is to make every game as ugly as possible, and it will probably be a blowout otherwise. Smith's pursuit of the record alone lifts the Liberty to a two-boxer:
CAUTION: For obsessed, innoculated fans only.
- - -
The Pick: I'm not as pessimistic about Mississippi State's chances of winning as it may seem, only about the chances of it being an interesting game, because MSU will either hang around a low-scoring punt-fest it moves to win at the end or get gashed by Smith and run off the field. It might be closer to the former than the latter, but the best player on the field is fairly obvious.
- - -
| | | | |
| --- | --- | --- | --- |
| | Central Florida 27 | • | Mississippi State 16 |