West Virginia, still smarting from the devious poaching of its hot coaching prospect barely removed from a powerful commitment to the program, briefly thought it had succeeded this afternoon in poaching a hot coaching prospect barely removed from a powerful commitment to the program, according to a Palm Beach Post report that Jimbo Fisher was offered the WVU head coaching job, and was on the brink of accepting even after being named Florida State's resident "coach-in-waiting" earlier this month. The blow-by-blow at vigilant Mountaineer site West By God Virginia, pressing its alleged insiderz-y flesh, said at one point, "sources are still confident that an announcement will be made tonight and a press conference held tomorrow."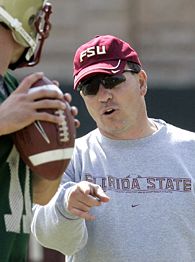 Prince Jimbo will ascend to the throne of his promised kingdom, thank you.
- - -
Not so much
, as it turns out, though the stab at an "announcement" was technically accurate:
Florida State offensive coordinator Jimbo Fisher, who was being wooed by West Virginia officials to fill their head coaching vacancy, has decided to remain with the Seminoles, a statement released Sunday on the school's Web site said.
"I know media reports are circulating regarding the possibility of West Virginia's head coaching position," Fisher said in the statement.
"I am a native of West Virginia and love the state but I want to make clear that I am staying at Florida State. I am committed to this university, this program and these players. I am excited about where I am and where Seminole football is headed."
- - -
Solid commitment to be true to your school? Yes. Self-interested financial calculation? Also yes:
Fisher, who just completed his first season with the Seminoles, would have owed FSU $2.5 million if he had left for another coaching position.
- - -
$2.5 mil in the bank and a guaranteed dream job just one untimely, completely accidental accident away in the meantime is a convincing incentive to stay anywhere - aside from the question of where you'd rather spend your winters, the capital of the Sunshine State or in the freezing mountains of the poorest state in the union - but did not remotely placate the growing impatience with Mountaineer AD Ed Pastilong, already the
scapegoat
in Rodriguez's departure and now, at least in some circles, apparently about to be roasted again for botching the deal with Fisher - message boards are speculating (key word there) about buyout negotiations, scheduled press conferences and sudden reversals, all of which leaves them grasping desperately in the general direction of another favored son: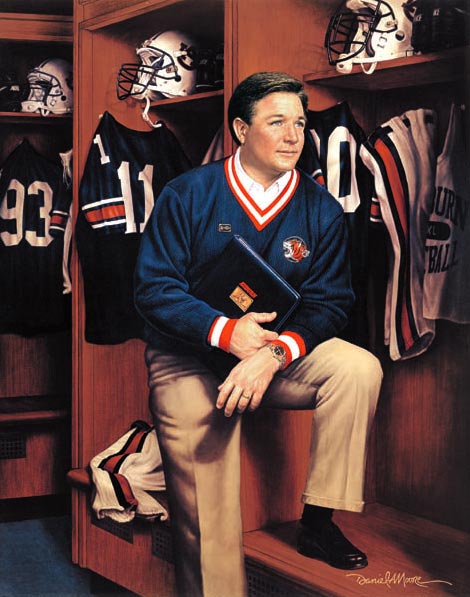 If at first you can't lure the Great Bowden's adopted spawn, go for the real thing. Merry Christmas, West Virginia. Take him home.