Conquered favorites and other notables picking up the pieces of shattered ambition this week:
Arizona State and Boston College, you have been placated by surprise success. You've been winning so long now, you've forgotten the proper response to any loss: reactionary vengeance and edge-clinging despair. Instead, with your championship dreams crushed, we get sentiments like "The season is far from over with every option, perhaps short of the national title game, still on the table," and "The National Championship is obviously gone and the Heisman looks like real long shot but there is still the ACC Championship." The ACC championship? Live and learn, Devils and Eagles, from the pros:
You'll get 'em next time, big guy.
- - -
• Ask not for whom the bell tolls. At some point, past concern, frustration, anger, pitchforks, insults, petitions, billboards and borderline sabotage, there's just an eerie calm for the tireless anti-Dorrellian brigade at Bruins Nation as the storm descends on the final days of Karl Dorrell following UCLA's 34-27 loss to Arizona:
It is an absolute treat these days to wake up Sunday morning and read post after posts and comments after comments articulating much better than I can on what I am feeling the day after another Dorrell coached UCLA football game.
I am with godblesstyus95. Although I think the end is in sight, I don't believe the nightmare is totally over yet. I can see the dreaded scenario he laid out in his post coming into fruition, given what we had to endure through those surreal Lavin years. And, I can also symphatize with the argument Class of 66 laid out in his diary, making a strong case why we should all pressure on Dan Guerrero to act now, so that he doesn't have any room to maneuver out of the right decision to get rid of the most incompetent coach in college football by December 3rd.
However, all that said, I have to tell you I am starting to sense a calm over me. I can feel the end in sight.
- - -
Of course, Nestor's solution to all of the Bruins' problems for the last three years has been "Fire Karl Dorrell," but that opinion is reaching critical mass outside of "
insignificant Internet chatter
," too, when even the players are calling their seventh double-digit loss to an unranked team in two years "
ridiculous
." Chris Foster in the
L.A. Times
declares the Bruins' last three games a "
one-issue season
," with nothing to play for against the meat of the slate (Arizona State, UCLA and USC) but saving or losing Dorrell's job, and the paper wondered in a headline Sunday whether
Dorrell is losing his grip
, whatever grip he had:
Down go the Bruins, again: L.A. loses its seventh game to an unranked team in two years, all of them by double digits.
- - -
"I'm encouraged how we played in the fourth quarter [after sometime-receiver Osaar Rasshan replaced injured Patrick Cowan]," Dorrell said. "They didn't score any points in the fourth quarter. We did. We still came up short."
The good ol' college try, though, will do little at this point to pacify fans or, probably, Athletic Director Dan Guerrero.
Guerrero said last week he would be "very interested" to see how the Bruins finish the season. He got an eyeful Saturday.
The Bruins lost to a lower-tier Pac-10 team for the second straight week, piled onto nonconference losses to Notre Dame and Utah, both of which were winless at the time.
The Bruins started well Saturday. Matthew Slater's 100-yard kickoff return and Cowan's nine-yard touchdown pass to his brother, Joe, gave UCLA a 14-10 lead with 6:31 left in the first half.
Then UCLA's offense went three-and-out on six of its next seven series and the defense couldn't handle an offense that gave it the Willies.
Tuitama's third touchdown pass gave the Wildcats a 34-14 lead three minutes into the second half.
- - -
Summary to the
L.A. Daily News
' Brian Dohn, who concedes the likelihood that we're witnessing
the "final throes" of Dorrell's career
: "UCLA's season, which began with so much promise and so many promises, is teetering on being a crumbling wreck." Bucketloads of blood in the water.
• Bells are redundant. After comments in its open thread Saturday advocating firing defensive coordinator Kevin Cosgrave at the half - "Get the hell outta this locker room, yer done!" - Corn Nation decided to open the week by looking at the bright side:
After the weekend, Nebraska's defense is no longer the worst rushing defense in the nation. We've moved up to 118th. The University of Alabama-Birmingham gave up 338 yards rushing to Southern Miss, dropping them below the Huskers, who only gave up 218.
Nebraska has dropped to 112th in total defense, above SMU, Central Michigan, Louisiana-Lafayette, North Texas, UTEP, Rice, and Minnesota.
- - -
But, yeah, beyond that...
Nebraska's lows against Kansas:
• Most points ever scored against Nebraska - 76
Broke the school record of 70, in the 70-10 loss to Texas Tech in 2004
• Most points ever scored in the first half against Nebraska - 48
Not a record for halves, though, that was Texas Tech, 2004, 49 points in the second half
• Most points in a quarter - 27 in the second quarter
• Longest losing streak since 1958
It's going to get worse because it's highly doubtful that either Bill Callahan or Kevin Cosgrove are going anywhere, despite people calling on them to resign.
- - -
CN
has a handy roundup of the head-callers:
Dennis Dodd: "Kansas scored more points against Nebraska on Saturday than it did against the Huskers in either the 1970s (60 total) or 1980s (67). "
Peter Schrager: "Firing Bill Callahan after Saturday's loss is understandable, almost necessary. Why wait? Blow it up now."
Doug Tucker: "Reesing could be in line to become the fifth player in a row named Big 12 offensive player of the week after playing the Huskers."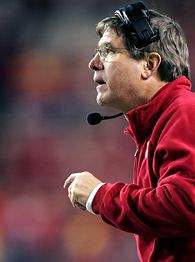 What, still on the edge of your seat? It's over, coach.
- - -
Darren Carlson
: "In a living room full of my friends, all looking for me to say something smart, or at least smart mouthed, all I said was, 'No really. We have a bad football team. That's it. That's all that is happening. We're bad.' And, I came to grips with the 2007 season."
At least Carlson is able to deal with despair bluntly and move on, albeit about a month later than the outside world saw disaster looming, while others like the Lincoln Journal Star's Steven Sipple are still trying to make sense of an inexplicable collapse. I'm not sure explanations along the lines of "confidence," "key departures" and "chemistry" quite do justice to the `Huskers' dischord, or that anything short of complete, resigned acceptance of the unfathomable depths of universal cruelty and chaos possibly could. Carlson gets to the heart of the frustration:
Right now, we're the worst defense in the country. Meaning that the rabid fans who say they "couldn't do worse" coaching the defense actually have a legit point. It's nearly impossible to be worse than this.
I know this - there is enough talent on that side of the ball to play better than this. Suh didn't stop being strong, Octavien didn't stop being fast, Bowman didn't stop being talented. The list goes on and on and on. This is about the way we are doing things. No...not what we are doing. It is HOW we are doing it.
I saw a defense that was amazingly willing to be blocked. On one TD run, the KU back ran through an alley untouched while NU's linebacker, corner and safety were essentially "dancing" with the KU blockers. It was sad to see. This is a "want to" problem. Is that on the players? Is that on the coaches? Both. Players have to want to play hard, and coaches have to help them or make them want to play hard.'
When the coaches are replaced, (How can they not?) whoever inherits this defense will have enough talent to get better, and literally nowhere to go but up.
- - -
No kidding - the
Journal Star
's Brian Christopherson is similarly speechless, so he
lets the numbers do the talking
for him: 118, 359, 115, 4,776, 50 and 76. Respectively, those figures represent Nebraska's national rank in run defense, the number of points the D has allowed through ten games, the Huskers' national rank in turnover margin, the number of yards the former Blackshirts have surrendered this season, the number of years since last time the school has lost six straight football games and, well, obviously.
• Overstatement meets its match: I've met Tyrone Nix. Working for Southern Miss' student paper, I once gave his defense a `D' for allowing 400-plus yards - 199 to D'Angelo Williams - in a close loss at Memphis. Tyrone Nix is a former linebacker, and he is not afraid of you or your laptop. I'm guessing Brandon at Garnet and Black Attack is not a former linebacker, and so I offer my condolences to his family:
See, they laid a hand on them. One of them.
- - -
I can't stay quiet any longer.
The continued employment of the South Carolina defensive staff needs to be seriously re-evaluated.
The University of South Carolina was embarrassed tonight. Not just defeated, not just thumped, but embarrassed.
[...]
...the efforts of everyone else on the team were wasted by the defense. And there's no other word for it: Wasted.
That's the kind of performance you expect when the defensive staff hasn't seen any tape on the team involved. If there were any attempts to rearrange South Carolina's formations to answer the Wild Hog, I didn't see them. If those moves did take place, they were certainly impotent.
The defense seemed surprised by the physical nature of McFadden's running game.
In short, they were unprepared.
Unprepared for a running back that Tyrone Nix and his coaches have prepared for three times. (Rememeber, he took over the play-calling before the Arkansas game last year.) Unprepared for a running attack that everyone alive knows is the best in the SEC.
McFadden's numbers against Nix's defenses the last three years: 187 in 2005, 219 in 2006, 335 in 2007.
In other words, McFadden has increased his numbers each time he's taken the field against South Carolina. It's almost like he surprises the defense more each year.
And it wasn't just McFadden tonight. Arkansas ran for a mind-boggling 543 yards tonight. They quickly rang up a 21-3 lead on drives of 66, 62 and 75 yards -- the last one coming ON TWO PLAYS. (That doesn't count the 29-yard drive that produced a missed FG after Arkansas inexplicably attempted to prove it's a passing team.)
Wondering if that was the worst defensive performance in South Carolina history? In terms of yardage, it was.
[...]
This isn't the first time this has happened. If nothing changes, it won't be the last.
And if it's not the last, then Steve Spurrier can go ahead and give up all hopes of every bringing an SEC title to Columbia.
Because if South Carolina can't stop a completely one-dimensional team that at times reverts to running an offense that was cutting edge in the 1950s, it won't happen.
- - -
South Carolina has long been mediocre-to-bad against the run by SEC standards, but to be fair, this
is
sort of the first time it's happened on that level - 541 yards is beyond bad by anyone's standards, including
including Steve Spurrier's
: "A mismatch," Gamecocks coach Steve Spurrier said. "A Division III team trying to play and SEC team. We couldn't hold up against those guys; they're too good for us."
Spoken like a man with real job security. But even the coach suddenly under fire doesn't have much more to add: "Basically, they just whipped us." After 543 yards, there is no spin.
But take heart, Cocks! On further review, McFadden's total actually tied an SEC record. So there's always that slash - well, unless he comes back for his senior year. Then it's over.
- - -
Elsewhere in disillusion:
• Kevin Scarbinsky in the Birmingham News thinks "there are no losers" in Alabama's, um, not-loss to LSU Saturday, but Nick Saban will have none of it: "Nobody should ever be happy about losing. I'm not happy about losing. There's no such thing as a moral victory."
OTS on Roll Bama Roll agrees, generally, but he's not too happy with the officiating. As if anyone is ever too happy with the officiating.
We beat the worst offense of the decade! Go Navy!
- - -
•
Redundantly-named South Florida offensive coordinator Greg Gregory
doesn't even know how USF was still in the game
at the end after turning the ball over eight times against Cincinnati, but after the Bulls' last gasp throw into the end zone fell incomplete, it's pretty clear to the
Tampa Tribune
's Brett Murphy: "In three weeks, the Bulls (6-3, 1-3 Big East) have gone from the toast of Tampa to toast - and
tied for last place in the Big East with Syracuse
."
• John Feinstein's oblivious, ridiculously outdated radio exhortation of Navy's indomitable spirit not withstanding - seriously, "There isn't a football player born who doesn't at least think about playing at Notre Dame. The Irish don't recruit players, They select them." - the South Bend Tribune is wondering if this is what rock bottom feels like. Which begs the even more pressing question: if it's only now hitting rock bottom, where have the Irish been the last two months? ND is one defeat from becoming officially, via its ninth loss, the worst team in the history of the program.