The overarching, unmistakable narrative for this season has been one of wild upsets, and it's appropriate in that vein that four very nondescript underdogs have a chance of grabbing their division or conference by the throat this weekend against the preseason favorite. What's interesting about Arizona State, Virginia, UConn and Kansas, though, is that none of them has really upset anybody in the process, not significantly. These are quiet, workmanlike Cinderellas, and their steady advances en route to their winner-take-all games with projected princes USC, Virginia Tech, West Virginia and Missouri, respectively, better embody the ethic of the underdog than any single, wild takedown by an Appalachian State or Stanford.
Consider: at the start of the season, Arizona State was picked to finish fifth in the Pac Ten, and no one thought ASU would finish higher than fourth; Virginia was almost unanimously picked fourth in the ACC Coastal out of six; UConn was almost unanimously seventh in the Big East out of eight; and Kansas was fourth or fifth in the Big 12 North out of six. Each of their opponents Saturday was a near-unanimous favorite in August to win their respective conferences (except Missouri, which was second overall in the Big 12 North but received a good deal of first place predictions over Nebraska), yet the line for three of the four de facto division/conference championship games is at a field goal or less; depending on the service, Kansas may be a very slight favorite to beat Missouri in a game Jason Whitlock dubbed "a one-time event" for his city, "a brawl to settle it all...The Kansas-Missouri rivalry will be settle Saturday night. Seriously, it will never be the same...this meeting is the greatest thing to happen to college football this year."
Ahhhh!!!! Did it work? Did we surprise you?
- - -
That is hyperbole, but if there is a testament to the touted parity in the modern sport, this must be it, the fact that, at this point in the season, none of the one-time underdogs looks out of place anymore at the ball.
Well, maybe UConn. Nobody is sure yet what to make of the Huskies, who have offset an overall 9-2 record (5-1 in the Big East) by being suspicious consumers of Duke, Maine, Temple, Pittsburgh, Akron and Syracuse, relying on a huge turnover margin (+15 through eleven games) and outrageous game-changing/deciding calls in their favor - not once but twice - and following affirming wins over South Florida and Rutgers with a 27-3 trouncing at the hands of Cincinnati. Most fans can't name a single player on UConn's roster (maybe that one guy with bleached dreds?) and are accordingly 17-point underdogs to the mighty Mountaineers despite bringing to West Virginia the nation's third-ranked scoring defense. The game will earn UConn an outright Big East championship and Wake Forest-esque BCS bid (indeed, as I've said before: UConn is Wake Forest) or the scorn of unmoved voters and a bid in the Texas Bowl. The same thing happened to Rutgers when it went to Morgantown for the title last year, and there is no Ray Rice driving the nondescript Husky attack against a significantly improved WVU defense.
Virginia - one-point conqueror of UConn in October, 17-16, one of an incredible five UVA wins by two points or less - is still largely a mystery, as well, for obvious reasons, but oddsmakers opened the line on the Cavs' game with Virginia Tech at 3.5 to 4 points in the Hokies' favor, probably out of their understandable unease re: the Tech offense. In all, though, Virginia ranks ahead of their cross-state rivals in four of 17 categories tracked by the NCAA: passing offense, total offense, kickoff returns and sacks allowed. The Cavs do not approach Tech defensively, as almost no other teams do. Even dissecting the records, which are identical overall and in the ACC, there's an asterisk in favor of the Hokies, who played Boston College, Clemson and Florida State from across the divisional aisle, where Virginia drew Maryland, N.C. State and Wake Forest. All of this will be completely irrelevant if Tech goes into its notorious shell on offense and lets the Cavs do what the Cavs do, which is hang around and beat you with a well-placed banana peel or something.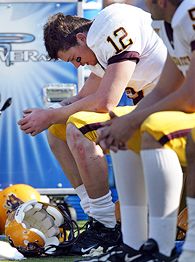 Chin up Rudy - you could be in the Rose Bowl by week's end.
- - -
Arizona State has the awkward distinction of being a first place team in a tough, respected conference with almost nothing to recommend it as a truly high quality team going into its game with mussed but ever ambitious USC Thursday, which, like the others, could be the difference in the winner visiting the Rose Bowl or the Sun Bowl (for the millionth time, Pac Ten: fix your TV contract and your bowl tie-ins, please). Both teams are in the same boat: since their early Big 12 wins (Colorado for ASU, Nebraska for USC) have turned out largely worthless, neither has beaten a winning team outside of quickly-disregarded Oregon State and rapidly deteriorating Cal, and both are victims in a tiebreaker scenario with Oregon. That SC is a three-point favorite to a higher-ranked team on the road is a tribute totally to the preseason perception.
And then, of course, there's Kansas, which will get more attention Friday for its personal Game of the Century of the Millenium showdown with Missouri, for whom Kansans apparently share a very strong, reciprocal dislike (murderous sectarian riots over the spread of slavery will do that for a rivalry).  I've been pounding hard on the Jayhawks' schedule the last couple weeks with an eye permanently cocked toward this game, which really does carry that much meaning, in terms of the national picture and the perception of these two teams, specifically. Kansas is a surprise unbeaten, without doubt, but of their eleven wins, only one - over Nebraska - would have actually counted as a surprise in August, when we were wrong wrong wrong as wrong could be about the  merits of the Cornhuskers. What has been surprising about Kansas is not its level of play but its consistency, the accumulation of many fairly ordinary wins (73 points against Nebraska is not ordinary, but, in the same vein, neither was allowing the Huskers to score 39 on the other end). Here is the only chance to add great value to consistency, to be "for real" on a level that justifies a shot at the conference championship and beyond. Otherwise, the Jayhawks are just another upstart in a season filled with them.