Tonight is an essential game for Kentucky: as the rust races over the once-lustrous Louisville win, the `Cats are still in a position for most of the country to justfiy their poll existence, and there will be no better place than tonight, likely in front of its largest national audience of the decade. It might be unfair to throw another "prove it" obstacle in front of a team that just came from two scores down in the fourth quarter to beat Arkansas on the road two weeks ago, but there is no way around beating South Carolina if UK fancies itself an actual contender in the SEC for something better than another Music City Bowl. This is its third tough-but-winnable game in four weeks, but they only get tougher and less winnable from here:
Remaining Kentucky Schedule
10-4 at South Carolina (4-1)
10-13 vs. LSU (5-0)
10-20 vs. Florida (4-1)
10-27 vs. Miss. State (3-2)
11-10 at Vanderbilt (3-1)
11-17 at Georgia (4-1)
11-24 vs. Tennessee (2-2)
- - -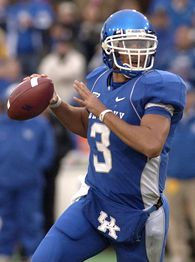 It's easy, Andre: just win. And win and win and win.
- - -
It's not an easy thing to come from relative obscurity and run headlong into a string of nine winning teams in ten weeks; by the time Mississippi State, Vanderbilt and possibly Tennessee come up, the wins and losses won't be the same, but the challenge of performing like an elite team week-in and week-out - that is, winning at least four and probably five of the remaining seven - without a breather remains, and South Carolina is another prerequisite for Kentucky's fitness in that club, and Andre Woodson's candidacy for the Trophy Which Must Not Be Named, etc. Tonight doesn't define the Wildcats' season, because there is still so much of to play and so many obstacles to navigate, but it is essential to the wildest goals the 5-0 start has generated.
The same is true for South Carolina to about the same extent, though it's interesting how much sheen a single loss can strip from a team. Coming in, this feels like Kentucky's party, but Carolina is in a nearly identical position of proving itself as a durable contender over a sustained gauntlet, one that's already included Georgia and LSU with Tennessee, Arkansas, Florida and Clemson still in line after the Wildcats. In the big picture, tonight is just about survival.
Immediately, I think we can expect a lot offense, though not necessarily in the bombs-away fashion usually associated with these offenses. Both can throw, but Kentucky is running the ball quietly, extraordinarily well (223.6 yards per game) for a team that's spent the better part of the last ten-twelve years at the bottom of the league's rushing numbers. At the same time, while both teams have been outstanding against the pass, neither has show any ability to stop the run; Kentucky is 100th in run defense, USC is 103rd. In part, this has quite a bit to do with the circumstances of its competition, i.e. Arkansas can't throw to begin with, LSU was playing a gimpy quarterback in the rain, etc., but in much larger part is due to the physical domination of defenses that have stood out as weaknesses for each team for years. LSU and Arkansas, particularly, just ran over them, and both offenses tonight should have some success doing the same.
It's less obvious that South Carolina might be able to hang with Kentucky through the air, though, and in fact USC is much more likely to become one-dimensional on the ground to protect its young quarterback. There is no way to project Chris Smelley at this point keeping pace with Andre Woodson through the air, because Carolina's offense is built to control the ball and move the chains, where UK's balance and skill at quarterback gives it the luxury of gunning for more big plays without worrying about asking Woodson to do too much.
Survive tonight, and do the "biggest game in school history" bit against LSU next week.
| | | | |
| --- | --- | --- | --- |
| | Kentucky 36 | • | South Carolina 30 |