Conquered favorites and other notables picking up the pieces of shattered ambition this week:
• We wuz robbed, I tellz ya! Robbed! Hands down, the weekend's Most Bizarre Reaction in Defeat goes to the Tampa Oberserver's Tom McEwen, who, amid a staccato, stream-of-consciousness barrage of sentence fragments, invokes an unidentified call at the end of USF's loss to Rutgers Thursday as the genesis of all the Bulls' woe:

"Titan of Tampa" McEwen: Out to sea on USF-Rutgers.
- - -
Easy to shout: `'DADGUM OFFICIALS!''
All Thursday night and all day Friday.
Bulls coach Jim Leavitt did, in private and to his bride.
I did. After the worst thing that can happen, happened to Leavitt and his University of South Florida Bulls at Rutgers.
They have a shouting point in Bullville these days.
That official who in the tense, terrific Bulls-Rutgers game Rutgers was assigned Thursday night after an official's decision, very late in the game - which surely could have gone either way - favored the home team and can be questioned by us all, made the ruling that decided the game. It was an awful scenario. But it was a call and it is on the books, and it was final. Leavitt, who demonstrated justified anger during the game, didn't beef then about the officiating.
But you and I can, will, and be justified.
Leavitt said the Bulls should have won. Agree.
But Leavitt was right. Rutgers did what it had to do, USF did, and did not.
Game in Tampa instead of New Jersey? Different finish. Perhaps, but it wasn't.
USF remains a Top Ten team. One of the best, the best in USF history. Win out. That'll do it. A big bowl reward and justification for the support this sensational team has received and deserved.
But, should they have won and been 7-0 and 2-0 in the Big East?
Yes. Yes. Yes.
- - -
"The worst thing that can happen"? I watched the entire game Thursday night, and when I read this, I had no idea what "official's decision" he might be talking about. I had to go back to the
play-by-play of the fourth quarter
to realize he was probably referring to the last gasp, 4th-and-22 completion to Amarri Jackson that was called back on a pass interference penalty against Jackson, who fairly obviously pushed off the Rutgers cornerback for a catch that would have put USF in position to tie with a field goal in the final minute.
This is weak grounds for protest, especially for a veteran newspaper reporter. For a more professional reaction, see the Louisville Courier-Journal's Eric Crawford, who had a much more memorable reason to bitch about Louisville's loss at UConn Friday, which effectively eliminated UL from the Big East title race. Most "blame the ref" cases should be dismissed in the big picture, but most aren't so blatantly obvious or  "serious enough to warrant action" by the conference as UConn's obviously bogus punt return for touchdown to tie the Cardinals early in the second half. But a bad call in the third quarter costing a win? Crawford is all for the Big East's "action," whatever it is, but he doesn't  buy the scapegoat:
t's the second time in three years U of L has received a mea culpa from the Big East on a blatant officiating error. The last time -- a botched onside-kick call that helped West Virginia come back for an overtime win -- helped cost U of L a trip to a Bowl Championship Series game. This one could help cost the Cardinals a trip to a bowl game, period.
Notice I said "help." U of L lost Friday because it couldn't hold a 10-point lead with 11 and a half minutes to play. It lost because its defense couldn't get late stops. It lost because its offense couldn't put away the game.
- - -
Card Chronicle
agrees, generally, albeit in more
blog-worthy fashion
, natch:
Last night marked one of the lowest points in my relatively short but celebrated life as a U of L fan.
I'm no longer sad, I'm not disappointed, and I'm not overly pessimistic about the rest of the season anymore; I am completely and utterly furious.
I'm mad at Charlie Stubbs, who continues to show that he is the worst play caller this side of my deceased great great grandmother. I'm mad at the Big East officiating crew that botched a call worse than I've ever seen during a Louisville football game, and completely shifted the momentum of the contest. And I'm mad at Steve Kragthorpe, a man who - there's no reason to beat around the bush anymore - I have absolutely zero confidence in as a head coach.
This can't be saved anymore. The most anticipated season in the history of Louisville football is officially a complete abomination.
I don't really have anything else to say at the moment besides GIVE BILAL POWELL THE FUCKING BALL."
- - -
Bilal Powell's official stat page
, for the record. Coincidentally, Powell is the player who (understandably) pulled up in front of Taylor on the controversial punt return and (less understandably) began pointing to the official instead of chasing as Taylor took off with no whistle blowing, according to the game account in Saturday's
Hartford Courant
, titled "
Pretty Slick
(emphasis mine)
:
Taylor, looking up at Corey Goettsche's punt, clearly outstretched and waved his right hand and caught the ball as Bilal Powell was about to hit him. Powell pulled up, and Taylor began running to his left as many on the Louisville return defense looked on in amazement. Taylor just kept running, going 74 yards for the TD.
"I talked to the official right before the play," Taylor said. "I talked to the officials and he said I had to get my hand high up in the air so he could see it. ... I didn't really put my hand up. I was just playing a mind game with the defender. ... As long as it's not over your head, it's fair game. You put it over your head and the referee is going to protect you and stop [the] play."
- - -
Uh, right, Larry.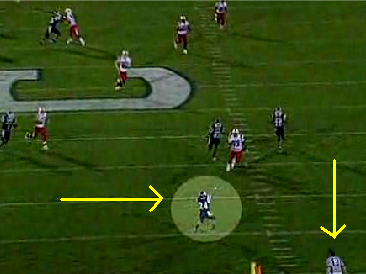 "Mind games." Whatever you say.
If an official was knowingly complicit in that call, the "action" taken by the Big East should be immediate termination for actively undermining a rule. There's no wiggle room in the rulebook: either it's a fair catch, or it's an invalid fair catch, but under no circumstances is he allowed to return that ball.
• What do you think, a Volunteer practice is voluntary? Tennessee's defense is historically bad - like, worst-since-1893 kind of bad - but even as his team's division championship hopes hit full meltdown mode, and his coach's prodigious seat gets hotter than ever, running back Arian Foster just wants his teammates to keep their cool and have fun out there. And I ask you: what's more fun than a practice on Sunday afternoon?
Well, Monterrio Hardesty might be able to think of a few things:
A day after expressing displeasure with a lack of carries in Tennessee's 41-17 loss to Alabama, Tennessee tailback Montario Hardesty did not show up for the team's practice Sunday night.
UT coach Phillip Fulmer said he did not know why the sophomore tailback missed UT's hour-long practice inside the Neyland-Thompson Sports Center.
"You know, I'm not sure what's going on with Montario," Fulmer said following practice. "His roommate doesn't know where he is. We'll find out and deal with it."
[...]
...after Hardesty did not play Saturday despite being healthy, he expressed his displeasure to Volquest.com immediately following the game.
"(Expletive) you tell me," Hardesty told the website when asked why he did not have a carry against the Crimson Tide.
- - -
Is it getting warm in here? Or is it just my defensive backs?
- - -
Back to a couple of those links on the defense - it's not only that it was Alabama that racked up 510 yards, more than the Tide's gained in any SEC game in five years (since Dennis Franchione was coaching Tyler Watts at quarterback...that long), but taken with the Florida and Cal games earlier in the year, this Vol defense is getting dangerously close to the
worst in school history
:
If you think you're witnessing the worst defense in Tennessee's long and esteemed football history, you're almost right.
After Alabama's 41-17 rout in Tusculoosa on Saturday, I wondered if Tennessee had ever allowed 40 points in three different games during the same season - prior to this one.
I had to go back to 1893 - that's 1893, not 1993 - to find a precedent.
Grover Cleveland was in the White House when UT's fledging program lost four consecutive games by a combined 256-0.
It's that rare. In a 50-year span from 1923 to 1973, the Vols were touched for 40 points in a game only once, by Ole Miss in 1947.
To be fair, the modern game is different. There are Tim Tebows, Percy Harvins and DeSean Jacksons coming at you from all angles.
That said, you're still supposed to tackle them every now and then.
Managing a college football program is a balancing act. Just two short years ago, Tennessee was losing games by 16-7, 6-3 and 16-15.
John Chavis and his defense were hanging tough. Their margin for error was slim because the offense couldn't find the end zone with a GPS. Get beat on one big play late and it might cost you the game.
How the roles have flipped. Erik Ainge and mates better score a bunch because the defense is going to give up a bunch: 45 to Cal, 59 to Florida and, on Saturday, 41 to Alabama.
In the Cal and Florida losses, Tennessee's offensive goofs and punt-cover breakdowns contributed scores. Alabama earned all 41 the conventional way and did it without Heisman Trophy candidates or All-Americans.
- - -
Yes, players are swearing at reporters and refusing to show up to practice, and the defense is about as bad as it could realistically be, but at least, Tennessee fans, this is
just a run-of -the-mill jumping the shark
by comparison. It could be worse.
• For example... Tennessee could have allowed just shy of 400 yards rushing to a I-AA team. The Minneapolis Star-Tribune's Rachel Blount points out that it didn't help for Tim Brewster to call FCS number one North Dakota State "the little guys in green" or imply playing the Bison hurt Minnesota's recruiting before NDSU hammered Minnesota Saturday in a game that was much more lopsided than the 27-21 final suggests. But then she really pours salt in the Gophers' gaping wounds:
For those of you keeping score, the Bison now are 3-1 against the big boys of college football in the past two years, with victories over I-A opponents Ball State, Central Michigan and the woeful Gophers. They would have run the table save for the blocked field goal that ended last fall's loss at the Dome. Saturday, they showed Gophers fans what happens when savvy long-term planning meets preparation and confidence -- with a point to prove for good measure.
"This didn't happen by chance," said Bohl, who interviewed for the job Brewster got. "This was no fluke. This is the result of a predetermined plan started five years ago, thanks to our president and our athletic director and our administration.
"Any time you get a win over a Big Ten team, that's a statement. This is another step for us. People are starting to recognize we're a good football team."
While the Gophers' hype machine busied itself with Rose Bowl pipe dreams, Bohl and company quietly reinforced the idea that the Bison had a very good chance to win the rematch. [Minnesota blocked a kick to beat the Bison 10-9 last year. - ed.] A smart coach and perceptive motivator, Bohl used the underdog angle to a point, but he didn't allow his team to become too wrapped up in it.
- - -
The "Rose Bowl pipe dreams" Blount refers to here is a bit of theater constructed by Brewster, whereby he had a strip of turf from the Rose Bowl flown in to Minnesota's Spring practices, as a motivational tool or something. His team is now by far the worst in the Big Ten, a loser to Northwestern and Florida Atlantic and now a I-AA school from North Dakota and probably a significant underdog over the rest of the season - in all likelihood, Minnesota will finish the season 1-11, the one win coming in overtime over Miami, Ohio.
Here are the worst total defenses of the decade, by year:
Worst Defenses by Year, 2000-07
Year
Team
Yds. Allowed/Game
Yds./Play
Record
2000
San Jose State
470.6
5.9
7-5
2001
San Jose State
500.8
6.9
3-9
2002
Eastern Michigan
519.9
7.3
3-9
2003
Louisiana Tech
510.5
6.6
5-7
2004
Army
490.1
6.3
2-9
2005
Northwestern
480.4
6.2
7-5
2006
Louisiana Tech
483.2
7.1
3-10
2007
Minnesota
533.6
6.6
1-7
To be fair, two other teams this season currently rate worse than the reigning Worst Defense of the Decade, Eastern Michigan in 2002: North Texas (521.3) and Rice (527.9). The difference between those teams and Minnesota is that North Texas and Rice have served their time as patsies to Oklahoma, Texas, et al and now will be reamed in slightly less grisly fashion by the offenses of the Sun Belt and Conference USA, respectively. The Gophers, on the other hand, have yielded such totals against two opponents from the MAC, one from the Sun Belt and now another from the Championship Subdivision. Its remaining schedule is Michigan, Illinois, Iowa and Wisconsin, any of whom, if it really wants to, can probably name its score.
• Not a good sign. Literally. From the Tallahassee Democrat, the mounting housing crisis hits home for Bobby Bowden:
Bobby Bowden woke up Sunday morning following Florida State's 37-29 defeat to Miami to find a "For Sale" sign in his yard. Bowden figured it was the work of a disgruntled fan after the Seminoles lost their 10th of 14 ACC games dating to the end of the 2005 season.
"Every time you lose, you get one of those," Bowden said. "Kind of standard trick."
The veteran coach added: "I ain't selling."
Bowden, after losing his 20th game to Miami in 32 seasons, said he pulled the sign out of his lawn and threw it over by his driveway. It's a prank Bowden witnessed before as head coach at West Virginia and at FSU in the early 1980s. But Bowden said he's not ready to pull up stakes on the current season. That means an overhaul of personnel is not on the horizon, although he and offensive coordinator Jimbo Fisher will meet regarding the quarterback spot.
"You don't want to kiss away the year," Bowden said. "I still want to try to save this year if we can."
- - -
Well, that's a relief for FSU fans - "I want to save this year," as opposed to, "We are pissing away the rest of the season with freshmen. The redshirts are off." That's what Bowden did after losing to Miami in 1976, according to the same article, but decade after decade after decade of experience has instilled a certain
complacency
patience in the wizened ol' battle ax:
We just can't afford to risk stupid freshman mistakes...
- - -
While upperclassmen were part of the problem in the Miami defeat, Bowden said he's nowhere close to taking the measures he did in his first year at FSU. After a loss to Miami in 1976, he started six freshmen the next game.
Redshirt junior Xavier Lee committed four turnovers and threw three consecutive incompletions to quash FSU's final drive and chance at victory on Saturday. Lee apparently is still having some problems in making the right reads. And as has been the case in every game he's played, Lee had issues in handling snaps out of the shotgun.
Senior safety Roger Williams was a victim on two big Miami passing plays. Junior Greg Carr dropped a certain touchdown pass from fellow receiver Preston Parker.
"It's too early for that," Bowden said of any youth movement or major changes. "There (are) too many big challenges out there (that) we might can put it together for 60 minutes. And I did go to a senior quarterback that year (1976)."
Bowden made it clear that he did not believe his two redshirt freshman quarterbacks - D'Vontrey Richardson and Christian Ponder - are in a position to challenge Lee and Weatherford.
"They are not ready," Bowden said.
- - -
Xavier Lee? Also not ready. But he only has another year of eligibility, so...
Elsewhere in Disillusion...
- - -
• Steve Spurrier doesn't like the booing, but he agrees with me about South Carolina's offense during the Cocks' loss to Vanderbilt: where was the running game?
The quarterback also could be handing off more frequently. USC attempted a season-high 43 passes against Vanderbilt after falling behind 17-0 after the first quarter. The Gamecocks had a season-low 22 carries, only 12 of which were designed running plays.
Fifth-year tailback Cory Boyd averaged 9.8 yards on five rushes; junior Mike Davis has 11 carries the past two weeks.
"There's no question we need to try to get back to what we were doing earlier in the year with Mike and Cory getting a whole bunch of carries. That's what we did at the latter part of last year, also," Spurrier said. "Throwing 35, 40 times is probably not what we're best suited to do right now."
- - -
•
The Callahan Era is done and
Tom Osborne brought fuzzy feeling back to Nebraska
Saturday, but the Huskers are still just a terrible team with "little-to-no chemistry, painfully few back-alley brawlers and only a couple of big-time playmakers," to put it mildly.
• Linebacker Worrell Williams was in tears after Cal's loss to UCLA, thinking "the Rose Bowl is out of the picture," but it's still  too early to rule the Bears out in a conference as wild as the Pac Ten, in a season as wild as this one.
• After Les Miles went off about it after LSU's win over Auburn, Tommy Tuberville apologized and agreed the first half chop block that briefly sidelined Glenn Dorsey should have been penalized ("We do not teach it. We will not teach it. We won't tolerate it."), but insisted there was "no malice" in "two freshmen trying like the dickens to block him."
- - -
Fair catch still courtesy Card Chronicle commenter "Mike."