Pleasantries dispensed today for lateness, but recognize this: top to bottom, this looks like the best slate of games we've had yet this season – about a dozen obviously significant games on tap. Stop by for the weekly national open thread around ten-ish, Central time, and stay for the party. It's BYOB, unfortunately, but you can't beat the conversation.
Onwards...
Finally, We'll Learn About...
- - -
No matter what it does to redeem itself against Penn State and Purdue, Michigan's defense will never get around the spread option criticism until it stops an athletic, versatile quarterback running out of the shotgun, and they don't come much more athletic than Juice Williams. The Wolverines' confidence over the rest of the season and Big Ten championship ambitions rest on putting the brakes on Illinois' running game.

I know this may not seem
fair
, but we're gonna need you to do that again, please.
- - -
Most to Gain
- - -
Unfathomable as it is to the hardwired circuits that know Kentucky exclusively as cuddly, no defense-playing walkovers, the Wildcats have to be considered an elite, mythical championship level team virtually overnight if they manage to knock off LSU and Florida in consecutive weeks. Besides moving into prime position to win the SEC East – UK would still require help in getting South Carolina out of the top spot – I think the Tigers and Gators are playing as well as any two teams in the country at the moment, and there will be no denying any team that wrecks both of those pedestals in my mind. Kentucky has the very rare shot Saturday to take that step on the national stage.
UCLA can also take a major step in the Pac Ten: the Bruins are the odd team out in the polls, but currently reside in a first place tie at 3-0 in league play. A win over frontrunner Cal will make the Bruins instant contenders. Well, they're already contenders, but everyone will recognize it. That's not important in every sport, but in this one, for obvious reasons, it means everything.
Most to Lose
- - -
Ohio State can make quick work of Michigan State and lay low another week as the carnage goes on below it, or can be a victim – we're all aware of the inexplicable MSU upset, which has bitten a top-ranked OSU team before (the awesome '98 Bucks that probably still should have played Tennessee for the mythical championship over Florida State). Nothing could look so championship-like, in the context of the anarchy that's defined every turn of this season, than another smooth, businesslike pummeling.
...AND ALL THE CHILDREN LEARNED TO MULTIPLY BY SEVEN...
In the miserable realm of blowouts and other morbid curiosities.
- - -
Inevitable Massacre of the Week
Texas needs wins however it can get them, and it's getting them in grisly fashion these days: a 56-3 beating of Iowa State last week in Ames, and Saturday the annual rout of the poor Baptists of Baylor in Waco (at least the Bears are working hard toward progress under Blyzzle Szyzzle, whose own fans are optimistic the chosen one of their five possible quarterbacks "may be ready for Big 12 play in about two more years.") And still the carnage of that scene may not match that destined to horrify Ames, Iowa, which endured one humiliating beatdown at the hands of one of the most talented teams in the nation last week and immediately welcomes another frontrunner to town seven days later. ISU should go ahead and concede to Oklahoma and save the innocent bystanders of the city the inconvenience of picking Cyclone bits from their meticulously groomed hair and clothes. Again.
Walk of Shame
Two major programs take midseason breaks to feast on the presumably weak, like stopping for desert in the middle of an eight-course meal. Join in heaping shame on the behemoths shilling for easy victory and wealth against the proud but relatively hapless tackling dummies of the Championship Subdivision. Is football not a heroic endeavor of aspiration and overcoming? If they receive the benefit of an extra payday, a manufactured excuse to sell tens of thousands of extra tickets and take an automatic step up the ladder to bowl eligibility, these capable teams must also be singled out, brought before the people and humbled for their acquiescence to the most shameless bullying this week:

| | |
| --- | --- |
| Minnesota vs. North Dakota State | BYU vs. Eastern Washington |
May the opposing kicker's guarantees of victory haunt you the rest of your days.
Buffalo Florida International Line Watch
Buffalo seeks its school record third straight win Saturday at Syracuse, and though the Bulls are 3.5-point underdogs in the Carrier Dome, the end of their long underdog was successfully vanquished last week, thus ending the logic behind the "Buffalo Line Watch." It's been an amazing run, y'all. Except for all those games you were supposed to lose, and then did lose. That probably was not as good from your perspective. Hey, but now your coach is going back to Nebraska! That's exciting, huh? Keep in touch! BFF!

You'll always be my dawgs, Bulls.
- - -
*Sigh*
Into Buffalo's immortal galoshes of futility stumbles Florida International, loser of 18 straight games and a 13.5-point underdog Saturday at UL-Monroe. "Friday Quarterback" looks forward to a long, fruitless relationship in which FIU loses week after week, preferably in ways so painful/hilarious as to strike the reader as barely even believable, such as the Panthers' seven-OT loss to North Texas last year, in which two kickers combined to miss eight field goals in overtime. Panthers: don't let me down!
Lame Game of the Week
The worst, Jerry.
- - -
You can say this for SMU and Tulane: they've come close to winning a couple times in the last few weeks, falling just short in heartbreakers against UTEP, Army and UAB, among others. But Tulane has only beaten I-AA Southeastern Louisiana, and SMU only 1-5 North Texas, and that leaves both struggling to stay out of last place in the C-USA West. When the nation's 118th-ranked pass efficiency offense (Tulane's) meets its 116th-ranked pass defense (SMU's), sparks are certain to flay. Or something is certain to fly.
WE CAN REBUILD. WE HAVE THE TECHNOLOGY.
Bouncing back.
- - -
• Cincinnati: Whatever the perceived demerits or illusions of Cincinnati's 6-0 start after its loss to Louisville, the Bearcats' problems pale next to Pittsburgh's – Pitt can't keep its own coach healthy.
• Wisconsin: Things will still not be good for the Badgers, either way, but a loss to sinking NIU after two losses and six consecutive lackluster games is a whole different kind of bad.
• Clemson: A week off gave the Tigers plenty of time to stew in the rout Virginia Tech administered two weeks ago, and to lust for the soft, supple defense of Central Michigan.
• Minnesota: When a I-AA kicker guarantees his team will upset a defending bowl participant from the Big Ten, and that statement is not met with immediate, roaring laughter, the situation is dire. Not dire enough yet, though, to pick the Gophers to lose to North Dakota State. Not yet.
Upwards...
GAME OF THE CENTURY OF THE WEEK!
Auburn at LSU
- - -
What's at Stake: LSU has plenty of mythical championship life left, its path back up the ladder partially cleared already by Rutgers' win Thursday night, but those chips will fall where they may, and they will fall in a pattern pointing the Cotton Bowl if the Tigers/L don't take control of their own division here. Auburn has no such national ambitions, but the Tigers/A are right in the mix where the West is concerned: winner is in the division lead, by itself if Alabama loses to Tennessee.
Besides that, Auburn and LSU is more often than not a classic: the last three games have been decided by one, three (in overtime) and four points, not even going as far back to the Earthquake Game, and the winner's gone on to the SEC title game five of seven years this decade.
Auburn Wants: I thought Auburn executed the perfect plan to beat Florida in a hostile environment last month, and has to fight the same kind of patient, clock-grinding fight to succeed against a more experienced defense Saturday. The Tigers hung onto the ball for 33 minutes in that game by virtue of short passing and strong, unspectacular running, and most importantly, held UF to a meager 55 offensive snaps. It wasn't that Auburn's defense was great against Tebow – six of Florida's ten drives covered at least 50 yards or ended in points – it's just that he didn't have the ball enough to do damage. The running game is crucial to keeping LSU's front seven off of skittish Brandon Cox in obvious passing downs, but it will serve mainly to set up play-action and open up the same kind of safe throws that kept the sticks moving in the Swamp.
Defensively, the shine is off Matt Flynn, who has yielded to the running game in clutch situations the last two weeks and has done very little damage as a passer in four SEC games: including Mississippi State, he's averaging 118 yards on 4.7 per attempt, with a 5:4 TD:INT ratio, good for tenth of eleven qualifying players in the conference pass efficiency rating (South Carolina's rotating quarterbacks are short of the required attempts). A lot of Flynn's problems against Kentucky and elsewhere have been more his receivers' fault than his own, but if AU can build the kind of lead it did at Florida, or just stop the run game in general, he hasn't demonstrated much game-winning ability of his own initiative.
Does LSU do enough Perrilloux? Discuss.
- - -
LSU Wants:
The plan here is the same: run, control the clock and play defense. This is why Auburn-LSU games are always winding up with scores like 7-3 and 10-9: both teams are determined to limit mistakes against very good defenses. Auburn has one of the few Ds fast enough to run with LSU in general, but it has always tended to smaller, quicker players in the front seven who may be susceptible to an exhausting power running game – it's always made more sense to run at Quentin Groves with big bodies if it's an option than trying to block him on a pass rush. Because of its size, LSU's offensive matches up better with Auburn's defense than vice versa, and its receivers are more likely than Auburn's to make cheating safeties pay downfield. As long as they can hold on to the ball.
The Pick:
It seems pretty clear the team that establishes the running game, builds a small lead and controls the clock will win in lieu of egregious turnovers – that's not a given, but it is the way the game's played out for most of the decade. Where Auburn is still searching for its workhorse, LSU has plugged in any number of guys behind its offensive line and had success with all of them; the fourth down failure at Kentucky was an anomaly for a team averaging 232 on the ground per game. Take out the numbers against Middle Tennessee and Tulane, and the average actually rises: 259 per game rushing in four SEC games and against veritable brick wall Virginia Tech. LSU is better suited to pounding out first downs, and I don't trust Brandon Cox to make the same throws here he did against a much younger Florida secondary three weeks ago. If Auburn's not leading or within immediate striking distance most of the game, he won't have time.
| | | | |
| --- | --- | --- | --- |
| | LSU 20 | • | Auburn 15 |
5-3 ATS, 4-2 AS A DD HOME DOG, IT'S SMQ'S DOUBLE BARRELL GOLDEN ROCK SOLID BARKING DOG OF THE WEEK!!
If it were completely logical, it wouldn't be an upset.
- - -
The Game: Iowa at Purdue
The Line: Purdue by 7
Conventional Wisdom: Iowa struggled dramatically on defense to stop Anthony Morelli and ranks 115th in scoring offense – good luck slowing down or keeping up with Curtis Painter.
The Pick: It was a very different kind of offense, but I was impressed with Iowa's defense against Illinois, and the Hawkeyes showed a recommitment to the run that enabled their blowout win over the Boilers last year in Iowa City – Iowa almost broke 300 on the ground in that game, led by 155 from Damian Sims, and Purdue's defense has been typically generous: 172 yards rushing to Toledo, 232 to Minnesota, 181 to Ohio State, 189 to Michigan. The last two, of course, are winning teams, a classification that's now handed the Boilermakers 14 straight losses since they beat Akron (7-6) at year's end to open 2005; Purdue has lost 22 of its last 25 games against winning teams, usually losing its otherwise prolific offense in the mix, and though Iowa isn't there yet, last week convinced me to an extent the Hawkeyes had turned its misery around enough to warrant the benefit of the doubt against a fellow conference also-ran. If Iowa still has it, Purdue does not seem to play well with 'physical.'
| | | | |
| --- | --- | --- | --- |
| | Iowa 24 | • | Purdue 17 |
Florida at Kentucky
- - -
If transitive property meant anything, you'd have to pick Kentucky here – they beat the team that beat Florida!! – but thankfully it doesn't, and my skepticism about Kentucky's 99th-ranked run defense is better than idle blasphemy against the order of the universe as it applies to football. Truth be told, I'm still pretty crazy about Florida, as it nearly survived the best shots of both Auburn and LSU in spite of its youth on defense, was in position to win in Baton Rouge with one fourth down stop or ball that doesn't bounce off a receiver's facemask, "employs" the most valuable player in the country at quarterback/power running back/holistic healer and can still unleash the most lethal array of offensive weaponry in the conference. It's not possible to dismiss Andre Woodson, especially against a secondary this young, but if Florida can do what LSU couldn't with the lead last week – take away the running game and close down all segments of the playbook not incorporating fairly desperate long-yardage passes, I think Tebow's versatility carries the day. Florida needs to strike the kind of balance here we saw against Tennessee. That version of the offense was outrageous.
| | | | |
| --- | --- | --- | --- |
| | Florida 36 | • | Kentucky 27 |
Tennessee at Alabama
- - -
I'm not ashamed to say I left Tennessee for dead a few weeks ago, before it put together a pair of flawless, balanced games against Georgia and Mississippi State, the first time in ages the Vols have looked like the consistent power running team they were for so many years. This is not good news for Bama, which is allowing 400 yards per game over its last five, during which its record is 3-2 with close, late wins against Arkansas and Ole Miss. Erik Ainge has not had a great track record on the road (with the exception of Georgia, where he's 2-0), but Tennessee has smashed through two straight games with ease on offense and looks like it's found the identity on that side the Tide hasn't yet grasped.
| | | | |
| --- | --- | --- | --- |
| | Tennessee 27 | • | Alabama 19 |
Texas Tech at Missouri
- - -
There are a lot of numbers to review with these two offenses, all of which boggle the mind, none of which should go into a hole against either of these defenses. Last week was the most serious challenge to date for both teams, and though Tech came away from its game with Texas A&M far more successfully than Missouri did from its visit to Oklahoma, a couple indicators emerged that I think are in the Tigers' favor: a) Missouri can win games without Chase Daniel scampering for a ton of yards. Daniel picked the Sooners apart despite being hemmed in for -1 rushing – Mizzou lost because of turnovers, not an ineffective offense. And b) Tech can be run on. It was bizarre that A&M opened the game with a punishing, all-run drive for a touchdown, only to take Stephen McGee's suspect arm for a test run until it was too late. The Aggies would up with 233 on the ground, anyway, opening the imagination for what it might look like when an offense with a little balance – like Missouri's, or Oklahoma State's last month – gets its shot. It's going to look like a basketball score, is what it's going to look like. Winner remains a frontrunner for its division.
| | | | |
| --- | --- | --- | --- |
| | Missouri 45 | • | Texas Tech 38 |
Michigan State at Ohio State
- - -
It took Javon Ringer being overlooked despite brilliant performances in a pair of tough losses – he ran for 145 on just ten carries against Wisconsin and 185 on 12 carries against Northwestern – for MSU to settle down and feed it to him on a consistent basis, and he delivered 203 yards on 29 carries in a rout of Indiana last week. His gaudiest averages are going to plummet in Columbus, in all likelihood, but Ringer will be the most serious threat to change a game that OSU has faced. Ohio State's offense might have to respond to points from an opposing offense for a change, a notion to which the Spartan defense (37 points to Wisconsin? 48 to Northwestern?) is a little too agreeable.
| | | | |
| --- | --- | --- | --- |
| | Ohio State 26 | • | Michigan State 20 |
Kansas at Colorado
- - -
Colorado was disappointing off a three-game win streak last week in its sloppiness with the ball, and remains stuck way down at 114th in turnover margin. But the Buffaloes do seem to have found some offensive rhythm they've lacked for years, guiding them to an average of 469 yards over the last four games, including 381 in the win over Oklahoma and 411 in the loss last week at Kansas State. The Jayhawks, meanwhile, remain a mystery, impressive almost to a fault against the worst possible competition but convincing winners in one crucial game, on the same field, against the same KSU team that beat CU by four touchdowns last week. Again, though, the turnovers make that loss sound worse than it was. While we're left to wonder about Kansas, we can guess the altitude in Boulder played some effect in Oklahoma's flatlander flop in the mountains last month. I don't know how much of an advantage, but given the much murkier slate on Kansas right now, every little thing seems crucial. If Kansas can take another game like this, it has to be the firm frontrunner in the North.
| | | | |
| --- | --- | --- | --- |
| | Colorado 31 | • | Kansas 26 |
California at UCLA
- - -
The Pac Ten's current victory lap around the top fifteen in the polls includes four teams that are, individually, specifically not UCLA, but the Bruins are 3-0 in the conference, in a tie with Arizona State for the lead where USC, Oregon and Cal are all technically in chase mode. It may be too early for that kind of talk, but the point is this: don't dismiss the Bruins out of hand. L.A. does a couple critical things well: it's reasonably tough against the run (10th nationally) and puts a lot of pressure on opposing quarterbacks (11th in sacks, at least three in five out of six games), a couple bad omens if Cal is forced to go Kevin "Ramblin' Wreck" Riley again in place of Nate Longshore. I have enough confidence in the Bears' ability to establish Justin Forsett on the ground and DeSean Jackson in multiple ways, and enough of a lack of confidence in UCLA's own ailing quarterback situation, to still think Cal has too much of an advantage. UCLA can make things tough in the Rose Bowl, though, and would be disappointing if it didn't.
| | | | |
| --- | --- | --- | --- |
| | California 33 | • | UCLA 28 |
Michigan at Illinois
- - -
The Wolverines need this game, if only to have some positive indicator agaist the ongoing bugaboo of athletic quarterbacks, particularly when paired with spread offenses. The difference in Illinois and Appalachian State and Oregon is the Juice Williams does not bring the passing threat that Dennis Dixon or even Armanti Edwards did in those game – the Illini are far more one-dimensional and, as Iowa emphatically proved last week, not very good at adjusting to take advantage of defenses that commit to taking away that dimension. Eddie McGee may be good for a ball thrown over the safeties' head, but for all intents and purposes, if you stop the option, you stop Illinois. Michigan still has to show it can play disciplined defense and hold contain, where it's regularly struggled, but it's a better defense now than it was then. I would say "if you stop Mike Hart, you stop Michigan," but there's not really any precedent for that.
| | | | |
| --- | --- | --- | --- |
| | Michigan 24 | • | Illinois 16 |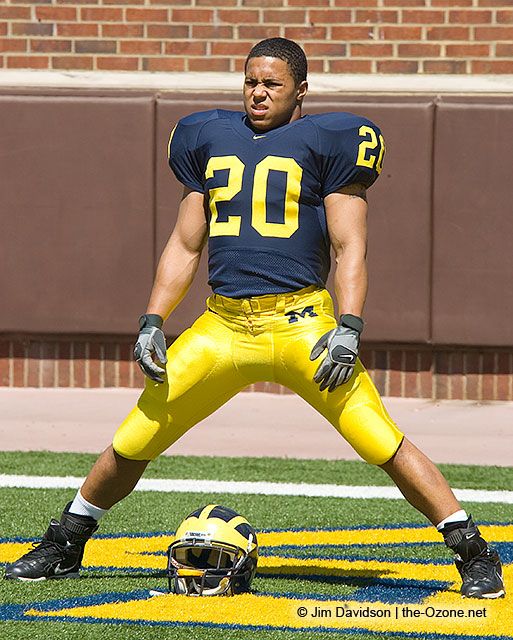 No go, no pick. Michigan's only a favorite with a serviceable Señor Hart.
- - -
(NOTE: This is assuming Mike Hart plays, which was the word earlier this week. Now, not so much. And I can't be held responsible for anything I say about Michigan if Mike Hart's not on the field.)
Miami at Florida State
- - -
I think this will be depressing for anyone who is not an amnesiac – it will be the first time neither team is ranked going into this game since the early eighties, and most of the country won't even see it. At least the last few years, as both began to obviously decline, the teams played to open the season, when there was still high optimism for the talent everyone was so certain still ruled day in spite of it all. This...this is just not right. The quarterbacks are still terrible and unsettled, the vaunted coaching changes have accomplished squat, the respective running games range from 'inconsistent' to 'nonexistent.' The best we can hope for is a game that looks hard-hitting and intense, which last year's did before it became clear that both teams were just really inept on offense. This year, those offenses are 93rd and 95th, respectively, so another defensive slog is a given; since FSU has been slightly better on defense, I'll ride with the 'Noles. But no one is really winning here.
| | | | |
| --- | --- | --- | --- |
| | Florida State 13 | • | Miami 12 |
Louisville at Connecticut
- - -
UConn is the most deceptive 6-1 team in the country – it's best game is probably the one-point loss at Virginia last week, the first game it's played against a team with a pulse of any kind. After its win over Cincinnati last week, Louisville has more than that, if there's any pride there. The Cards are still in good position to compete for the Big East title and Brian Brohm is still the best passer in the country, when he's not scrambling to make up for the big plays yielded by the defense. Never say never – ahem, Syracuse – but UConn's not likely to do so much of that.
| | | | |
| --- | --- | --- | --- |
| | Louisville 38 | • | Connecticut 24 |
Penn State at Indiana
- - -
The Nittany Lions have turned in two completely improbable performances in a row, dominating Iowa and, even less likely, Wisconsin. Indiana presents a very different challenge on offense with Kellen Lewis running and passing from the shotgun rather than the conventional sets that seem to play right into the Lions' hands defensively, but PSU has lined up and run right over the Hawkeyes and Badgers, and the Hoosiers are no special challenge there.
| | | | |
| --- | --- | --- | --- |
| | Penn State 31 | • | Indiana 20 |
Kansas State at Oklahoma State
- - -
OSU tends to be a streaky team: it got on a bad streak out of the gate against Georgia and wound up collapsing in an embarrassing loss at Troy. It's on a much better run since ripping up Texas Tech's defense, though, and remains a versatile, dangerous offense with the whole field open for attack. Kansas State's been up and down, but not particularly impressive on defense. Toss up goes to OSU's athletes on offense, and its much better track record under Miles/Gundy at home.
| | | | |
| --- | --- | --- | --- |
| | Oklahoma State 36 | • | Kansas State 32 |
Virginia at Maryland
- - -
Like Florida State-Miami, this is just a typical ACC game these days: terrible offenses, mediocre defenses, teams without much identity, consistency or any kind of hook. Maryland did run the ball down Rutgers' throat on the road, which is significant, whereas Virginia has dwelled frighteningly in a 50-yard window between 324 and 374 yards in every game since the opener. I like the Terps at home, if for no other reason than my inability to process at team as unappetizing as Virginia at 7-1.
| | | | |
| --- | --- | --- | --- |
| | Maryland 23 | • | Virginia 18 |
Texas A&M at Nebraska
- - -
The line (Nebraska -2.5) is too small for me to include it as my "Upset of the Week," but how Nebraska could be a favorite over anyone right now, however disorganized, however battered, embarrassed, lame duck or demoralized, is mind-boggingly incredible. Texas A&M does still have a running game: it used it two weeks ago to come from behind to beat the Oklahoma State team that humiliated Nebraska's defense for the umpteenth time last week and to ram its opening possession down Texas Tech's throat last week before abandoning for an ill-fated reliance on Stephen McGee's arm. But the only thing ill-fated about Nebraska's status as a favorite in this game is the fool's relationship with his money.
| | | | |
| --- | --- | --- | --- |
| | Texas A&M 34 | • | Nebraska 17 |
Southern Cal at Notre Dame
- - -
Included out of tradition. I am substantially down on the Trojans, but Notre Dame...Notre Dame is...yeah. I acknowledge the possibility of some inspired possessions from the Irish, but if USC has any ambition of continuing forward as USC, it will leave spread-eagle Irish imprints in every inch of the wild swamp grass Notre Dame has inevitably grown out for this game. Complete annihilation is the only way to make this win meaningful.
| | | | |
| --- | --- | --- | --- |
| | Southern Cal 38 | • | Notre Dame 7 |