Choose wisely: the decision you make could affect your entire future.
Choice in life is a blessing: the greater one's options, the greater one's chances of maximizing success. But choice is also a harbinger of stress when forced between multiple, equally attractive options. The fickle football fates (that is, sponsors) have foisted on fans tonight two postseason showdowns simultaneously. And though the choice for most of the country, when one of the options is on the rumored-to-exist NFL Network, is made well in advance, SMQ is lining up the Holiday and Texas bowls for serious consumer scrutinizin'.
Site Inquisitor: These are the ones located in:
    a) San Antonio and Florida       
    b) El Paso and New Mexico
    c) San Diego and Texas
    d) Memphis and Georgia
    e) None of the Above
If you said c) San Diego and Texas, then you're right, and probably also experiencing some degree of deja vu - San Diego, a site so  it leaves SMQ breathless at the mention of its spectacular existence, has already hosted the San Diego County Credit Union of San Diego Poinsettia Bowl from San Diego, and the Lonestar State has patriotically tolerated the Armed Forces Bowl in Fort Worth while revving up in the next four days for the Alamo, Sun and Cotton bowls, as well as the inaugural version of its namesake. Specifically, the latter is in Houston, and will feature a halftime theme celebrating Ron Dayne's recent resurrection from the dead in the city, the basis for some residents' conversion to his faith, Daynamism.

Briefly embraced but later rejected elsewhere, the reputed powers of the church of L. Ron Dayne mesmerize converts in its newest stronghold
The Venues: Jack Murphy Qualcomm Stadium is a rusting heap in contrast to spankin' Reliant Stadium, a shrine not only to Daynamism but also massive (17,274 tons of structural steel and 160,000 cubic yards of concrete, according to this) yet sleek (the stadium "skin" is 50 percent glass, with a partially retractable roof) modern architecture that stands as possibly the finest football stadium in the world.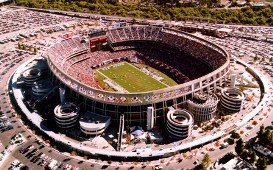 Formerly Known As: A longtime showcase for the WAC champion (i.e. BYU) against a middling team from, usually, the Big Ten, the Holiday Bowl dropped that angle when the league ludicrously inflated and then blew its shards all over the place in 1997 and increased its capital since by dishing out - around $2.2 million per team, better than all but three other December games - for consistently quality Big XII-PAC Ten matchups (Oregon-Texas in 2000 remains a shining beacon of "Bowl Week" pride). It's been brought to us since 1978 bah: Culligan, Plymouth, Thrifty Car Rental, Sea World and currently the omnipreset and uber-pretentious whale fetishists of Pacific Life.
The Texas Bowl's location should give it away as the latest guise of the less ambitious Houston Bowl, created in 2000 and remaining until its conversion to represent the entire state was announced by new sponsor Lone Star Sports and Entertainment, a division of the Houston Texans - hence its spot on the NFL Network, at least "theoretically," according to Lone Star Corporate Development Manager Shane Hildreth, who told SMQ "this bowl wouldn't have happened if the NFL Network hadn't bought the rights." A title sponsor is expected on board next year.
Primal compulsion assures id will watch for...
Football! Woof! Woof! Woof!, etc.
Also: The Holiday, for those of us who can keep straight which teams, exactly, are competing, is potentially the last, best chance to watch the superbly-groomed and debonair Marshawn Lynch dodge tacklers in the backfield in a Cal uniform. The Bears have a couple other exciting all-America types - Daymeion Hughes, the excessively-toed all-purpose demon DeSean Jackson - but when the Bears are worth their reputation on offense, it's the delightfully spontaneous Lynch's show. No defense to date has held him under four yards per carry, or come all that close; it's only the ones who have limited his big play talents as a receiver and kept him out of the end zone (losses to Tennessee, Arizona and USC, games Lynch averaged 3.9 per catch, as oposed to just over 10 for the season, and the only times other than Stanford he did not score in any fashion). Nate Longshore, if his act is sufficiently together (the past month hasn't been as kind to the October superstar), will be key, because putting up points on the Aggies to date has meant throwing the ball; Graham Harrell, Bobby Reid and Zac Taylor threw nine total touchdowns in the only three games TAMU allowed 28 or more, two of those A&M losses and the other a one-point survival in overtime.
Since he didn't see them inching their way through Texas' stodgy front, SMQ is also interested in the abilities of youngsters Steven McGee and Mike Goodson on the other side of the ball, to say nothing of the perverse delights of watching ludicrously-proportioned tailback Jorvorskie "Freight Train" Lane.
In Texas, Rutgers having proved its merits by more or less replicating its surprising Louisville triumph in the less-fortunate finale at West Virginia, viewers now want to know if this Kansas State bunch is legit or what. Statistically, the Wildcats are good at only two things, returning kicks (first nationally at almost 28 yards per return) and sacking quarterbacks (fifth). Two hundred-forty-pound quarterback Josh Freeman continues the night's theme of outsized underclassmen ballhandlers.

Tiny Elvis agrees: "Looka them kids...man, them suckers is huuuuuuge!"
Socially-conscious superego will instinctively resist..
At his current pace, Freeman will also represent outsized turnover totals: in his handful of starts, he's thrown 13 to only 6 touchdowns, including four multiple-pick efforts. Kansas, the lowest-ranked pass defense in the nation, intercepted the man child three times in KSU's finale. And the Wildcat front seven, good as it is at pressuring the passer, is 70th against the run - which against Ray Rice et al equals doom.
And the Cal-A&M match-up is intriguing, but does it feature DeSean Jackson against Aaron Ross? Is Cal facing just plain Texas? That's a bit of a letdown.
Instead...
...why not dust off a few of your old declamatory recitatives and cantabile arias from your school fetish with the 18th Century Neapolitan "Bel canto," a Tartini violin sonata, perhaps?
What Else is On
You have no life. But that doesn't mean you can't enjoy these actual non-gridiron alternatives to momentarily fill the rapidly widening chasm eroding your inner soul:
8 p.m. - ABC
-
Ugly Betty
Queens for a Day:
Betty uses her Queens connections to book a high-profile photographer to do a shoot for Mode, but feels she needs a makeover before meeting him. Meanwhile, Wilhemina preps for a date.
60 mins. TV-PG
8:30 p.m. - VH1 - Hogan Knows Best
Brooke is having problems dealing with the demands of her career, and producer Scott Storch starts to question her ability to succeed in the music business. 30 mins.
9 p.m. - TLC - American Chopper
Wendy's Bike 1: Part 1 of 2. At the Wendy's headquarters in Dublin, Ohio, the OCC team does research for a bike to be auctioned to benefit the Dave Thomas Foundation for Adoption. 60 mins. TV-PG
9:30 p.m. - Nick - Full House
Too Much Monkey Business: Danny has reservations about Joey dating his sister (Darlene Vogel), a primate researcher; and Jesse's new love is a chimpanzee. Joey: Dave Coulier. Danny: Bob Saget. Kimmy: Andrea Barber. Jesse: John Stamos. 30 mins. TV-G
Subjective Watchability Rating
Click here for the Watchability Scale.
For landing a New Year's-quality Rutgers unit and matching it with another upstart and proven upset candidate, two teams switched to "shocking mythical championship spoiler" on the same November weekend, SMQ gives the Texas Bowl three boxes, if you can get it:

Worth an afternoon or evening, if there's nothing better to do, until it gets out of hand.
Rutgers isn't the sort of team that does "out of hand," but Kansas State's lone upset over Texas, taken in the context of defeats to Louisville, Nebraska, Missouri and Kansas, not to mention Baylor, paints the Wildcats as one-hit wonders until proven otherwise. Rutgers' consistency outside of its loss at Cincinnati, in the same vein, casts it as the steady, confident winner, and not the type likely to fall asleep after just missing out on millions in BCS lucre. KSU at its best can handle Rutgers at its most mediocre, but we've only seen that version of the `Cats once. The less exciting, the better for the Knights.

Rutgers 26, Kansas State 14
For bringing a starved gridiron nation its first showdown between ranked opponents and wildly outclassing its December peers yet again (even in its wholly fabricated incarnations), SMQ bestows the Pacific Life Holiday Bowl a hearty and heretofore unprecedented four boxes:

Worthy of non-ironic note, preparation and attention
One team ended its season by losing two straight tense one-pointers to the conference championship participants and then breaking through against a heavily-favored rival in a defensive slugfest; the other flopped consecutively in offensively-challenged fashion against foes from the bottom and top tiers of itsconference, the latter with the league title at stake, and eked by one of the weakest versions of its primary rival in decades. Is it really Dennis Franchione's club that looks like it's on the way up, and Tedford's slightly stagnating? Cal's much-lauded midseason outburst appears to have run its course.

Texas A&M 28, California 23