As the season hits its stretch run, SMQ cynically, foolishly commits to quick, dirty and only marginally relevant looks over the next few days at what's primarily ailing each of the six major conferences at the moment. He is not, however, a problem-solver, so solutions other than 'play better football' - or, if he wants to get really in-depth, 'recruit better players in order to play better football' - are optional.
Having seen the league's underdog heroes fight for respect and battle with much on the line before, SMQ is not among the chorus deeming tonight's Rutgers-Louisville tilt the second most important game in Big East history. Though he agrees last week's UL game with West Virginia was probably the first.
The difference: West Virginia beat Georgia, man, the SEC, and did it in very explosive, non-underdog-like fashion, defense be damned, to finish in the top five of every Official Poll at the end of last year. So the Mountaineers were at least somewhat legit; Louisville almost won at Miami a couple years ago, then wiped the field with the 'Canes in September during Football Nirvana, and since nobody else had challenged the Cards, presumably, they were legit, too.
And so two undefeated, high-scoring, highly-regarded teams show up, run roughshod over one another, one wins by double digits, and...well, nothing much changes. Too many fumbles. Not enough defense. And what did you expect? It's just the Big East.
Tonight's game, by contrast, is far less important, because Rutgers has not beaten a ranked opponent and has no one's respect; Louisville cannot win big here, regardless the score, and neither can the Knights, if the standard is the establishment of mythical championship credentials. But the Cardinals can lose big, and not just with an actual loss. As articulated by an anonymous commenter earlier in the week:
I suggest that the [Big East] bashers tell us what result on Thursday against Rutgers would provide positive evidence for Louisville?
Louisville wins a close, low-scoring affair? Just shows their offense wasn't that good after all. Couldn't score against Rutgers!
Louisville wins a close, high-scoring affair? Again, no defense. Couldn't stop Rutgers!
Louisville blows them out? Who cares? It was Rutgers!
(Of course if Rutgers wins, it's because Louisville was never any good.)
Mike Freeman is not necessarily representative of the perception of the relevant national punditry as a whole, or necessarily even coherent, but it is beyond a good assumption that his, um, arguments do more or less represent a certain, stodgier segment of it: the absence of Miami and Virginia Tech, the two respectable stalwarts that virtually alone made the league worthy for a decade and a half, the plundering of smaller step-child schools with little to no tradition, and the brief, off-kilter, de facto ascension of Pittsburgh in the interim, has left the perception of the Big East above all as a stepchild league, a glorified Conference USA.
There are a few ways to dissect this. Taken independently, the Big East's collective members this season are winners: Cincinnati is one win away from becoming the league's sixth bowl-eligible team (out of eight teams, that's 75 percent, higher than any other conference), and its collective record outside of the conference (32-8, which includes no unbeaten teams) is second only to the SEC, which, at 35-6 against teams not in the SEC, is the only other conference with no teams under .500 outside the league.
Or, it can be pointed out Big East teams collectively have played five games against currently ranked opponents (West Virginia against Maryland, Cincinnati against Ohio State and Virginia Tech, Connecticut against Wake Forest and Syracuse against Wake Forest), and lost all but one by a healthy margin. Not that those are exactly exemplary matchups for the conference.
So, therefore, the trouble with the Big East: we still ultimately don't know much of anything about this league in terms of its viability as a BCS stalwart worthy of consistent respect and competitive enough to produce a legitimate mythical champion.If you want to argue the league is tough and legit, the win-loss evidence, the numbers, are there. If you want to degrade it as unworthy, the schedules are there. Who's got the jump here?
On that note, back to tonight's game: not important in the large scheme, because no reasonably probable outcomes will convert individual preconceived notions. Because of their schedules to date, Rutgers and Louisville are operating in a virtual vacuum, the same one that led such a skeptical buzz surrounding the Cardinals after last week. Louisville wins big, what is the context? Nobody's sure how good Rutgers really is. Rutgers manages an upset, what is the context? The Knights move up, sure, but were we really sure Louisville was all that great? We were not.
SMQ thinks, deep down, most people watching tonight are most confident of the assumption that Rutgers has not really changed, not really overcome the inept nature that defines its hollow core, and will assess Louisville's performance accordingly. If Rutgers wins, or loses very competitively, it's more widely considered an indictment of Louisville, not an affirmation of the Knights. SMQ does not feel that way about this game, but all we really, really know for sure is that Rutgers has been a very bad team for a very long time, and perceptions do not change that quickly.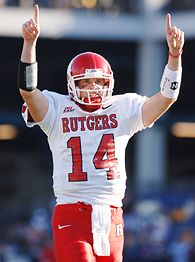 Well, no, Mike, not exactly, unless you're trying to say "We're No. 11!"
Superficial Quick Fix: The general worth of the league to voters and recruits depends almost entirely on Louisville winning the mythical championship. For all the reasons above, Rutgers has zero opportunity to ride a late season wave, no matter how large, so far. The computers and enough voters seem to be willing to give the Cardinals their shot if UL takes care of its business over the last month. Once there, a close game can do a little to raise expectations, in the same fashion as West Virginia's win last January over a Georgia team with two losses already, but more enduring equality comes only with a championship win against an undefeated Ohio State or Michigan raised over a month and a half off to supernatural juggernaut status.