A weekly primer.
Big opening deal today was set to focus on West Virginia's incredible, inhumane reaming of Pitt Thursday, which managed the impossible by topping last year's unbelievable Thursday night reaming of Pitt, but instead attentions must be turned to cruelly-timed sadness.

Bo: 1929-2006
Probably the first non-fiction book ever read by adolescent SMQ was his dad's copy of Schembechler's Bo, with Mitch Albom, in which Schembechler describes Woody Hayes punching himself in the face during a practice. Few lines in any book have ever come off as hilarious in the moment, to this day, as that one. Or, later in the book, when Schembechler is blindsided by a player and has to shake off the agony to maintain his tough image in front of the team, or when a player on an opposing team gets off the ground in front of the sideline and tells Bo to "eat shit." He also describes in that book his first heart attack, ironically this afternoon, on the eve of one of his biggest games, the 1970 Rose Bowl. He covers his second, in 1987, not long before the book was put together, too. Bo's actual teams, though, were just slightly before SMQ's time.
Brian asks "Why now?" and pleads on behalf of the partisans: "Play. Fight. Win." One more day, one more day. The mood in Columbus Saturday will be quite different than anyone ever, possibly anticipated, in the worst way - for Michigan fans already barely able to stand the enormity of this game under this circumstances, SMQ imagines now the emotional rush for them by kickoff will border on unbearable.
Onwards...
SMQ Will Be Watching
Intriguing morning appetizer in Maryland at Boston College on the Leader, two teams nobody cares about, wants to acknowledge or advertise on a national scale, but which remain - especially the Terps, if they win - very much alive for the ACC championship. For once, though, SMQ roots against a game being close, because this Saturday morning is the time for mental and culinary preparations in anticipation of the little undefeated, 1-2, hated rivals for the Big Ten and mythical championship thing going on in Columbus. Yes. Shame SMQ's personal favorite irrational festival of geographic hatred, Alabama-Auburn, has to compete with this Northern affair, because a) not only is UA-AU typically a great, tense game with some postseason stakes, but b) it is the rivalry most likely to feature a voluntary manslaughter in the stands (any game played in the state of Florida, of course, excepted). Not that SMQ condones this. Certainly not. He does, however, condone a good hour to gauge Wake Forest against peaking Virginia Tech for a half before the second main event, Cal at USC, revives the much-missed excitement in ABC's recently lagging primetime matchups - though Texas-Kansas State was surprisingly worth its while last week. Fun as that contest turned out, though, because of the upset factor, a game matching its manic scoring pace, with the expectations of quality coming into this one, will be a turnoff.
Finally, We'll Learn About...
Frankly, Ohio State has cruised on auto since its win at Texas without facing a team currently even on the fringes of any serious poll, usually winning big, but its credentials in terms of a coast-to-coast Number One aren't mind-boggling or anything (SMQ does not say this lightly - look at the Buckeyes' Wisconsin-free schedule and judge your own self. OSU hasn't faced a respectable challenger in about a month, if you count Indiana or Michigan State, and longer if you don't). This is true for Michigan, too, but, because the Wolverines did face the Badgers, to a little bit lesser degree. For both teams, mythical championship credentials - of the unquestionable, distance-from-the-rabble variety - are hanging on the low limbs of this game. Without this defining matchup, in other words, either would be rightly subjected to same "should they or shouldn't they?" conjecture as, say, Rutgers. But here it is, the Great Seal through which champions must pass, so no need for conjecture after the next, oh, 26 hours.
Most to Gain
Um, see above. This is the definition of winner-take-all.
But don't lose the significance of the USC-Cal game in the hype of the afternoon main course: the Trojans are in basically the same "win-and-in" position as OSU and Michigan, and wrap up the PAC Ten in a neat little burlap sack if it wins Saturday (even with UCLA and Stanford ahead, all the necessary tiebreakers will belong to the Cal-SC victor). Unlike the Bears, though, USC has not-at-all distant mythical championship aspirations, and will be back in the coveted "2" spot on Sunday if it can take care of business.
Most to Lose
Clean sweep for OSU-Michigan up here: a really, really big money game very likely remains for the defeated, but will be little consolation for the multiple championship opportunities floating away with the enemy.
And USC's BCS status, again, puts the Trojans in essentially the same position, where another conference crown and the mythical title opportunity is theirs for the blowing. For the record, SMQ will stand by that choice of words to his grave.
A couple others with much on the line in games they should win going away: Arkansas, which can lock up the SEC West against Mississippi State and align itself for a legitimate (or should-be legitimate) run at the No. 2 BCS spot with LSU and Florida ahead, and Rutgers, which has a trap game at Cincinnati to weather as it drives towards its second defining, prove-it game at West Virginia.
HONEY, GRAB A BOOK FOR THE SECOND HALF
Inevitable Blowout of the Week, in conjunction with the Buffalo Line Watch
Since it joined Division I-A in 1999, Buffalo has been favored to win once, against Temple to open this season. This week, the Bulls, coming off a 16-point home loss to Akron last Thursday, are a 38.5-point underdog at Wisconsin, seeking to tie a school record for wins in a season (11). Buffalo has 12 total wins since it joined the MAC eight years ago.
Also, take any of the following slaughters from the SEC East, whose members (like Wisconsin) heard "twelfth game" and began salivating over the margins - of all varieties - for just this week:
Western Carolina at Florida

Middle Tennessee State at South Carolina (Closer than the experts think! -ed.)

UL-Monroe at Kentucky
Vanderbilt should be slightly more competitive against Tennessee, but only slightly. At least Georgia had the decency to take the friggin' week off.
Lame Game of the Week
Rare is the state with two Big Ten programs whose marquee team nonetheless remains a barely .500 scrapper from the MAC with an undersized star running back. Yet such is the current fortune of the Prairie State, which - despite having one of last year's truly
great albums
named in its honor - hasn't been able to get much good from Illinois or Northwestern. Usually one or the other is doing something more or less positive, but the only reward Saturday for either the Illini or Wildcats, 5-17 between them and 2-12 in-conference, will be avoiding last place.
Weird Line of the Week
For entertainment purposes only, natch
San Jose State, a week after winning to become eligible for its first postseason trip since the glory days of the (seriously) California Raisin Bowl, played its guts out, led unbeaten and ranked Boise State wire-to-wire, only to lose on a field goal on the final snap. The Spartans' reward from the oddsmakers for verifying their drastic improvement? They get 23.5 to 25.5 at Hawaii. The Rainbows or whatever are ridiculously high-scoring, yes, especially at home, but not exactly a defensive juggernaut. Hasn't SJSU earned a teensy bit more respect? A skosh? The points here, at any rate, are likely to far exceed the forecast 72.0, though only Texas Tech and Oklahoma State (68.0) are expected to even approach that.
Soon-to-Be Foolishness
Projecting...
GAME OF THE CENTURY OF THE CENTURY
Michigan at Ohio State
What's at Stake: Obviously. And now, tragically, even more.
Michigan Wants: Click here. Obviousness declares a run-based attack that matches Michigan's strength (the machine-like consistency of Mike Hart behind his massive zone blockers) to the only really even kinda perceptible weakness on either team (Ohio State's just OK run defense), forces OSU to overplay the line, and fires play-action to the heart with a fleet, completely healthy Mario Manningham long. Um, perfect, simple world. In reality, the Wolverine offense is going to have to show a little balance, toss a few of those screens it's so good at to Hart and Steve Breaston, stay patient, avoide mistakes, etc. Chad Henne Ohio State has not played at all from behind, and it would be nice to get them in that uncomfortable position with the pass rushing hellions on defense, who collectively lead the nation in total sacks.
But everything is different here, because - unlike pretty much every other quarterback in the country, and especially every one Michigan has faced to date, even Brady Quinn - completely eliminating the option of a viable running game will not in itself make Troy Smith a sitting duck in a one-dimensional march to oblivion. Smith can run, can make frightening plays downfield on the run, and can slow any pass rush down with the threat of taking the ball on a draw or breaking contain. SMQ thinks this is best handled by pressure, unrelenting, unpredictable pressure from every angle: teams who have played off Ohio State, fearing Ted Ginn Jr. deep, have faced the wrath of Tony Gonzalez underneath (think Texas and Iowa), but who dares risk the embrassment of Ginn running away from a flailing corner in man coverage, the world screaming "Who dares cover Ted Ginn with one guy!" a la Aaron Ross at Texas? Michigan, with Leon Hall and rushers who have been unleashed aggressively much of the time and consistently demonstrated the ability to pressure any quarterback into mistakes, or at least quicker/more innacurate throws than he'd like, might dare.
Top priority, however it's achieved, should be: take the ball out of Troy Smith's hands. This doesn't mean necessarily "winning" time of possession, but rather limiting the number of possessions OSU's many big play options have to inflict maximum pain. This has been tough to do against the Buckeyes - see the terrible fate of Iowa - but Penn State managed to do it, thereby hanging close with a far less capable offense than Michigan's, and UM has more or less taken this approach even against lesser opponents, with substantial success.
Ohio State Wants: Click here. It would only make sense, if Michigan wants to "shorten" the game to minimize Ohio State's big play ability, the Buckeyes would want to do everything possible to give those weapons as many opportunities as possible. Eh, but this is not Minnesota, where those advantages are so clear cut - OSU has a considerable interest in avoiding the wrath of Manningham et al, too. More likely, the Buckeyes should focus on accomplishing two feats no team has come close to achieving against the thus-far unparalleled Wolverine trench-dwellers: establishing a credible threat to run on the one end, and making Chad Henne - via an ineffective Hart - the primary arbiter of Michigan's offensive fate on the other. Well, make that sole arbiter, if Hart can't top 3.5 per carry or so. Both of these goals are far more easily accomplished if OSU manages a 7-10 point lead, which keeps the entire playbook open and Smith more likely to remain in his comfort zone. If he has to be responsible for the running game his own self in the case Antonio Pittman is waylaid, that's fine, or if it comes via screens, whatever - as long as Michigan's front seven has to respect something that keeps the pass rush/blitzing at less than full bore.
Top priority: give Troy Smith every opportunity to be the Most Outstanding badass he's billed to be. Protect him and this back-and-forth is moot: Buckeyes win.
Variables: The biggest unknown, as always, is turnovers. Both defenses are excellent at forcing `em because of their pass rushes. Situations in which it is advantageous toblitz or rush because of the score, down and distance, or success on the ground, however, are not so variable; SMQ thinks the team that can make a few plays running the ball early has a considerable advantage. Per the norm with these teams, there are two or three guys on each side capable of scoring every time they touch the ball - also per the norm, one of them will at some point, though SMQ nor anyone else has any clue who or what uniform he'll be wearing. Missed/blocked field goals perpetually loom as potential difference-making plays, whether or not there is any past history to indicate that possibility (here, there's not).
The Pick: SMQ is no sentimentalist, and refuses to believe "the Ghost of Bo" or "Spirit of Bo" or of anyone else will assist in blocking or tackling. But even before the terrible Schembechler news broke, he was leaning towards taking the Wolverines because he believes Hart's ability to make some hay on the Buckeyes' front seven - again, the only element on either side that could really be construed as a non-strength to date - will be the difference. Where Ohio State's biggest asset, its offense, has been slowed for a stretch here and there (first three quarters at Penn State, the entire second half at Illinois), no team has legitimately stopped Mike Hart. No team has made a dent running the ball against Michigan's front seven. All other elements being equal, SMQ values establishing and especially stopping the run as the best indicator of a championship team, and - all else being fairly equal - Michigan has accomplished that combination to date perhaps more effectively than any other team in recent memory. Maybe OSU destroys those trends and cruises - the Buckeyes absolutely could be that good. Don't know. There is, however, an emotional element added by the sudden death of the Michigan program's modern patron that, at this point, makes it unavoidable to say

MICHIGAN 23, OHIO STATE 17

When in doubt, return to first principles
California at Southern Cal
Three weeks ago, everyone was anxious to annoint high-scoring Cal new PAC Ten darlings, its coronation just a matter of dealing with a fading, overrated team struggling to put lesser foes away. Instead, the Bears find themselves victimized, by a matter of inches, where USC is surging ahead following the loss at Oregon State, laying the law to Oregon in L.A. last week and suddenly favorites again to waltz into the mythical championship.
The Pick: SMQ sees only minor problems for the Trojans, most of them Marshawn Lynch-related. SC was satisfactory in stifling Oregon's better-than-solid running game last week, though, and seems to have committed to an effective ground attack of its own. Less explosive than in the past, maybe (how could it not be?), but certainly capable of drawing enough attention to ensure the lethal natures of Dwayne Jarrett and Steve Smith can thrive on the outside. When SMQ picked the Bears to win the PAC Ten in August, he didn't foresee them sporting the nation's 93rd-ranked total defense.

SOUTHERN CAL 38, CALIFORNIA 21
Maryland at Boston College
Maryland's trying to get to Wake Forest unscathed for the de facto Atlantic championship game; B.C. wants that game to have the potential to clog up everything and force the laws of inscrutable tiebreaker review into play. Maryland is steaming along with the nation's 102nd-ranked total offense and 101st-ranked run defense. My god, how? How did UMD beat Clemson? Or anybody after Florida International? Or even Florida International? The Terps' average margin of victory in seven wins over I-A opponents is 4.4, and only one (24-10 over Middle Tennessee) by more than four points. And now SMQ is expected to take this taped-up jalopy of a contender at BC, too? On the road? Against a ranked team? SMQ says flatly, No. For the sake of the continuation of a even the flimsiest facade of sanity and order, the universe is commanded to deny another Maryland win.

BOSTON COLLEGE 27, MARYLAND 14
Auburn at Alabama
Give some love to the Iron Bowl, y'all, the one game eminating enough simmering, mostly unconcealed rage SMQ has grown up feeling it a state away. Alas, not a game to "throw the records out": three games ahead of the Tide, Auburn's going to get the nod here. `Bama is a lousy 2-5 in the SEC, including a home loss to Mississippi State, and the two wins were by field goals over Vanderbilt and Ole Miss, both at home, the latter in overtime. Auburn is perhaps running on fumes, but the Tide burned up its reserves at Tennessee in October.

AUBURN 30, ALABAMA 16
Virginia Tech at Wake Forest
Pollsters are starting to slobber a little over the Deacons, the beneficiaries of one of the most spectacular public meltdowns in sporting history - possibly in human history - last week in Tallahassee. Heads roll in such circumstances for a reason: Wake still needs to pass this test to prove it belongs in such lofty poll territory. It threatens the top ten if it wins, but don't overlook Virginia Tech's defense, now best in the nation statistically. Branden Ore is on a nice roll and the Hokies, now with four straight mostly lopsided victories over winning teams, are peaking at the right time to rain on Wake's parade.

VIRGINIA TECH 24, WAKE FOREST 18
South Florida at Louisville
Included as a nod to the Bulls, the nation's most anonymous seven-win team ranked 15th in total defense. USF has won four of five since giving Rutgers its most competitive game pre-Louisville. The Cardinals, of course, at home, off a loss, against the team that rose up from nowhere to wreck the UL season in Tampa last year, are even madder than their anachronistically-toothed logo implies.

LOUISVILLE 31, SOUTH FLORIDA 15
Rutgers at Cincinnati
Included as a nod to the inherent upset potential of the homestanding Bearcats, who played Virginia Tech tough early and had won four of five before running into the West Virginia humiliation machine last week. Rutgers doesn't have that kind of skill on offense, but Ray Rice is good enough in tandem with the Knights' lights-out D to survive here. Cincy's offense has established no identity.

RUTGERS 21, CINCINNATI 13
Oklahoma State at Texas Tech
The Raiders could have complained about being shut out of the BCS last December if only it had managed to beat the lowly Cowboys, who now are not so lowly. They are also, rushing and point-scoring prowess duly noted, not so great at stopping the pass. Tech is decent at passing, you know. "Shootout," as stated earlier, is written all over this one.

TEXAS TECH 44, OKLAHOMA STATE 38
UCLA at Arizona State
The march of progress exemplifying the short but glorious reign of el Presidente Carpenter has los Diablos del Sol on the cusp of a breakthrough, as foretold, by securing a December bowl game. UCLA, back on track last week after four straight losses, is in the way and must be crushed like bug.

ARIZONA STATE 29, UCLA 24
It's Heated and Ultimately Meaningless Territorial Rivalry Time!

Tennessee at Vanderbilt
Vandy wins two straight over Tennessee, the world ends. Look that shit up. SMQ likes the world, himself.

TENNESSEE 28, VANDERBILT 10
North Carolina State at North Carolina
Maybe Chuck Amato's last game at NCSU. Definitely John Bunting's last game at his alma mater. UNC, rallying a bit late, gives the native son the Zook Farewell.

NORTH CAROLINA 20, NC STATE 16
Illinois at Northwestern
Speaking of Zook: his team stinks.

NORTHWESTERN 28, ILLINOIS 20
Michigan State at Penn State
Quietly, without beating anyone great, but without losing to anyone it should beat, Penn State has set itself up for the Outback Bowl. From the standings, losing to Michigan State, a loser itself of seven of the last eight, wouldn't even cost PSU the trip. But it would make JoPa, watching from the box this week, irate. This is ill-advised.

PENN STATE 21, MICHIGAN STATE 17
Indiana at Purdue
Indiana looked like it had a little something going against Iowa, but its defense has been beyond atrocious since. Here, though, the Hoosiers face Purdue, almost as bad, with a chance to get into a bowl game. For Terry Hoeppner, if not his forecasting integrity, SMQ would like to see that.

INDIANA 32, PURDUE 28
Iowa at Minnesota
Floyd of Rosedale! Random trophy shaped like a pig! Thank heaven we don't play for it in Mississippi! Iowa's Big Ten skid (losers in four of five) come at the twrong time to face Minnesota, which has unleashed its offense on a couple terrible defenses for double-digit wins two weeks straight. Gopher win, horrifically, leaves both these unmitigated stinkers bowl eligible.

MINNESOTA 24, IOWA 19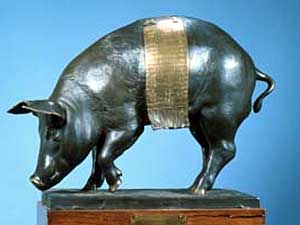 It don't get much better'n the Floyd.
Washington at Washington State
A pair of decent upstarts faded quickly to ensure the familiar dual of futility, but Washington bottomed out by losing to truly awful Stanford last week, setting new lows for ineptitude. The Cougars, at least, can earn a sure-to-be-ignored postseason trip.

WASHINGTON STATE 31, WASHINGTON 10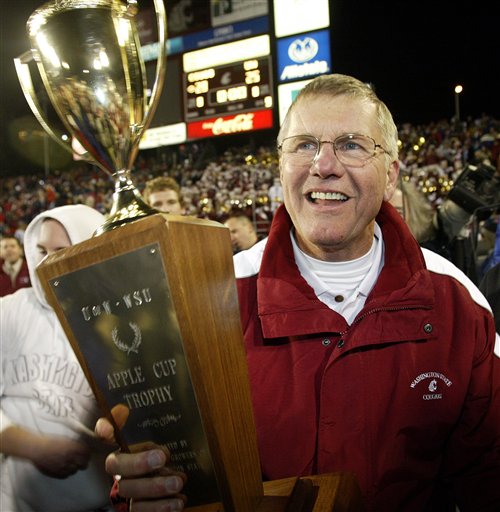 Hmmm...trophy could use some livestock...
Kansas State at Kansas
The Wildcats just earned their biggest win, by far, in three years. But Kansas is significantly improved on offense, surprisingly so (28th total, 27th scoring), and renewed a home winning streak against Colorado that had been snapped after two years at mid-season by Texas A&M. Jon Cornish ranks ninth in the nation in rushing yards per game. But you knew that.

KANSAS 28, KANSAS STATE 23
SMQ HOMERISM
UAB at Southern Miss
The Blazers have yet to beat Southern Miss in, what, seven tries now? They come in just as USM's defense seems to be reverting to respectability, and Damion Fletcher is getting healthy and - at the heavy risk of inducing wrathful karmic jinxing, which failed in reverse form earlier in the season but lurks like a snake in its traditional form - if Darrell Hackney couldn't lift UAB over increasingly mediocre Southern squads, how is Chris Williams supposed to manage it?
SMQ likes the Eagles chances here, but the eye certainly will wander to the EAst Carolina-Rice game, which - after the Owls' upset of Tulsa last week - has division championship implications on both sides. USM, though, just needs an ECU loss (coupled with a USM win, of course) to move back into first place in the East with two extremely winnable games remaining. But that's only with a win Saturday, which is not at all assured, so jinx be gone!

SOUTHERN MISS 23, UAB 15