A weekly primer which reminds the patient reader that `Morning' is a relative term.
We've entered the annual Week of Ticker Confusion wherein SMQ, as Pavlov's dog, freaks out over certain outrageous scores on the scrolling ticker at the bottom of the screen for a second or two before realizing basketball season is underway. Michigan State is playing Youngstown State? In November?! On Thursday?!! And scored 40 in the first half?!!!...Oh. This will continue through the weekend.
Otherwise, question of the rest of the season - unless the Scarlet Knights go down - is the one posed by SMQ last night: Is Rutgers good enough to play for the mythical championship? His initial instincts are against the Knights, but only barely, and contingent on what happens with the rest of the top ten; as noted by Solon in the comments to the afore-linked post, a team with RU's exact results but also a "brand" (he used Florida State, but just as apt would be the old Big East Miami juggernaut, which played in a weaker league, top to bottom) would not face the scrutiny that is inevitably going to doom the Knights. They would go right on in. Rutgers, SMQ says with some certainty, will not get a similar break and, assuming it can get by its last three games unscathed - a dangerous assumption with two road trips involved, one to West Virginia - will have a very whiny Christmas.
Not that they wouldn't have earned it, and not that SMQ wouldn't welcome the impending calls for a playoff that would give such teams (Boise State, too) an equal opportunity to prove their championship mettle on the field. But even he is not convinced by the Knights' schedule, exemplary as that defense was in the second half Thursday, not least of all because of the larger problem of how to assess Louisville and West Virginia, whose relative merits depend so heavily on the perceived strength of the other (and, now, Rutgers) with so little relevant outside evidence to take into account.
And as for the hypothetical "brand name" team that would cruise into the mythical championship on Rutgers's resume, let's just declare "systemic flaw," as we're so eager to do, and call for more and equal scrutiny for all; SMQ, for one, isn't going to discount the Knights, but doesn't see a clear path for them to his meaningless mythical title endorsement without a lot of outside help. All of the above is subject to change by Monday.
Onwards...
SMQ Will Be Watching
Early games are not particularly enticing, but the low-rent regional SEC option actually offers a potential quality option in Georgia at Auburn; last Saturday, in fact, Jefferson Pilot Lincoln Financial teased that matchup along with, SMQ is pretty sure, South Carolina at Florida, which it carried last year. That latter game was apparently picked up by CBS for the mid-afternoon slot, though, where it will compete with the regional ABC option - for SMQ, that probably means Miami at Maryland and lots of tearjerking efforts in the wake of the tragic Bryan Pata shooting Wednesday; he'd just as soon pick up Nebraska at Texas A&M. All eyes on ESPN for the evening games, as ABC's options are uncharacteristically godawful (Texas at K-State, Wake Forest at Florida State) and the Leader is putting a couple good SEC games in Alabama at LSU and, better, Tennessee at Arkansas. What, no late night options? Seriously, Oregon and Southern Cal aren't on television? No Sunday night game? The whole slate being what it is, these are the weeks SMQ wishes he didn't let his social life go more or less dormant during football season. But sacrifices, in life, we must make. There's a party next week, anyway, which - like Borat last Saturday night - will probably rob SMQ of some heated finishes, and be worth it.
Finally, We'll Learn About...
We've seen them in tough games before, a couple times for some of them, but a quartet of borderline top 25 teams can more or less define the likely endings to their seasons and postseason fates: mourning Miami, already below .500 in-conference and in danger of slipping into the red overall, can clarify its bowl fate at Maryland, trying to remain on track for a winner-take-all showdown with Wake Forest for the Atlantic title; and in the Big XII, Nebraska and Texas A&M grope for the extra "quality win" that could be the difference between a berth in the Cotton and the December Whatever bowls.
Most to Gain
Arkansas has been languishing in the mid-to-low teens since it suddenly bashed in Auburn's growing head last month, its resume torn between the big opening loss against Southern Cal and the eye-opening pounding on the Plains. Its iffy schedule since then, though, if not the Hogs' actual performance, has allowed voters to indulge their skepticism and dismiss this team's momentum, a luxury the punditry will not have if Arkansas steamrolls Tennessee, the first of three "prove it" games - including the SEC Championship - it has to win to enter the great mythical championship debate.

Laugh, but the Razorbacks are lining up a mythical title shot
Most to Lose
Probably no two teams are better mythical title position following Louisville's loss than Texas and Florida, which each get a borderline bowl team representing superficially minor danger, but enough bite if the breaks go the right way to influence the numbers hitting the stretch. South Carolina, especially, after its competitive efforts against Auburn, Tennessee and Arkansas, and its win over Florida last year, has to carry some "we're due" aura into its battle with the Gators. SMQ sees no legitimate reason for Texas to worry at Kansas State, but there's probably one in there somewhere. Remember in the current environment that "style points" most definitely matter.
HONEY, GRAB A BOOK FOR THE SECOND HALF
Inevitable Blowout of the Week
If there's one game JoPa can afford to miss, Temple, of course, is it. The Owls can boast an actual victory this season, but the numbers show pretty unambiguously their complete, utter, pathetic ineptitude. In the 17 team statistical categories the NCAA tracks, Temple ranks 100th or worse in 12 of them. SMQ could coach the Lions to a three-touchdown victory Saturday with the playbook from the original TECMO Bowl.
And don't overlook the late-night start in Hawaii, where the high-flying Rainbows or Rainbow Warriors or whatever unleash the country's highest-scoring offense on Louisiana Tech, owner of the nation's worst total defense and next-to-worst scoring defense. The line is -38.5 for Hawaii, which must assume about four La Tech touchdowns.
Lame Game of the Week
When you visit ESPN's team page for UL-Monroe, more than half of the recent stories concerning the Indians inoffensive Hawks of War reference the team's consistent appearance in the site's Bottom 10, a result of beating only Alcorn State and dropping seven in a row since - a better resume, at least, than Monroe's opponent Saturday, Florida International, which hasn't beaten anyone and hasn't come close since a series of narrow calls in September (unless you count the seven-overtime, kicking horror show loss to North Texas on Oct. 7, but there's no reason you would not have that erased from your memory, Men In Black style).
Buffalo Line Watch
Since joining Division I-A football in 1999, Buffalo has been favored to win only once, against Temple to open this season. This week, the Bulls, coming off an unprecedented, from-nowhere 41-14 pounding of Kent State for its first MAC win of the season, were 16 to 17.5-point underdogs at defending league champion Akron. The Zips won Thursday by 15 to pull to .500 on the season. Buffalo is 2-8.
SOON-TO-BE FOOLISHNESS
Projecting...
Tennessee at Arkansas
Both quarterbacks here will be making their first starts of the season, but given Casey Dick's starting experience as the Razorbacks rounded into shape last season - and the fewer demands Houston Nutt and Gus Malzahn place on their stallion-surrounded quarterback - Arkansas is probably more comfortable here than Tennessee is with Jonathan Crompton. Hell, Arkansas at least has options, a bevy of them in this creative system that finds plenty of ways to make up for its one-trick (lob to Monk) passing game.
The Vols, on the other hand, have yet to establish  their usual straight-ahead consistency in any relevant game, putting the season instead on the effective arm of Erik Ainge. That tack was fine as long as Ainge was fine, but it didn't change much against LSU  even when Crompton came in, though - aside from a couple deep balls to Robert Meachem, Tennessee's saavier answer to Monk - David Cutcliffe seemed pretty reticent to let Crompton put it up further than the sticks. Arkansas is not as good as LSU on defense. But it is good enough to cause a young quarterback problems if he's only directed to hand the ball to his running backs twelve times while trying to dump a bunch of screens and waggles into the flat. Without the turnovers forced by the defense last week, UT loses by three or four touchdowns.
The Pick: The surprising soft spot for Tennessee has been its mediocre run defense: since holding Cal in check, prior to Justin Harrell's season-ending injury, the Vols have allowed (not including sacks and kneeldowns) 281 yards to Air Force, 153  to Florida, 148 to Marshall, 152 to Georgia, 166 to South Carolina and, most egregious by far, 240 to an LSU committee groping for a shred of consistency. Arkansas is not groping. It also isn't,  giving a redshirt his first career start, on the road, in one of the SEC's toughest environments.

ARKANSAS 26, TENNESSEE 17
Oregon at Southern Cal
USC hasn't lost a home game since 2001, but also has lost only five since then on any field. What is the Trojans' identity? Collectively, the running backs barely cracked 100 last week against one of the all-time embarassing run defenses in SC's win over Stanford. That leaves Dwayne Jarret and Steve Smith, though John David Booty has not proved himself as the second coming. Oregon, at least, has its two-headed running game, but that was impotent at Cal, when Jeremiah Johnson failed to notch a single carry. So there's, well, not a lot of obvious consistency in either direction here. USC has to get the nod because it's all talented and stuff, and balanced, and better on defense, and them losing would totally screw up the big game next week with Cal. But don't expect it to look any less underwhelming than the Trojans' close wins over Washington and Arizona State here.

SOUTHERN CAL 28, OREGON 23
Wisconsin at Iowa
Fast fact: Iowa is 2-4 in Big Ten games this season, with losses to Indiana and Northwestern. Wisconsin is 6-1, and just 1-1 against the only teams on its schedule with a winning conference record (Michigan and Penn State). The Badgers' vaunted running game is downhill, straight-ahead, much nearer to the Michigan attack Iowa played respectably than the finessy spread option scheme that torched the Hawkeyes in space against Indiana and Northwestern, but when given the choice of P.J. Hill against a unit that's struggled in three straight conference losses, SMQ is taking P.J. Hill. Judging from the numbers against Northwestern, as vulnerable a defense as the Big Ten will offer, Iowa's offense is in some even more dire straits.

WISCONSIN 25, IOWA 13
Georgia at Auburn
One thing you don't want to see coming with a struggling, mediocre offense headed by a true freshman quarterback backed by a stagnant running game is a road date with an aggressive defense allowing less than 12 points per game. Mark Richt, welcome to your  2006! A loss here would be UGA's fifth in six games, interrupted only by a three-point win over Mississippi State, with Georgia Tech still to come. Kenny Irons is expected to be back in the lineup for the Tigers, so, well, you know. The Dawgs will put up a fight.

AUBURN 24, GEORGIA 10
Alabama at LSU
The great X-Factor here is whether LSU's discovery of Keiland Williams from among every running back in Louisiana with a high school diploma since the start of the Bush Administration at Tennessee will stick. At any rate, the Tiger defense gets the benefit of every doubt at home against John Parker Wilson, who has had fewer options rotating behind him, but not much more success. The Tide are technically bowl eligible but may just be done post-Mississippi State.

LSU 28, ALABAMA 9
South Carolina at Florida
If the Gators commit to lining up and running at USC, one of the worst run-stopping teams in the SEC, the `Cocks don't have much of a shot here barring turnovers, improbable breaks, etc. If it wants to let Carolina hang around, like it has against some other good opponents already, UF will try the passing game stricken over the last month by diminishing returns and a stady stream of pressure on top of Chris Leak. Florida's defense is too tough to allow Carolina over the top, anyway, but the Gators have to be looking for something as impressive as the LSU win to keep voters interested.

FLORIDA 24, SOUTH CAROLINA 16
Miami at Maryland
Certainly Maryland has a lot of sympathy here, but the Terps are the team here on the rise, and the Canes have been in one long, tipping point-level downward spiral. Emotion will only go so far.

MARYLAND 22, MIAMI 17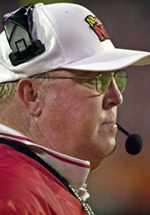 You're a cold bastard, Friedgen
Wake Forest at Florida State
FSU looked like it may have gotten some kind of shot from Xavier Lee's presence behind center in the process of rocking Virginia 33-0. SMQ has inadvisably picked the `Noles now under suspect circumstances four of the last five weeks, and it finally paid off, so let it roll, baby, let it roll.

FLORIDA STATE 21, WAKE FOREST 18
Nebraska at Texas A&M
Both of these teams seem to have put together a formula for solid running attacks against decent defenses, and struggling against the run their own selves. Oklahoma popped A&M's "12th Man" bubble last week, just as Nebraska's offense seems to be hitting its stride. The North division needs a win like this.

NEBRASKA 31, TEXAS A&M 23
Texas Tech at Oklahoma
The Sooners have hunkered down with the persistent pounding of Allen Patrick and relentless defense, concepts utterly foreign to Texas Tech. The Raiders under Mike Leach, God love `im, have not been reliable on the road, aside from the fact that Oklahoma has just been playing much better all the way around, and especially on defense, since the Oregon, um, loss.

OKLAHOMA 25, TEXAS TECH 17
Washington State at Arizona State
Know Arizona State's national rank in passing offense? 77. Witness the glorious triumph of the progressive passing policies of el Presidente Rudy Carpenter! Four losses in the first six league games is step one in los Diablos' inevitable great leap forward. Dealing with sinking Washington State, off a terrible, costly home loss to Arizona, is the beginning of the resurgent step two. Do not question el Presidente: Just when you believe we are defeated and vulnerable, that is when we will bury you!

ARIZONA STATE 32, WASHINGTON STATE 27

The Leap Forward begins...now! Okay...now! Now!...Wait...now!...
Boise State at San Jose State
Interesting not only because of the ESPN diss, but also because it offers the only opportunity for SMQ to look at San Jose State, a team that's won six of seven hosting its biggest game in, hell, let's just say ever!, with a chance to take command of the WAC championship race. That must be very exciting for them.

BOISE STATE 37, SAN JOSE STATE 23
SMQ HOMERISM
Southern Miss at Tulane
The last time SMQ ridiculed the likelihood an oft-walloped rival would throw USM's season completely off the tracks, East Carolina stole away with a win in Hattiesburg. The cavernous, eerie, scrimmage-like atmosphere in the Superdome of a Tulane game is no place to take victory for granted.
Having hopefully sufficently inculcated awareness of and therefore warded off the probability of another upset-inducing jinx, SMQ must proceed cautiously with confidence that, however inconsistent, however offensively inept, however mediocre, however prolific the opposing quarterback, Southern Miss will not fall victim to a 3-6 team allowing five touchdowns per game and that was just hammered by three touchdowns against Marshall. The standards are moving lower and lower all the time, but he's not allowed that level of pessimism or disgust. Yet.

SOUTHERN MISS 23, TULANE 14